It's common for people to become panicked when a problem arises on their phones and seek the causes and methods that may assist you in repairing problem on iPhone Screen. Pink line is annoying, though, but ignoring pink line on iPhone screen could make things worse. Because the presence of vertical line on iPhone screen suggests something is wrong with it. The fact is that the iPhone's pink vertical line can be removed. Regardless of whether you have an iPhone 12/11 series or another iPhone model such as the iPhone XR/XS/XS Plus/8/7/6/5. We are here to help you understand why pink lines appear on iPhone or any other smartphone and how to fix pink vertical line on iPhone screen in this article.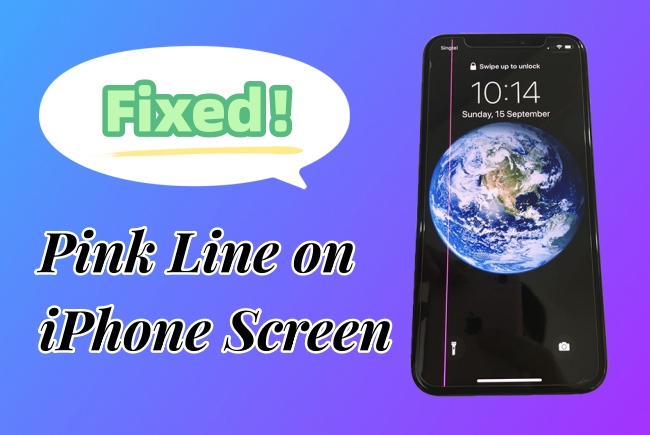 Part 1. What Causes the Pink Line on iPhone Screen?
Before you look for ways to fix the pink line on your iPhone screen, you must figure out why is there a pink line on your iPhone. We have compiled the following list of plausible causes.
You dropped your smartphone in a pool of liquid (e.g., water or coffee). This can result in internal damage, which could be the source of your current screen issue.
For a decent amount of time, your smartphone is exposed to very hot or cold conditions.
You were exposed to significant quantities of radiation in some way. It generates static electricity and might harm your phone.
Due to a software problem, your iPhone's screen has a pink line on it.
Because the LCD wire is removed from the logic board, pink lines on iPhones frequently appear shortly after a device is dropped.
Pink lines can appear when too much ESD (Electro-Static Discharge) is created, in addition to faulty connections between the flex cables and the logic board.
Pink lines on the iPhone screen can also be caused by hardware issues, such as a broken touchscreen display.
Part 2. Video Tutorial for Pink Line on iPhone Screen
Here is a video guide to fix iPhone screen pink lines. You could directly follow the steps shown in this tutorial. Or you could continue reading this post and if there is something you can't understand, watch this video to learn how to operate.
Part 3. How to Fix iPhone Screen Pink Lines
Way 1: Force Restart the iPhone
Restarting your iPhone is the easiest solution on how to get rid of pink line on iPhone screen. Some small software faults which cause lines to show on the screen can be resolved by restarting the device. If the lines remain after your iPhone reboots, you can do a hard restart to resolve the problem. Based on your iPhone model, this is how to force restart it:
For iPhone devices eight and above - Press and hold the volume up button for a few seconds, then the volume down button. Following that, keep holding the side button down until you see the Apple logo on display.
For iPhone 7 or iPhone 7 Plus - Press and hold the power and volume down buttons simultaneously until the Apple logo appears on the screen would be the way to go.
For iPhone 6 or older devices - Press and hold the power and home buttons until the Apple logo appears on the screen.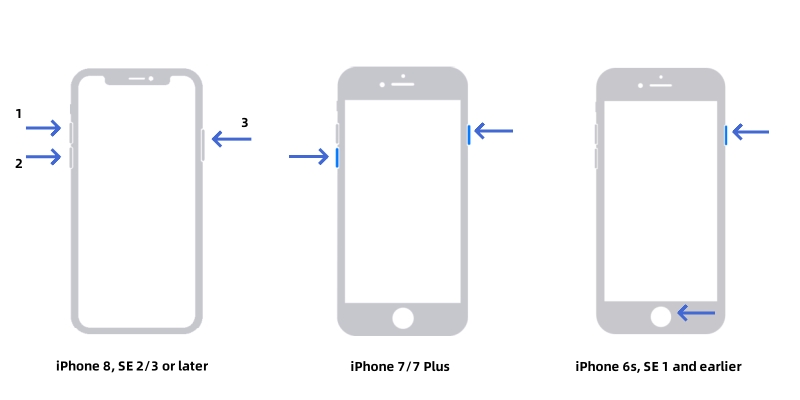 Way 2: Update iPhone to the Latest Version
Problems in older iOS versions might cause pink line on the iPhone screen. Some people may believe that iOS upgrades are pointless in principle, although this is not the case. Aside from new features, iOS upgrades frequently include bug patches, which are critical to the iPhone's proper operation. The upgrading procedure should begin; all you have to do is ensure that your WiFi connection is stable and wait for the update to complete.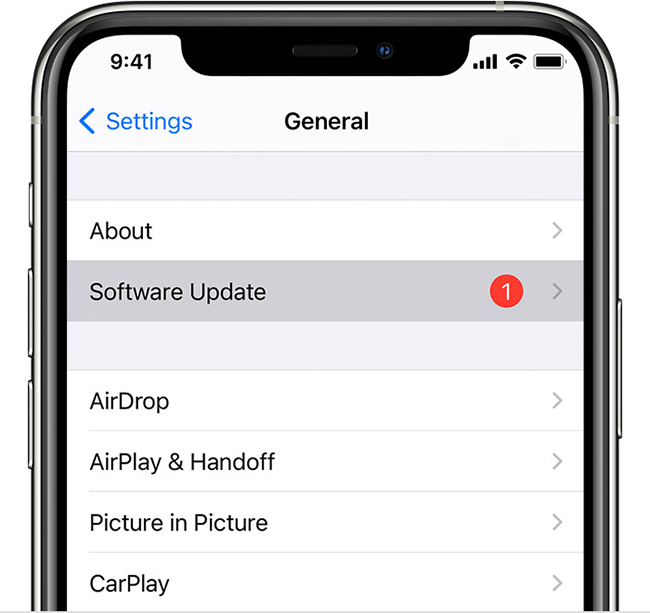 Step 1: Go over to Settings on your iPhone to upgrade the iOS software.
Step 2: After that, go to General and select Software Update.
Step 3: To validate your update, press the Download and Install button if one is accessible.
Way 3: Factory Reset the iPhone
If nothing seems to be working, we recommend doing a factory reset on your iPhone. This is a useful method for removing pink vertical line on iPhone screen. However, keep in mind that this procedure will erase all of your information from the phone. Please save all of your user data and information in a safe location. You could go to Settings, tap your name, choose iCloud, hit the Back Up Now button and wait for its completion. Or, it is available to connect your iPhone to iTunes to make a backup.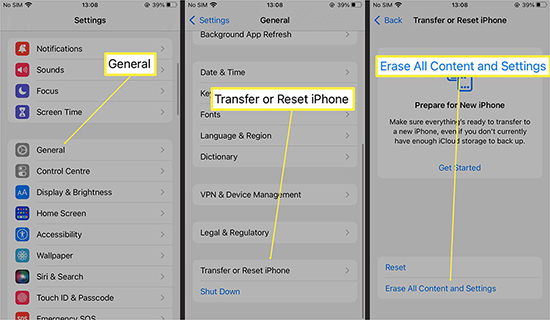 Step 1: To begin, navigate Settings - General - Transfer or Reset iPhone.
Step 2: Choose Erase All Content and Settings and tap Continue.
Step 3: If prompted, enter your Apple ID password and then hit Next.
Step 4: When your iPhone restarts, it is successfully factory reset.
Way 4: Fix Pink Line on iPhone Screen with Joyoshare UltFix
In rare situations, pink lines appear on the iPhone screen due to a system issue. Joyoshare UltFix is a competent iOS repair app with two repair modes of fixing more than 150 different iOS bugs. It is functional with practically all iPhone, iPad, iPod, and Apple TV devices and fully supports the latest iOS system version. The most significant benefit of this application is its ability to correct iOS difficulties, such as iPhone screen pink lines, without causing data loss. In addition, Joyoshare UltFix will automatically put your iPhone into recovery mode with a single click. You may also utilize the deep repair mode to return the iPhone to its original condition if the lines on the screen are so dense that they obstruct the screen. With a high success rate, Joyoshare UltFix has the ability to upgrade and downgrade iOS system, and reset iOS devices without effort.
Key Features of Joyoshare iOS System Recovery: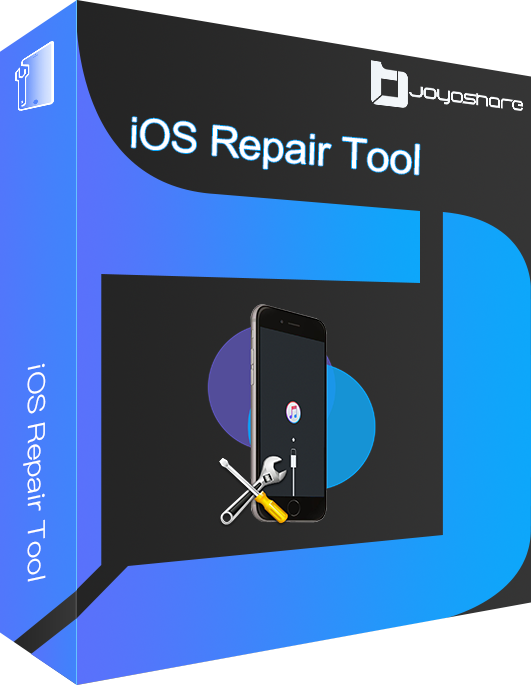 Best tool to fix white line, blue line, pink line, etc. on iPhone screen
Offer dual mode to repair various problems on your iPhone
Compatible with all iOS devices like iPhone, iPad, iPod and more
With clear and intuitive user interface and friendly to beginners
Free to enter/exit recovery mode with one click
Step 1

Launch Joyoshare UltFix and Connect iPhone to the PC

To begin, download and run Joyoshare UltFix on your PC. Connect your iPhone to your computer and select iOS System Repair. Then, to continue, press the Start button.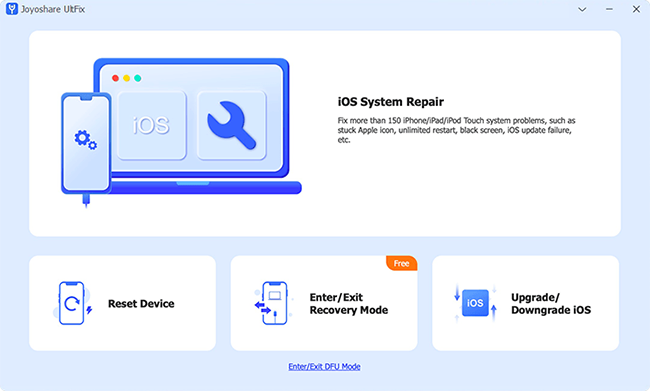 Step 2

Select Standard Repair Mode

You've arrived at the mode selection screen. Select Standard Repair mode to prevent losing data. If your device is detected without problem, you will enter the next step. If it fails to be detected, you will be required to put your device into DFU or recovery mode. Then, hit the Next button to proceed.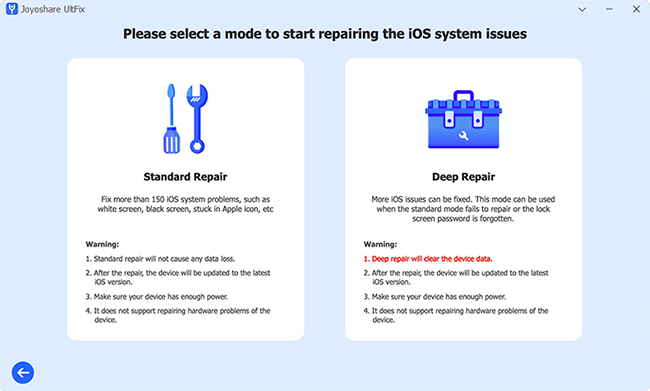 Step 3

Download Firmware Package

Certain information about your iPhone will be presented on display. Ensure that all of the information is valid and that any errors are corrected. Then hit the Download button to get the firmware package that matches your device.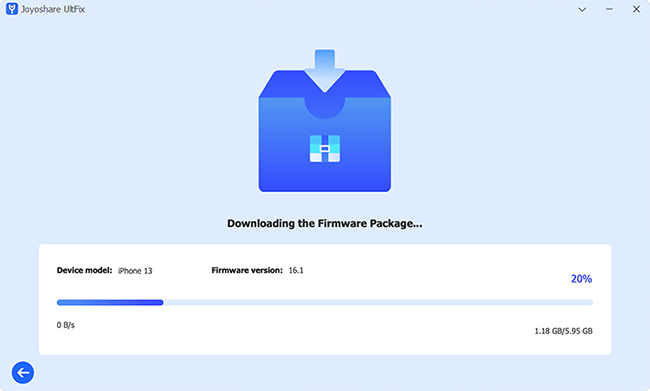 Step 4

Repair Pink Line on iPhone Screen

Finally, select Repair from the drop-down menu. This application will begin to correct the pink lines on your iPhone screen when the downloaded firmware package is unzipped. The fixing procedure will be completed in a few moments, and the lines on the screen will vanish.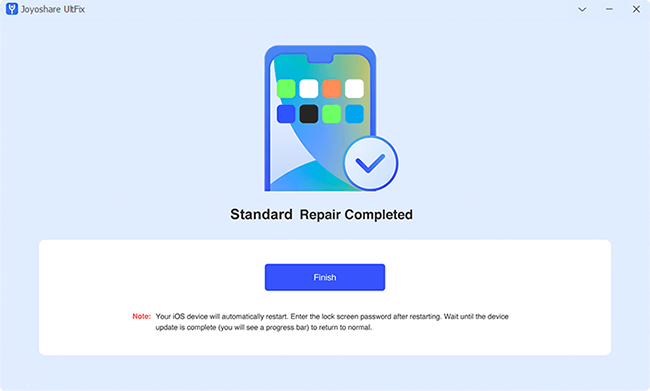 Way 5: Restore the iPhone from Recovery Mode
If resetting your iPhone does not solve the pink vertical line on iPhone screen problem, boot it into recovery mode and update it. This procedure does not erase any of your iPhone's information; rather, it reinstalls the most recent iOS version. You should still back up your data just in case. To put an iPhone into recovery mode, follow the instructions below: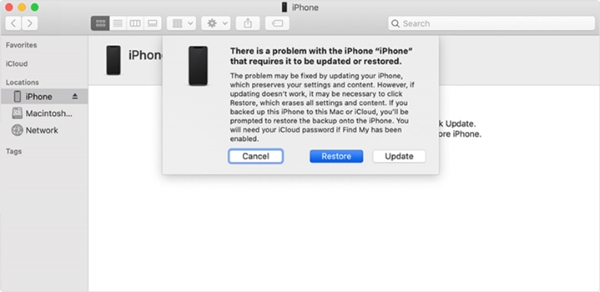 Step 1: Connect your iPhone to your computer using a USB cord and open iTunes application.
Step 2: Put your iPhone into recovery mode.

iPhone 8 and later: Force your smartphone to restart by fast pushing the volume up key, then the volume down key, and finally pressing and holding the power on/off button. Your iPhone would then display the above Recovery Mode display.
iPhone 7 and 7 Plus: Hold the Volume Down button and the Power button at the same time, and release them when the screen shows recovery mode.
iPhone 6 and earlier: Press and hold the Home and Power buttons, and release them until it successfully enters the recovery mode.

Step 3: You will now be prompted to choose Update or Restore via iTunes, select the Restore option to proceed.
Step 4: iTunes would then update your iPhone to the most recent version of iOS. Wait till the installation is finished.
Way 6: Put iPhone into DFU Mode
Restoring your phone to DFU (Device Firmware Update) mode can assist in the resolution of software issues by restoring it to an unaltered state. It's typically used whenever you need to repair the firmware on processors, such as a motherboard. If you're prepared to restore your iPhone in DFU status, set it in DFU mode first and then use iTunes to restore it.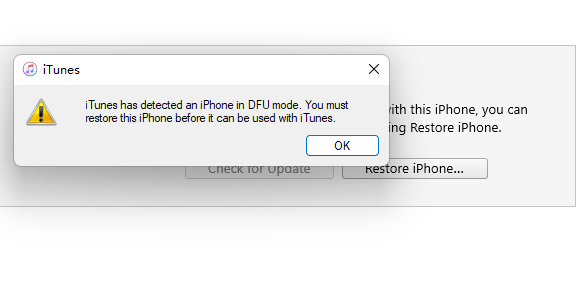 Step 1: Plug iPhone into computer and run iTunes.
Step 2: Follow the steps below to enter DFU mode manually.

iPhone 6 and earlier: Hold both the Home and Power buttons simultaneously for 5 seconds, release the Power button but continue holding the Home button until iTunes detects your iPhone. The device's screen will remain black.
iPhone 7 and 7 Plus: Simultaneously hold both the Power and Volume Down buttons, stop pressing the Side button but with the Volume Down button still pressed. iTunes will recognize your iPhone in DFU Mode and the iPhone screen should be dark.
iPhone 8 and later: Swiftly press Volume Up and then Volume Down, hold the Side button until the screen is darkened and press down both the Volume Down and Power buttons. Release the Power button after 5 seconds but keep the Volume Down button pressed for 10 seconds. And your iPhone screen will go black.

Step 3: Click the OK button when iTunes successfully detects your iPhone in DFU mode. And hit the Restore iPhone option.
Way 7: Press Firmly on Screen
There is another reason for pink lines occurring on your iPhone screen. If you accidentally drop your device onto the floor, the LCD cable might disconnect from the logic board, then pink lines show up. In this case, it is still advisable to press hard on your iPhone screen to reconnect the LCD cable to the logic board. However, the success rate of this method is not very high and it might damage your iPhone screen. If you don't mind, you can give it a try.
Way 8: Contact Apple Support
The iPhone pink line on screen is typically a symptom of real harm to your hardware, as we explained before. When you notice lines after dropping your smartphone, the screen or motherboard is most likely broken. In this scenario, allowing Apple specialists to fix the hardware problems is far safer than attempting to repair it yourself.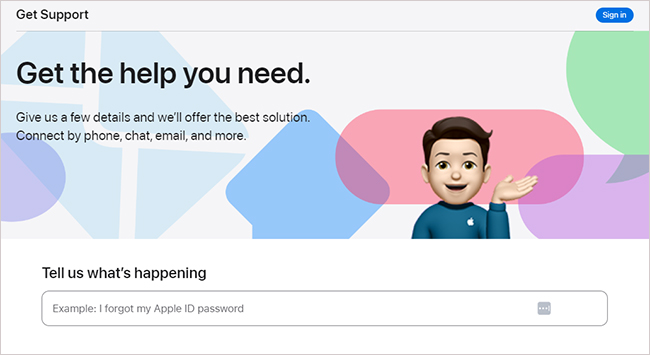 Conclusion
We are hopeful that you may have learned about the best ways to repair pink line on iPhone Screen by now. We have done our best to present you with the most helpful solutions that you can rely on to resolve the problem. And if you don't know how to operate them, watch the video guide provided here. Also, if you want to fix iPhone pink lines quickly and effortlessly, use Joyoshare UltFix. This is a sophisticated approach for resolving the issue without difficulty. If you have other problems with iPhone issues, leave your comment below. We'll make efforts to give you effective solutions.