Q:"How to record my screen on Windows 10?" - Lindsey
To create a new era of computer operating system, Microsoft has made remarkable efforts to Windows 10, which comes with elegant interface and special design, catering to majority of users' requirements. As more users take advantage of Windows 10, the needs to record screen on Windows 10, like keep live shows, capture video calls, grab game music, etc. came out. What is note-worthy is that having an easy-to-operate screen recorder to record Windows 10 screen will bring you tremendous facility. In the light of practicality as well as operability, we provide three best worry-free solutions to help you solve the problem about how to record screen on Windows 10.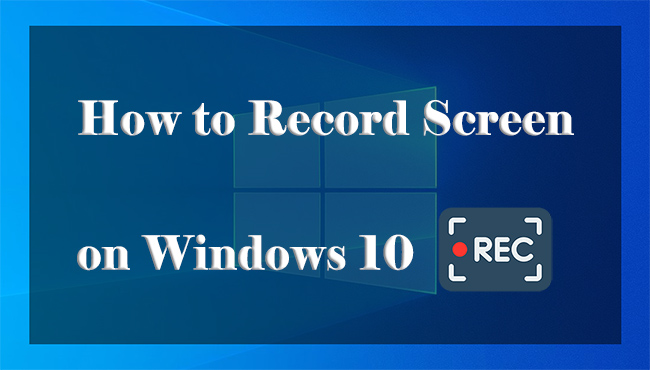 Part 1. Screen Record Windows 10 Using Built-in Tool - Xbox Game Bar
The first way to record screen on Windows 10 is to draw support from Windows system's native screen recording utility, called Xbox Game Bar/Game DVR. It is designed to capture gameplay mainly as well as other types of screen activities in Windows 10. Given that Xbox DVR is a default app, which is to say, it is convenient and safe enough, so you may prefer to use it. However, shortcoming is that it comes without rich functions as other dedicated screen recorders for Windows 10 have. Here if you desire use this hidden feature on your PC, you can follow the instruction below.
Step 1

Set up Xbox DVR

First user who never utilizes Xbox DVR app has to open it to set it up. Go to "Start" in the bottom left corner of your Windows 10 - Settings - Gaming - Xbox Game Bar to turn it on and confirm all settings one by one.

Step 2

Open the Game Bar

Upon you finish set Xbox DVR up, hit keyboard shortcut "Win key + G" to open Game Bar. Don't forget to check all options, including "Audio", "Capture", "Xbox Social", "Performance", "Enable Click-through" and "Settings".

Step 3

Begin to record Windows 10 screen

If it is your first time to record, there will be a pop-up window showing a question "Do you want to open Game bar?" Click "Yes, this is a game" although it is not. To start a Windows 10 screen capturing, you need to click "Start recording" or use "Win key + Alt + R" shortcut. Remember that only app window can be recorded, without including either Windows 10 full name or mouse movements.

Step 4

Manage recorded Windows 10 video clips

Once the recording is completed, click the red stop button. You can open up the Game bar by using Win key + G - Capture - Show all captures to check all recorded files. Or head to Start menu - Settings - Gaming - Captures - Open folder.
Part 2. Learn More about Xbox Game Bar
How to record your screen on Windows 10? Most of you will probably answer Xbox Game Bar. Alright, as a built-in tool, it is undeniably the first choice for recording. However, it is not perfect. Let's take a look at the key points that you will overlook when applying Game Bar on Windows 10.
1

Does Xbox Game Bar only record games?

No. It is developed to record games directly on your Windows 10 or those you play and stream from Xbox One. However, Xbox Game Bar can be used to record more screen videos you want.

2

Does Xbox Game Bar record everything on Windows 10?

No. Actually, Xbox Game Bar is disabled for the Windows desktop and File Explorer. You'll be informed that gaming features aren't available for them. Nevertheless, it has ability to capture video activities from your Windows 10 applications, web browser and other programs.

3

Is there any system requirement when using Game Bar?

Frankly, there is strict system requirement in Game Bar, especially the type of your graphics card. You will see Settings in Game Bar - Gaming features - Graphics, which shows that your system doesn't support it. In this case, you may receive an error prompt when recording and indicates your Windows cannot meet the hardware requirement.

4

How do I access the Game Bar?

As a Windows 10 built-in screen recorder to help you record video, gameplay, online music, meetings and lectures, Game Bar allows you to activate it via two methods, including tapping Settings - Gaming - Game Bar and pressing the Windows key + G.

5

Does Game Bar lower FPS?

Due to the enhanced Game Bar, the FPS on your screen will drop largely. You can turn off Game Bar to fix this problem by clicking Settings - Gaming - Xbox Game Bar - Captures and switching the Record game clips button.
Part 3. How to Screen Record on Windows 10 - Joyoshare VidiKit
Joyoshare VidiKit - Screen Recorder, a qualified screen recorder for Windows 10, is designed with a wide variety of recording options, aiming at creating professional capturing atmosphere for users. With it, any video and audio in Windows 10 can be recorded in the finest quality, such as class lectures, Microsoft Teams meetings, Netflix movie, YouTube TV shows, Pandora music, etc. Besides, this dedicated tool empowers you to select capturing area freely and schedule recording task definitely. You're able to set shortcuts, preset output format and decide whether to show cursor or clicks. Moreover, there is no problem recording audio synchronously when video is captured.
Key Features of Joyoshare VidiKit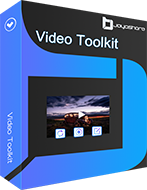 Record video with sound from Windows system or microphone
Save files as MOV, MKV, HD MP4, AVI, WMV, FLV, MP3, and more
With no recording lag and recording time limit
Offer stunning recording options to trim, effect clicks, watermark, etc.
Best program to screen record on Mac and Windows
Step 1

Download and install Joyoshare VidiKit on Windows 10

Visit Joyoshare official webiste to download its Windows program. Double click program icon to activate it, select Record and choose Screen Recorder in the menu bar to get the following image. Considering that you may have an idea to remove unexpected intervention during recording process on Windows 10, Joyoshare VidiKit is well developed to close microphone voice or system sound with the purpose of avoiding noise completely. Furthermore, it also includes full support for capturing any video and audio in Windows 10 screen simultaneously.

Step 2

Decide recording area

Joyoshare VidiKit makes it available to choose capture area at will. It satisfies your need by offering multiple solutions to help you fix the issue about how to record your screen Windows 10. Designate "Record video and audio" mode and simply click the "+" button under Capture Area. A pop-up window will appear. You can drag the edge of the window to make adjustment and set desirable recording region. Additionally, a preset standard ratio and customized size can be selected if you want.

Step 3

Customize Windows 10 recording preferences

To record any activities in Windows 10 screen, Joyoshare VidiKit is supportable for choosing output format, creating tasks by presetting start time and end time, highlighting click movements, configuring parameters from systematic settings and adding unique watermark. It offers three panels like Basic record options, Record time options and Cursor options for you to adjust the above mentiond parameters.

Step 4

Start recording and edit video

Press the blue "REC" option to start a recording in Windows 10 and "Stop" button to end the capturing process. You are entitled to trim video, take screenshots and skip content. Joyoshare VidiKit lets you preview and rename your recording in "History" list. If your trim your video during the previous recoding process, you will see different segments here.
Part 4. How to Screen Record Windows 10 - PowerPoint
Few people know that PowerPoint can also help you record. However, you need to install Microsoft's desktop program and subscribe to Microsoft 365 in advance. This is a better option to help record your Windows 10 screen than Game Bar, as it has more customizable functions provided for you. Below is a detailed guide to teach you how to record screen using this program.
Step 1

Activate PowerPoint

Activate PowerPoint on your screen and create a new presentation. Click Insert in the menu bar and select Screen Recording sign in the Media panel to access its capture feature.

Step 2

Customize recording settings

Now, it will pop up a toolbar along your screen's top-center edge and PowerPoint will minimize at the same time. Click the Select Area button to confirm your capture area based on your need. You can click the Audio and Record Pointer to decide whether record sound and your mouse.

Step 3

Start recording and save video

Hit Record button or press Windows + Shift +R to start the recording process when you are ready. To cut unwanted content and stop the recording, you can tap the Pause button and the Stop button respectively. It gives you the power to save the recording by right-clicking on the video and choosing Save Media as.
Part 5. FAQs about Screen Record Windows 10
1

How do I record my desktop screen?

You can record your desktop screen using Game Bar, Joyoshare VidiKit and PowerPoint and follow the above-mentioned steps. Also, you can choose other screen recorders like VLC, OBS and more to help you.

2

How long can Windows screen record?

According to data from Xbox official website, it allows you record screen up to 30 minutes. If you want to screen record for a longer time, you have to choose other screen recorders without time limit.

3

How to record screen Windows 10 with audio?

Don't know how to screen record Windows 10 with audio? Activate Joyoshare VidiKit or PowerPoint and activate their recording audio functions, then you can record sound and screen simultaneously.

4

How to record screen on Windows 10 without Xbox?

Both Joyoshare VidiKit and PowerPoint allows you to record screen on Windows 10. And you can trim and cut your recordings after the recording process according to your requirement using Joyoshare VidiKit.
Conclusion
Now, you know the top 3 solutions to help you solve the problem about how to record screen on Windows 10. You can choose anyone of them to help you. Please note that you can't customize recording area using Game Bar and edit well-recorded files using PowerPoint. If you want to record screen effectively, then you should download and activate Joyoshare VidiKit. It is equipped with multiple functions like changing capture area, choosing output format, creating recording task, setting shortcuts, highlighting cursor, and many more.