Q: "I bought iPhone 11 on November 29. From tonight at 10 pm I see objects on each screen are being selected by blue lines?" – from Apple Community
Imagine you are about to send an important email to your manager, and suddenly you see a blue line on iPhone screen, and just in a second, the display goes off. It is a fact that such lines appear on the screen when it gets damaged from the inside by falling on the ground. When you notice blue lines on your iPhone screen, instead of getting panicked, follow some practical and easy methods that can resolve this issue in no time. But after reading all the instructions, if you still can't figure out how to fix it, you can consult a technician or Apple Support. Now, follow the instructions mentioned in this guide to fix this issue.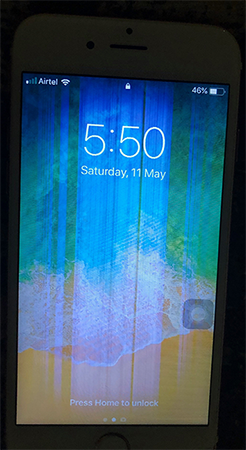 Part 1. Why Are There Blue Lines on My iPhone
There are many reasons why you see a blue line on the iPhone screen. As we know, electronic objects are so sensitive, especially smart devices' screens. Thus, the most common is that the screen may have gotten damaged from the inside when they fall on the ground and hit it hard.
Problems with hardware. Sometimes, you notice a blue line on the iPhone screen because the LCD screen, the internal circuit, the logic board or IC may get damaged if your iPhone dropped on a hard surface.
Issue in apps. Commonly, the blue lines mainly occur when you are using the camera apps especially when the iPhone is exposed to a powerful light. Since the camera apps have been corrupted, your iPhone's functionalities deteriorate. It can be inferred that your system exists errors.
Electrostatic discharge. Several external triggers, such as radiation or high voltage, could make blue lines emerge on your iPhone screen, particularly when you are charging it.
Accessibility options. If you have accidentally activated some accessibility options on Settings, strange objects like blue lines will show on your home screen. You could check and turn off the unnecessary options on your iPhone.
Part 2. Workarounds on Blue Lines on iPhone Screen
Workaround 1: Clean the Screen
You may notice a blue line across iPhone screen because there is dust on the surface of the screen. So, it would be best if you cleaned the screen to resolve this issue. First, take off your iPhone case and screen protector. Next, unplug all the cables with the iPhone and turn them off. Then, take a lint-free and soft cloth for cleaning purposes. Meanwhile, avoid using abrasives, ammonia, aerosol sprays, household cleaners, and window cleaners.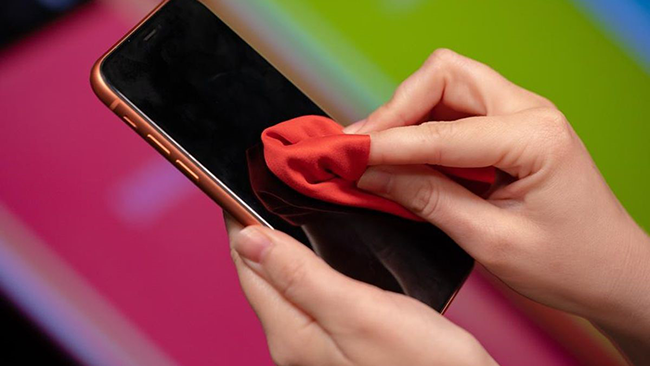 Workaround 2: Turn Off Switch Control
As mentioned earlier, the improper settings on Accessibility may cause blue lines on iPhone screen. Especially, the Switch Control will affect your screen when you operate actions such as selecting, dragging, tapping and so on. Hence, disable this feature by opening Settings, tapping General, choosing Accessibility, selecting Switch Control and toggling this option off.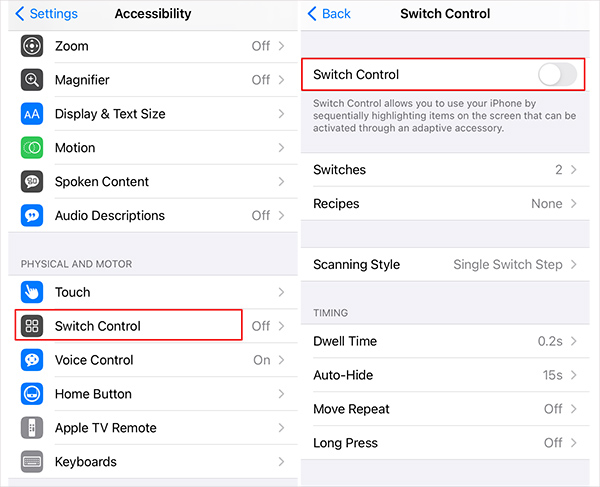 Workaround 3: Force Restart
The technicians have proposed many solutions for the problem of the iPhone's blue lines on the screen. The most effective one could be force restarting your iPhone when you notice iPhone blue lines on the screen. To undergo this process, you need to follow the following steps.
iPhone 8 and later: Hold the Volume Up button and release it quickly, hold the Volume Down button for a while, press the Side button of the iPhone and release it when the Apple logo appears.
iPhone 7 series: Simultaneously hold the Volume Down button and the Side button for seconds, and release them when the Apple logo occurs on your iPhone screen.
iPhone 6 and earlier: long-press the Home and Sleep buttons and release them until the Apple logo emerges.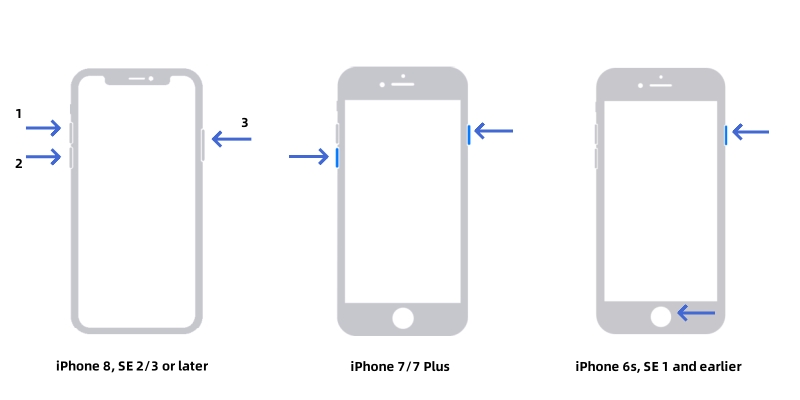 Workaround 4: Update iOS System
Your iPhone might display blue lines on the screen because the iOS software has become old and needs an update to work correctly. So, you can plug your iPhone into a power unit to make sure that it won't be shut down during the update. And connect your iPhone to a stable Wi-Fi network. Select the Settings icon present on your iPhone screen, choose General from the available options, select Software Update and tap the Download and Install option.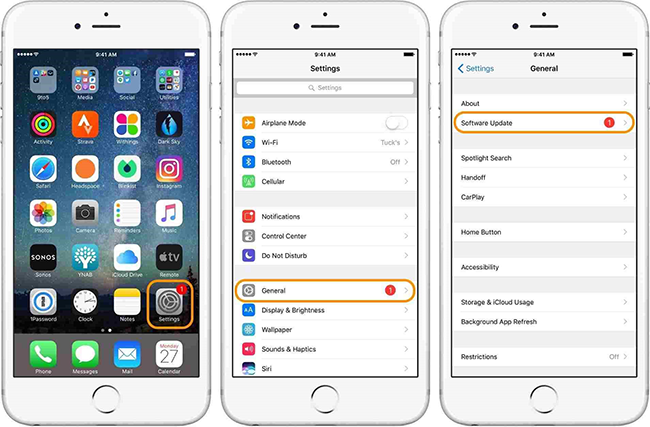 Workaround 5: Use iTunes under DFU Mode
When there are blue lines exist on your iPhone screen, you can resolve it by putting iPhone into DFU mode. After entering the DFU mode, you can restore your data using iTunes. For this purpose, you need a computer and a data cable. Follow these steps to test this method and its working: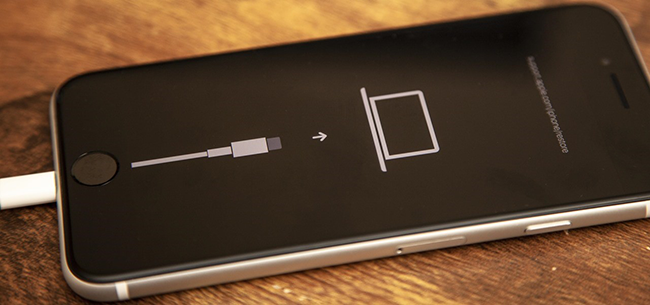 Step 1: Use a USB cable to connect your iPhone to your computer, and launch the latest iTunes.
Step 2: Put iPhone into DFU mode.

iPhone 8 and later: Quickly press the Volume Up and Volume Down Button once orderly, hold the Side button of the iPhone until its screen goes black, hold the Volume Down button and the Side button together for a while, and release the Side button after five seconds but not the Volume Down button, and then your iPhone will get into DFU mode.
iPhone 7 series: long-press the Power and the Volume Down buttons for around 5 seconds, release the Power button but keep holding the other one for a while, and the screen will go black.
iPhone 6 and earlier: hold the Sleep button and the Home button for 5 seconds, release the Sleep button and keep pressing the Home button. When your iPhone screen turns black, it successfully enters the DFU mode.

Step 3: A prompt pops up on the iTunes interface asking you to restore your iPhone.
Step 4: Click the Restore button to proceed with the progress.
Workaround 6: Repair Blue Lines with Joyoshare UltFix
Joyoshare UltFix is considered the best tool to use when you face the problem of blue lines appearing on your iPhone screen. It helps iPhone users solve several unwanted problems, including the issue where blue or red lines appear on your screen. This program has been effectively designed to solve iOS system issues and tvOS system issues with dual repair mode. You can fix your system's issues without the threat of getting the data lost with the assistance of Joyoshare UltFix's standard repair mode. If you feel hard to get your iPhone into recovery mode, Joyoshare UltFix provides a free channel to help your iPhone enter and exit recovery mode. Or, if you are finding a way to downgrade your iOS system, an easy and tech-free downgrading service is offered by Joyoshare UltFix.
Key Features of Joyoshare UltFix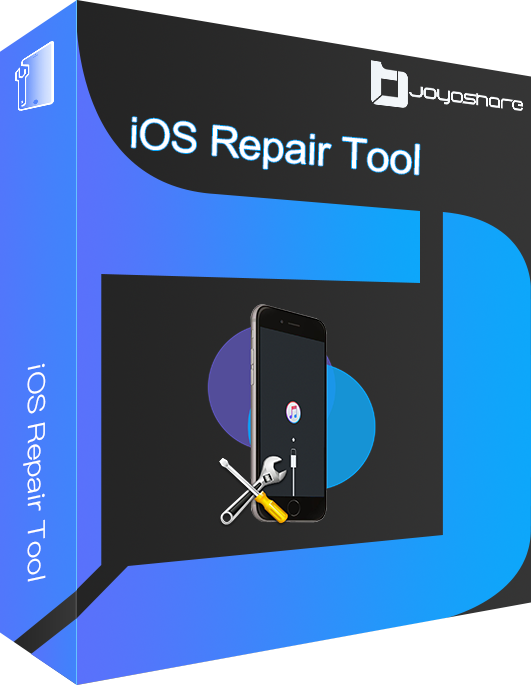 Fix vertical lines on iPhone screen easily
Free to enter or exit recovery mode
Upgrade and downgrade iOS system without jailbreak
Compatible with iPhone, iPad, iPod touch and Apple TV
Step 1

Plug iPhone into Computer

After installing Joyoshare UltFix, launch it and connect your malfunctioning iPhone to the computer. Choose iOS System Repair, and click the Start button.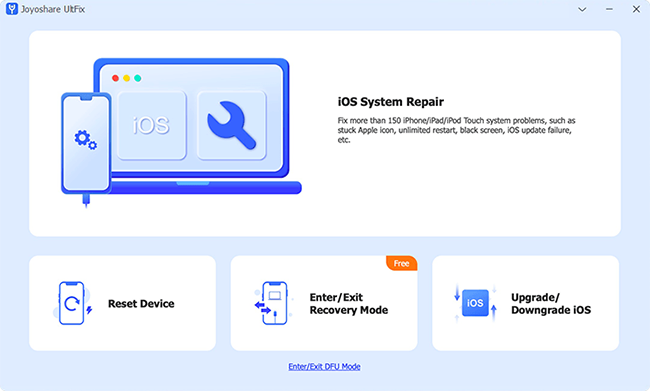 Step 2

Click on Standard Repair Mode

Click the Standard Repair module, and if your iPhone is recognized without problem, you can enter the next page. If it says "No device detected", you need to follow the on-screen instructions to put your iPhone into DFU mode, or click on the bottom link to learn how to get into recovery mode.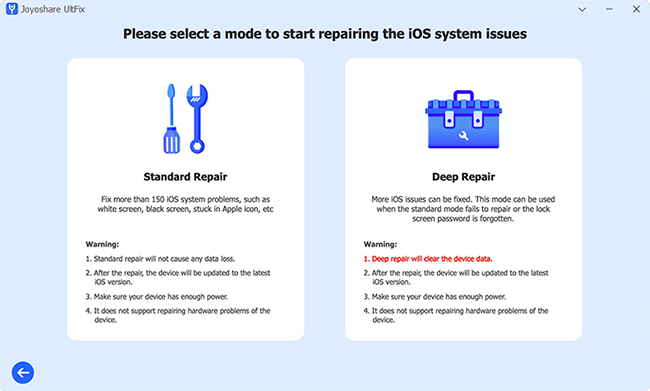 Step 3

Download Corresponding Firmware Package

When you click the right arrow to get to the next screen, you will be asked to confirm your device information. Then, click the Download button to download and verify the matched firmware package.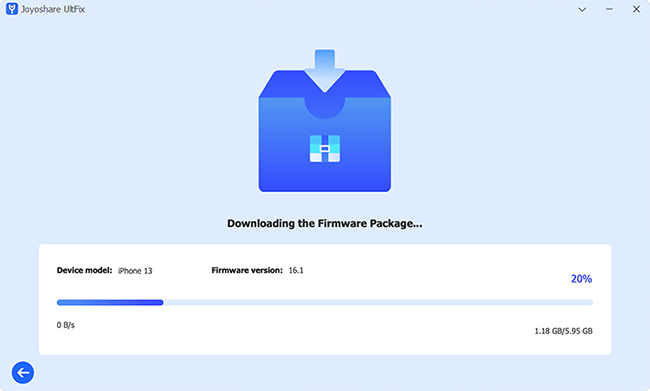 Step 4

Fix Blue Lines on iPhone Screen

Click the Repair button once the firmware package is verified successfully. And Joyoshare UltFix will start to repair your iPhone. When it finishes, go to check if the blue lines go away.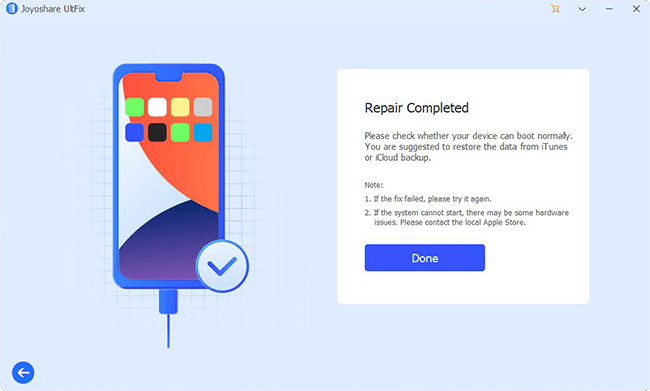 Workaround 7: Contact Apple Support
If you do not know what to do when you notice blue lines appearing on your screen, you can consult Apple support. You will surely get a solution from there. All you need to do is to follow the simple steps below:
Step 1: Visit the official website of Apple Support.
Step 2: Click on the iPhone option. A webpage for iPhone Support will appear.
Step 3: Scroll to the bottom of the screen and click on "Start now" beneath Get Support.
Step 4: Choose a related topic and click Continue. Choose a fittable way to get connected with Apple technicians and get the solution to your problem.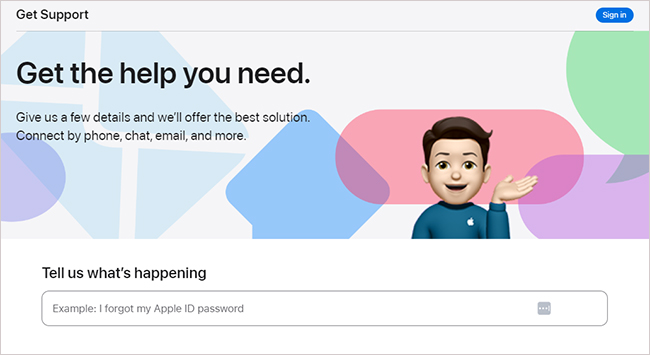 Part 3. Fix Hardware Issues on iPhone
In most cases, blue lines on your iPhone screen result from hardware issues particularly when the device has been dropped and broken. When the above software workarounds play a limited role in this problem, you need to check whether the hardware is functioning well. It is recommended that you visit your local Apple Store and ask the service staff for troubleshooting.
Check Cables and Logic Board: After dropping your iPhone on the floor, the LCD cable may be distorted or detached from the logic board. Thus, the logic board needs to be opened, and then make sure that there is no dust and that the cables fit into it.
Remove static charge: If the blue lines occur while charging, you can use an anti-static bracelet to remove static charge, unless your iPhone will transfer and receive a more electrostatic discharge from other objects.
Check if the IC is broken: Integrated Chip is a component ensuring that your screen responds well when you touch it. Thus, if it is broken, the blue lines will be shown before your eyes. In this case, you need to replace it at the physical store.
Replace the LCD screen: It is very possible that the LCD screen is damaged especially if there are blue lines and cracks on the screen. Identically, only the Apple Store could fix this severe hardware problem.
Part 4. Conclusion
The problem of the appearance of blue lines on iPhone screen is common as it is faced by many iPhone users. You do not have to worry about this issue. All you need to do is learn about different methods that can be used to fix this issue. If you have done the workarounds provided in this article, the blue lines may no longer exist. In case they persist, you could consult Apple Support for fixing the issue of blue lines on the screen. You can also visit a professional to get this problem fixed in no time, especially when it comes from hardware issues.