It becomes hard to take a rest and enjoy your life with busy schedules, end-to-end meetings, and tons of work. However, you can still refresh yourselves by taking a rest or playing your favorite games. It helps you to stay calm, and can even boost your mood whenever you have a bad day. So, you can try different games to relax. If you are already a gamer, you must be aware of the fun while recording the gameplay for streaming purposes. Streaming and recording the gameplay has become quite common, and you should find a game recorder for PC. Today, in this guide, you will find the 11 best game recording software. Continue reading to know more.

1. Joyoshare VidiKit
Joyoshare VidiKit - Screen Recorder is the best PC game recording software as you are free to change the output format as per your requirements. This screen recording software has an excellent optimizer, and you can go straight to capture any screen movement. It comes with a few advanced features which make it remarkable like scheduling the recording time and customizing quality, resolution, and frame rate. What's more, you can confirm your recording area by choosing standard parameters or dragging and dropping the blue frame before you start the recording process.
Key Features of Joyoshare VidiKit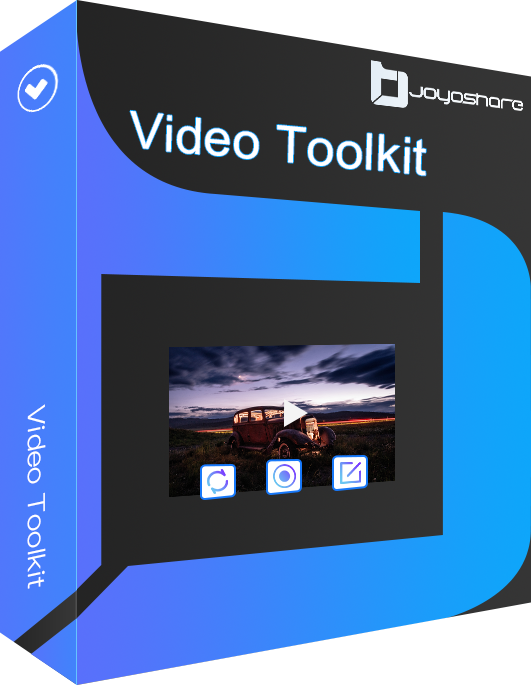 Can record videos of any length
The feature of presetting start and stop time
Include multiple recording modes
Available in macOS and Windows
Record gameplays, meetings, videos, music, and more
2. Movavi Screen Recorder
This new screen recorder has all the updated features required for post-editing and screen recording. The most appreciating feature of the Movavi PC game recorder is its intuitive user interface. It supports 4K resolution videos, and you can continue screen recording even after syncing the microphone and webcam. With its helpful post-editing tools, you can change the video formats, trim, cut, and merge different videos. Movavi Screen Recorder is an easy-to-use program compatible with Windows 8, 8.1, and 10. Overall you can consider Movavi Screen recorder as a good pick. Let's look at the pros and cons of this software.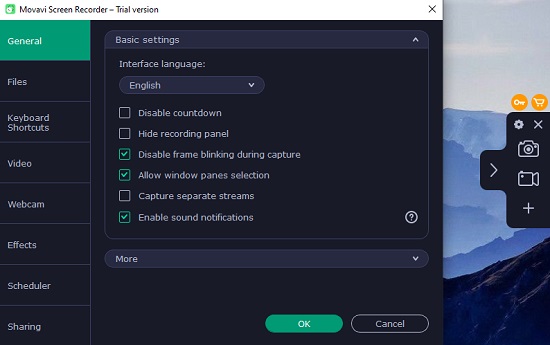 Pros:
Awesome features to convert the video into GIF format
Contain many easy to use editing tools
Allow the recording of a single part of the screen
Cons:
High-priced
Provide a few limited trials
3. Xbox Game Bar
Xbox Game Bar is among the best PC game recording software and allows you to record your game for up to 2 hours. With a single mouse click, you can do the whole recording. Xbox Game Bar allows the usage of shortcut keys which makes it simple for you to choose the recording standard. Xbox Game Bar is suitable for beginners who want to try their hands-on game recording and streaming. Let's take a look at its pros and cons.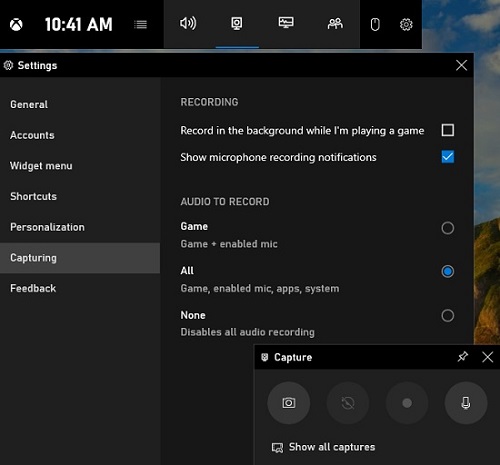 Pros:
You can use Xbox Game Bar for free
In-built in Windows 10
Cons:
Compatible with Windows only
Limited features to operate
4. Gecata by Movavi
Gecata by Movavi stands out from the crowd because of its features that allow users to record their screen at 60 fps. You can enjoy game streaming with this software as it supports 4K resolution. With this clipping software, you can also record audio. It is compatible with the Windows platform, and you can do customizations accordingly as per your convenience. It supports all the formats. Let's move to its pros and cons.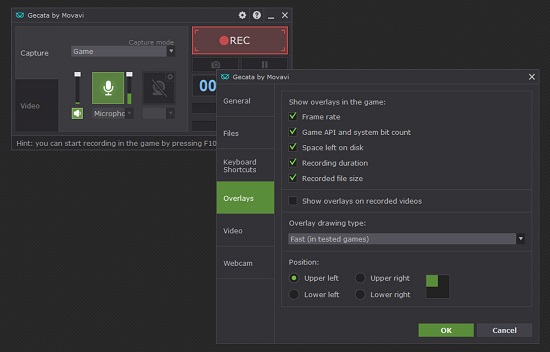 Pros:
Support multiple video formats
Record videos in 4K resolution
Cons:
The free version contains a watermark
5. FBX
It is counted among the free and best game recording software for PC. It does not hamper the video recording process and you can hassle-free capture high-quality recordings. It can work smoothly even on old and speed-lacking PCs. You can get all the basic recording features that you find in other game recorders. After downloading this screen recorder, it requires the user to register and log in to the application.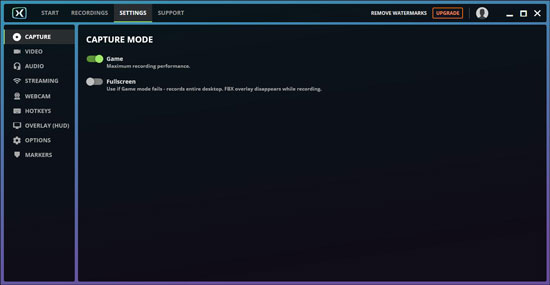 Pros:
Have a simple and easy-to-navigate UI
Do not decrease the performance while recording
Provide an in-built basic video editor
Free recording software
Cons:
Allow only game recording (cannot record any other screen)
Require user registration after installation
6. LoiLo Game Recorder
LoilLo Game Recorder is a simple, efficient, and free game recorder for PC. You can record and capture any part or the entire part of your PC. It allows you to record videos for tutorials and many other purposes. LoiLo Game Recorder is very simple to use, and you can use this platform to customize your videos. The key features of LoiLo Game Recorder like ease to use, stability, and high resolution make it a good pick. Below are a few pros and cons of this software.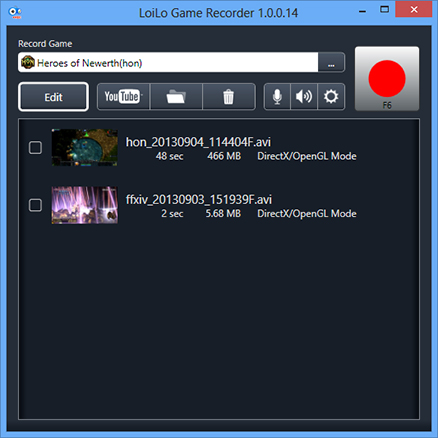 Pros:
Do not have any time limit
Free software
Record high-resolution videos, and create HD output
Cons:
Have no advanced features
Cannot record only sound
Compatible with Windows 7, 8
7. Dxtory
This tool offers you a lot of features, and you can consider it for recording purposes. Along with being light in weight, Dxtory is a robust PC game recording software. Its video capturing quality is high enough, because it never loses the original pixels while recording the video. You can simultaneously record more than one audio because of its awesome features.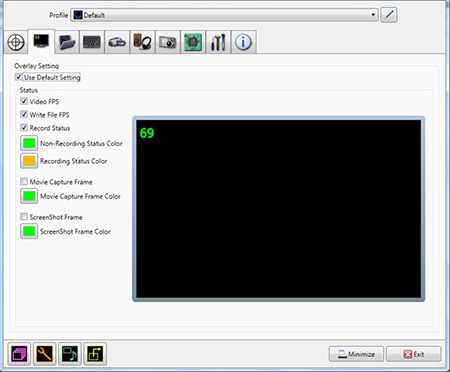 Pros:
Include a simple user interface
Allow you to do customizations
Cons:
You may face hassle while using different audio devices like microphones and speakers
You can face issues in the recorded videos
8. Fraps
Fraps is another popular game recording software for PC. It is quite simple to use. You have to start recording by going to the Movies section of this software. It allows you to set the fps accordingly (30fps or 120 fps). Its awesome key feature is that it can do both internal and external recordings. Fraps is a lightweight software, giving you a completely seamless recording experience.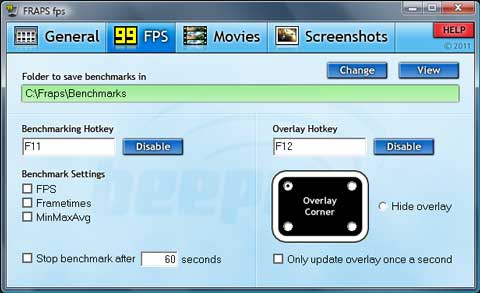 Pros:
Can see the number of frames per second (FPS) that you get
Allow you to capture screenshots
Cons:
Cannot record your webcam
Do not allow you to upload the recorded video on platforms
Not updated since the year 2013
9. Bandicam
It is counted among the best game recording software for PC that enables you to capture high-definition videos. It supports videos at 4K resolution. You can do small recordings as its in-built features allow you to do that. It does not compromise on quality, and that's why it is one of the most popular recording software.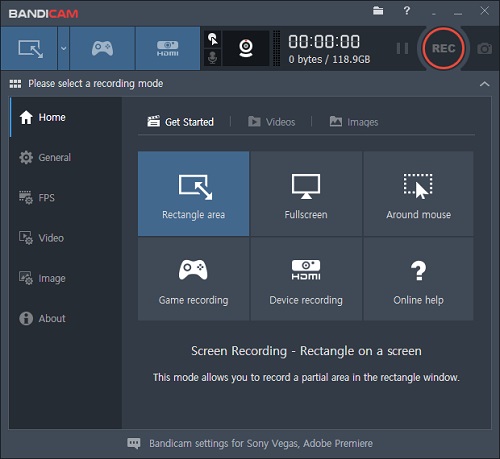 Pros:
Can change the recording area's size
Have two recording modes: Online games and Flash games
Cons:
A bit expensive
You may feel lag issues
10. OBS
OBS is a free PC game recording software used for recording games and doing live streaming. It is open source broadcasting software used by many gamers for doing live streaming. You can pick OBS for doing the side-by-side recording and enjoying the game too. There is no need to do any specific changes just a single click and start the recording from where you want to. It supports and records in two formats which are FLV and MP4. It also supports high-quality video recording.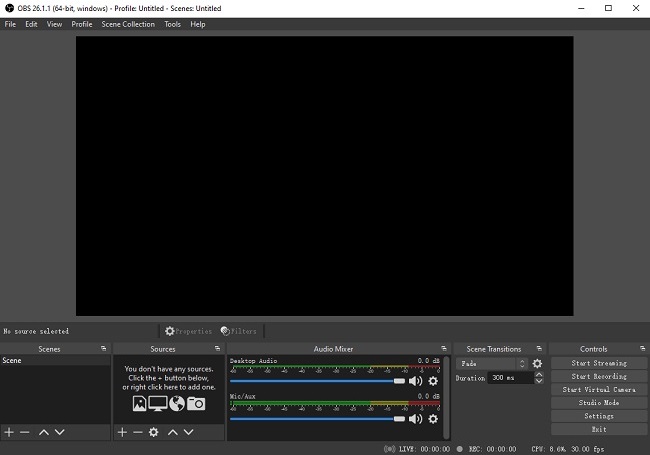 Pros:
It has community support and is free of cost
Compatible with all the live streaming platforms
The configurations are easy to manage
Cons:
Lack an intuitive interface
The software's learning curve is steep
11. AMD Radeon ReLive
You can count AMD Radeon ReLive among the best game recording software for PC. Due to the feature of capturing the game at 1440p QHD resolution, it is considered the best software. It uses the graphical user interface for faster video creation. You can record both the internal and external mic sound during the ongoing process. At first, it may be difficult, but by the time you will learn how to use it.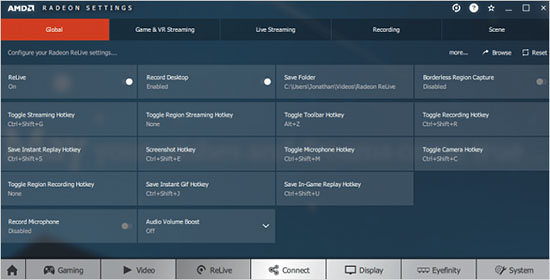 Pros:
Support recording in 4K resolution
Include the support needed for scaling
Cons:
Some advanced features are missing
Conclusion:
Lastly, game recorder for PC helps you to record your games at HD resolution along with streaming. The software mentioned in this guide can provide you with the control that you need while recording your games. All the software differs in features but is simple to use for beginners to intermediate people. You can choose one that meets your expectations. Well, you can give Joyoshare VidiKit a try as it is a professional screen recording tool that consists of incredible features. You can set your custom area, standard ratio, and can do a lot more things. In short, this game recording software can fulfill all your needs.