Green lines on iPhone screen can appear time after time even if your phone is not damaged. This problem often occurs after update iOS and has been around since the release of iOS 10, and apparently, Apple does not seem to be able to provide us with an answer any time soon. That's why we will try to help solve this annoying green line issue on your brand-new device, like iPhone 14/13/12/11 or another models. Here are some hand-picked solutions for you to get problem solved soon.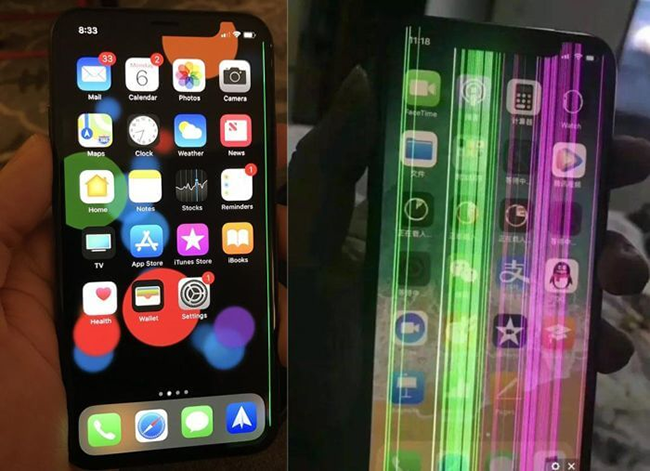 Part 1. What Causes Green Line on iPhone Screen?
The green lines on iPhone screen issue is attributed to hardware and software issues. However, the problem cannot specifically be linked to one particular cause; instead, it commonly results from a wide range of underlying causes, which include the following.
Poor connection between the iPhone's digitizer and LCD.
Liquid damage to the device. For example, if a liquid has seeped into your iPhone, green lines will appear because liquid damages the LCD screens green circuits.
Falling phones from a great height can cause physical damage to the display, leading to green line appearing on the screen.
A defect during manufacturing.
System software glitches.
Application conflicts or incomplete system software installation.
Malware infection.
Part 2. Video Tutorial to Fix Green Lines on iPhone Screen
When green lines show on your iPhone screen, you probably don't know where to get started and which solution to take. To save your time, you can have a quick look at this YouTube video first.
Part 3. How to Fix Green Lines on iPhone Screen
Now we shall explore some top solutions that can help you fix the green lines on iPhone screen problem once and for all. Check out the fixes lined up below.
Solution 1: Force Restart iPhone
One of the best ways to get rid of green lines from iPhone screen is by restarting your device. This process restarts it in a fresh mode, making green lines disappear completely. Follow these simple steps outlined here now.
For iPhone 6 and previous models:
First off, press and hold down both the Power button and Home key at the same time until you see an Apple logo on your screen.
For iPhone 7 and 7 Plus:
Press and hold both the Sleep/Wake and Volume Down buttons for at least 10 seconds until you see the Apple logo.
For iPhone 8 and later models:
Quick press and release the Volume Up button, then quickly press and release the Volume Down button and finally, press and hold the Side button until an Apple logo displays on the screen.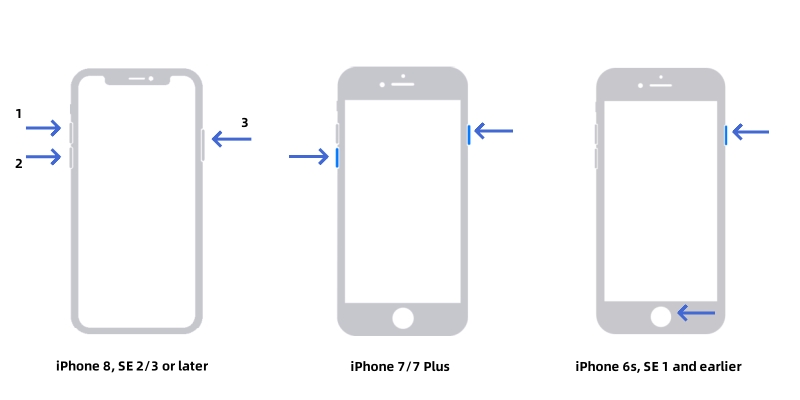 Solution 2: Reset Settings on Your iPhone
Another common reason why green lines appear on iPhone screen is that your device might be storing some settings which are causing it to crash. The best way to fix this problem is by resetting all of these settings. Here is a quick guide.
Step 1. On the main menu, select the "Settings" option.
Step 2. Select the "General" option.
Step 3. Scroll down to "Transfer or Reset iPhone" and select it.
Step 4. Choose "Reset" and then Reset All Settings.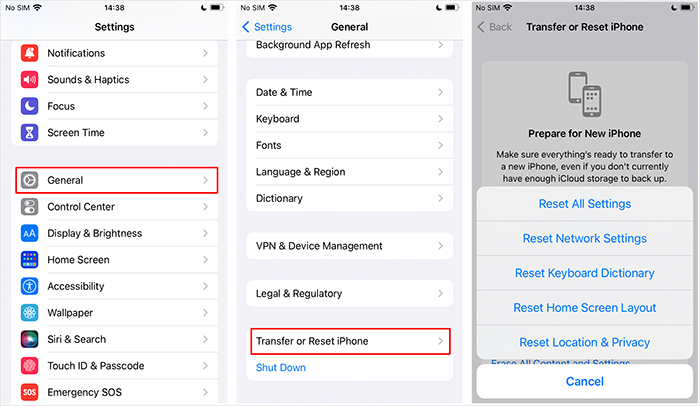 Solution 3: Update iOS System
If resetting your custom iPhone settings does not resolve the green lines display issue, you can try updating the iOS system. This will help fix occurring software bugs.
Option 1: Update iOS on iPhone
Step 1: Go to "Setting" on iPhone and select "General" option.
Step 2: Then select Software Update, followed by Download & Install option. Make sure your iPhone has enough space to download and install the software.
Step 3: Tap on "Install Update" to confirm updating iOS on your iPhone.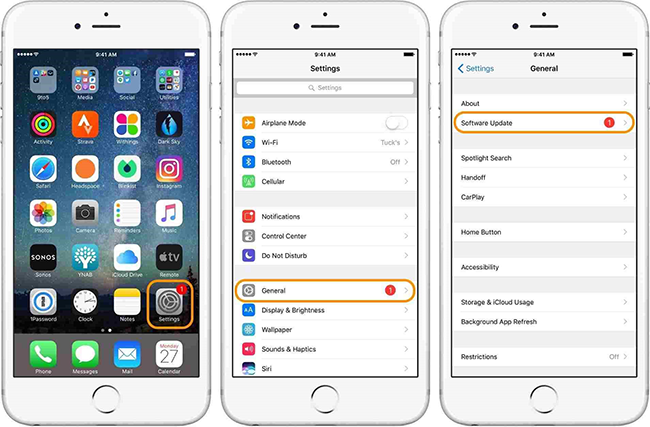 Option 2: Update iOS using iTunes
Step 1: Open iTunes application on your PC or Mac computer and make sure it is up to date.
Step 2: Using a USB cable, connect your iPhone to the computer and wait for it to detect.
Step 3: Click on the iPhone icon and then go to the "Summary" tab.
Step 4: Now, click on "Check for Update" option, and iTunes will automatically update your iPhone to the latest iOS software version.

Solution 4: Factory Reset iPhone
This process resets your iPhone into its original state, eliminating potential errors and glitches on the device. Here you can handily factory reset iPhone:
Step 1: Head to "Settings" on iPhone.
Step 2: Click on "General" tab and then click on the "Transfer or Reset iPhone" tab.
Step 3: Just tap "Erase All Content and Settings" option to restore iPhone.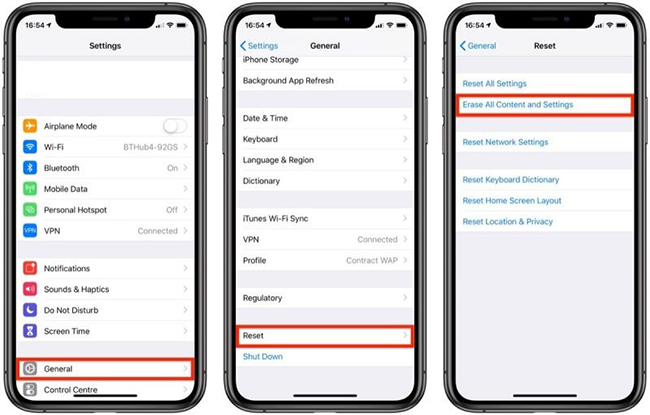 Note: Restoring your iPhone will always lead to data loss. Therefore, we strongly recommend that you back up your personal data and settings.
Solution 5: Update iPhone in Recovery Mode
If iPhone green lines on screen still persist even after factory reset, then it is worth trying to update your iPhone in recovery mode. This process will not clear data from your iPhone. However, you'd better back up data just as pre-caution. After, you can follow the instructions below to get started.
Step 1: Use a genuine Apple USB cable to connect your iPhone your PC.
Step 2: Make sure you have the latest iTunes app version installed on your computer and simply launch it.
Step 3: Press and hold the button to put iPhone into recovery mode.
Step 4: A popup notification "There is a problem with the iPhone that requires it to be updated or restored." will show on your screen.
Step 5: Click on the "Update" option to re-install iOS software on your iPhone. Wait for the process to complete.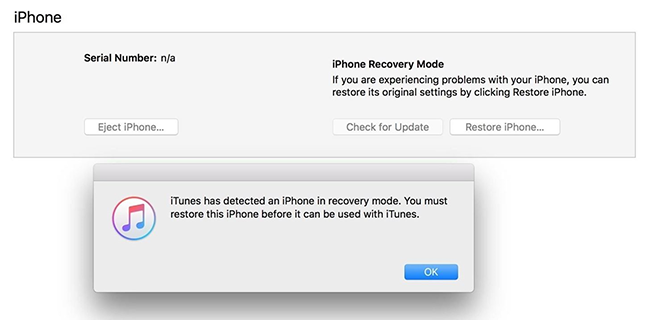 Solution 6: Use Professional iOS System Recovery without Data Loss
In case you have noticed, most of our previous solutions are aggressive and often result in data loss, and that's why we would like to introduce you to a better and friendly solution that allows you to perform iOS repair with zero data loss. This professional, called Joyoshare UltFix, works fast to resolve iOS and iPadOS issues. Aside from green lines, it able to fix white lines on iPhone, black screen, stuck on loading screen, iPad ghost touch and more. The problems classified to device issue, screen stuck, mode stuck, and Apple driver error, can be troubleshot by yourself at home. So, you can keep it as a good device assistant.
Key Features of Joyoshare iOS System Recovery: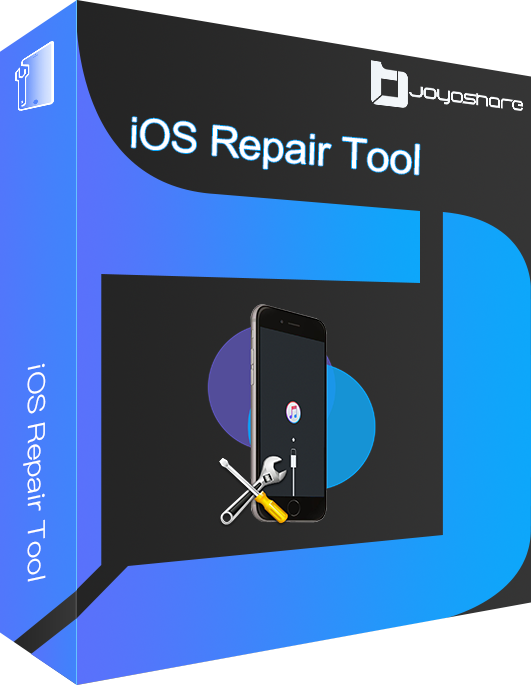 Fix types of vertical line on iPhone screen in different colors
Zero data loss after repairing almost common software issues
Free to enter and exit recovery mode with only one simple click
Help to independently upgrade and downgrade iOS
Compatible all iOS devices and versions, like iOS 17
Below is a quick guide on how to fix green lines on iPhone screen problem using Joyoshare UltFix software.
Step 1: Run Joyoshare software and connect your iPhone to the computer using an Apple USB cable. Wait for the iPhone to detect and the hit "iOS System Repair" and "Start" button to continue.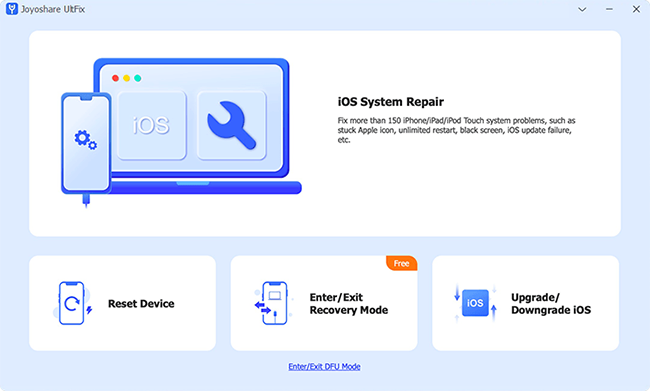 Step 2: Now, select "Standard Repair" as your repair option and hit arrow-shaped option at the right bottom. If your device has problem in being detected, you'll need to put it to DFU/recovery mode by following onscreen operations.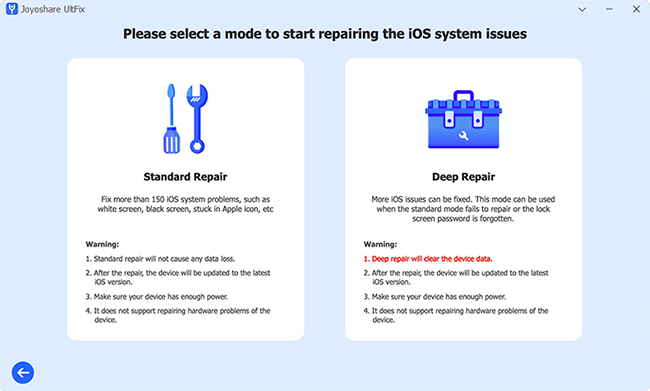 Step 3: On the new window, check to confirm whether the firmware package details match your iPhone model information. If so, click on the "Download" button and wait patiently for the download to complete.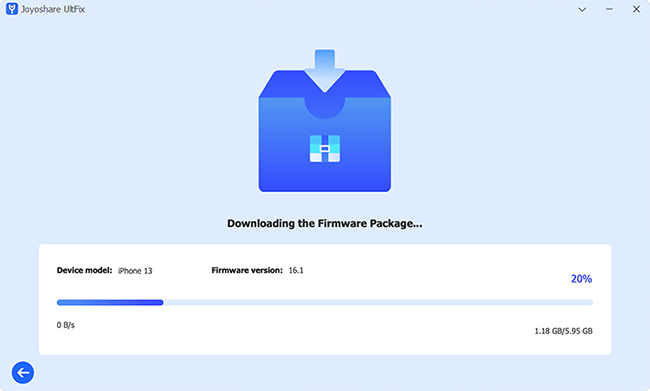 Step 4: Once the download is complete, click "Repair" option. Joyoshare UltFix will automatically recover your iPhone iOS and fix your green line on iPhone screen problem. Always make sure that your iPhone is connected during the entire process to avoid software brick issues. Then start your iPhone and check if the problem is resolved.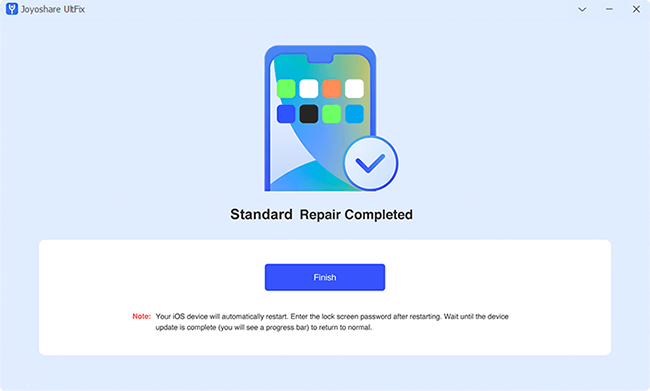 Solution 7: Test If iPhone Screen Is Wet
Green lines are likely to appear on your phone's screen after a liquid invades your device. At this point, you need to check the humidity of the device to see if there is any residual liquid inside the hardware. You can wipe the surface of the screen with a cotton cloth or use a hair dryer to dry any remaining water droplets.
Solution 8: Adjust Display Settings on iPhone
You can attempt to adjust your display settings and see if the screen can show in its normal state without green lines. To do this, simply go for Settings on iPhone → Display & Brightness to adjust the brightness slider. Or furtherly turn on "True Tone" and make the device automatically fit for the ambient lighting conditions.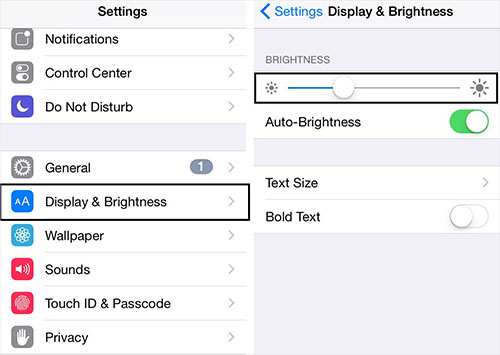 Solution 9: Contact Apple Support
Hardware issues are also important. It is possible that the green line on the screen of the device is caused by damage to the display components, especially after drop or water invasion. We highly suggest you contact the online Apple support team or visit the nearest Apple store for corresponding assistance.
Part 4. Conclusion
You can get different solutions to fix green lines on iPhone screen. Basically check whether the screen is wet, then adjust its display settings, update or restore device possibly. Try your best to find a solution that's suitable. If all fails, then you can consider a dedicated iOS system recovery - Joyoshare UltFix. It will definitely help you out with this issue and get rid of those annoying green lines once and for all.