Q:"Vertical lines on iPhone 11 screen!! This is what happen to my phone after I bought it 3 days. Several lines appeared on the screen suddenly. Any idea why it happens? Any other user facing the same problem with me?" – From an iPhone 11 user
There are always a large number of reports from users stating that they find vertical lines on iPhone screen. This is an old problem, starting with the iPhone 4 and continuing through the iPhone X, 11 and 13. the color of the lines may vary from black, red, blue, green, pink, grey or purple. It could result from physical damage and software problems. Anyway, to solve this problem, you should follow the 10 solutions below, so that you can get rid of the lines while reducing the cost of the repair to the minimum.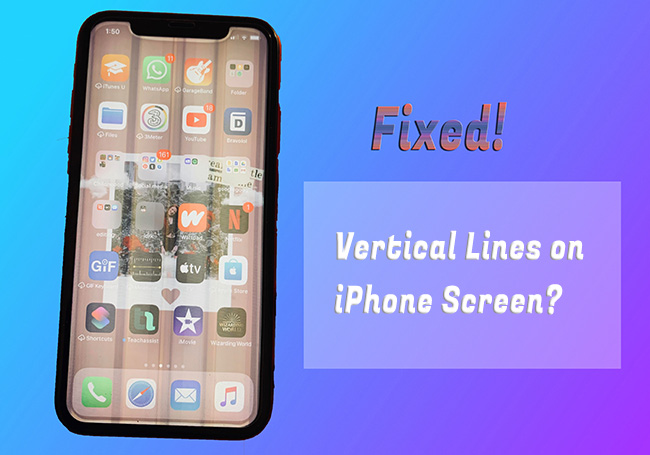 Part 1. What Causes Vertical Lines on iPhone Screen?
The colored lines on the iPhone screen in vertical direction could be caused by a few things. No matter which specific situation you're encountering, the following content will give you some idea of why.
LCD Connection: the LCD cable has been disconnected from the logic board.
Hardware Damage: vertical lines show on screen usually after dropping or water damage.
Electro Static Discharge (ESD): your phone generates too much static discharge and triggers vertical lines.
iPhone System Glitches: potential software issues can make vertical lines appear in the display screen.
Part 2. Video Tutorial: Fix Vertical Lines on iPhone Screen
The vertical line problem often occurs with Apple users and you might not know what to do when it appears on your screen. Here a video tutorial will lead you to the right place and guide you to fix this issue clearly.
Part 3. 10 Ways to Vertical Lines on iPhone Screen
Way 1. Force Restart
A force restart is similar to taking out the battery and putting it back on. It is going to completely shut down all the apps and programs running on your iPhone. Whenever you see there are lines across the screen, you can fix it easily by hard rebooting your iPhone. After the hard reboot, the lines on the screen may disappear. To hard restart your iPhone, follow the tutorial enclosed below.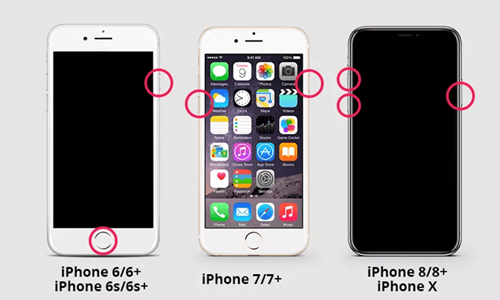 iPhone 6 or former iPhones: Press the "Power" and "Home" button on your iPhone simultaneously for around 13 seconds. You will feel the vibration of the phone, then it will turn on.
iPhone 7 and 7 Plus: Press the "Sleep/Wake" and "Volume Down" buttons at the same time until you see the iPhone turn back on.
iPhone 8 and later iPhones: Press the "Volume Up" button and release it quickly, then press the "Volume Down" button and release it quickly; then hold the "Power" button until you see the Apple logo on the screen.
Way 2. Clean Phone Screen
It might seem ridiculous, but in some cases, iPhone screen lines vertical problem are caused by things as little as water drops or dust. These things can be difficult to notice when you have a screen protector on the screen. If the water drops or dust get stuck between the screen and the screen protector, it is natural that there will be vertical lines across the screen. Therefore, you might as well remove the screen protector, clean the screen with a cloth and see if the lines have gone.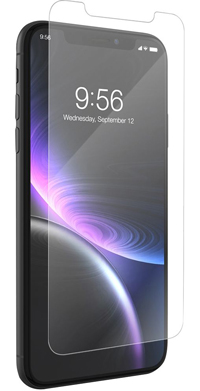 Way 3. Cycle Charge the Battery
Essentially, cycle charging means charging the battery to 100%, then using it until it drains to 0%. When the phone is charged to capacity again, the vertical lines might disappear.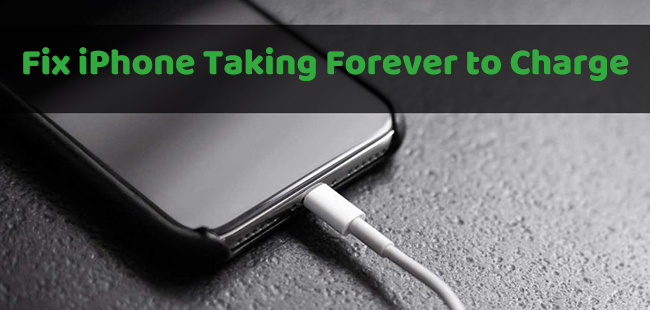 Way 4. Readjust the LCD Screen
It is also possible for vertical lines to appear when LCD cables become disconnected from the logic board during sudden jolts or a fall. A slightly shifted iPhone screen does not necessarily mean that it is damaged; it is just a slight shift.
It might be workable to remove the vertical lines by gently pushing the iPhone's screen back into place to reconnect the cables with the logic board. Make sure that you do not apply too much pressure to the screen in order to prevent the screen from breaking further. The steps are as follows:
Step 1. Put two fingers on either short side of the device and press down firmly but carefully.
Step 2. The vertical lines should disappear as soon as the pins connecting the logic board screen and LCD cables are connected.
Way 5. Update iOS Software
This issue may result from the bugs of some outdated iOS versions. A user complains to us that vertical lines on iPhone 5s screen, and simply updating the system works. We understand that some users may think that iOS updates are useless in general, but that is not true. Except for the updates of new features, iOS update often contains bug fixes, which is very important to the normal function of the iPhone.
Step 1. To update iOS software on your iPhone, go to "Settings" → "General" → "Software Update".
Step 2. If there is an available update, press the "Download and Install" button to confirm your update. The updating process will begin, what you need to do is just make sure the Wi-Fi connection is good and wait for the update to finish.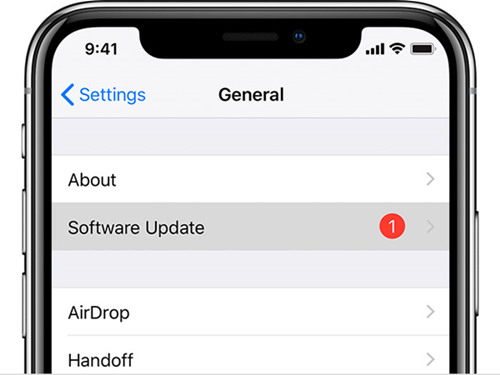 Way 6. Use Professional iOS Repair Tool – Joyoshare UltFix iOS System Recovery [Hot]
In some cases, system error will result in vertical lines on the iPhone screen. The easiest solution is Joyoshare UltFix. This professional iOS repair tool provides two modes to repair more than 150 iOS issues and fully supports iOS 16. It's compatible with almost all models of iPhone, iPad, and iPod. The strongest advantage of this program is that it is able to repair device problems, screen stuck, Apple drive errors and mode stuck, without any data loss. Besides, it free puts your iPhone into recovery mode with one-click and helps to downgrade or upgrade iOS versions.
Key Features of Joyoshare UltFix: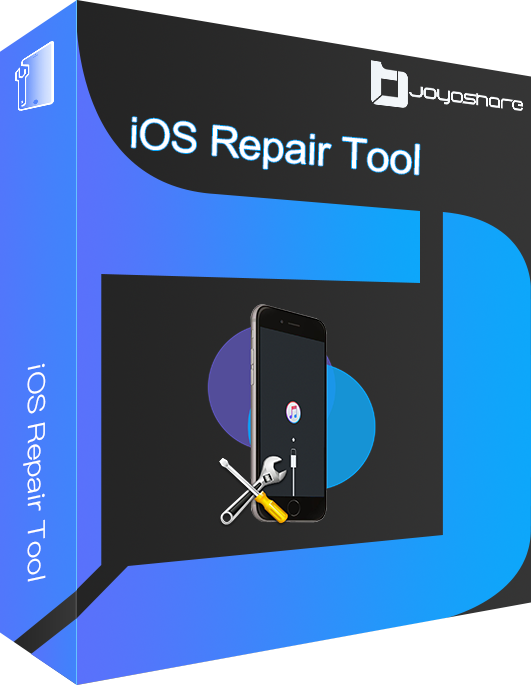 Provide two repair modes for you
Fix vertical lines on iPhone screen problem losslessly
With free one-click enter/exit recovery mode function
Support both the latest iOS 16 and many iOS devices
Downgrade, upgrade iOS and reset device in a dedicated manner
Step 1

Install Joyoshare UltFix and Connect iPhone

Firstly, install and launch Joyoshare UltFix on the computer. Next, plug your iPhone into the computer, and click on iOS System Repair section. After that, hit the "Start" button to proceed.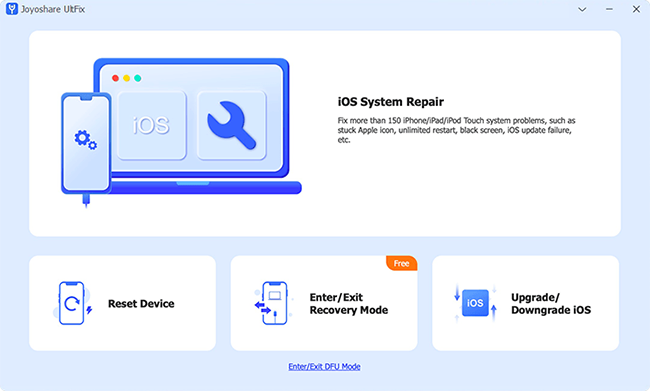 Step 2

Set Standard Repair Mode

You are now in the mode selection window. To avoid losing data, choose the "Standard Repair" and click on right-arrow button. If your device failed to be detected, refer to the on-screen operations to enter DFU/recoevry mode.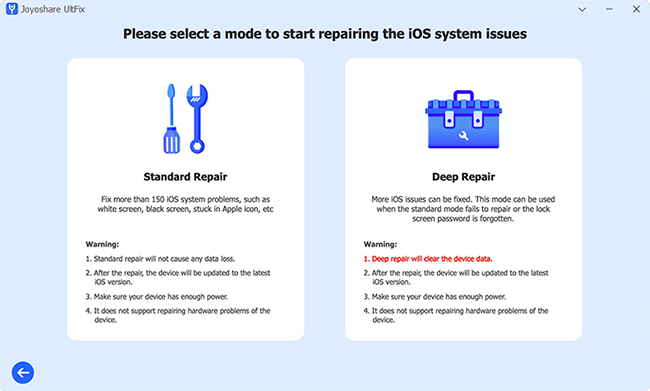 Step 3

Download the Matching Firmware Package

Some of the info about your iPhone will be displayed on the screen. Make sure all the info is correct and change the wrong points. Then click the "Download" button to download the matching firmware package.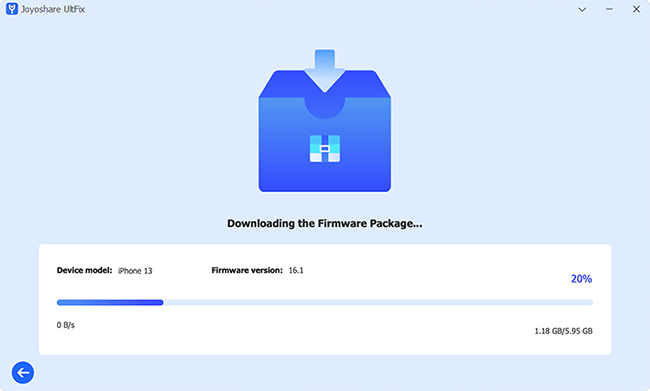 Step 4

Repair Vertical Lines on iPhone Screen

Lastly, click the "Repair" button. The downloaded firmware package will be unzipped, and the program will start to fix the vertical lines on your iPhone screen. A few minutes later, the repairing process will finish, and the lines on the screen will disappear.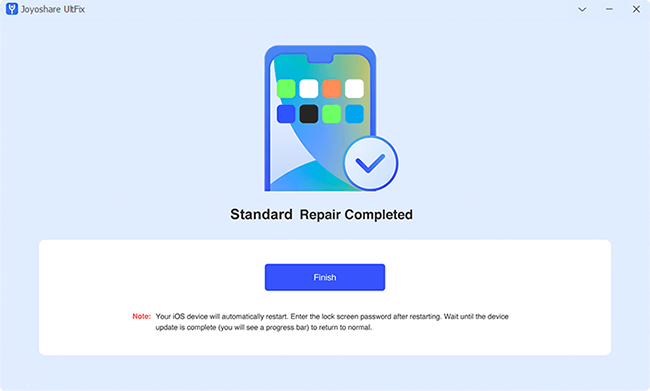 Way 7. Factory Reset
No matter is purple vertical lines on iPhone screen, or other colors, these ways may help you. A factory reset will be needed in the way. In this process, your device is wiped and returned to its original factory settings. All your data will be lost. Before restoring your data, ensure that it has been backed up. To revert to factory settings: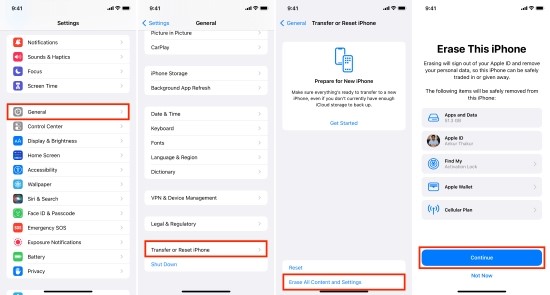 Step 1. Open Settings on iPhone device.
Step 2. Tap on General.
Step 3. Tap on "Reset" or "Transfer or Reset iPhone" and select "Erase All Content and Settings".
Step 4. You will be asked to back up your data at this point. Tap on "Back Up Then Erase" to start the process.
Step 5. To confirm the factory reset, you will need to enter your passcode. Then click OK, the erasure begins.
Step 6. Ensure that the factory reset is completed by giving the device some time to do so. You should check whether the vertical lines have disappeared after restarting your device.
Way 8. Restore with iTunes
Another alternative to restore your iPhone with vertical lines to default settings is to using iTunes. As we all know, iTunes always be regarded as an official Apple solution to help troubleshoot some software issues. You can make it by directly connecting iPhone to the latest version of iTunes, click iPhone device sign, then go to Summary → Restore iPhone → Restore.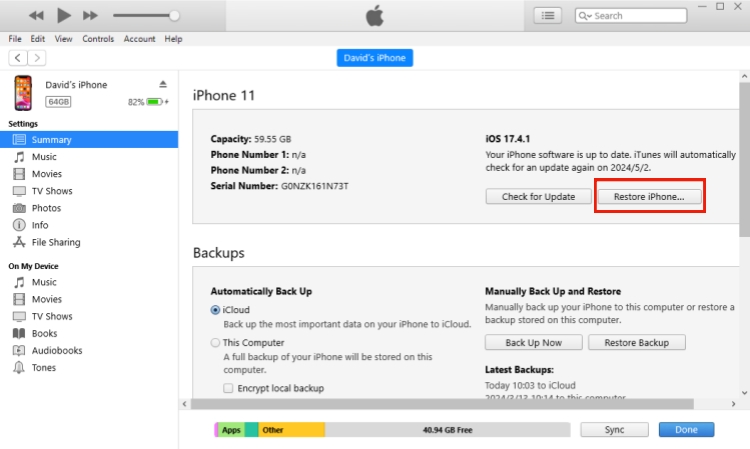 Way 9. Put iPhone in DFU Mode to Restore
The DFU mode, Device Firmware Update, can be tested to restore your iPhone. This way clears data on your iPhone and reloads settings by default. You can first enter DFU mode and then do operations below: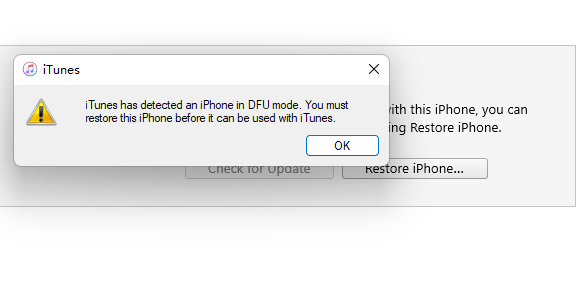 Step 1. When your iPhone in DFU mode, connect it to iTunes using a USB cable.
Step 2. In iTunes' pop-up window, choose "Restore" option.
Step 3. Now confirm your intention and start to restore your iPhone.
Way 10. Ask for Apple Support
As we mentioned in the beginning, the vertical lines on your iPhone screen are usually a sign of physical damage to your hardware. If you see the lines after dropping your phone, it is very likely the screen or the motherboard is damaged. In this case, letting the Apple technicians fix the hardware damages will be much safer than repairing it on your own.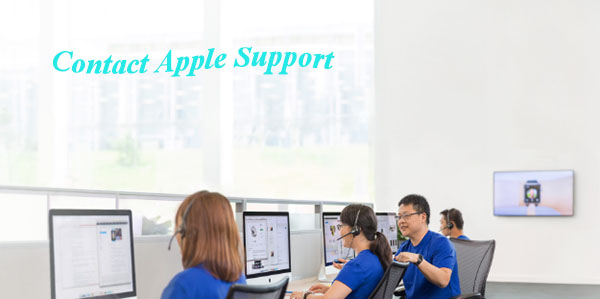 Part 4. Final Thoughts
It is common for smartphone devices to have vertical lines. A variety of gadgets are affected, not just iOS devices. Luckily, vertical lines on iPhone screen can be dealt with by most of the solutions listed here. Note that some of the methods mentioned above may lead to data loss, so we strongly recommend you to back up data in advance or use Joyoshare iOS System Recovery directly, which will not cause data loss and has a very high success rate. We hope that one of the methods in this article can help you.