Q:"Recently, my iPhone touch screen becomes unresponsive. With it, my iPhone is totally unusable. I have tried to restart but it doesn't seem to work. I don't know why it happens. It is certain that my iPhone doesn't smash on the ground lately. Would you give me some effortless methods to get through this problem? Thank you sincerely!" - Ethel from Irony Forum
Actually, almost all iPhone users will suffer from this problem: the touch screen of iPhone is not responding. No matter how hard you work, the screen of iPhone will not react to any finger touch. At this moment, you will be aware that the iPhone is completely out of work and can't be used at all. Surely, there are all sorts of reasons behind iPhone touch screen not working issue. Whether you figure out the cause or not, you don't need to get as vexed and worried as in most cases. To solve it as quickly as possible, here we will show you 5 superb solutions.
Part 1. Clean the Screen to Solve iPhone Touch Screen Not Responding
The most common reason for this issue is that there exist dirt and grime on the iPhone screen. In this situation, it is pretty easy to deal with. If restarting iPhone is unsuccessful, it's better to clean your device thoroughly. At first, you need to gently remove the iPhone screen protector. And then, it demands you to slightly wipe the screen of your iPhone with a neat and tidy cloth. Lastly, you can reboot your iPhone and touch the screen to check if it gets normal. If it is still no response, please continue to try the following methods. There will always be one way to get this trouble done.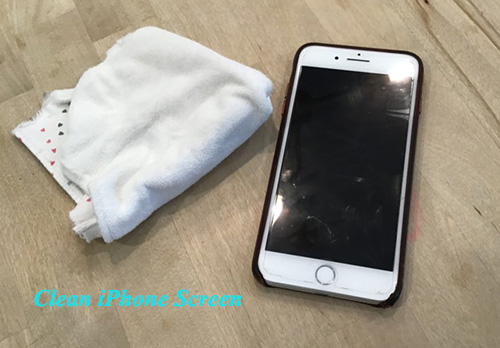 Part 2. Change 3D Touch Settings to Fix Touch Screen Not Working on iPhone
Sometimes, maybe iPhone 3D Touch affects the touch screen not to work well. Hence, you need to check it and adjust the touch settings to repair iPhone touch screen problem. Notice that this approach is applicable to iPhone 6 or later. Do it with the simple steps below.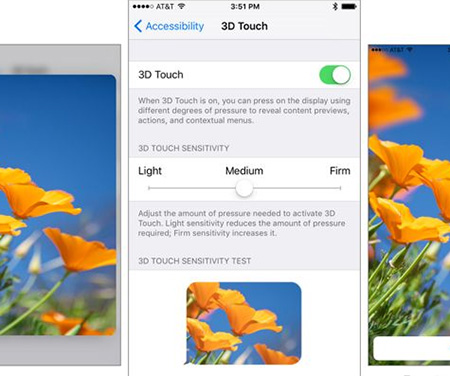 Step 1: Head to "Settings" and then select "General" option;
Step 2: Tap on "Accessibility" and scroll down to click the "3D Touch" button;
Step 3: Following your needs, you can adjust the sensitivity to "Light", "Medium" or "Firm".
Part 3. Free up Storage Space to Repair iPhone Touch Screen Won't Work
There is another possibility that the touch screen issue results from no available storage space with your iPhone. Thus, you are suggested to confirm whether your iPhone has sufficient storage space. If there is zero memory space available on your iPhone, you may manage storage with the following step-by-step guide.
Step 1: You need to tap on "Settings" on the home screen;
Step 2: Then, you have to scroll down to choose "General";
Step 3: In this interface, just press on "Storage & iCloud Usage;
Step 4: Last, touch on "Manage Storage".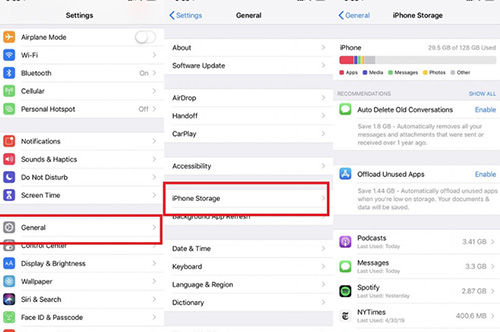 After that, you will see the details of the present memory state, including the remaining storage space for the iPhone and memory space that each application occupies. Without more free space, you can remove unnecessary applications, photos, files and some other undesired contents to release memory for your device.
Part 4. Test Certain App in Safe Mode to Fix iPhone Touch Screen Not Working
It sounds a little hard to believe that a certain app will lead your iPhone touch screen to stop working properly. But a good few people report a faulty application does result in this iPhone issue. In such a situation, you can uninstall the wrong app in safe mode to fix it. It is sure that everyone knows the way to uninstall apps, but how to uninstall in safe mode? If you have no idea, follow the steps as instructed below.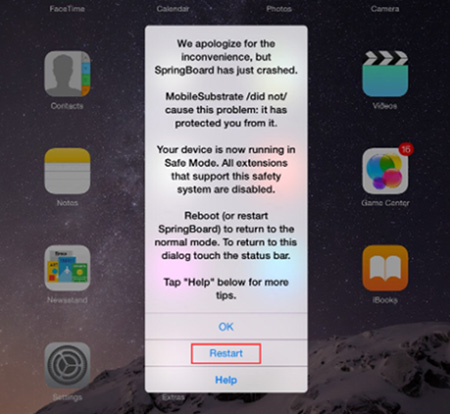 Step 1: Keep holding the "Home" button and "Sleep/Wake" button at the same time;
Step 2: Then, when your iPhone screen becomes black, you should continue to press the "Sleep/Wake" button but release the "Home" button;
Step 3: You need to hold the "Volume Up" button while seeing the Apple logo on the screen until the springboard starts loading up;
Step 4: If there is no more tweaks in the settings menu, that means your iPhone is already in safe mode. In this mode, all applications on your device can not be disabled;
Step 5: Now, if you find the touch screen start responding in safe mode, there will be something wrong with some installed programs. You need to test the apps installed recently and uninstall it;
Step 6: Afterward, you can exit safe mode and reboot your iPhone. Wait a minute, your device will be get back to normal mode and the screen may respond to your finger touch.
Part 5. Repair with Joyoshare UltFix Causing No Data Damage
This is one of the most effective ways to fix the issue that iPhone touch screen doesn't work. As a reliable iOS system repair tool, Joyoshare UltFix can easily fix various system issues with iPhone, iPad, iPod, and Apple TV perfectly. In addition, it offers a click to enter or exit recovery mode freely. To achieve its strong applicability, this program supports both all iOS devices and the newest iOS version.
Joyoshare UltFix is so excellent that not only can repair plenty of ordinary iOS system problems without losing data under the standard mode, but also restore your device to factory settings with advanced mode if necessary. Therefore, it can repair your iPhone touch screen issue efficiently. Besides, repairing process is quite simple, with absolute safe guarantee.
Key Features of Joyoshare UltFix iOS System Recovery:
Fix iPhone touch screen problem quickly and safely
Repair with standard mode and advanced mode
Enter/exit recovery mode with one button for free
Support the latest iOS 12.3 and a series of iDevices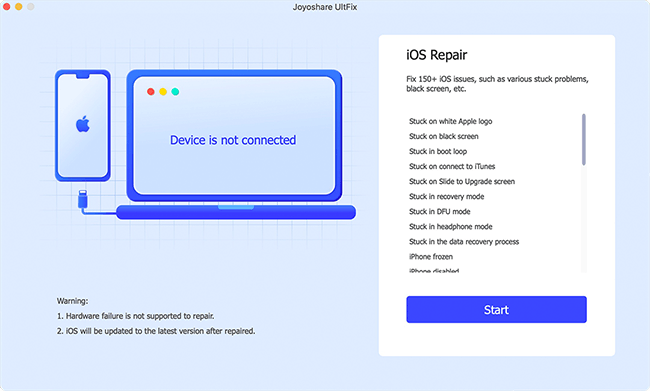 It is time to move to the detailed steps on how to fix this iPhone touch issue via Joyoshare UltFix. The following section takes a Windows version as an example, though this tool supports both Mac and Windows.
Step 1: Firstly, you need to download and install Joyoshare UltFix software on desktop. Once install it, you should plug the iPhone to the computer. After this program detects your device, you can move on by pressing on "Start";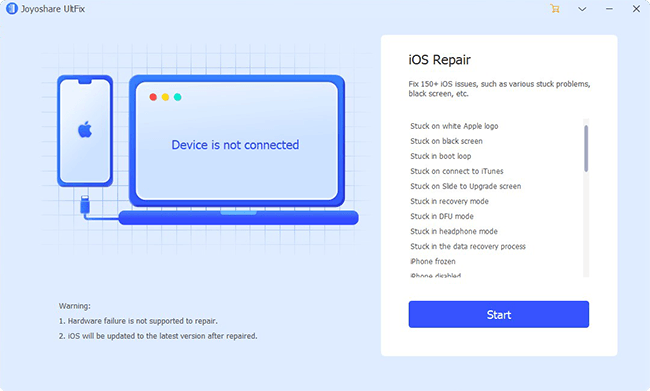 Step 2: This step needs you to choose a repair mode to repair the iPhone issue. You just click standard mode following your real condition. Please make sure your iPhone is full of power;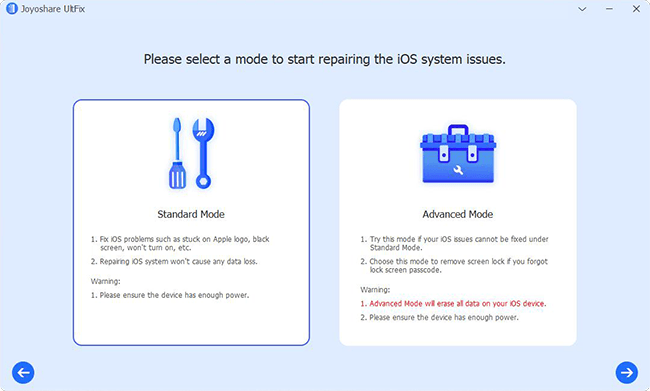 Step 3: After clicking the "Next" button, you will enter this step, in which you are required to set your iPhone into DFU mode or recovery mode as indicated on the screen;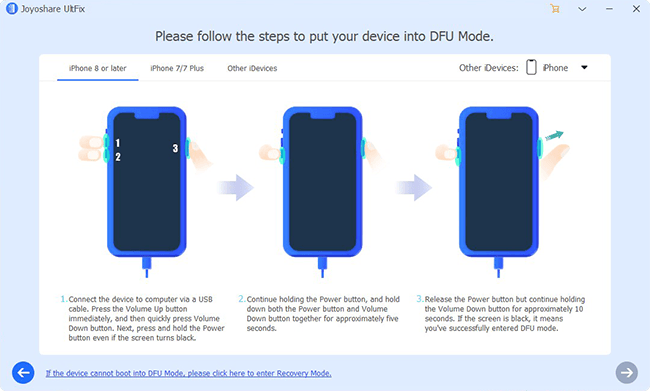 Step 4: Now, Joyoshare UltFix will recognize your iPhone model and show all the information of your device. You need to confirm if it's correct. Then, you can download the firmware package with "Download" button and verify it;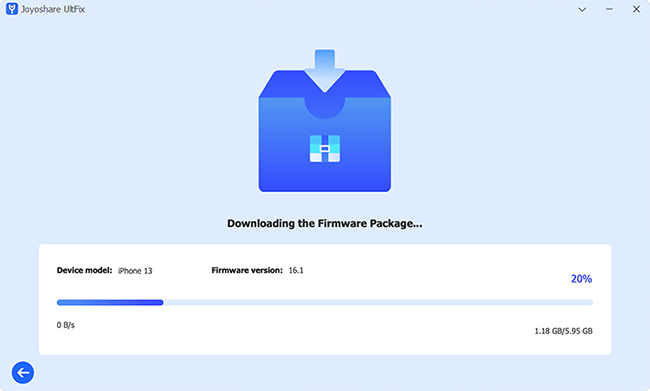 Step 5: When verification gets done, you will tap on "Repair" to unzip the firmware package. After soon, this program will start fixing your iPhone touch screen not working issue.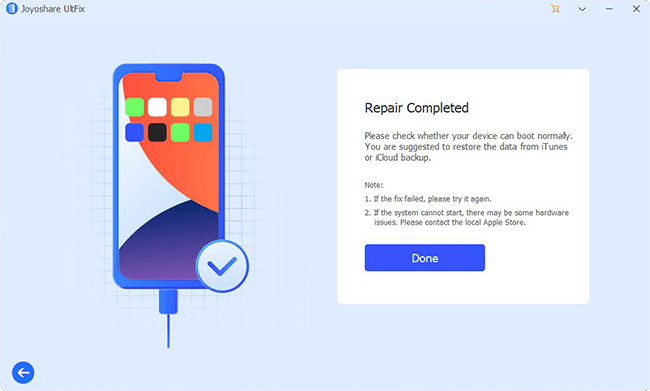 Conclusion
This tutorial just shows how to repair iPhone touch screen not responding with some workable methods. Please note that if there are some annoying problems with your iPhone, such as iPhone screen won't rotate, iPhone screen is flickering, iPhone black screen and other general issues, you will use Joyoshare UltFix tool to repair them. May your problem be got through satisfactorily using the ways illustrated above.