iPhone error 1035 is also referred to as a voicemail related error. You might come across this error message as a result of the poor network while setting up or updating the voicemail on your iPhone. This is not typically an intractable problem and you can approach the problem in a walk. Here, this article illustrates some possible reasons for the iPhone error and poses several workarounds to free yourself from the straits.
Why Would iPhone Error 1035 Occur?
When you set up the voicemail greetings on your iPhone, you are likely to receive notification of "Visual Voicemail is currently unavailable". Some probable reasons explained below in order to settle down this practical problem once or for all.
1. There is something troublesome with your iPhone network;
2. Carrier setting on your iPhone is not updated;
3. Some bugs exist on iPhone system.
Part 1. Reset Network Settings to Fix iPhone Error 1035
It is most possible that the error message arises because of the terrible network on your iPhone. To repair it in this case, resetting iPhone network settings can yet be regarded as a good way, which will restore the network connection to default settings and then connect a stable network to make it function as normal. The following easy guide is going to show you how to do.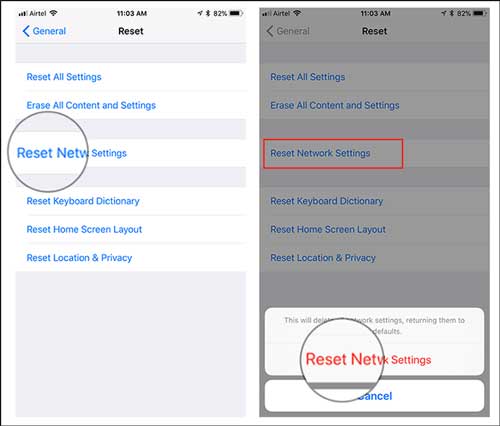 Step 1: Head to "Settings" on the home screen and followed by "General";
Step 2: After that, scroll down to choose "Reset" and then click on "Reset Network Settings";
Step 3: Enter passcode to agree with the option. Soon, the network settings will be reset;
Step 4: Now, get back to connect WiFi or cellular data and access the voicemail again. Generally, it surely works properly now. If not, keep on with the methods below.
Part 2. Reset Voicemail to Repair iPhone Error 1035
Another solution that can be considered is to set up voicemail on your iPhone. Sometimes, you might encounter error 1035 iPhone issue when the extant voicemail goes wrong or voicemail has not been set up. Approaches for the situation are explicated in the successive steps.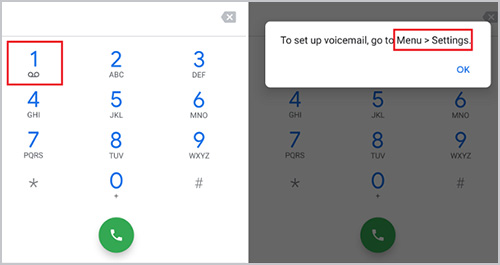 Step 1: Open the dial-up keypad on iPhone. Then, touch "1" and "*" to get into the main menu;
Step 2: Next, you need to click on "3" to enter the "Greeting" interface and then to "2" to record a greeting afresh when getting a prompt;
Step 3: Now, press "#" to finish the recording and tap on "1" again to set the recorded message to your voicemail greeting.
Part 3. Fix iPhone Error 1035 with Airplane Mode
Airplane Mode is a function that is applied to prevent your iPhone from connecting to the network signal, so it keeps off by default. However, recently, quite a few users in the Sci-tech forum have reported that Airplane Mode can repair iPhone error message 1035. With this method, you need to navigate to "Settings" and turn on "Airplane Mode". Then turn it off in 30 seconds. Now, open your voicemail to check if it works well.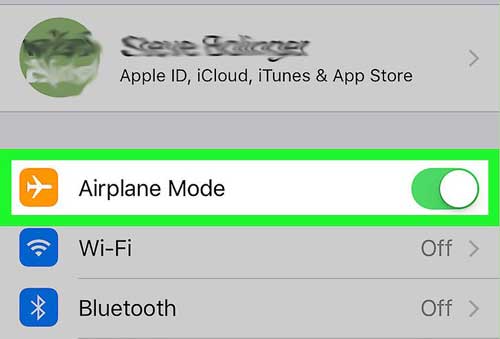 Part 4. Update Carrier Settings to Fix iPhone Error 1035
If this issue happens after you update iOS of your device, it may suggest that the carrier settings need to be updated to adapt the new iOS version. A simply way to do it is going to "Settings" - choose the "General" tab - go for the "About" section. If there is an update pending, you just touch the "Update" to get the recent carrier settings for your iPhone. After updating, restart your device and voicemail will resume to normal work state.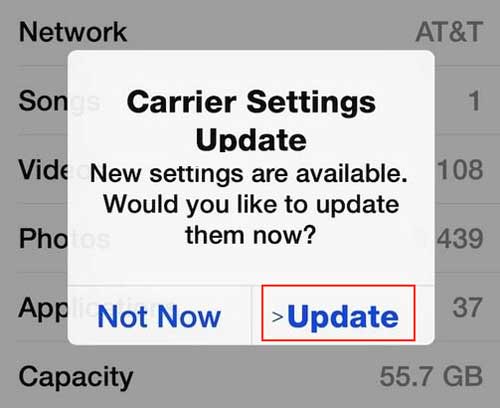 Part 5. Repair iPhone Error 1035 with Joyoshare UltFix
Last but not least, the optimal solution to shake off the trouble is to take advantage of Joyoshare UltFix. It is one of the best programs in the network market of recovery software and can easily solve this kind of iPhone errors without taking a risk of data loss, such as iPhone error 9, iPhone error 53, iPhone error 3194, and so on. Importantly, it is able to make your iPhone enter or exit recovery mode with a single click.
Also, Joyoshare UltFix is not only compatible with all iOS versions (iOS 13 supported), but also repairs more than 30 varieties of iOS system problems on iPhone/iPod/iPad/Apple TVs. Ultimately, it is commendable is that the software expertly and fully provides two repair modes. Standard mode is designed to fix general iOS issues like iPhone voicemail error 1035 without any data loss. And advanced mode is conducted to deal with those serious problems like unlock iPhone without knowing passcode.
Key Features of Joyoshare UltFix iOS System Recovery
Correct various iPhone errors without losing data
Supply standard mode and advanced mode to repair
Be capable of fixing numerous iOS system issues
Support the latest iOS version and all iOS devices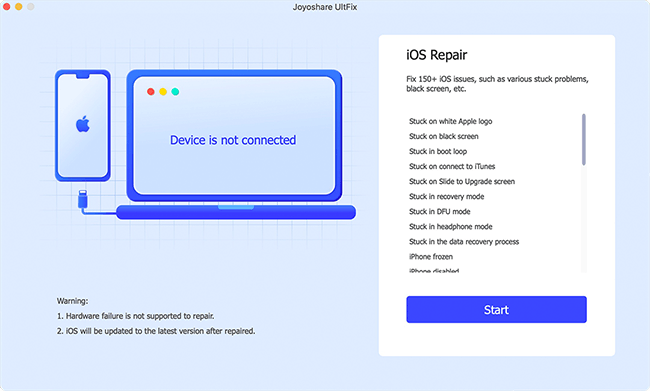 Next comes the specific operating procedures to rectify your iPhone error with Joyoshare UltFix.
Step 1: Download and install Joyoshare UltFix on your computer. Then, take an original lightning cable to connect your iPhone with computer before initiating the process with the "Start" button;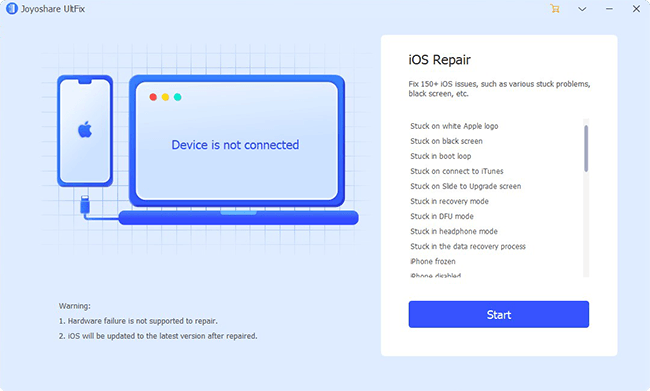 Step 2: This section will demand you to choose a repair mode on the basis of the actual condition. For you iPhone error, it is more than enough to select "Standard Mode". Once done, tap on "Next" to proceed;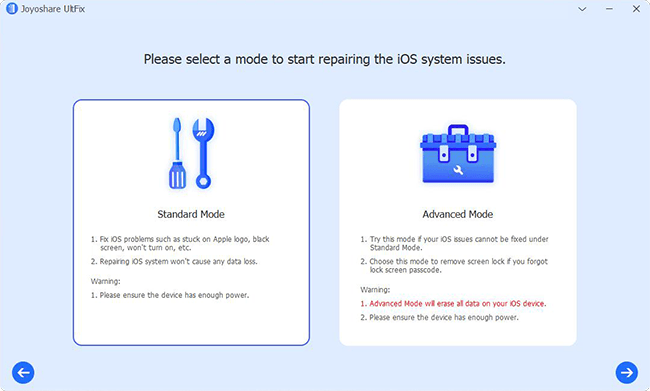 Step 3: Now, boot your iPhone into recovery mode following the steps on the screen. If failed, click the link to switch to DFU mode;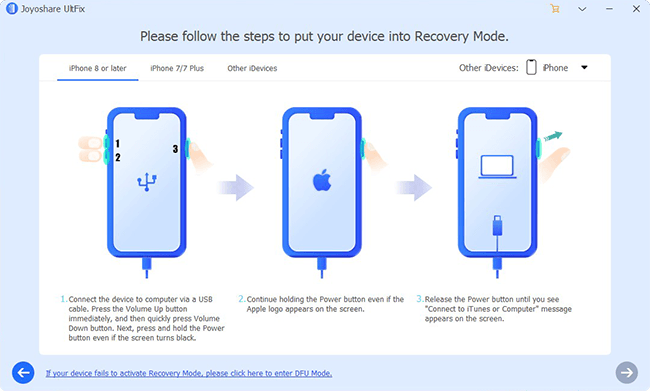 Step 4: The program will show you all iPhone info after entering recovery/DFU mode. You can click the "Download" button to download the recent firmware package on your device if the details about iPhone are exact;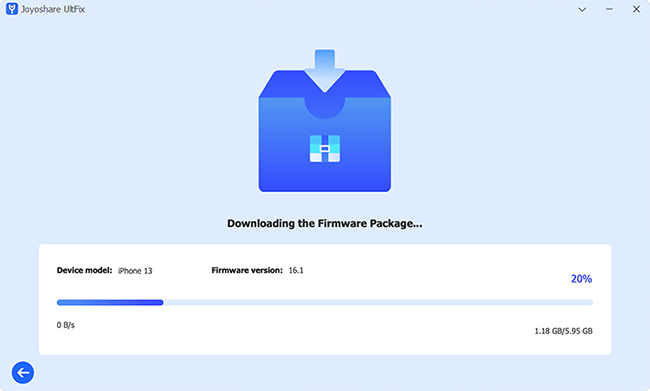 Step 5: In the end, you just need to touch "Repair" and Joyoshare UltFix begins to unzip the firmware package. After unzipping, the iPhone error would be repaired automatically.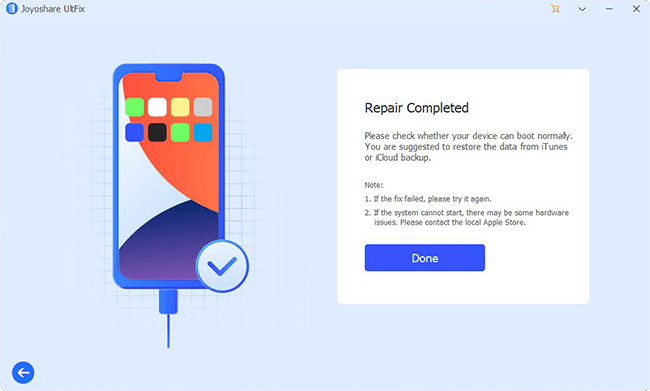 Conclusion
Here and now, you have read this article to learn about 5 reliable methods to fix iPhone error 1035 without any problem. The thing to note about these solutions is that not all methods can get this problem in one below. If you are reluctant to spend too much time fixing it by trying these ways one by one, please choose Joyoshare UltFix decidedly.