Q:"When I try to restore my iPhone 8 with iTunes, a window pops up to say that 'The iPhone could not be restored. An unknown error occurred (3194)'. Any solution to get out of it?" - Julia from TechAdvisor
iPhone error 3194 seems to happen frequently, especially when you upgrade or restore your iOS device. This is such a generic error that there are several reasons for it, such as jailbreak tweaks, an outdated version of iTunes, some iPhone system glitches, and so on. Yet regardless of the cause, this article is going to present 5 efficacious approaches to help you address this trouble. Read on to find out how to do with this guide.
Part 1. Disable Firewall or Security Software
Sometimes, turning on firewall or security software will block the connection and communication between iTunes and Apple servers. Hence, you can temporarily switch off firewall to avoid iPhone 3194 error. Alternatively, you may also uninstall the security software before you update or restore iPhone. There is no need to repeat how to uninstall app since you all certainly know. Here's how to disable firewall.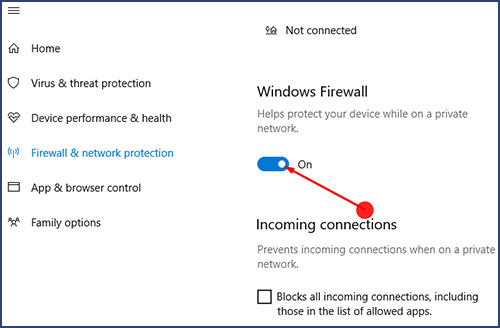 Step 1: Click the "Start" button and followed by the "Settings" icon;
Step 2: Afterward, open the "Windows Defender Security Center" and select the "Firewall & network protection" option;
Step 3: Now you will see several network profiles and need to choose one. Under Windows Firewall option, you should click to turn it off.
Note: After turning it off, you can try to restore iPhone with iTunes. If there is no error message popping up, turn on firewall again after restoring successfully.
Part 2. Check Hosts File to Fix iPhone/iTunes Error 3194
Another greatly possible reason for the error is that there is a conflict between present hosts file and hosts file that is needed to be downloaded by iTunes. This problem will be triggered when you try to connect iTunes to other servers rather than Apple server. In this event, you ought to check and change the hosts file on the computer to ensure iTunes and Apple server can be connected properly. The way to change between Mac and Windows is a bit different. Please do as follows.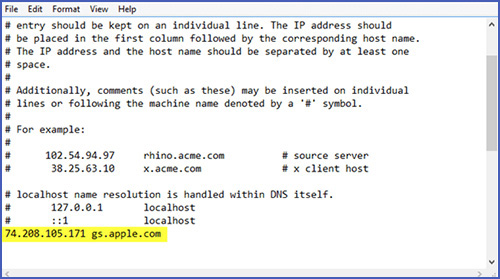 Step 1: Make sure iTunes is turned off before operating;
Step 2: Then, you need to open hosts file on the computer. On Windows, open C drive and select windows/system32/drives/etc/hosts and then tap on "Return". On Mac, you need to launch Terminal and enter sudo nano/private/etc/hosts and click on "Return";
Step 3: If you set a password, you have to type password to get access to the computer;
Step 4: Find the hosts file "gs.apple.com" and then add "#" and a space in front of "gs.apple.com" line. After that, click Control + O to save this file;
Step 5: Lastly, turn off all these programs and restart your computer. Once restarted, you are able to restore iPhone with iTunes again.
Part 3. Factory Reset iPhone with iCloud
If you encounter error 3194 when restoring iPhone via iTunes, remotely resetting iPhone can help you. It is usually because you have changed the way that iTunes connects to the Apple Server when iPhone gets a jailbreak. So, restoring iPhone with iCloud is a nice solution to fix it. Follow the guide to do.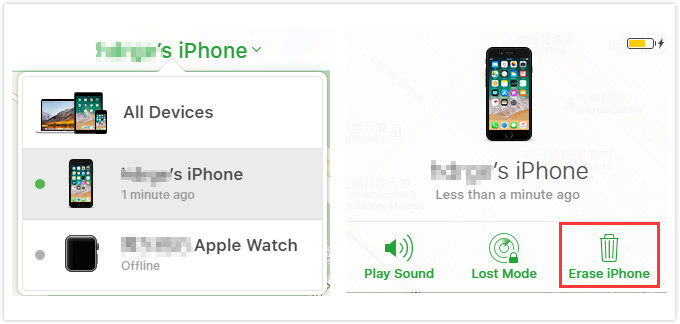 Step 1: Turn on "Find My iPhone" on your iPhone at first;
Step 2: Get into iCloud official website and log in with your Apple ID;
Step 3: Click on "Find My iPhone" at the top of the window and choose "All Devices";
Step 4: Among all the shown devices, you ought to choose the device that needed to be restored;
Step 5: At last, touch the "Erase iPhone" button and confirm the action. After some time, your iPhone is going to be restored to factory settings.
Part 4. Update iTunes to the Latest Version to Fix iPhone Error 3194
An old version of iTunes can also lead to this iPhone error. Occasionally, it will impact the connection when you try iTunes to restore iPhone. The easy and quick method to solve it is to update iTunes to adapt it to the Apple server. The next simple guide will lend you a hand.
For Windows: run iTunes firstly - hit on "Help" - touch "Check for Updates". If available, click it to update. For Mac: Open iTunes - tap on "iTunes" at the top of this window - choose "Check for Updates" - click to install the latest version of iTunes if there is an update is available.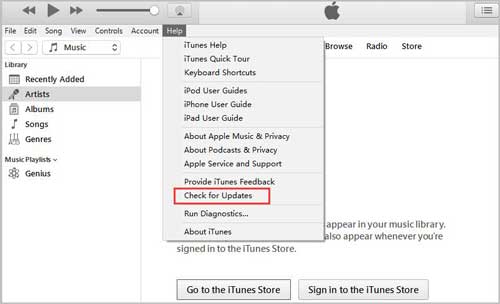 Part 5. Repair with Joyoshare UltFix without Any Data Loss
Instead of restoring your iPhone to fix this error, Joyoshare UltFix is able to get iPhone 3194 error repaired without losing any data. As a preeminent program, it can fix more than 30 types of iOS system issues with two repair modes. Standard mode is designed to repair various ordinary iOS problems without causing data loss. Besides, when standard mode cannot help you out well, just handle the problem with advanced mode. Notice that advanced mode will fix the issue by restoring your device to factory settings.
During the process, if you want to enter or exit recovery mode, you can realize it with one click for free. Except for iPhone system issues, this professional software also has the ability to repair iPad, iPod touch, Apple TVs system issues with 3 simple steps. Still, with powerful compatibility, Joyoshare UltFix gives full support to the recent iOS version and all the iOS devices.
Key Features of Joyoshare UltFix iOS System Recovery
Can help you get rid of iPhone error 3194 fix facilely
Be developed with standard mode and advanced mode
Allow your iPhone enter/exit recovery mode for free with one click
Compatible with all the iOS devices and the newest iOS version 13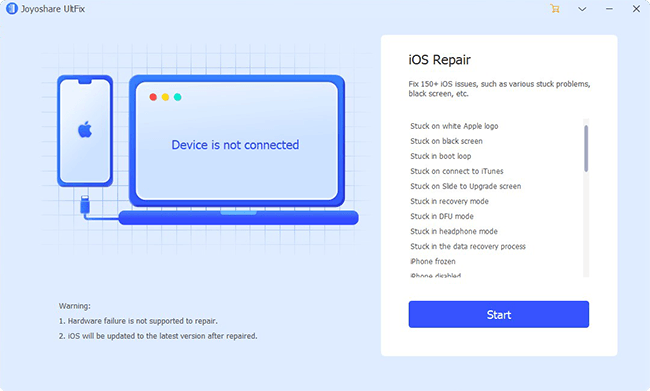 The specific way to solve the problem with Joyoshare UltFix is illustrated below. Please read carefully the guide that uses Mac as a case.
Step 1: To begin with, download the latest version of Joyoshare UltFix and install it. Then you need a USB cable to connect your iPhone to the computer. Once your device is recognized, you can proceed by touching "Start";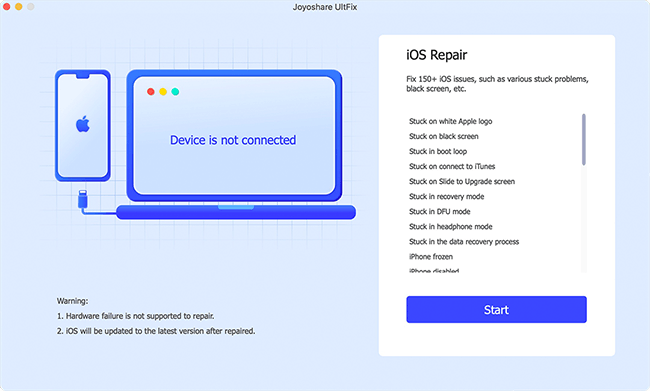 Step 2: In the second step, you will see two repair modes on the screen. It is sufficient to fix your iPhone issue with standard mode. Then get into step 3 with the "Next" button;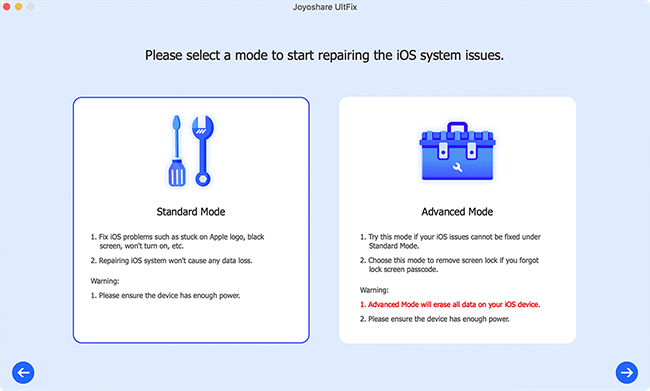 Step 3: Afterwards, it is needful for you to set your iPhone into DFU mode according to the on-screen instructions. If failed to enter DFU mode, click the link to put iPhone into recovery mode;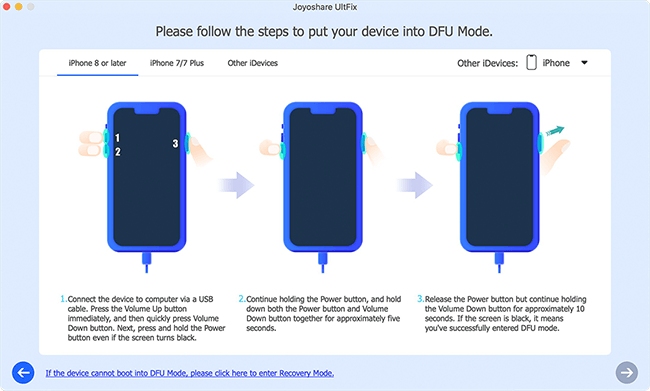 Step 4: Joyoshare UltFix will automatically detect your iPhone information and you have to make confirmation before downloading and verifying the firmware package by tapping on "Download";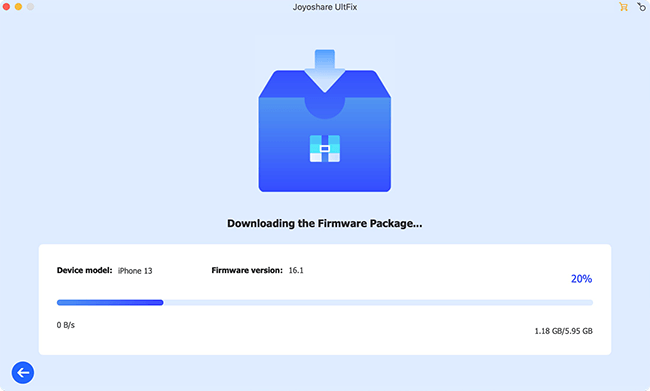 Step 5: Eventually, just click the "Repair" button to get the firmware package unzipped after verification is finished. In a few minutes, iPhone error will be repaired perfectly.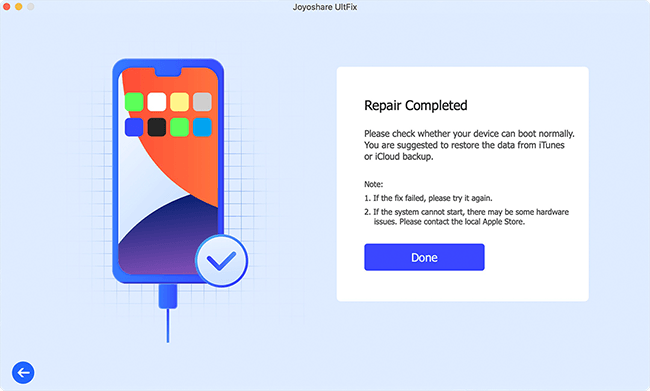 Conclusion
All of the above methods are proved effective to repair iPhone/iTunes error 3194. As mentioned earlier, with advanced repairing features, Joyoshare UltFix can repair a variety of iOS issues without data missing including iPhone error 4013, iPhone error 4005, iPhone keeps crashing, iPhone is disabled connect to iTunes and other such iOS system problems. It is certain that you don't have to use this program if common ways can work for you. Anyway, hope this post is beneficial to you!