You might have seen the iTunes error -50 notification shown in the screenshot above when you tried syncing your Apple devices to the computer. You may wonder why does this happen and how to solve it. It is actually a common problem, and this troubleshooting guide will explain the causes and list the 6 most effective solutions to it.
1. Consolidate the USB connection to Fix Error -50
The most common cause for most iTunes error is the problematic USB connections. Chances are that the USB accessories you own are broken or not Made for Apple ones. A USB cable may charge your device without any trouble, but it doesn't mean that it can be used as a USB cable. It is recommended to use the Apple original cables. You can test whether the USB is functioning by connecting to other computers that don't have the error 50 on iTunes. In addition, the port of the iDevice should also be clean and intact.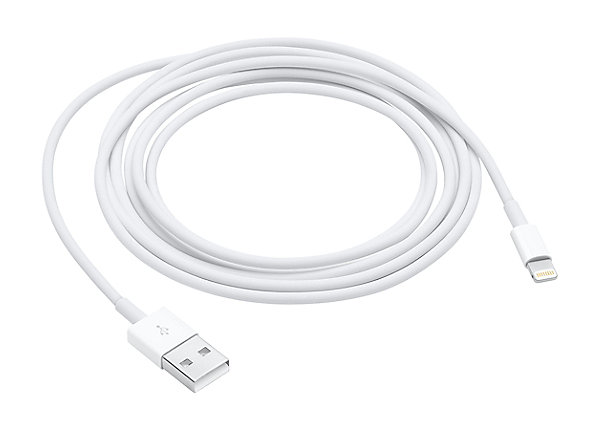 2. Restart the Computer and the iDevice to Resolve iTunes Error 50
Easy as it seems, a restart is a quick and effective fix to many iOS issues. For iTunes error 50 caused by the interruption of certain apps on your computer or iDevice, a reboot is highly effective. To restart your computer or the iDevice only may not be thorough enough. It would be better if you can restart both of them and then initiate the syncing process again.
3. Update iTunes or MacOS to Fix iTunes Unknown Error -50
In fact, it is recommended to always keep the latest version of iTunes on your PC. If you use Mac, just update macOS to the latest version, and the Finder app will be updated, too. Updating the latest iTunes and iOS can avoid the compatibility problems and iTunes issues resulted from them. There is an updated guide below.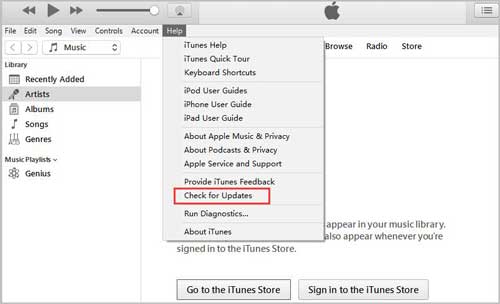 Update iTunes on Windows:
Step 1: Open iTunes on the computer. Next, click on the "Help" option in the toolbar and then tap on "Check for Updates" button;
Step 2: If there is an available update, a window will pop out and you should press the "Download iTunes" button to confirm.
Update iOS on Apple Devices:
Step 1: Go to the "Settings" on your iDevices;
Step 2: Scroll down to the "General" option, tap on it and then the "Software Update" option;
Step 3: Download and install the available update.
4. Check Security Software to Fix iTunes Error -50
The anti-virus program or firewall on your computer may block the syncing process of your iDevices by mistake. If the anti-virus program installed on your computer is famous for arbitrary actions, you should pay even more attention to it. Normally, you can go to the blacklist of this program, and remove iTunes from there. It would be more secure to add iTunes into the white list. If iTunes remains to be blocked, simply turn off the firewall temporarily while you are syncing.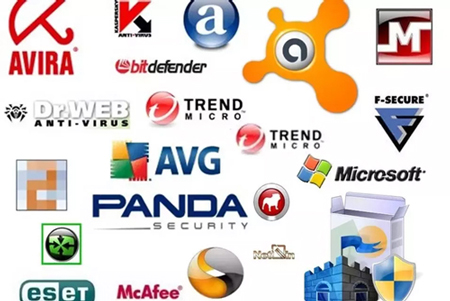 5. Resolve iTunes Error -50 without Data Loss
If all the solutions above fail to save you from the iTunes error 50, it is possible that it roots in certain system errors or bugs on your Apple devices. The easiest way to erase these errors is by using Joyoshare UltFix iOS System Recovery. It is a professional iOS system repair program dedicated to fixing iOS issues on iPhone, iPad, iPod and Apple TV, and the repair processes for most issues will not cause data damage.
It is so easy-to-use that even beginners can use it to solve a bunch of iTunes errors, such as iTunes error 9, iPhone error 4013, etc. Its convenience and efficiency can also be illustrated by its ability to put your iDevice into the recovery mode with one-click, not to mention this operation is totally free.
Key Features of Joyoshare UltFix iOS System Recovery
Easy to operate and cause no data loss
Troubleshoot almost all iTunes errors
Compatible with almost all iOS device and the latest iOS 13
One-click to let your device enter the recovery mode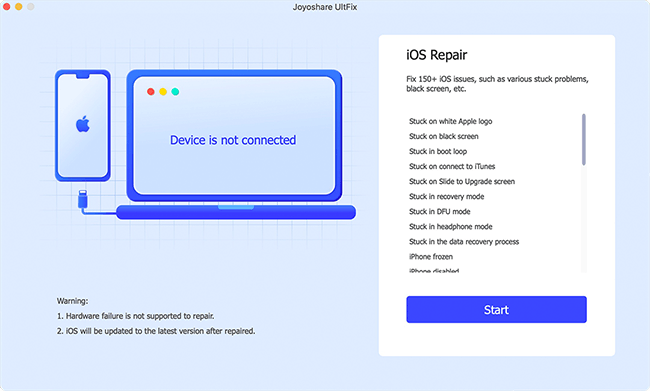 Step 1: Install and run Joyoshare UltFix on your computer, then connect your iDevice to the computer via an Apple USB cord. When your device is successfully detected, press the Enter Recovery Mode button and the Start button;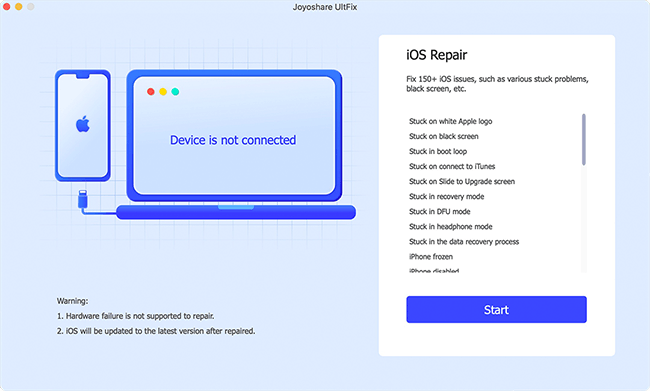 Step 2: There will be two recovery modes displayed on the screen for you to choose from. Click on the Standard Mode box and then the Next button, so that the program will not harm your data during the repairing process;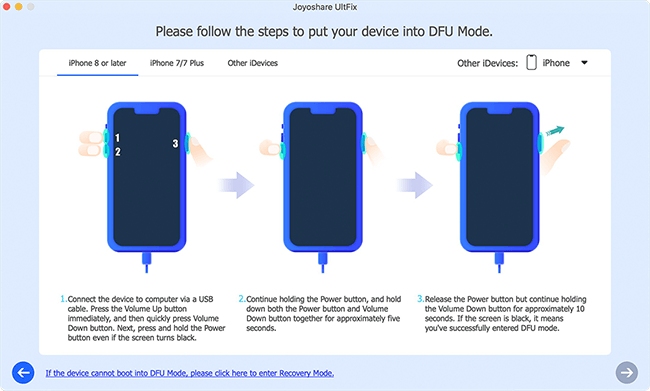 Step 3: The program will collect some basic specs about your device and show it on the screen. Make sure all is correct and press the Download button, and the firmware package will be downloaded for the repairing process;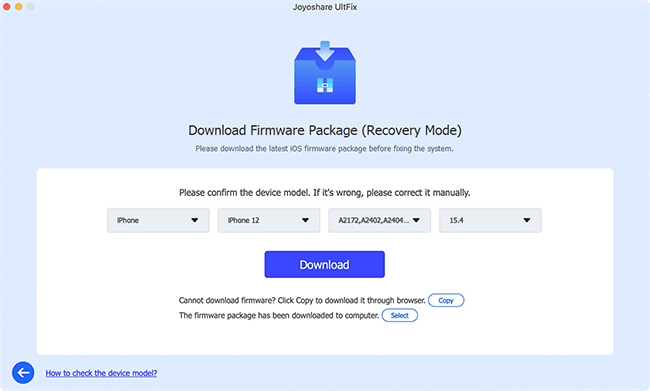 Step 4: Get the firmware package unzipped and begin the repairing process by clicking the Repair button. After a while, your device will go back to normal, and the iTunes error -50 will be gone.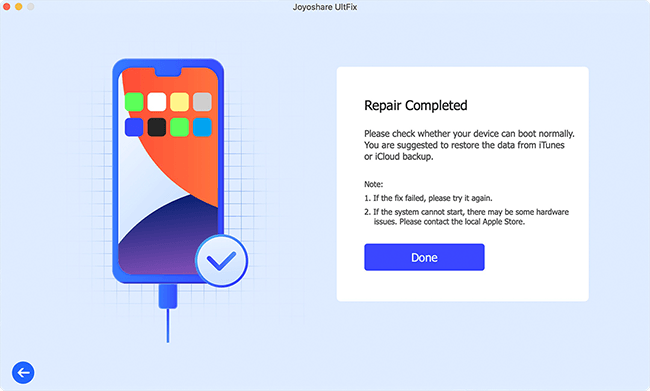 6. Resort to Apple Support to Fix iTunes Error -50
It should not be ignored that the error -50 iTunes may be the result of hardware issues. A broken USB port, a corrupted data transmitting unit can all lead to this problem. While repairing hardware is out of our hands, the professional staff in Apple outlets can handle it in the safest method possible. If the last 5 solutions couldn't help you, we suggest you go to the Apple outlets or customer service centers for help.