Admittedly, it is quite irritating that you get a notification of "iPhone could not be restored. An unknown error occurred (4005)" while attempting to restore iPhone or update iOS. As an iPhone user, it is greatly possible to experience the dread iPhone error 4005. Basically, this particular error means that updating or restoring process will not be successful and leaves you with an iPhone that cannot be updated. Maybe you think it is a serious matter that needs to be settled as soon as possible. Actually, you don't have to worry too much. This tutorial will set forth 6 workable methods to work for you regardless of the causes.
Some Possible Reasons for iPhone/iTunes Error 4005
1. There exist some minor bugs on iPhone;
2. Maybe something wrong with iTunes like outdated version or incomplete installation;
3. iCloud won't be turned off with a proper way;
4. iPhone is attacked by virus or iOS system may crash.
Part 1. Force Restart iPhone
The basic troubleshooting to fix iPhone error 4005 is to force restart your device. If this issue results from iPhone system glitches instead of iTunes problem, this method is right for you. The way to force restart iPhone must be known to you all, so I won't go into any more details here. To do it, just press and hold the "Sleep" button and "Home" button simultaneously for around 10 seconds until the Apple logo shows on the screen. Then you can connect iPhone to iTunes again with original USB to see if this error still occurs.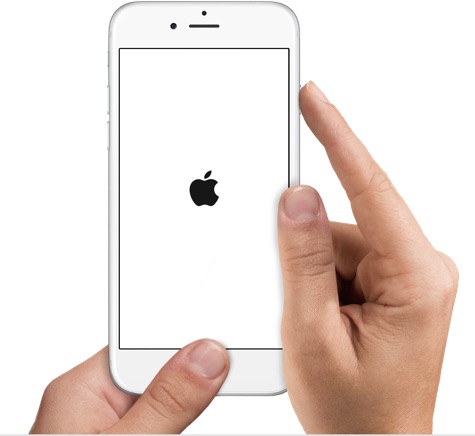 Part 2. Reboot Computer to Fix iPhone 4005 Error
If hard resetting iPhone fails to function, try restarting your computer. This action will clear up some issues associated with connectivity between iTunes and iPhone. Also, it can force quit all running activities on computer and after a while when you switch on computer again, you will get a fresh iTunes to run. Although this solution is couldn't be simpler, it works more often than not.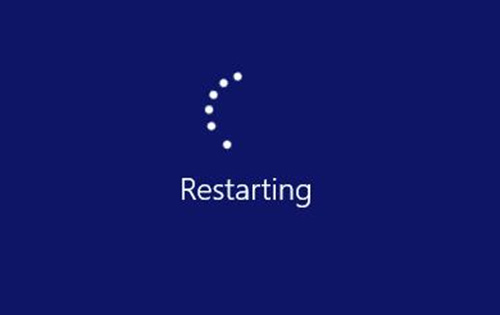 Part 3. Update iTunes Version to Repair iPhone Error 4005
The old installation package of iTunes may bring about iTunes error 4005. Thus, updating iTunes on your computer will correct this error easily. The method to operate is not complicated but varies slightly from device to device. To update iTunes on Windows, you should open iTunes firstly and then hit on "Help" in the menu bar above the screen. In the list of given options, you need to click on "Check for Updates" to update if there is one available.
To update on Mac, similarly, you ought to run iTunes first. After that, you are required to tap on "iTunes" in the upper-left area of this window. Then only choose "Check for Updates" among all shown options. It will check the installed iTunes against the latest iTunes version. If available, please click to install the newest iTunes. After updating, there is a need for you to update or restore iPhone again to check whether the error is solved or not.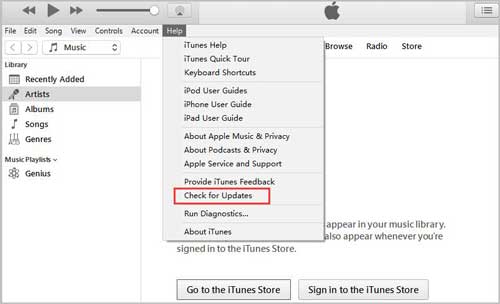 Part 4. Update Computer OS to the Newest Version
It is possible that the outdated computer OS causes iPhone error 4005. In the face of such a situation, what you are meant to do is updating the OS of your computer to be compatible with the latest iTunes. Like iTunes, updating on Mac and Windows is slightly different. So, two diverse methods to update are expounded below.
For Windows users: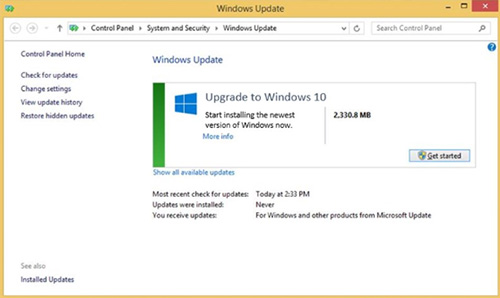 Step 1: Start by clicking the "Windows" icon located at the bottom left corner of the screen. Then a window will pop up and you need to tap on "Settings";
Step 2: After that, you will get into another interface. Now you have to find and choose "Update and Security";
Step 3: Tap on "Check for Updates" and wait checking comes to end. If there is an update available, hit on "Install Updates".
For Mac users: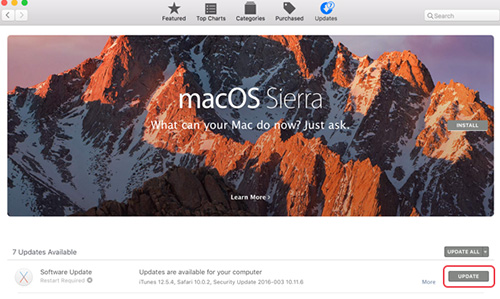 Step 1: Firstly, you must turn on Mac and get into App store. Then select "Updates" from the toolbar at the top of the screen;
Step 2: If an update is available, you can tap on "Update". Or if you would like to update all updatable software, you may click "Update All" to achieve it.
Part 5. Fix iPhone 4005 Error with DFU Mode
If none all the above methods fixes this iPhone failure, you are able to try setting iPhone into DFU mode. Notice that DFU mode is going to solve the problem by restoring your iPhone. Therefore, do not forget to back up the important data and files with iTunes in advance. If you feel it is acceptable, please follow the ways illustrated below to put iPhone into DFU mode.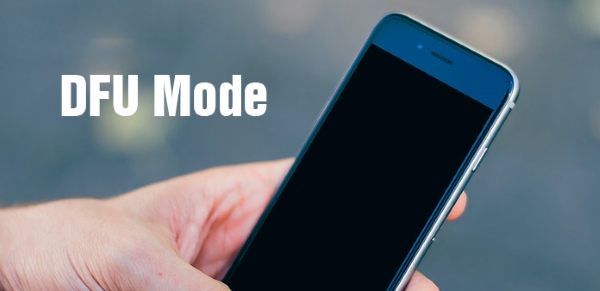 Step 1: Press and hold the "Power" and "Home" buttons for about 10 seconds at the same time;
Step 2: Next, you need to release the "Power" button and continue to hold down the "Home" button;
Step 3: Nothing will appear on the iPhone screen if your device is set into DFU mode.
Part 6. Fix iPhone Error 4005 with Joyoshare UltFix with No Data Loss
To handle this issue once and for all, you are recommended to adopt Joyoshare UltFix. This user-friendly software is capable of helping you to get out of iPhone error 4005 fix with a few simple steps. As a multifunctional program, Joyoshare UltFix not just fixes a variety of iPhone system issues causing no data missing such as iPhone error 4013, iPhone cannot connect to iTunes, iPhone stuck in DFU mode and so on with standard mode, but also restore iPhone to factory settings with advanced mode if demanded.
In addition, this tool works well with all iOS version including iOS 12.4 and all iOS devices consisting of iPhone, iPad, iPod touch and Apple TVs. Else, if you want to enter or exit recovery mode during the operation process, it provides a free option to realize it with one click. Anyway, you can apply it to repair your iPhone error completely without scruple.
Key Features of Joyoshare UltFix iOS System Recovery
Enter or exit recovery mode with one click for free
Solve iPhone 4005 issue without losing data information
Offer two modes including standard mode and advanced mode
Compatible with all iOS devices and the latest iOS version 12.4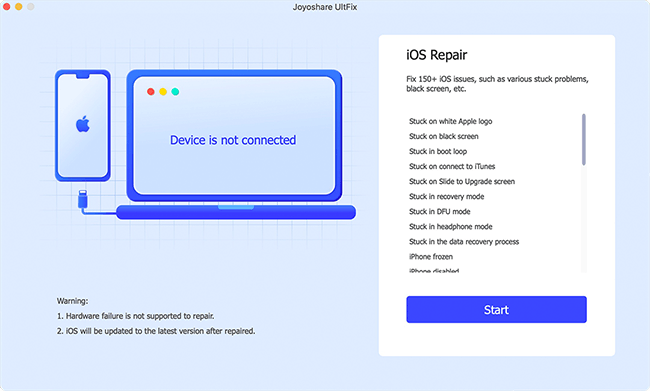 Here is a step-by-step guide to tell you how to make use of Joyoshare UltFix to fix the error. The following is the specific way to operate on Mac.
Step 1: The first thing is launching Joyoshare UltFix and connecting your iPhone to the computer. Then, hit on "Start" to operate step 2 after iPhone is detected by the software;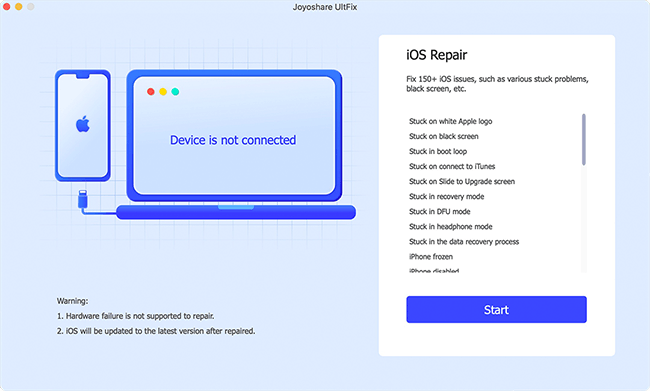 Step 2: This window will ask you to choose standard mode or advanced mode. Based on the actual situation, you need to tap on standard mode to fix iPhone issue;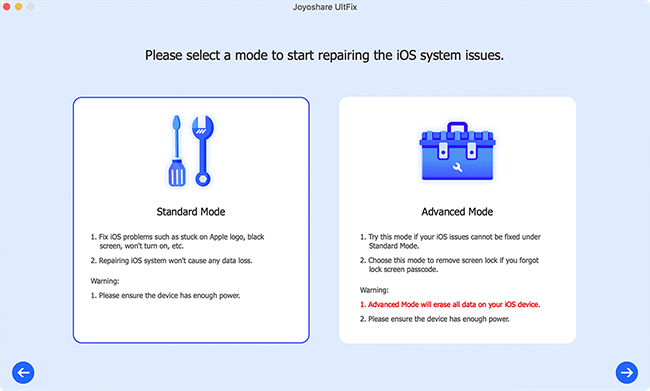 Step 3: Subsequently, as indicates on the screen, you ought to boot your iPhone into DFU mode. If failed, click the link in the same interface to change to recovery mode;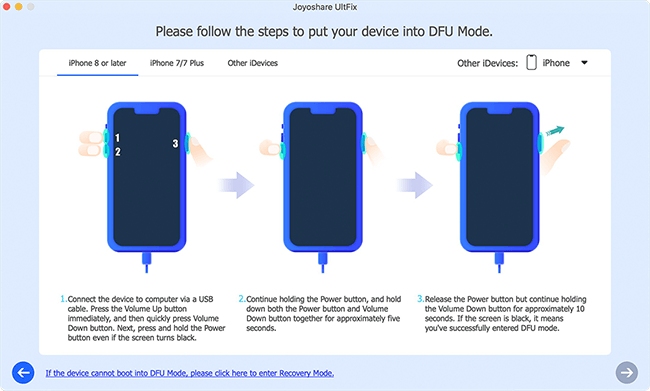 Step 4: Afterwards, make a confirmation after Joyoshare UltFix recognizes your iPhone information. Once done, all you need is to tap on "Download" to get the firmware package downloaded and verified;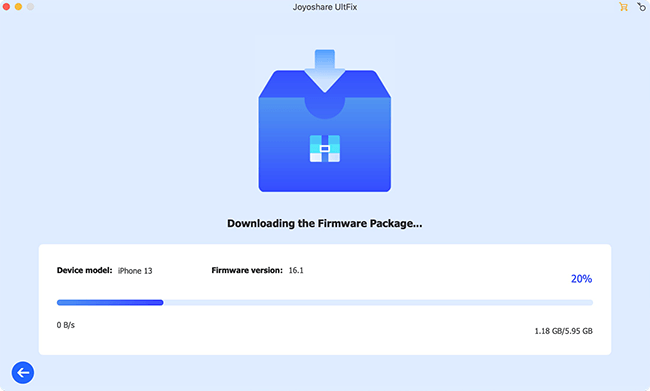 Step 5: Now, wait until verification is finished. Whereafter, click on "Repair" to start unzipping the firmware package and fixing iPhone error code 4005 without a hitch.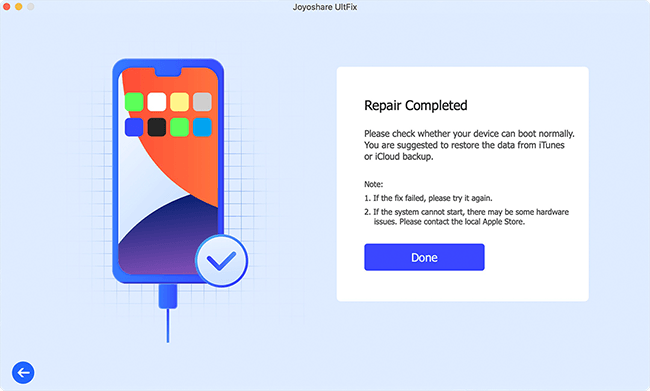 Conclusion
In this post, 6 possible and effective solutions are mentioned to solve iPhone error 4005. But among all of these methods, there is no guarantee that the iPhone issue will be repaired successfully at once other than Joyoshare UltFix. The reason for that is Joyoshare promises high success rate and security. In addition, this program has been unanimously praised by numerous users. If you want to try out before using formally, you may download and install the trial version from the official website. Of course, if common ways can assist you in repairing iTunes error 4005, you don't have to use this software. All in all, wish your iPhone problem will be solved properly soon.