Unknown errors like iPhone restore error (-1), iPhone error 9, iPhone error 4013/4005, etc. occur frequently when connecting to iTunes to restore or update iPhone. Many reasons contribute to this problem, such as out-of-date iTunes version, hardware faults with the computer, iPhone software failures or something else. If you can perceive where the problem lies, directly choose the right remedy from the following. If not, you might need to take a moment to try all the methods below until the iPhone error is rectified.
Part 1. Update iTunes to the Newest Version
The outdated version of iTunes is one of the most common factors contributing to iPhone restore/update error (-1). Its caused incompatibility will result in the failure of restoring or updating iPhone. Therefore, you are advised to bypass iPhone error -1 by updating iTunes. Steps are to do it are uncomplicated. Below gives a quick guide.
Update iTunes on Windows: Run iTunes - click on "Help" on the top menu bar - tap on "Check for Updates". After iTunes is updated, try restoring or updating your iPhone again. Barring accidents, there should be no iPhone error emerging.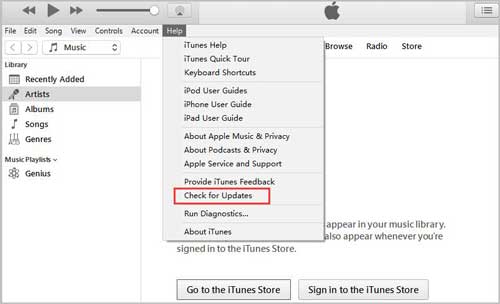 Update iTunes on Mac: Open iTunes - choose "iTunes" on the top bar - press on "Check for Updates". Once done, have another try of restoring or updating your iPhone with iTunes.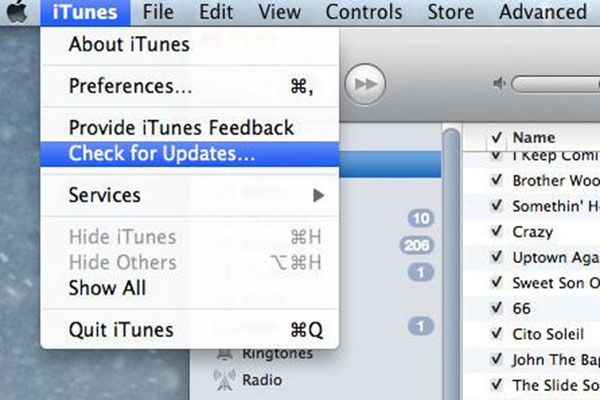 Note: If your Mac computer is running macOS Catalina, you can skip this part. On it, updating or restoring iPhone is by using "Finder". So, it is unnecessary to update.
Part 2. Try the Other Computer
Trying to update or restore iPhone on another computer is also a feasible solution to iPhone error -1. Certain unknown software or hardware issues on the computer negatively impact the regular work of iTunes, which could lead to this error code when updating or restoring the iPhone. When updating iTunes takes no effect, you might as well have a shot at this way. Quite a few users rectify the same iPhone error by such a simple action.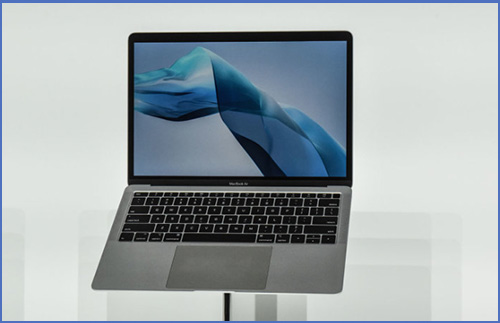 Part 3. Disconnect Other USB Devices from Computer
The iPhone error -1 problem may stem from conflicts between the iPhone connected to your computer and other USB devices attached to it. There are times when the confusion of data will be faced if you plug multiple devices to the computer simultaneously. Hence, a proposal to you is unplugging all devices connected to the computer - cleaning the USB port - connecting the iPhone to the computer with an original USB - rebooting the computer - running iTunes and having one more try to restore or update your iPhone.
Part 4. Turn off Anti-virus Software on Computer
Another workable method to deal with iPhone restore error (-1) is to disable anti-virus software or firewall while updating or restoring with iTunes. That's a very definite possibility that computer firewall or security software blocks iTunes from communicating with the iPhone, thereby bringing about this error code. The easiest solution in this case is uninstalling all anti-virus software and disabling firewall for the time being and then try iTunes to restore or update the iPhone again.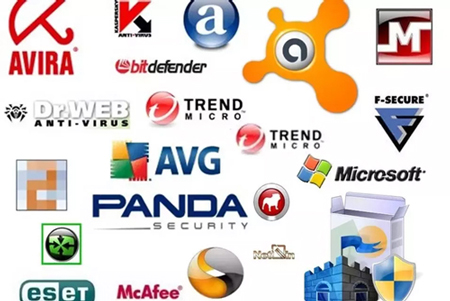 Part 5. Losslessly Fix iPhone Restore Error (-1) via Joyoshare UltFix
All the above-stated methods cut no ice with the issue of iPhone restore error (-1)? So then, nine times out of ten it is your iPhone system failures that give rise to such an error when attempting to restore or update it with iTunes. Confronted with this situation, adopting an advanced iOS system recovery software like Joyoshare UltFix is an optimal approach.
How so? Above all, it is a technical iOS repair tool with two repairing modes not simply to settle general issues including various iPhone/iTunes errors without compromising any data loss, but also to address tight problems with no difficulty. Moreover, its broad compatibility enables it to work well with all iOS device models (iOS 13 included) and Apple TVs. Also worth noting is that Joyoshare UltFix gives you an option to make your iPhone enter/exit recovery mode for no fee.
Step 1: In the first place, click the above button to get the right version of Joyoshare UltFix on your computer. After that, open it and connect the iPhone with the computer. Wait until your device is recognized with success. Then, continue by touching "Start";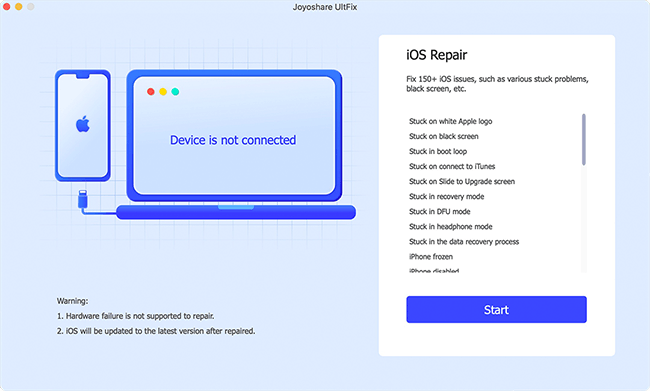 Step 2: In the next place, choose a repair mode to repair iPhone error -1. Generally, it is suggested that you pick the standard mode that won't cause data loss during the process;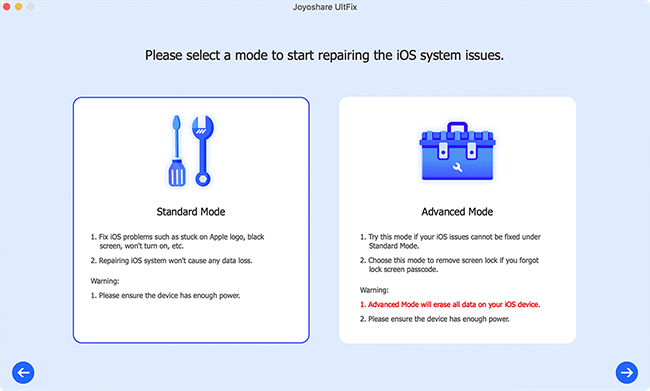 Step 3: After selecting your iPhone models, you ought to put it into DFU mode or recovery mode on the basis of the instructions stated on the screen. Note that the link at the bottom of the window is used to switch mode.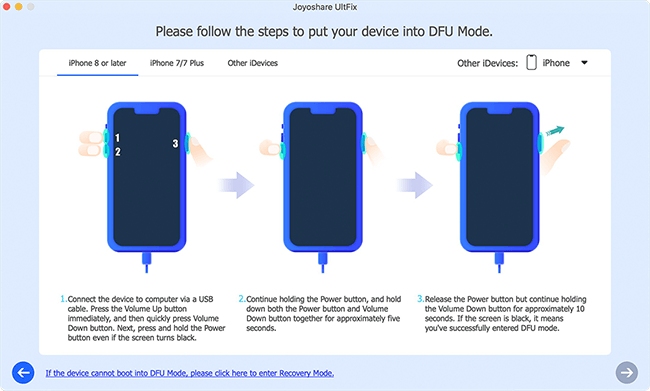 Step 4: At this time, you need to check and confirm all your iPhone info detected and displayed by the program. After making a confirmation, tap on "Download" to download and verify the latest firmware package.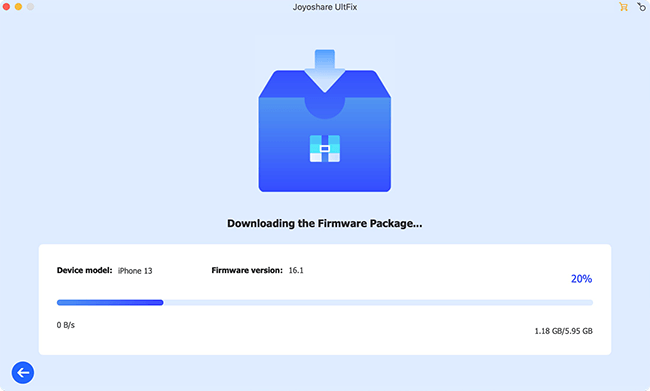 Step 5: In the last place, press on "Repair" to get the verified firmware package unzipped. Once completed, Joyoshare UltFix will begin to repair the iPhone restore/update error -1 issue.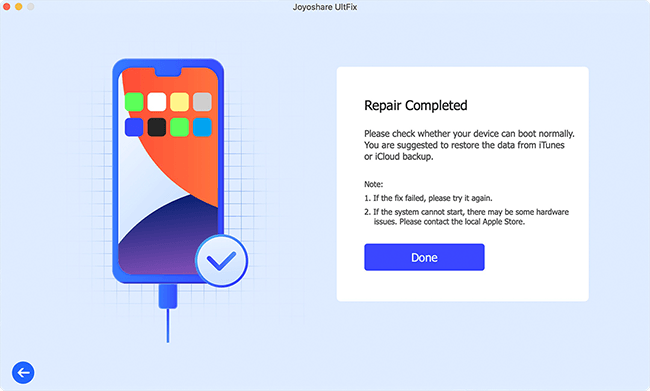 Part 6. Restore iPhone in Recovery Mode
Restoring the iPhone in recovery mode is efficient in troubleshooting iPhone error -1, but it is accompanied by data loss. Thus, such a method is only recommended to those who run into this error when restoring iPhone or those who have a backup of the iPhone. Of course, in case you don't care whether data is lost or not, you can as well do as follows.
Put iPhone into recovery mode:
iPhone 6S or earlier: hold down the "Home" button and "Power" button for about 10 seconds. After that, release the "Power" button and keep holding the "Home" button until the iTunes logo shows.
iPhone 7 or iPhone 7 Plus: turn off the iPhone 7. Then, press and hold the "Lock" and "Volume Down" buttons at the same time until you see the recovery mode screen.
iPhone 8 or later: press and release the "Volume Up" button and then the "Volume Down" button. Next, hold down the "Power" button until you see iTunes logo when connecting to iTunes.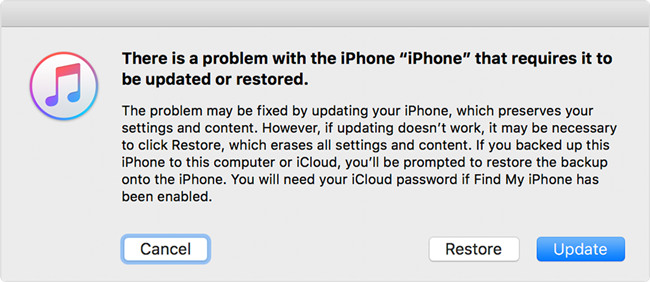 Restore the iPhone in recovery mode with iTunes:
Step 1: Make sure that you have installed the latest version of iTunes on your computer. Then, run it. If you are a Mac user, open "Finder". If you are a Windows user, click its icon twice to open it;
Step 2: Next, manually set your iPhone into recovery mode according to the above. If you see iTunes logo on the iPhone screen, that means your iPhone successfully enters recovery mode;
Step 3: Subsequently, a window will pop up. You just click on "Restore" on this window to repair iPhone error -1.