Q:"My iPhone 11 stuck on black screen with spinning wheel. It's a new one that suddenly stopped working. Now I have no ideas. What do I need to do to fix this problem?" — From Apple Community
Just like the mentioned user from the Apple community, other users are also confronted with the same issue, keeping grumbling iPhone 8/11/12/13/14 stuck on black screen with spinning wheel. It seems that you are likely to be in this big trouble. Obviously, the issue of iPhone black screen spinning wheel is actually very common to occur. You may experience it during the process to restore, updating, rebooting iPhone, etc. However, there is no need to worry. You can let yourself off the hook with the best solutions here. Let's go to check more details together. Part 1. What Is iPhone Black Screen with Spinning Wheel?
iPhone is one of the most popular mobile devices and is considered one of the most prestigious phones that you can own. However, just like any device, the beloved iPhone is prone to some occasional glitches. One of the glitches that you may encounter is your iPhone black screen. The spinning wheel on black screen is a common occurrence when you turn on your iPhone. Most of the time it takes almost 15 minutes then it boots. The problem comes when it persists and gets stuck on the spinning loading screen.
Part 2. Why Is My iPhone Screen Black with Spinning Wheel?
● Malware Infestation: Malware on your iPhone, such as viruses, may affect the performance of your phone and may result in iPhone black screen spinning wheel issue. The iPhone software is usually resistant to malware attacks but you can stumble on a malicious website and get a viral attack.
● Hardware-related Problem: The issue can occur due to a problem with your iPhone's hardware. In such a situation the motherboard or screen may be affected leading to problems with your phone on booting. This makes it stick on the spinning wheel for an unusually long time, which might be a probable cause especially if your phone has experienced a fall or blow.
● iOS Update: A software update may bring about some instability to your phone causing it to freeze when you are turning it on.
Part 3. Video Tutorial to Fix iPhone Spinning Wheel Black Screen
You may don't know where to go for a solution if your iPhone is stuck on black screen with spinning wheel. In this case, you can learn from this video and have a quick test on your own.
Part 4. How to Fix iPhone Stuck on Black Screen with Spinning Wheel
Method 1. Shortcut Here - Professional iOS System Recovery [100% Effective]
One of the ways to fix iPhone stuck on black loading screen is to use dedicated iOS system recovery like Joyoshare UltFix iOS System Recovery. It can typically deal with the black screen freezing problem without data loss. It's able to repair software-related problems in iPhone, iPad, and iPod touch running in all iOS versions, even iOS 17, securely.
Besides, this trustworthy program ensures you repair up to 150+ kinds of system issues at your disposal, including iPhone won't restore, white Apple logo, iPhone won't turn on, iPhone keeps turning off, blue screen, etc. It does well in restoring iPhone to factory settings without passcode or iTunes and freely exiting recovery mode with one simple click. You can now apply it to any iOS device running on different iOS versions to fix an issue.
Key Features of Joyoshare iOS System Recovery: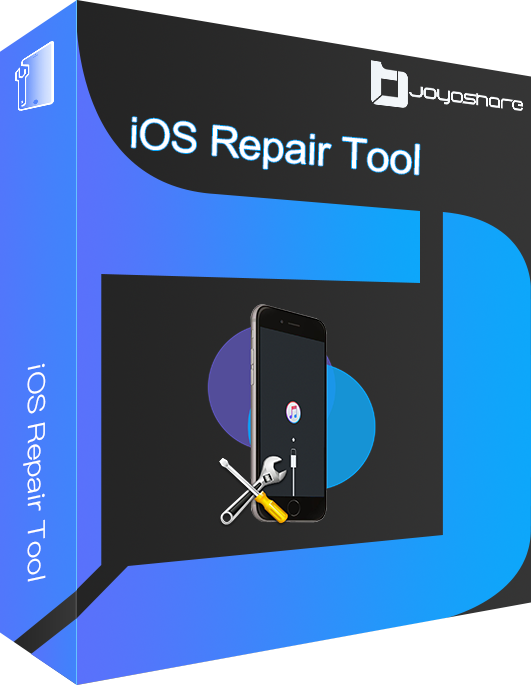 Save iPhone from all kinds of screen display problems
No data loss to repair iPhone black screen with spinning wheel
Support a wide range of iOS devices and versions
Free to automatically get into and out of recovery mode
Help to downgrade and upgrade iOS with the greatest convenience
Step 1

Install Joyoshare UltFix and Connect iPhone to Computer

Go to the official website to download Joyoshare UltFix and install it on your computer. Launch the tool, connect your iPhone and click on the "iOS System Repair" to proceed, followed that by "Start".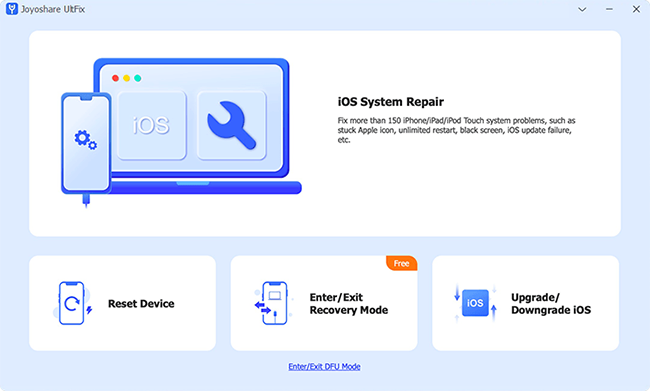 Step 2

Choose Standard Repair Mode

Then select your repair mode - "Standard Repair". If it shows that your iPhone cannot be detected, you can then initiate iPhone booting to recovery mode or DFU mode following on-screen operations.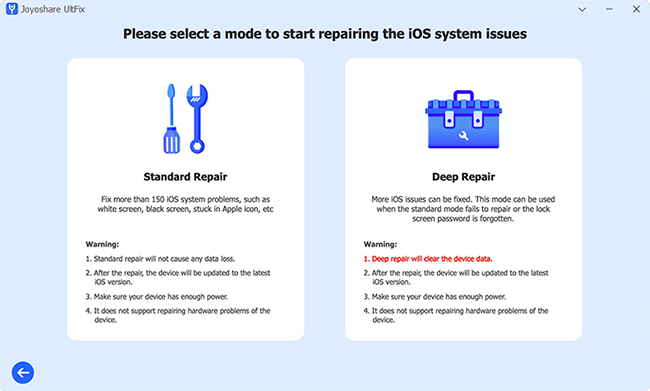 Step 3

Download Firmware Package

Now you need to confirm the detected iPhone information. If there is no problem, you can press the "Download" button to download and verify the firmware package.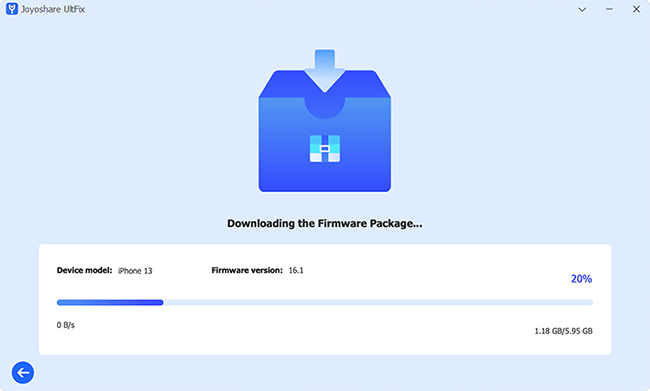 Step 4

Fix iPhone Stuck on Spinning Wheel

Finalize by clicking on the "Repair" button to unzip the downloaded matchable firmware and sort out the iPhone stuck on spinning wheel issue.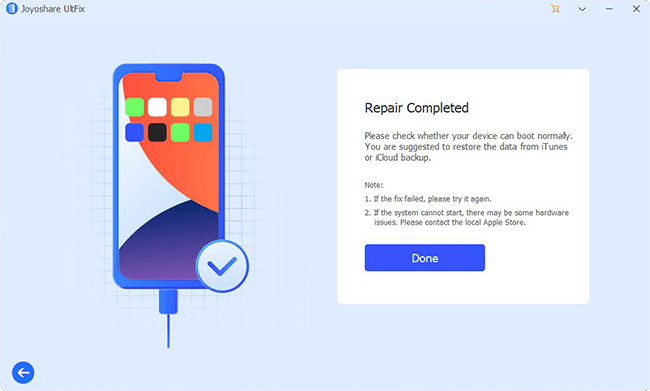 Method 2. Force Restart iPhone
Another way that you can go in sorting out the iPhone stuck on spinning wheel issue is to initiate a force restart.
● For the iPhone models preceding the iPhone 7, you should long-press the "Home" button and "Sleep" buttons simultaneously until the phone goes off and the Apple logo appears. Release the buttons and the iPhone will boot properly.
● For iPhone 7 and 7 plus, press the "Power" button and "Volume Down" key simultaneously until the screen turns off and the Apple logo appears. Allow the phone to restart.
● If you're using iPhone 8, iPhone SE (2nd Generation), or newer models, quickly press and release the "Volume Up" and "Volume Down" button separately and then long-press the "Power" key until the Apple logo appears.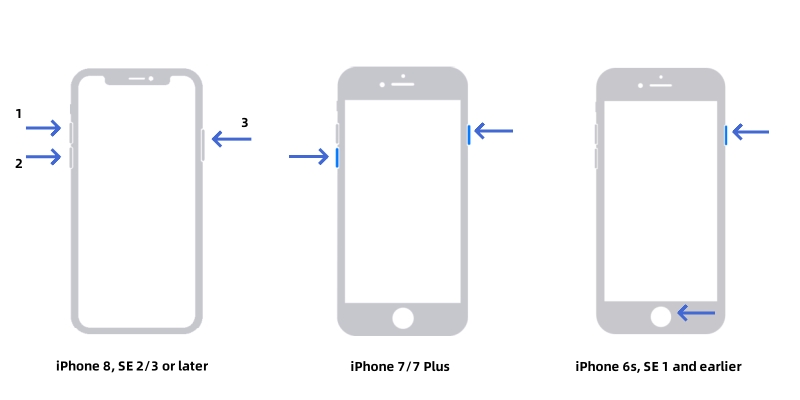 Method 3. Restore with iTunes in Recovery Mode
You can use iTunes restoration to deal with the iPhone dark screen with spinning wheel issue. However, you need to know that this method leads to the loss of all your data from your iPhone device. Here are the steps to fix the frozen black screen with iTunes.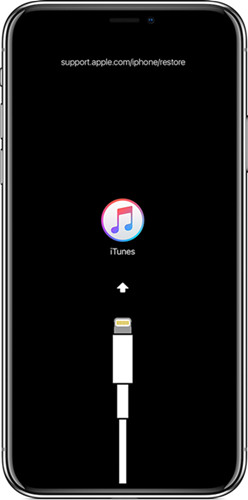 Step 1. Ensure your iTunes is updated to the latest version. Open it and connect your iPhone to the computer.
Step 2. Force restart iPhone and do not let go of the buttons until the device has a stable connection with iTunes in recovery mode.
Step 3. Click on the "Restore iPhone…" button to initiate the restoration process by iTunes. This action clears data on your device and restores your phone to factory settings. On completion of the restoration process, set your iPhone device afresh.
Method 4. Update iPhone to Latest iOS Version
One more approach in which you can bypass the iPhone stuck on spinning wheel issue is by upgrading your iPhone to the latest iOS version. Having an outdated operating system can cause your phone to hang and as seen where it freezes when you boot it. Similarly, you can put your iPhone into recovery mode and connect it to iTunes. Then click on "Update iPhone" in the pop-up window to get it done.
Method 5. DFU Restore Your iPhone
Performing a hard reset may temporarily resolve the issue, but it won't fix the deeper software issue that led to this problem in the first place. In order to rule out a software or firmware problem utterly, you can perform a DFU (device firmware update) restore. Your iPhone is wiped clean, and the latest version of iOS will be installed.
As soon as you're in DFU Mode, you have only one choice — restore your iPhone to factory default settings. again, the data on your iPhone will be lost. Ensure to back up your iPhone before entering into DFU mode. Here's a detailed step:
Note: The screen on your iPhone or iPad remains black in DFU Mode, unlike Recovery Mode. If you see anything at the end of the steps (such as a "Plug into Mac/PC" indicator), you should try again.
Step 1. Connect your device to a computer and turn the iPhone into DFU mode.
To enter DFU mode, different models vary in different ways.
For iPhone 8 Series and Later
1. Plug your iPhone into a Mac or PC and launch iTunes or Finder app.
2. Press and quickly release the Volume Up button, followed by the Volume Down button.
3. Press the Side/Top button until the screen turns black. Or you can wait until the Apple logo shows up and then disappears.
4. Immediately hold down the Volume Down button and keep holding the Side button. Wait for about 5 seconds.
5. Release the Side button but keep holding the Volume Down button.
6. Release the Volume Down button as soon as the device shows up in iTunes or Finder.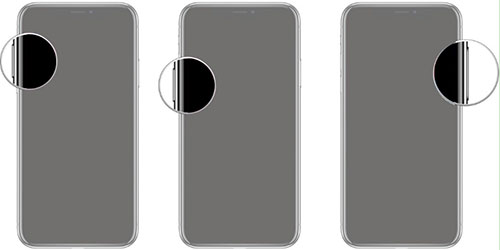 For iPhone 7 Series
1. Connect your iPhone to your Mac or PC and open iTunes or Finder.
2. Hold the iPhone's Side and Volume Down buttons and wait for 8~10 seconds. Meanwhile, the screen should shut down, or the Apple logo should show up and disappear.
3. Release the Side button but hold the Volume Down button.
4. When you see the device in iTunes or Finder, release the Volume Down button.
For iPhone 6s Series and Earlier
1. Plug your iPhone into a Mac or PC and launch iTunes or Finder app.
2. Hold the Side/Top and Home buttons and wait for 8-10 seconds.
3. Release the Side/Top button but keep holding down the Home button.
4. Release the Home button when you see the device in iTunes or Finder.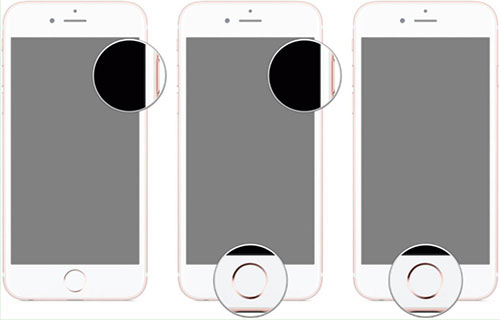 Step 2. iTunes will automatically detect the device and tap OK on the computer.
Step 3. To restore your iPhone, follow the instructions on the computer and click Restore.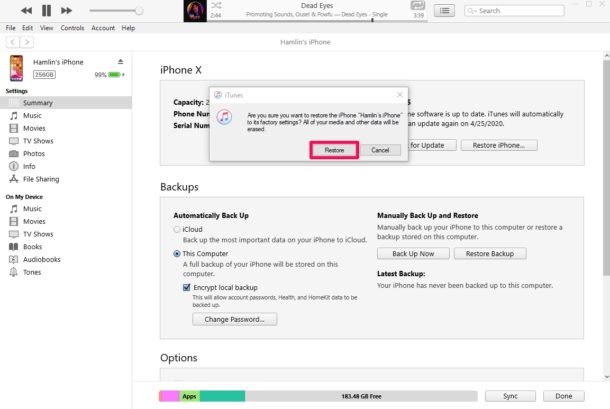 Part 5. Tips to Avoid iPhone Stuck on Spinning Wheel
By following the pointers below, you can reduce the likelihood of experiencing iPhone stuck on spinning wheel problem again.
Tip 1. Update iOS Regularly
Numerous stability fixes and improvements are included in new iOS updates. as we've mentioned above, head over to Settings → General → Software Update and install any pending updates.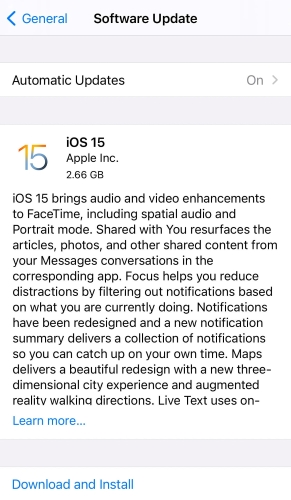 Tip 2. Update Third-Party Apps
The latest app updates may solve crashing and sticking issues caused by third-party apps. The easiest way to do this is by tapping the App Store icon for a long time, selecting Updates, and selecting All Updates.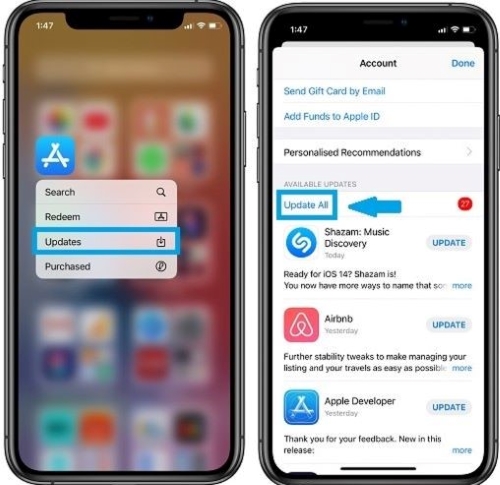 Tip 3. Free Up Internal Storage
A running out of storage iPhone may also get stuck at a black screen with a loading circle. To do so, go to Settings → General → iPhone Storage and free up space by deleting videos, iMessage attachments, etc. Check the full guide to free up your iPhone space.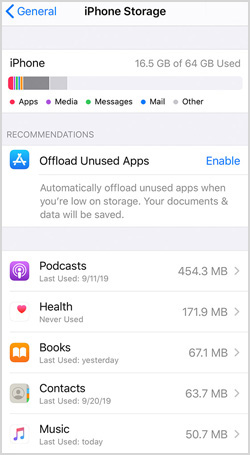 Tip 4. Downgrade to Stable iOS Version
Using a beta version of iOS could lead to frequent crashes of your system. So, it would be a good idea to downgrade to the stable iOS software. Don't jailbreak your device to make it, which is risky as well.
Tip 5. Reset All Settings
If your iPhone's black screen with a spinning circle is triggered by corrupt configurations, you can reset its settings to fix the problem. You can perform a settings reset by going to Settings → General → Reset and selecting Reset All Settings.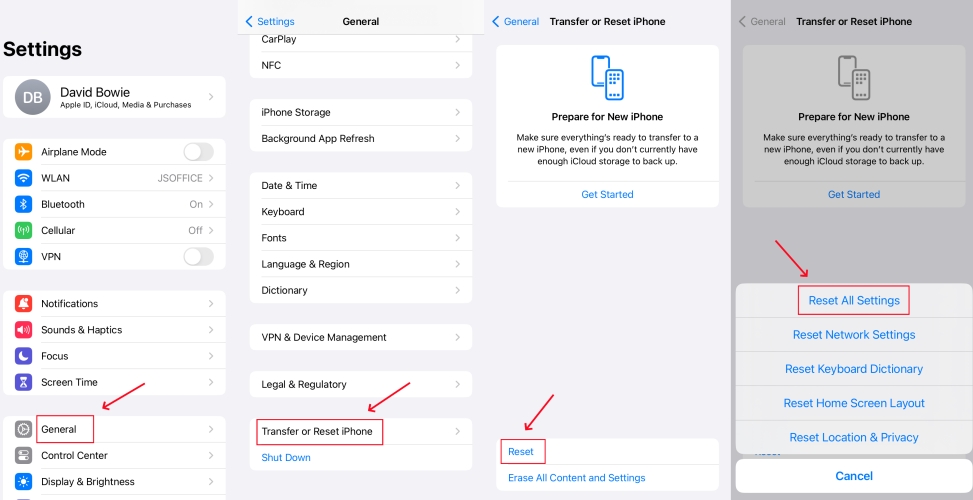 Tip 6. Factory Reset iPhone
It is necessary to reset your iPhone to factory settings if your device is still stuck after crashing. But you need a backup used to restore your data afterward, or else you'll lose all of your data on your device. So we don't really recommend you to use this method.
Part 6. Conclusion
Having your iPhone stuck on spinning wheel is such a depressing glitch that affects the functionality of your device. You can use the above-listed methods to sort out the issue and have your iPhone back to normalcy. However, you need to look at the modes and weigh your options especially if the mode is associated with data loss. Considering the ease of operation and non-destructive data, Joyoshare UltFix is indeed the leader of all methods.