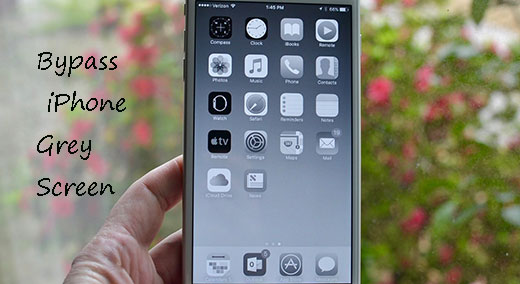 The treatment of any ailment must desirably begin with diagnosis so as to establish what the disease is. Once the disease is identified, prescription of the rightful medication follows. Based on proven sojourns, an iPhone grey screen could be the result of accidentally triple-clicking the "Home" button which leads to "grayscale mode". Alternatively, it could be a manifestation that your iOS has gotten a bug or is simply malfunctioning. Worried about this? You have got no reason for that. This is because there are 7 options outlined below you can do to fix the problem.
Part 1. Use Joyoshare UltFix without Data Damage
Losing your data is not something you want when you are fixing the iPhone grey screen issue. That is why Joyoshare UltFix iOS System Recovery becomes the best option. Besides offering an option to repair usual problems without losing data, this software will serve other stubborn iOS issues as it is developed with advanced techniques. To fix your iPhone grey screen of death issue, you first have to download and install the program on your computer. Afterward, go forward as follows.
Key Features of Joyoshare UltFix iOS System Recovery:
Two repair modes offered: standard mode and advanced mode
Bypass iPhone black sceen of death, gey screen, etc with no loss
Work well with all iOS device models including iOS 13 and Apple TVs
Allow any supported devices to freely enter/exit recovery mode with one click
Step 1: Once installed Joyoshare UltFix on your PC or Mac, you should open it and use a USB cable to connect your iPhone to the computer. Until your device is detected, refrain from clicking "Start" to commence the repair process;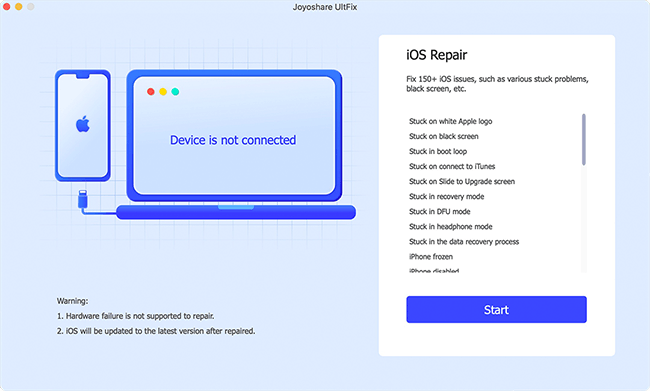 Step 2: On this window, you can see two fix modes offered by Joyoshare UltFix. You are advised to cooperate with standard mode so as to cause no missing data;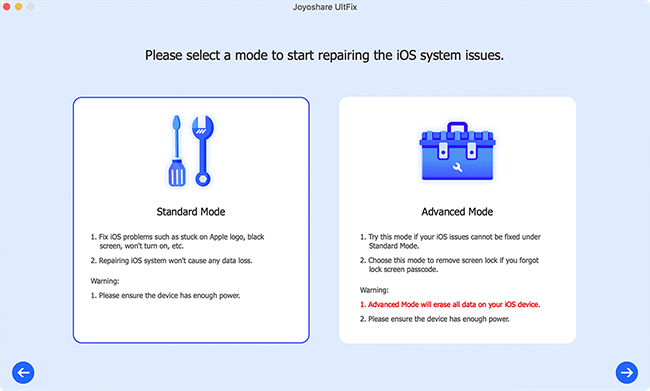 Step 3: Remember to choose your iPhone model prior to putting it into DFU mode as instructed on the screen. A solution to the situation where your device fails to enter DFU mode is clicking the bottomed link to switch to recovery mode;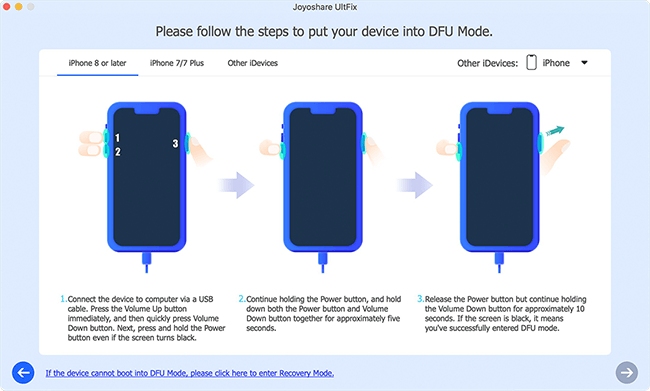 Step 4: Proceed with confirming all info about your iPhone recognized by the program. After that, tap on "Download" to download the newest firmware package. It will be automatically verified once downloaded;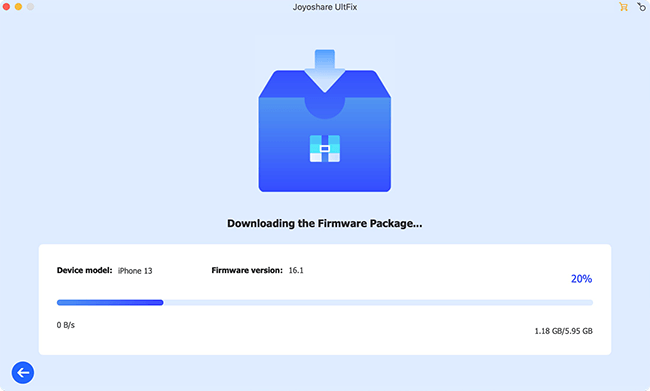 Step 5: Now, all you need to do is touching "Repair" to make the firmware package unzipped. Then Joyoshare UltFix begins to repair your iPhone screen problems. Wait patiently till the process ends.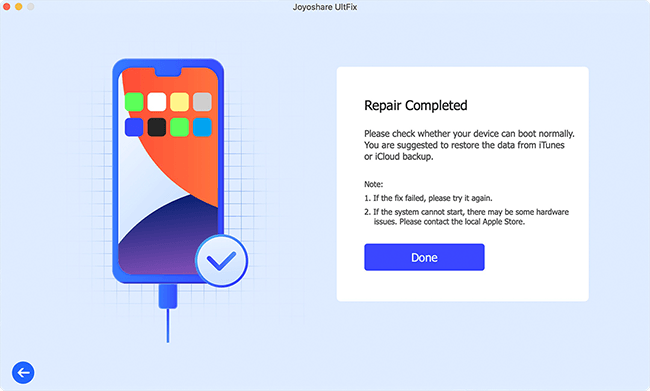 Part 2. Disable Grayscale Mode
Another remedy for iPhone grey screen of death issue is disabling Grayscale mode on your device. This process does not require any complicated operations but the following simple steps.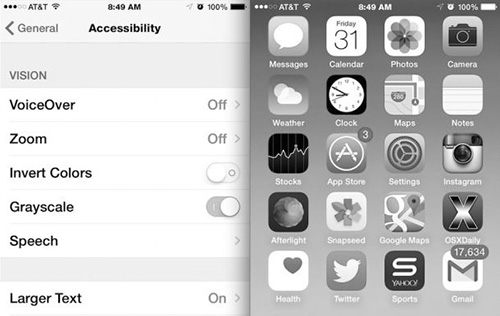 Step 1: Begin with entering passcode to unlock your iPhone and then head to "Settings";
Step 2: Scroll down to the "General" option and look for the option labelled "Accessibility";
Step 3: Find "Grayscale" under "Accessibility" option. If it is enabled, just click to turn it off.
Part 3. Turn off Reduce Motion
Reduce Motion function is designed to turn off screen movement or motion effects on iPhone to save the battery. Unfortunately, this function will reduce certain functions on your iPhone apart from disabling effects in some applications. So, when the iPhone grey screen of death issue is faced, try turning off Reduce Motion to troubleshoot it.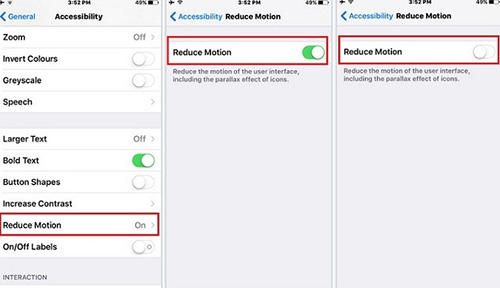 Step 1: Going to "Settings" followed by a click on the "General" option;
Step 2: From the "General" option, select "Accessibility";
Step 3: Thereafter, scroll down and press on the "Reduce Motion" button to disable it.
Part 4. Re-add #Images on iPhone
The images function goes off by default sometimes and it must therefore be turned on before use. You can do this by going to "Settings" and then tapping on the "Cellular" button to click image for switching on. This is normally recommended when that GIFs fail to load on the iPhone Messages app causes iPhone grey screen. In such a case, tap the Messages app icon to run first, open the app drawer and click on the icon "+" in the messages interface without forgetting to select the "Manage" option. Finally, tap to remove "#images" and add it again.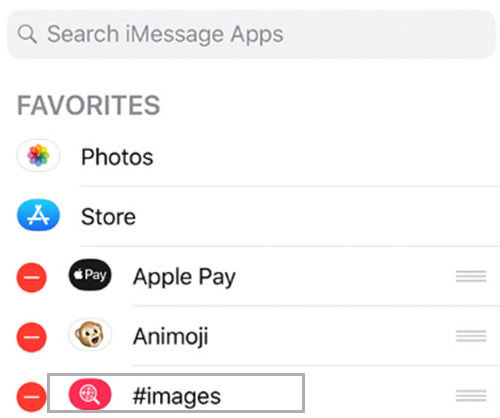 Part 5. Hard Reset iPhone
There are times when it becomes necessary to force restart your iPhone in the case of iPhone grey screen of death. Note that the option of hard reset is essentially a full restart or reboot exercise on your iPhone, which won't erase any iPhone information. You can be at ease to get it done as follows.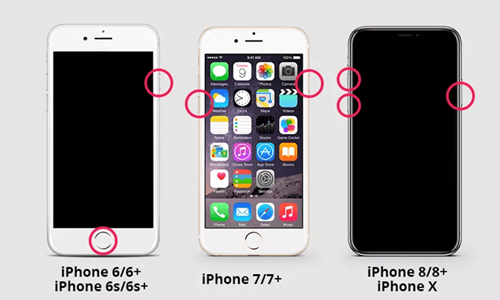 On iPhone 6s and earlier: Tap and hold the "Home" and "Power" buttons until the Apple logo shows on the iPhone screen.
On iPhone 7 and 7 Plus: Press and hold the "Volume Down" and "Power" buttons until the white Apple logo appears.
On iPhone 8 and later: Press and quickly release the "Volume Down" button. Then do the same with the "Volume Up" button. After that, hold down the "Power" button till the Apple logo displays.
Part 6. Update iPhone Software
There is a strong possibility that iPhone grey screen of death results from outdated iOS version. Thus, checking if there is a pending update and installing it would be an effective solution. When you update iOS on iPhone, neither data nor settings get changed.
In the event that you did not turn on automatic updates when you first set up your iPhone, go for "Settings" and select the "General" button followed by "Software Update" and then turn on "Automatic Updates". This way, your iPhone will automatically be installing updates wirelessly but with prior notice before any update occurs.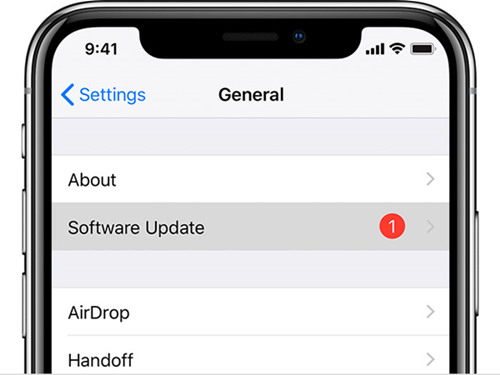 To update manually, open "Settings" and then to "General" - "Software Update". Whenever you feel like, you can check for and install software updates from time to time. Note that the screen will constantly be showing the currently installed iOS version and also when an update is available.
Part 7. Restore iPhone via iTunes
Loss of software on your iPhone should be no cause for worry because reinstallation is possible by the use of iTunes. Word of caution is that this undertaking deletes all information and settings on your iPhone. However, the good news is that iTunes backs up your device before restoration and you can therefore restore your device to how it was when it was last in use from iTunes backups. The restoring iPhone screen grey and unresponsive procedure involves the following steps.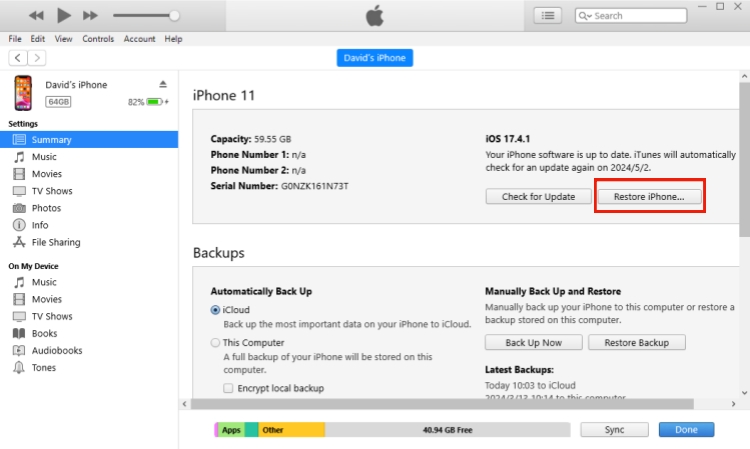 Step 1: Open iTune (Open "Finder" on a Mac with macOS catalina). Next, connect your iPhone to the computer;
Step 2: After iTunes detects the iPhone, click its icon near the top left of the iTunes window and then choose "Summary";
Step 3: For those who need to make a backup of the iPhone, please tap on "Back Up Now" before clicking "Restore iPhone...";
Step 4: Don't forget to press on "Restore Backups" to recover all backed-up data to your iPhone after the whole process.
Conclusion
When the screen of your iPhone turns grey suddenly, it can be quite troubling because the device is a treasure and this occurrence brings with it a lot of anxiety. Thinking about the possibility to lose data in the process of fixing the problem of iPhone grey screen is also very scary. The above solutions are adequate enough to give you a sigh of relief on how to get out of such trouble. However, be advised that before attempting any invasive solutions, you must check settings on your device. Also, it is good to be certain that you did not cause the problem by accident and only then can you set out to salvage the situation by trying out the solutions contained herein.