Q: "I purchased a used iPhone X about a month ago and there is one white spot (visible on white background) I don't mind that since everything else is working. Also it is not visible on dark background. But today I noticed another two spots appear nearby the previous one but not very visible. Is it these spots that will keep coming? What thing can cause this problem?" - bad_killjoy from Reddit
The white dot on iPhone screen is not a particularly peculiar case for iPhone users. Though this won't have a great effect on daily use, it would obscure the partial screen. That can be pretty upsetting if you are reading full-screen texts, watching videos, and playing games. Why do these dots suddenly occur on screen? How to get rid of these dots? These things might be what you are really mindful about. In this post, we will answer these questions in as much detail as possible to aid you fix this problem.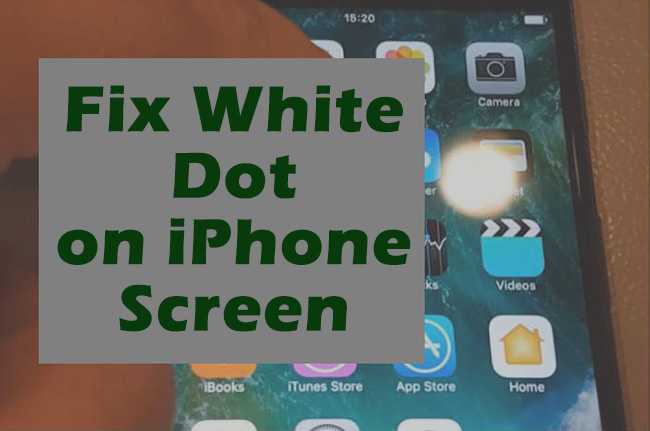 Part 1: Why Does White Dots Appear on iPhone Screen?
White dots may show up for a variety of reasons, whether it's because there are software issues, or there is a possible hardware problem.
Software issues: In many cases, the malfunction of iPhone is prompted by software bugs and glitches.
Hardware problem: If you drop your device accidentally or leave it in the water, it is very likely your iPhone may behave abnormally and shows unknown white dots.
AssistiveTouch feature: There is another possible explanation for the white dots that the AssistiveTouch feature is enabled on iPhone. If you are not familiar with this feature, you might get confused about the white icon displaying on your screen. Actually, this feature is pretty useful to perform actions, and gestures without pressing physical buttons or completing gestures. Simply turn this feature off and the white dot will vanish from your screen.
Part 2: How to Remove White Dot on iPhone Screen
After a basic understanding of possible reasons, let's go ahead and start taking measures to eradicate white dots on iPhone screen.
2.1 Disable AssistiveTouch
With AssistiveTouch on, there will be a white circle icon floating on your screen. If you press the icon and a menu would appear, this white dot must be the virtual button of AssistiveTouch. You can use it to lock the screen, adjust the volume, take a screenshot, or perform other actions with simple taps. It is a feature that can streamline some iPhone operations. If you want to stop this white dot from presenting on screen, you can follow the steps below to turn it off.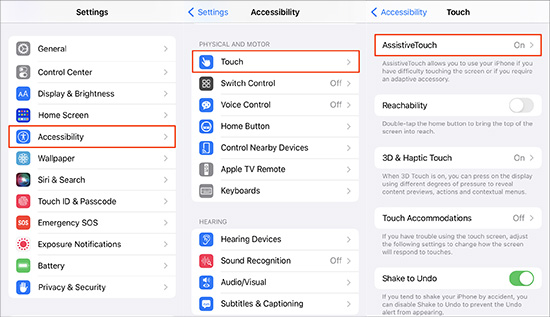 Step 1: Open Settings applications, and go to Accessibility option.
Step 2: Select Touch, then tap AssistiveTouch on the following screen.
Step 3: Last, toggle AssistiveTouch off and the white dot should be removed.
2.2 Use iOS Repair Tool
If white dots are caused by software issues, it is recommended to employ an iOS repair tool to solve the problem quickly. Joyoshare UltFix is a specialized iOS system recovery tool. It supports repairing at least 150 iOS system issues in simple steps. Whether you're new to the tech or not, you'll get started quickly to fix all sorts of software-related glitches, including white lines on iPhone screen, iPhone keeps restarting, etc. Another strength of Joyoshare UltFix is that it offers advanced security. Your data would be well preserved during the whole repair process and it is completely safe. It also has numerous features like updating and downgrading iOS, running deep repair mode, and so on.
Main Features of Joyoshare UltFix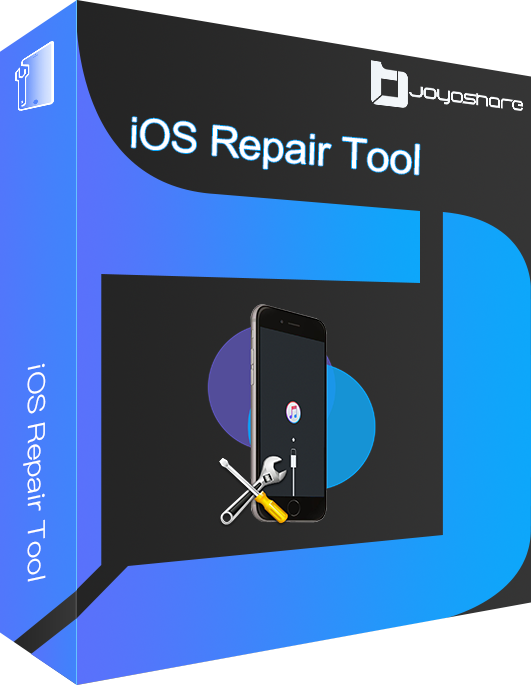 Fix white dots occurring on iPhone screen with no data loss
Offer the easiest solution to enter and exit recovery mode for free
Restore iPhone/iPad/iPod to default state in simple clicks
Work perfectly with iPhone 14 models and iOS 17 beta
Step 1

Connect iPhone to Computer

You can download Joyoshare UltFix by clicking the button above and install it on your desktop first. Then connect your iPhone with the computer and open this tool. Click iOS System Repair and choose Start to proceed to the next step.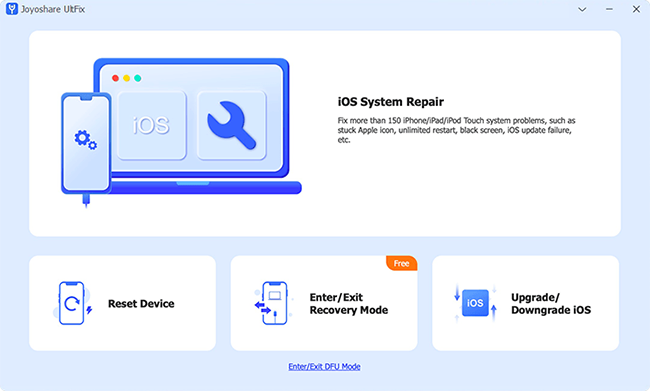 Step 2

Select Lossless Standard Repair Mode

Now, you are required to select a mode to remove the white dot. Standard Repair is an optimal choice as it can be used to fix most common iOS problems without losing data.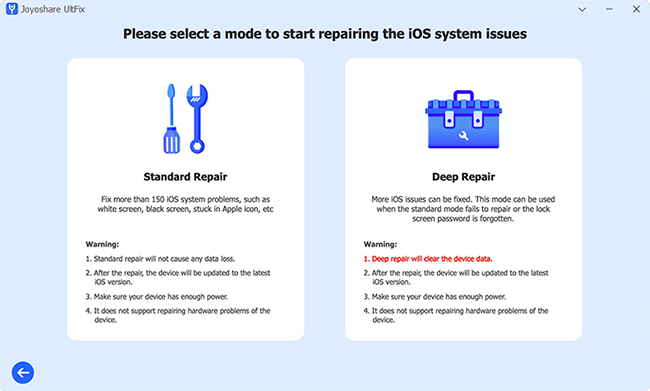 Step 3

Confirm Info and Download Firmware Package

After detecting your device, the repair tool will present the basic info on the interface. Confirm each of them carefully. Then you can click the Download button to download the firmware package that is compatible with your device.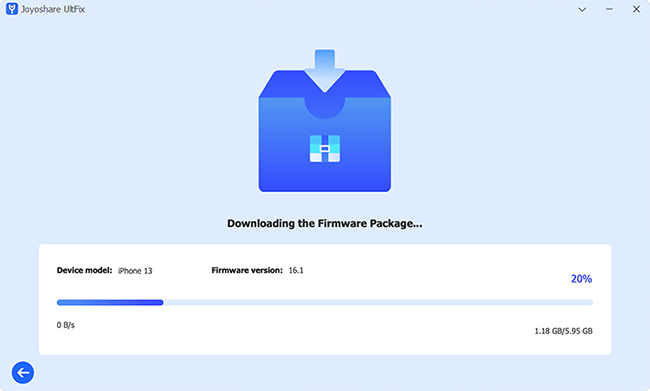 Step 4

Begin to Fix iPhone White Dot on Screen

Click Repair button, and the tool will unzip the firmware package and start to fix the problem. The whole process would take several minutes. When it's over, you can see that white dots don't exist anymore.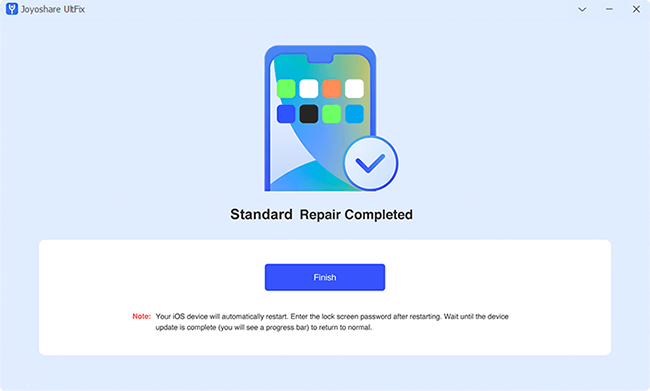 2.3 Restart iPhone
A restart is a frequently used fix for iPhone software problems. It can overload your device with a new start. You can restart your device to troubleshoot many issues that might cause white dots stuck on screen. According to different models, you could reboot iPhone by following the steps below:
For iPhone X and later: Keep pressing two buttons - Volume Down button and Side button. When the power-off slider appears, release both buttons and drag the slider. After 30 seconds, you can press the same buttons to turn your device on.
For other iPhone models: Keep holding the Power button and release it when you see the power-off slider. Drag the slider and wait 30 seconds. Then hold the Power button again to activate your device.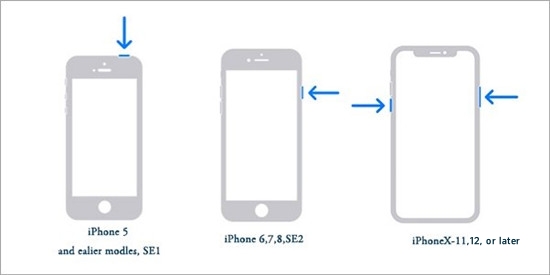 2.4 Update iOS
Updating iOS can also be helpful to remove these annoying white dots. Each time Apple releases a new update, it will cover the new features and security updates. After updating to the latest version, it could fix some bugs as well. Hence, it is suggested to update your iOS for better performance of iPhone. To do that, you need to open Settings application, and click General → Software Update. If there is a latest version, tap Download and Install.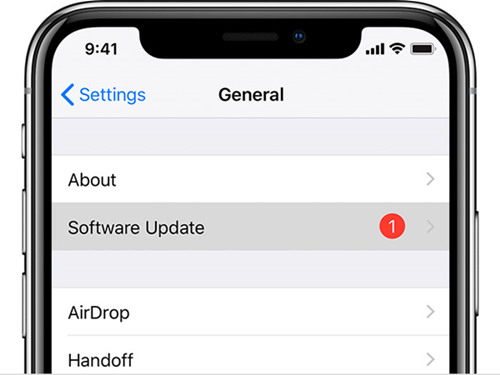 2.5 Contact Apple Support
If you still can see the white dot on your screen after trying all the solutions above, it is better to contact Apple support. There is a big chance that your device has a hardware issue. Apple support team would give your professional advice. Or you can go to the local Apple store directly to get your iPhone fixed by their support team.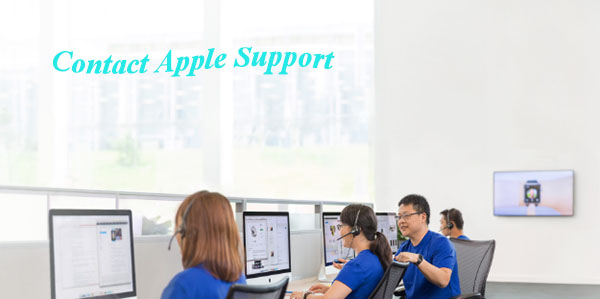 Part 3: FAQs of White Dots on iPhone Screen
1. How do I get rid of the white dot on my iPhone screen?
If the white dot has nothing to do with the AssistiveTouch feature on iPhone. You can try restarting iPhone, updating iOS, or trying a software fix. If there is something wrong with the hardware, you can contact Apple to seek professional help.
2. How to prevent the white dot from appearing on screen?
Normally, if you keep the iOS up to date and prevent your iPhone from physical damage, it won't have white dots on your screen. Yet you don't have to worry too much if you come across this situation. The methods above can fix your problems with ease.
3. Why can't I remove the AssistiveTouch button?
You can remove this button by going to Settings → Accessibility → Touch → AssistiveTouch. Then turn it off. If that doesn't work, you may try to cycle AssistiveTouch setting, reset AssistiveTouch, and others to fix AssistiveTouch not working.
Part 4: Conclusion
Hopefully, you have already known how to remove the white dot on iPhone screen by reading this post. There are many reasons why these dots would occur. Accordingly, we talk about different methods to resolve this issue. If you have any queries, you can leave a comment and let us know. We'll be happy to help.