Q: "I recently created an Apple ID for a child (under 13) to be used on an old iPad mini. I signed into my iPad Pro with the child's Apple ID and now I cannot sign out. "Sign out is not available due to restrictions" and "Sign Out" is not selectable. I need MY Apple ID back on the iPad Pro. How do I Sign out a child's Apple ID from this iPad Pro so I can use my own Apple ID again?" – from Apple Community
For some reason you want to sign in with other Apple accounts, or need to sign out of your account because you need to sell your device, however, the Sign Out option is un-selectable and there is a line under the gray option saying "Apple ID sign out is not available due to restrictions". You may wonder why this occurs and how could you log out of the Apple account. I understand your frustration and annoyance. Thus, this article is provided to help you deal with this problem and let the gray option turns blue again.

Part 1. Why Is Apple ID Sign Out Not Available?
The reason why Apple ID sign out is not available just as the sentence states – restrictions. And this is also what we need to figure out: what do the restrictions mean? Basically, it refers to two aspects. No.1 The ongoing progress of restoring the iCloud backup. You will be restricted to sign out of your iCloud account if the restoration is not complete. No.2 The confinement from Screen Time. This is the main cause that led to your Apple ID sign out unavailable problem. Thus, if you can't sign out of your Apple ID, consider the solution to your problem in these two aspects.
Part 2. Pre-check Works on Apple ID
Before you get started to fix your sign out button, there are some check works you need to do in order to reduce the misjudgment.
Check the Apple System Status. On this page, you could check if the green dot exits in the font of Apple ID. If so, continue your inspection.
Check Internet Connection. You are required to connect to a stable network so that the sign out operation runs smoothly. Go to Settings to troubleshoot Wi-Fi, cellular and VPN respectively.
Check iCloud backup. As just mentioned, you need to check if the restoring procedure completes by entering Settings → Apple ID → iCloud → Backup → Stop Restoring iPhone (iPad).
Part 3. Fixes to Apple ID Sign Out Is Not Available Due to Restrictions
3.1 Turn Off Screen Time on iPhone/iPad
If Screen Time has been set up on your iPhone or iPad, you need to turn off this feature when you come across the grey Sign Out option along with "Sign out is not available due to restrictions". The operating steps for your own device and child's device are a bit different, follow the instructions to disable restrictions accordingly.
This Is My iPhone

Step 1: Open Settings, and tap Screen Time. Enter your Screen Time passcode if asked.
Step 2: Tap the Turn Off Screen Time option. If there is no Turn Off Screen Time option, tap the Change Screen Time option, and you can see it on the prompt.
Step 3: In case you forgot the Screen Time passcode, you can tap the "Forgot Passcode?" messeage when asked for passcode, and enter your Apple ID password to bypass Screen Time.

This Is My Child's iPhone

Step 1: Go to Settings on the organizer's device, tap Apple ID and select Family Sharing
Step 2: Direrctly tap the child's name. Or, under SHARED FEATURES, choose Screen Time and tap the child's name.
Step 3: Scroll down and tap the Turn Off Screen Time option. Here you might be asked for the Parent Passcode.
3.2 Allow Account Changes
In fact, even though you have turned on "Screen Time" without setting restrictions, it is only used to record screen usage time, and in this case, your Apple ID will not fail to sign out. On the contrary, if you have enabled the Content & Privacy Restrictions, especially you don't allow account changes, you can't sign out of Apple ID due to this restrictions. In order to fix this problem, follow the instructions to modify this feature.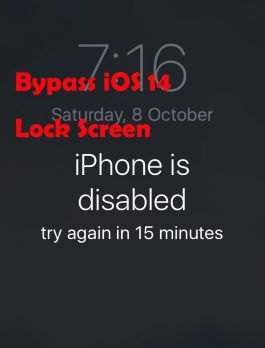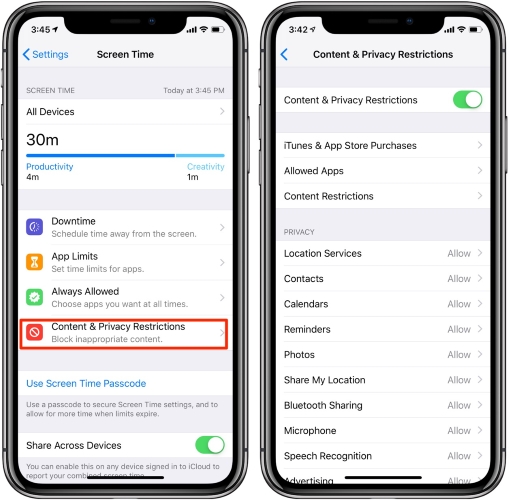 Step 1: Run Settings, select Screen Time, tap Content & Privacy Restrictions.
Step 2: Scroll to the Account Changes option and tick Allow.
Step 3: Go back to the last screen, and toggle off Content & Privacy Restrictions.
3.3 Erase Device to Get Rid of Restrictions
Factory resetting your iPhone or iPad is a proven method to get you out of unavailable sign-out Apple ID due to restrictions. You could restore your data from the iCloud backup once the progress ends. After you restore the backup, you will notice that the Apple ID is still the previous one, but this time the Sign Out option turns back to blue.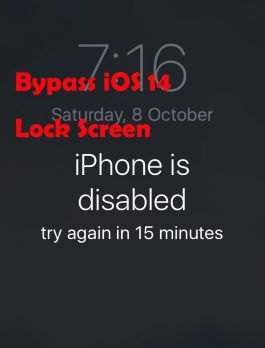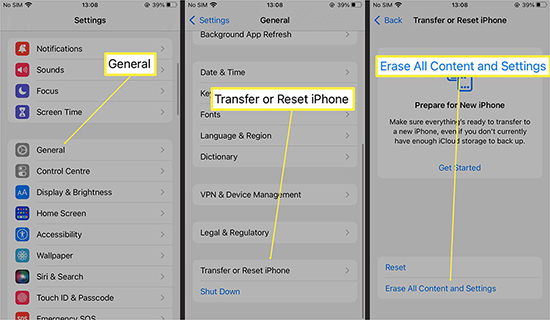 Step 1: Navigate to Settings → General → Transfer or Reset iPhone (iPad).
Step 2: Tap Erase All Content and Settings, and tap on Continue.
Step 3: Then, you are required to enter your screen passcode and Screen Time passcode to confirm your action.
3.4 Remove Screen Time Restrictions without Passcode
Considering some of you could forget the Screen Time passcode, as a consequence, the restrictions cannot be removed with passcode on Settings. Don't fret, Joyoshare iPasscode Unlocker is able to give a hand to you to fix Apple ID sign out is not available due to restrictions. With only a few clicks, you could turn off Screen Time without passcode on either your iPhone or iPad. More critically, it will lose your data. In addition, Joyoshare iPasscode Unlocker could be used to unlock all types of screen locks, such as 4 digit passcode, Face ID, Touch ID, etc. And, when you employ this multifunctional software to remove Apple ID and bypass MDM, your data will also be kept well.
Key Features of Joyoshare iPasscode Unlocker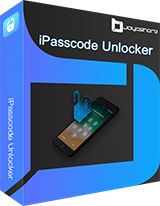 Solve Apple ID account unavailable problem with no data losing
Fix forgot parental control password
Unlock screen lock and MDM
High compatibility and easy-to-use interface
Step 1

Select Unlock Screen Time Passcode

Connect your iPhone or iPad to computer with launched Joyoshare iPasscode Unlocker, and select Unlock Screen Time Passcode on the main interface.

Step 2

Examine Find My

When the Find My feature on your device is disabled, click on the Start button to enter the next screen. If it is enabled, follow the guide on the screen to turn it off, and do the same operation to remove your Screen Time passcode.

Step 3

Choose Don't Transfer Apps & Data

Once your Screen Time is successfully removed, you could set up your device. Remember to choose Don't transfer Apps & Data, which will not make the restrictions come back. And your Apple ID sign out option is no longer restricted.
Part 4. Video Guide on How to Turn Off Screen Time
In this video, you can learn different ways to remove Screen Time passcode. Now, try them one by one to fix "Apple ID sign out is not available due to restrictions".
The Bottom Line
After reading the whole passage, you will have a clear concept of Apple ID sign out is not available due to restrictions. And the restrictions are explained in this article. When you get to know what it is, you could follow this article to do some checking works. Afterwards, four fixes are provided for you to try orderly. With the Screen Time passcode, just turn off this feature in Settings. While you cannot get the passcode of your Screen Time, I recommend Joyoshare iPasscode Unlocker for assistance. No matter whether bypassing Screen Time restrictions or directly removing Apple ID, this program is a wonderful helper.