Recently, MDM (mobile device management) has become ubiquitous in various aspects of daily life. As iPhones access critical business data and school study, enterprises and institutions are inclined to strengthen the provision, management and track of iPhones. However, it is quite inconvenient for these iPhone users both during their normal usage and working times. Taking some examples, when you want to use iPhone to address an urgent business deal, you find out you are limited by MDM lock. Or another situation is that you buy a second-hand iPhone enrolled with MDM. Under these scenarios, you are bound to find a safe and quick solution urgently. We sincerely understand your eagerness and hope to help iPhone users in need like you. If you are interested in this, please go ahead and learn how to remove MDM from iPhone in this article.

Part 1. How to Bypass MDM on iPhone Losslessly with MDM Removal Tool
Joyoshare iPasscode Unlocker keeps continuous attention to assist iOS users in removing various types of locks, ranging from screen lock to MDM, screen time lock and Apple ID password. Designed with the advanced processor, it is able to bypass MDM lock without alerting administrators within 3 steps. Moreover, it guarantees 100% success rate and removal safety. Hence, you don't need to worry that your action will be found by administrators. Meanwhile, if you are interested in how to remove MDM from iPad, Joyoshare iPasscode Unlocker can also give you a favor.
Key Features of Joyoshare iPasscode Unlocker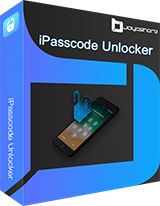 Remove MDM on iPhone/iPad easily and quickly
An integrated tool is equipped with 4 central features
Clear instructions and interface make it user-friendly without requiring tech knowledge
Free to download on both Windows and Mac
100% data safety and no risk of leaking information
Step 1

Connect iPhone to Your Computer

Please download the latest version of Joyoshare iPasscode Unlocker from the official website. Then launch it and connect your iPhone to the computer. Click on "Remove MDM" option.

Step 2

Remove MDM from iPhone with One Click

This step must be finished on the premise that you have turned off Find My feature. You can check it in Settings – [Your Device]. Then it can help you remove MDM profiles with the "Start" button.
Part 2. How to Remove MDM Profile from iPhone Freely
Way 1. Remove MDM from iPhone Settings
With the purpose of controlling your activities and managing iPhone, administrators will set the security lock which requires you to insert user name and password when you attempt to delete the profiles. Therefore, if you have a direct approach to knowing detailed information, it's as easy as pie to remove mobile device management on your iPhone.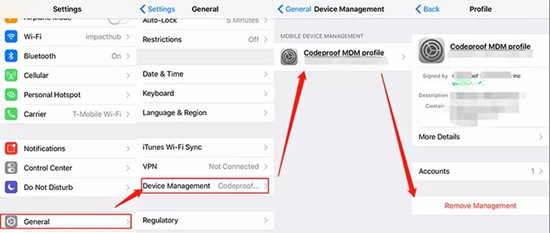 Step 1: Head over to Settings on iPhone, and locate General tab.
Step 2: Find Device Management and tap Remove Management.
Step 3: Enter correct username and password.
Way 2. Jailbreak iPhone
Jailbreak is a good option to bypass MDM without password. Naturally, it is a two-edged sword. On the one hand, you will have more freedom to enjoy various customizable features. You are allowed to download apps, change settings, and control your iPhone as you like. On the other hand, you will be in daily fear that your iPhone will be attacked by hackers whenever you tackle digital transactions. What's more, your iPhone will be completely exposed to dangers such as virus attacks, malware, glitches, and so on. Anyway, if you make a decision, you can follow these steps:Considering that you may feel at a loss about which method you should choose, we specially make a comparison table for reference. It can save a lot of time and help you have a better understanding of these methods.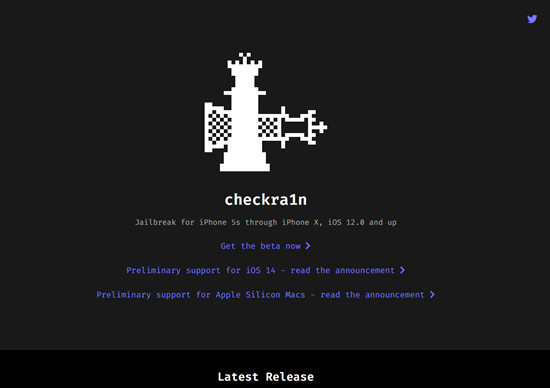 Step 1: Download and install Checkra1n on Mac. You will see it on the interface of your computer. Or you can find it through the search box.
Step 2: Then you are required to expose your iPhone's port using iProxy via USB. It will give access to SSH.
Step 3: After SSH has been connected successfully, run "cd../../" to enter the root directory of your iPhone.
Step 4: Run "cd /private/var/containers/Shared/SystemGroup/" to locate the MDM folder.
Step 5: Run "rm-rf systemgroup.com.apple.configurationprofiles/". MDM files will be deleted once it's done.
Step 6: Reboot your iPhone. Your iPhone will show a welcome screen. At first, you need to update your iPhone.
Step 7: When returning to the Remote Management screen, install a profile. It won't add any restrictions and has no influence.
Part 3. Comparison Table about Different Ways of Removing MDM
Considering that you may feel at a loss about which method you should choose, we specially make a comparison table for reference. It can save a lot of time and help you have a better understanding of these methods.
| MDM Removal | Joyoshare iPasscode Unlocker | Via iPhone Settings | Jailbreak iPhone |
| --- | --- | --- | --- |
| Limitations | Turn off "Find My iPhone" | Knowing password | Computer |
| Success Rate | 100% | 100% | 70% |
| Security | Yes | Yes | No |
| Ease to Use | Yes | Yes | No |
| Computer Knowledge | Not required | Not required | Required |
| Computer Compatibility | Both on Windows and Mac | / | Only Mac |
| Supporting Devices | All iOS devices | All iOS devices | iPhone 5s through iPhone X |
| Data Loss | No | Yes | Yes |
Part 4. Conclusion
In the end, we express the sincere hope that you can remove MDM on your iPhone successfully with the help of these methods. After going through this article, you can find out Joyoshare iPasscode Unlocker is definitely the best solution to remove all kinds of locks. Both the highest success rate and overwhelming safety make it appeal to a large amount of iOS users. Hence, if you are in hurry to find out how to remove MDM from iPhone, don't hesitate to download the free trial version and have a try.