One of the common questions asked by iPhone users is "how to turn off restrictions on iPhone but don't know the password?" When you forget the passcode, turning off restrictions on your iPhone device is not going to be an easy ride. However, since there are so many apps and features in your iPhone, you may feel that by tuning off restrictions, using those apps will become easier, and you will not have to go through the repeated process of entering your screen-time passcode.
However, as we said, if you have forgotten the passcode, you will have to learn a few ways to turn off restrictions without entering the passcode. The good news is that there are specific ways that will let you do that, and that's what this article is going to talk to you about. So, keep reading to find the answer for it.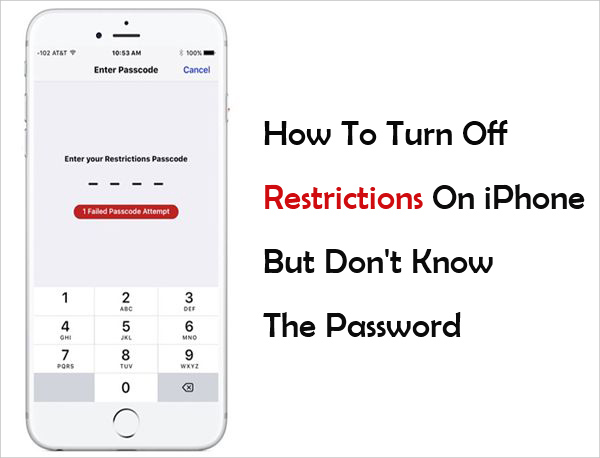 Part 1. How to Turn off Restrictions on iPhone if You Don't Know the Passcode
Solution 1:

Reset Your iPhone Setting

The easiest way to turn off restrictions on your iPhone without a passcode is by resetting the setting and content of your device. However, keep in mind that when you reset your iPhone, everything will go back to its default form. And when you clear all the content, everything you have in your iPhone, such as apps, videos, documents, pictures, and more, will be erased. Hence, ensure to create a backup for your device because sometimes resetting might be the only option left. Thinking that you have done the needful, here are the steps that you will have to follow:

Step 1: Turn on your iPhone and go to the Settings option.

Step 2: Browse through Settings and click on the General option.

Step 3: On the General setting page, you will see a list of options. You need to click on Reset.

Step 4: The next screen will show you more options; your choice will be Erase all Content and Settings. Please click on that.

After you do that, the iPhone will start the process of factory reset. Once your device is fully booted up, it will automatically disable the restrictions as well. This means that your device will not ask you for a passcode.

Solution 2:

Use iTunes to Reset Restrictions

For this solution, you will have to use your computer. If you are a Mac user, then iTunes will be installed already. But if you are a Windows user, we will advise you to get the latest version of iTunes because you will need iTunes to follow the steps mentioned below. Make sure to download iTunes from the original source to avoid downloading bugs and viruses in your system. Once done, follow this step-by-step guide:

Step 1: Go to your iPhone and turn off the Find my iPhone feature. This has to be disabled.

Step 2: Now, take out the USB cable that has come with your iPhone and use it to connect your iPhone to the computer. Make sure you have the latest version of iTunes.

Step 3: Go to iTunes and then click on the Summary tab. You will see the restore iPhone option.

Step 4: Click on the restore iPhone option and when asked, click on the restore option once again.

Step 5: You will see a pop-up window that asks you to agree or decline. You need to hit the Agree option.

Step 6: iTunes will download the latest iOS. After that, it will restore your device.

Once all the steps are completed, you will see that the restrictions passcode has been removed, and you can access your device seamlessly.

Solution 3:

Try Joyoshare iPasscode Unlocker to Unlock Your iPhone

If you find the three solutions difficult, here's an easy way to unlock your iPhone. By doing this, you will be able to unlock your device and browse through the content seamlessly. Joyoshare iPasscode Unlocker is a robust software that will let you unlock any iPhone in just three steps. It's a reliable third-party app and is very easy to use.

Key Features of Joyoshare iPasscode Unlocker:

It can unlock four types of screen passcodes.

It works well with all iPhone devices.

In only three steps, your iPhone will be unlocked.

It can remove lock screens under every scenario.



How to use Joyoshare iPasscode Unlocker?
Step 1: Download Joyoshare iPasscode Unlocker and Connect Your Device

Visit Joyoshare iPasscode Unlocker and get the correct version. The software is available for both Windows and Mac users. Once done, launch the tool. Now, grab the USB cable for your iPhone and connect it to your computer.

Step 2: Put your Device into DFU/Recovery Mode

Allow some time to Joyoshare iPasscode Unlocker to identify your device. After detecting your device, you need to click on the Start option and then put it into DFU/Recovery mode.

Step 3: Download Firmware and Unlock Your Device

Joyoshare iPasscode Unlocker will show you the details of your iPhone and will ask you to download firmware. First, confirm your device and click on the download option. Once the firmware gets downloaded, click on the unlock option, and your iPhone will be unlocked.

Just three easy steps, and you will be able to access your device easily.

Part 2. How to Disable Passcode if You Remember it

Here's an extra tip for those who remember their passcode but want to know how to enable or disable restrictions. Here's what you need to do. The steps are easy to follow:

Step 1: Turn on your iPhone and then go to the Settings option. After that, click on the General option followed by Restrictions.

Step 2: You will be prompted to enter your passcode; please enter.

Step 3: To disable it, click on the disable restrictions option and enter the passcode again.

Step 4: To enable it to click on the enable option and enter your passcode.

Part 3. Conclusion & Suggestion

These are the solutions that you can try to disable restrictions from your iPhone. However, if you don't want to follow multiple steps and simply want to unlock your iPhone, then Joyoshare iPasscode Unlocker will be the best solution for you. It will let you unlock your iPhone and access it like you usually do! Try Joyoshare iPasscode Unlocker today because it's the best iOS restrictions passcode cracker.