Games have become a part of entertainment life. Regardless of whether it is an amateur gamer or professional esports player, in order to have a better gaming experience, most of them tend to play games on a computer, given that most games have certain requirements for device configuration and running memory. Playing games on the computer can not only be smoother but also have a wider screen view. However, not every game has its own recording function. To show off and save your highlight moments, free game recording software is necessary. Don't you have one yet? Follow us to check the newest list here.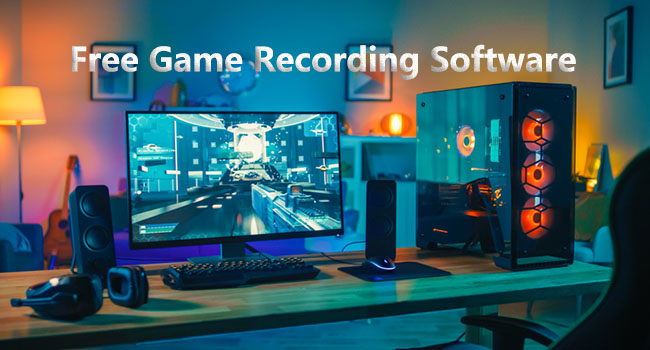 What Is the Best Free Game Recorder for PC/Mac?
Now, there are many gameplay recording tools that are compatible with Windows and Mac. How to choose a program that suits you best may become a big puzzle. Take it easy, we will teach you how to do that easily based on the following criteria and features.
1

Compatibility

First, you should know the operating system of your computer and select a game recording tool, which is compatible with your device.
2

Clear and intuitive interface

You can master how to record a gameplay easily with a clear interface in gameplay recording program. If there is a complicated interface, you will need time to familiarize your recording tool.
3

High quality

You definitely don't want to use a game recorder again if it exports your recorded video in low quality. Also, your viewers don't like the content, which is too blurry to recognize.
4

Advanced editing function

After the recording, you may want to enhance your video by using functions like adding watermark, changing codec, resolution, bitrate and sample rate, customizing output formats, highlighting clicks, etc.
5

Without lag

If you record a gameplay for a long time and find that your image and audio are not in sync, you may feel upset. So, it is important to choose a screen recorder without any lag before you start the recording process.
1. Joyoshare VidiKit (Free Trial) - Windows/Mac
Joyoshare VidiKit - Screen Recorder is a simple-to-operate tool to meet your needs. It supports types of games on Windows and Mac. Effortlessly, it records gameplay with no delay in 1080p 60 FPS. You can capture your video in either full screen or customized region. Simply get game music from computer system and add your own voiceover by using the microphone. To automatically start a recording task, you can even set a schedule in advance. Also, it helps to trim, take snapshots, show cursor, apply effect to clicks and more.
Key Features of Joyoshare VidiKit: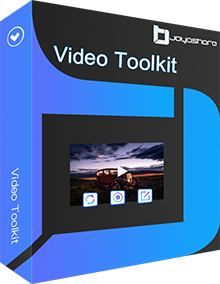 Best game recorder for low-end PC to record Wii, Roblox, PUBG, etc.
Save game footage in 4K or HD format
Keep each frame in high resolution without lag
Get system audio and microphone voice
With options to set capture area, shortcuts, watermark, effects, trim, etc.
Note: All features can be used in the free version, which, however, comes with recording time limit.
2. Bandicam (Free Trial) - Windows
Bandicam is typically lightweight free video game recording software that functions well for gamers. It's professional to record 4K Ultra HD videos in 480 FPS. Using DirectX/OpenGL/Vulkan graphics technology, Bandicam is able to output files in high resolution. Besides, it's equipped itself with hardware acceleration to guarantee smooth recording. With it, there is no problem to capture game video, webcam and voice at the same time.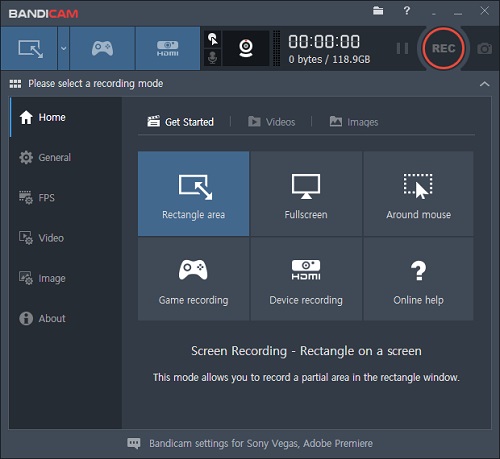 Pros:
With well-developed gaming mode to capture games
Save and record videos in 4K UHD and 480 FPS
Use advanced graphics technology and hardware acceleration
Support recording gameplays using a microphone and web camera
Cons:
Require extra costs for basic video trimming and combination
3. LoiLo Game Recorder - Windows/Mac
Apparently, as the name suggests, LoiLo Game Recorder is a free game screen recorder. It includes support for various games, such as Minecraft, Call of Duty, League of Legends, World of Warcraft, GTA IV, etc. Under the help of it, you can record your game in full HD video with minimal performance loss in quality. What's more, it's available to get sounds from both system and microphone to add voiceover during the recording process.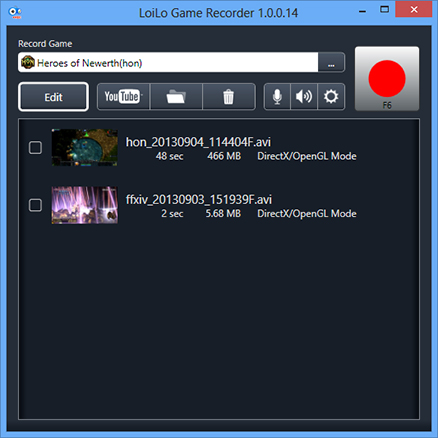 Pros:
It's user-friendly for beginners
Set no time limit on how long you record
Record different games with minimum quality loss
Add voice via microphone and commentate during recording
Cons:
Cannot show mouse in the recording
Only support Windows 7 and Windows 8
4. Action! - Windows
Action! by Mirillis is free PC game recording software that has powerful capabilities to help capture games. It makes the best of your computer's GPU to accelerate ongoing recording assignments and readily produces videos with up to 4K resolution. Better yet, Action! has the ability to record videos from game consoles, camcorders and TV broadcasts as long as you connect the devices using an HDMI or USB. As a gamer, you can even directly live stream your games to popular platforms, like YouTube, Twitch, Livestream, etc.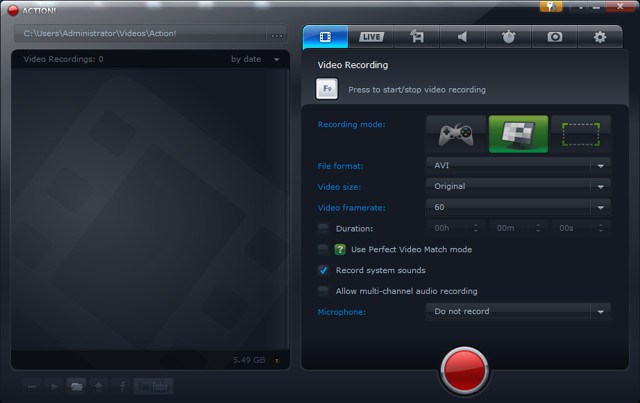 Pros:
Support live stream games in 4K
Record video, in-game audio, microphone sound and webcam
Capture videos from different HDMI/USB connected devices
Cons:
Cannot customize and change frame rates
Windows only
5. Icecream Screen Recorder (Free Trial) - Windows/Mac
Icecream Screen Recorder is surely good free game recording software for game players. It enables you to record games at 60 FPS. Conveniently, there are stunning options to let you record webcam, grab internal and external sound, and make annotations for both screen recording and screenshots. To edit and enhance videos, you can add watermark/text/arrow/shape, trim, schedule task, change speed, and many more. Also, before the screen recording, you can customize the recording area as per your needs.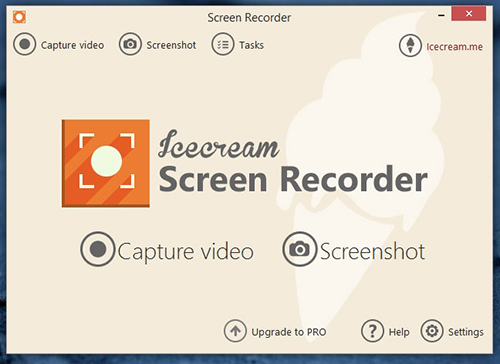 Pros:
Get sound from speaker and microphone
Create quality game videos at 60 FPS
Offer editing tools to add shapes, texts and arrows
Record videos in entire screen or a part of screen
Cons:
The free version has functionality limitations
6. FBX Game Recorder - Windows
FBX Game Recorder is free game recording software for Windows 10, 8 and 7. It is capable of recording games in 144 FPS 1440p without any hiccups. Other than that, this tool can help you take screenshots in high quality for later sharing, make live stream and save them to hard disk. Its video editor can perfectly add sound effects, GIFs, stickers, captions and more. You can enjoy good game recording experience as it adopts hardware acceleration.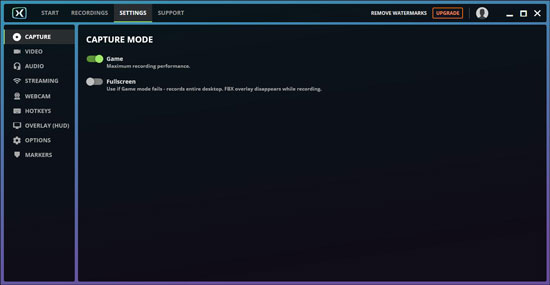 Pros:
Support capturing games in 144 FPS
Have hardware acceleration
Provide built-in video editor to edit game videos
Cons:
7. Gecata by Movavi (Free Trial) - Windows
Gecata by Movavi can be one decent game recorder with free trial that you cannot miss. It offers possibility to record game videos in 4K and 120 FPS. With a dedicated game mode, you can not only stream but also record at the same time. Moreover, Gecata by Movavi gives a way for you to overlay webcam video to show your own face on the game footage. Like others, it doesn't leave out synchronized sounds like music, dialogue, sound effects, etc.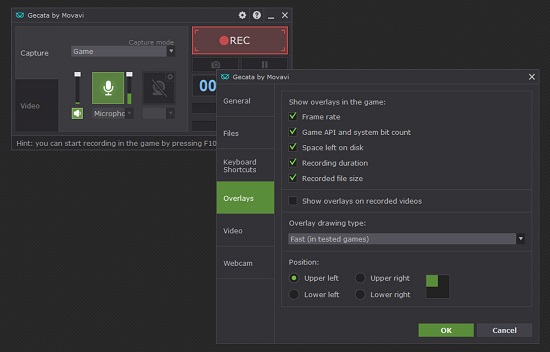 Pros:
Record computer games in 4K without drops in frame rate
Encode game videos faster than others with hardware acceleration
Capture video during the live streaming process
Powerful enough to support dozens of games
Cons:
Only with free trial version and will watermark videos
8. XSplit Gamecaster - Windows
XSplit Gamecaster, one of the best free game recording software, can be listed here. It gives you an access to stream live games on YouTube, Twitch or Facebook in 1080p. Importantly, it can intelligently configure your settings to generate high-quality video. There are free widgets, overlays and scenes to make your game streaming and recording more engaging. The highlight of this tool is that it can capture gameplay without FPS drops.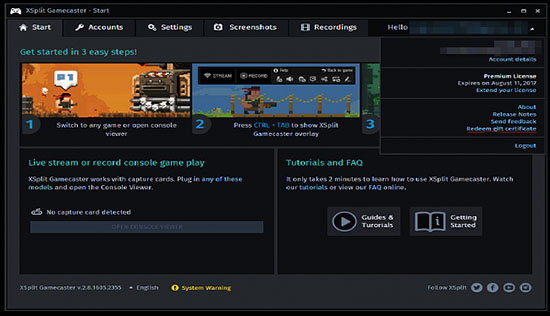 Pros:
Professional option to stream live games
Support setting Chroma key
Record games without FPS drops
Cons:
Require a subscription for some advanced features
9. OBS - Windows/Mac
One of the established and open-source free game recording software is definitely OBS, which can help users record gameplay from various platforms like computer, Nintendo Switch, Xbox 360, PS4, PS3, PS5 and many more. As a popular program to process video and audio, OBS is compatible with Windows, Mac and Linux and allows users to enhance the experience by using various plugins. Without user-friendly interface, however, OBS is not friendly for beginner without editing experience. If you want to configure settings about game recording, you can go to its Settings window.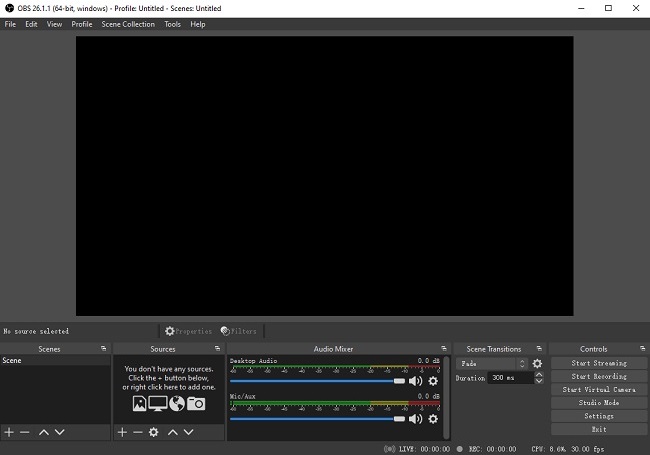 Pros:
Free and open-source screen recorder to capture gameplay
Save recorded gameplay videos in MP4 and FLV formats
Compatible with many operating systems
Cons:
Not friendly for beginners with on editing experience
10. Apowersoft Free Online Screen Recorder - Windows/Mac
Apowersoft Free Online Screen Recorder is a web-based free game capture software that lets users do gameplay recording. It supports a multitude of video formats, which means that you can export your recorded video in MP4, AVI, MPEG, VOB, WMV, GIF and many more. What makes it stand out is that there is no time limitation on recording activities from your computer for use easily later. What counts is it allows you to add webcam into screen recording and grab audio from microphone and system to add narrations. Aside from recording gameplay, users are also enabled to capture popular chat services, including GoToMeeting, Skype and more.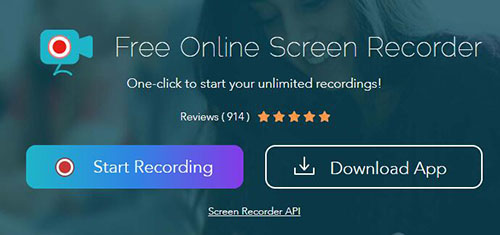 Pros:
Capture your face and emotion from webcam
Record audio from mic and system at the same time
Customize recording area as you want
Cons:
Without advanced and powerful recording activities
11. Xbox Game Bar - Windows
This is an inbuilt recording tool in Windows, meaning that Windows users don't have to download or install any program to get recording function to capture apps. This free game recording software supports shortcut keys and can capture screen with only one mouse button. When you finish the recording, you have the power to change background recording time, maximum length of clips, etc. Also, you can chat with your friend across Xbox console within your gameplay. It is convenient to use as there is no complicated UI and advanced functions and settings. You should note that you cannot change the recording region.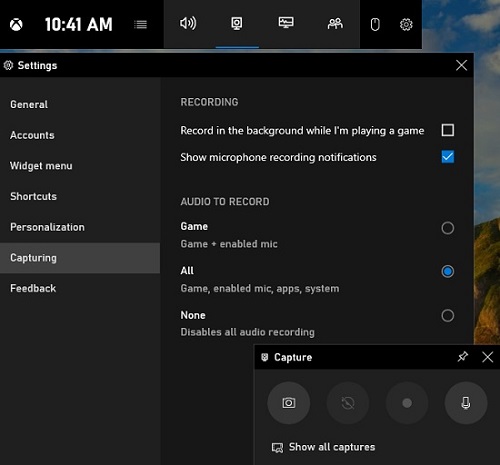 Pros:
Easy-to-use and without any ad
Require no download and installation
Allow users to use shortcut keys
Cons:
Can't pause recording during the recording process
12. QuickTime Player - Mac
Similar to Windows users, Mac users also have an inbuilt free game capture software in their Mac devices, which is called QuickTime Player. More than a video player, QuickTime Player can screen record gameplay for free and comes with a series of editing functions to enhance video like cutting, adding soundtrack, rotating video, adding annotations and recording voice and screen at the same time. With intuitive and small UI, users can operate this program easily within short time. It doesn't impose recording time limitation so that you can record gameplay without time restriction as you want.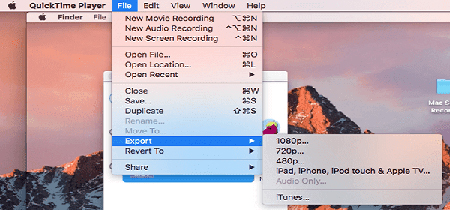 Pros:
Capture screen, webcam, microphone with ease
Default recording tool in MacOS without any download
Change output path of recorded gameplay video
Cons:
Can not capture sound from system and annotate video
Conclusion:
All of the free game recording software in this article are worth trying. Most are completely free, but some are free trial versions listed for your reference. They can have good performance in recording games. If you want to stream and record at the same time, there's something to be satisfied with. In order to help you, we will continue to add more later, and you are welcome to share with us as well.