Do you want to learn how to record an audio file? If yes, you are at the right place. Most people these days prefer MP3 file format, and therefore, it is one of the most popular formats for audio files. However, you might be thinking what's the purpose of recording MP3 files. Well, at times, certain platforms don't allow you to download music or audio files in MP3 format. In such cases, you can record MP3 files and listen to them whenever you want without downloading them. There are different methods of recording an MP3 file. Let's have a look at these methods one by one in this article.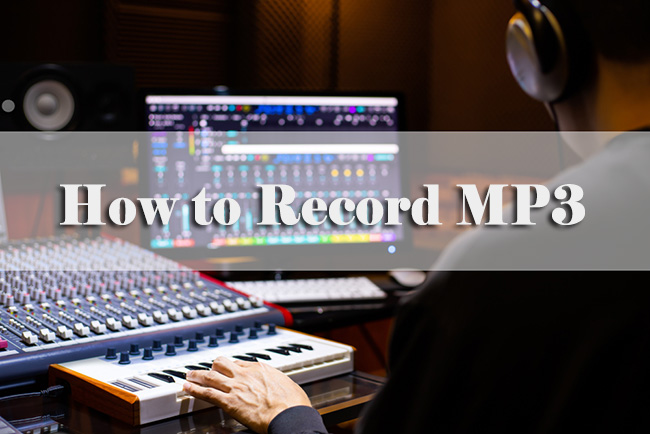 Part 1. How to Record MP3 on Windows 10
Joyoshare VidiKit
Joyoshare VidiKit - Screen Recorder is an amazing screen capture that lets you record both audio and video files in any format. This audio recorder for Windows and Mac comes with a robust built-in audio encoder that helps you save audio recordings in different audio formats like MP3, AAC, WAV, FLAC, M4A, M4B, etc. It provides two modes to detect and capture audio and video, including recording video and audio mode and recording audio mode. These two modes make it easy to capture sound that comes from computer sound card and microphone. You can change channel, codec, quality, bitrate, sample rate and more before the recording process. After recording, it allows you to edit ID3 tag to elevate your MP3 files.
Key Features of Joyoshare VidiKit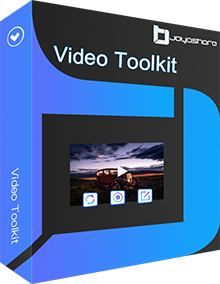 Record audio and video with no time limit and latency on your device
Configure audio's codec, bit rate, sample rate and channel based on your need
Schedule recording so that you can record sounds at your convenience
Detect and capture high quality sound from your computer and microphone
Can record voice over, Discord audio, streaming audio, and more
Step 1: Download and Open Joyoshare VidiKit
Download and install Joyoshare VidiKit from the official website based on your OS. Double hit icon on your computer and select Record section. Choose Screen Recorder to activate it. Simply switch to "Record audio" mode next to "REC" icon.

Step 2: Customize Recording Parameters
Select and adjust the system and microphone sounds according to your own preferences. Then, press gear icon and you can select the MP3 format or change its parameters like codec, channel, sample rate and bit rate if possible. Here, you can also set shortcuts and schedule your recording task easily.

Step 3: Record MP3 and Edit Recordings
Get your audio or music ready and then press the blue "REC" button to start recording an MP3 file on PC. You can click on scissor-shaped icon to cut your recordings to different segments and check them later in the "History" window after hitting the Stop button.
Audacity
Another method to record MP3 on a PC is by using Audacity. This software functions as both an audio recording application and audio editor available on Windows, Mac, and Linux. It is a free and open-source software that comes with many interesting features, including multi-track, combining, scheduling recordings, adding effects, and more. Also, it is effortless for you to mix entire albums and process any type of audio. With this highly customizable audio recording tool, you can export high quality MP3 files and save them to various formats.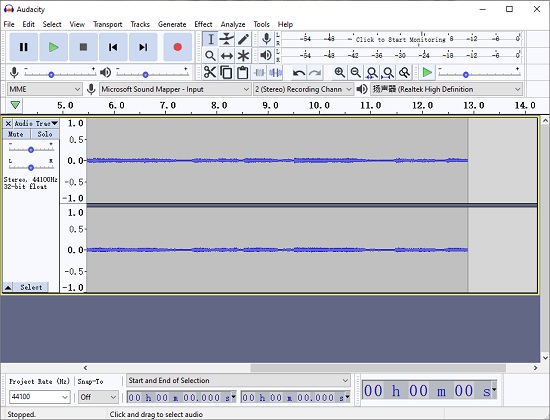 Key Features:

● Record live audio through a microphone or mixer
● High-quality sound recording
● Combine and edit multiple audio files
● Export audio files in several formats
Step 1: Download and install Audacity on your PC.
Step 2: Open this application and click the record button on the Audacity toolbar.
Step 3: Click on stop button once you are done recording.
Step 4: Download and install the Lame plugin to export your audio in MP3 format.
Part 2. How to Record MP3 on Mac
QuickTime
To record audio on Mac, you don't need to download an external audio recorder. Mac comes preinstalled with a recording software named QuickTime Player. Developed by Apple, QuickTime is a multimedia player that allows you to handle videos, audios, and panoramic images. Although it's pretty simple to record audio using this comprehensive tool, most of its features come with the pro version. This program has a clean and easy-to-use UI, which means that you don't need steep learning curve to operate it.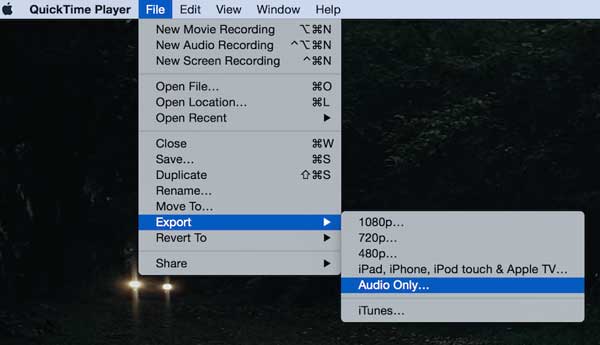 Key Features:

● Clean, interactive and easy-to-use interface
● Various audio and video editing features
● Allow you to stream live videos with QuickTime Broadcaster
Step 1: Open the QuickTime Player on Mac and choose the "New Audio Recording" from the "File" menu at the top left corner.
Step 2: Once you select the "New Audio Recording" option, a recoding panel will appear on the screen. Here, you can choose the source of your audio and adjust the audio quality from the drop-down menu.
Step 3: Now you need to activate the red recording button to start recording your MP3. Once done, again click on the same red button to stop the recording.
Step 4: To save the recording, choose the Export option from the File menu. Here, you can choose the location where you want to save your recording and the desired format, which is MP3 in this case.
iMusic
Alternatively, you can use iMusic software which is a well-known music and audio streaming platform to record audio on Mac. iMusic MP3 recorder lets you download music from 3000+ sites and record files from all radio stations in good sound quality. Also, it features a music library to provide you with various songs and allows you to transfer audio files between different devices like iPad, iPod, iPhone Mac, and PC. After recording process, you can also save your files to iTunes library as you want.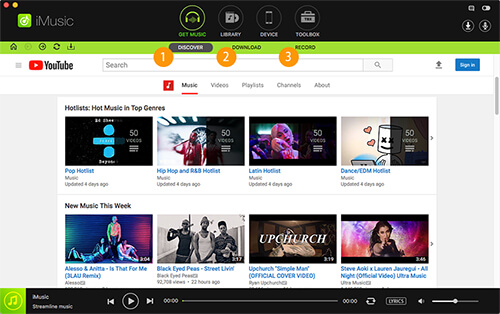 Key Features:

● Recorded music is automatically saved in the iTunes library
● Easily transfer audio files between iPad, iPhone, iPhone and other devices
● Provide a multitude of streaming audio files for you to download
Step 1: Download and operate iMusic on your Mac.
Step 2: Click the record option next to the download tab to start recording.
Step 3: Save your recorded file in MP3 format once done.
Part 3. Record MP3 Online
Online Voice Recorder
You can utilize an online tool to record MP3 if you don't want to download anything on your device. Online Voice Recorder is a completely free mp3 recorder, coming with editing functions like cropping and cutting for you. The best part of this tool is that it can automatically detect the silent fragments at the beginning and the end of your MP3 recordings and get rid of them at your convenience. It is very simple, which means that you can't change the parameters like codec, quality and sample rate to enhance your files.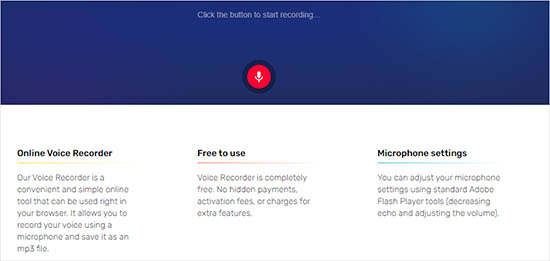 Key Features:

● Easy to operate and save your recordings
● Automatically detect and delete silent fragments
● Without hidden payment and activation fee
Step 1: Go to Online Voice Recorder website. And allow it to access your microphone.
Step 2: Click the microphone button to begin the MP3 recording process. To stop the recording, you can click the red button.
Step 3: Slide the three dots sign to cut unwanted content. Press Save tab to download your recorded MP3 files.
Rev Online Voice Recorder
Apart from that, you can also use other voice recording tools available on Google Chrome and Safari. Rev Online Voice Recorder is one of the most easy-to-use voice recorders on desktop, Android and iPhone. Using Rev Online Voice Recorder, you can record high-quality audios, edit and transcribe audio files. Please keep in mind that you need to pay if you want to transcribe online voice recording to text. Apart from recording MP3 online, you can also download files using its appropriate tools.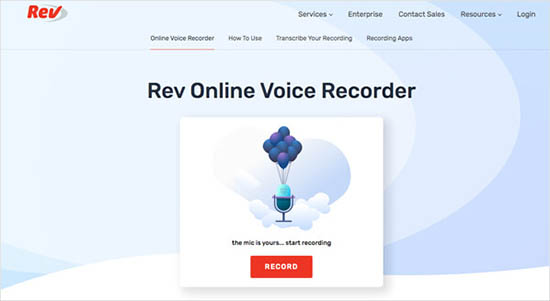 Key Features:

● Free to use
● Option to transcribe speech to text
● Record and download MP3 files
Step 1: Head to Rev Online Voice Recorder website and click the Record button.
Step 2: Then, speak into your microphone device.
Step 3: To stop the recording, you can tap the Pause button and preview it to check quality.
Step 4: Hit the Download button to save your audio files to your desired folders.
Part 4. How to Record MP3 on iPhone
Voice Memos
There are different ways to record audio on iPhone. Firstly, you can choose the Voice Memos app that comes preinstalled on your iPhone. Voice Memos is a smart audio recorder that helps you choose the in-built microphone and also supports external microphones to record audio. You can share your recordings with a link provided by this application and rename your recorded files after the recording files. Also, it allows you to delete and trim unwanted audio fragments.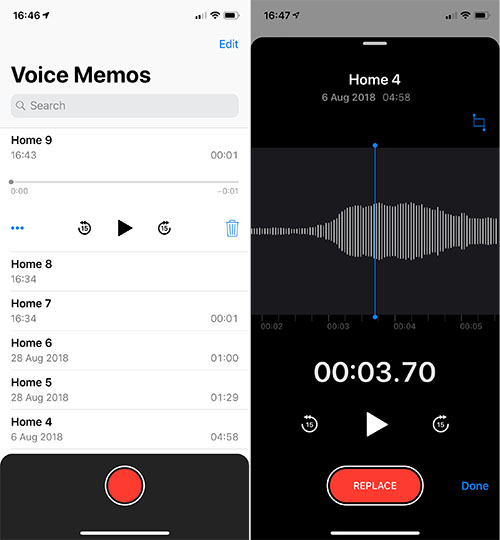 Key Features:

● Easy and free to use
● Help you record audio files instantly and share them with a link
● Organize your recordings by giving different file names
Step 1: Open Voice Memos app from the "Extra Folder" on your iPhone.
Step 2: Next, you need to tap the round red button to start recording audio and hit the same red button to stop the recording.
Step 3: Once done, you can save your recording and assign it a name.
Mp3 Recorder: Voice Recorder
By turning iPhone and iPad devices to a handy MP3 recorder, Mp3 Recorder: Voice Recorder gives you the power to record various audio like voice memos, songs, meetings, etc. With one touch recording feature, it is friendly for beginners and can record your sound for seconds or hours. Besides, it also supports multiple bitrate like 128 kbps, 160 kbps, 192 kbps and 224 kbps and several input channel modes, including stereo, mono and jsterio. What's more, you can upload your recordings to different clouds and export files to Cloud drives.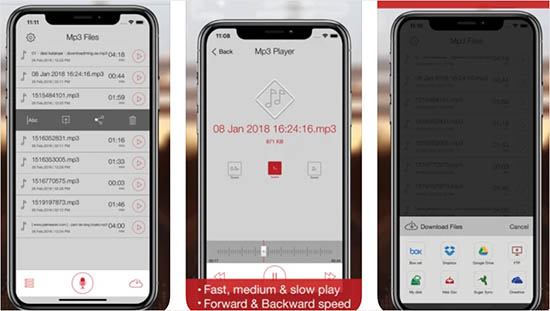 Key Features:

● Capture and play audio files in the background
● With simple to use functions and intuitive interface
● Support a series of input channel modes and offer adjustable play controls
Step 1: Activate Mp3 Recorder: Voice Recorder on your iPhone and click the microphone icon at the bottom of the interface.
Step 2: Press the pause button to skip unwanted content.
Step 3: To stop the recording process, you can hit the stop sign.
Part 5. How to Record MP3 on Android
Android Sound Recorder
Want to know how to record files on Android? Just like an iPhone, you can record files on your Android smartphone using built-in sound recorder too, which means that you don't need to download application to your device. Android Sound Recorder allows you to record audio files, voice notes, and phone calls easily. It has an easy-to-use interface and gives you the option to save recorded files from different names to keep them organized.
Key Features:

● No need to download any external software
● Free to use and operate
● Save your well-recorded MP3 files to your album
Step 1: Locate the sound recorder app on your Android phone.
Step 2: Tap on the red record button or any other voice recording icon on the app to start recording MP3.
Step 3: Once done, you can save the recording on your phone by giving it a name of your choice.
Hi-Q MP3
If you don't like the recorder that comes with your Android phone, you can also download other reliable sound recording applications from the Google Play Store. Most Android users prefer Hi-Q MP3 to capture high-quality MP3 up to 10 min on their devices. It also enables you to edit recordings with its built-in various editing function like customizing bitrate, format, quality, deleting recordings, transferring files to PC, etc. However, you can't record phone calls using this application.
Key Features:

● Record 10 min long audio using the free application
● A variety of audio customization options
● High-quality 44 kHz audio sampling
Step 1: Download and install Hi-Q MP3 from the Google Play Store.
Step 2: Tap on the mic icon to start recording the audio.
Step 3: Once done, you can save the audio in MP3 by giving it the desired name.
MP3 Recorder
You will get a totally free application to improve your recording functions and audio editing features if you download MP3 Recorder. With multiple attrctive themes and colors, this tool is suitable for anyone and can play sound in bubble and wave form. What's more, it presents the time for recording and allows you to brighten the screen during the recording process, change sounds channel to stereo or mono. Once you have done the recording, you can change the storage location and edit files.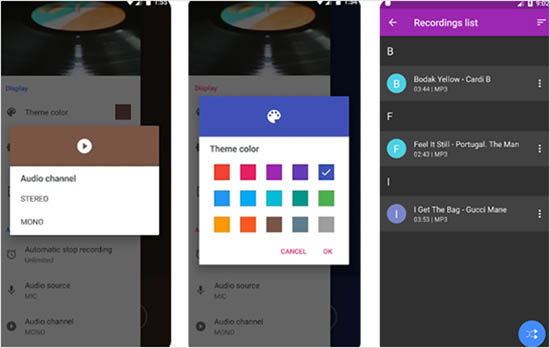 Key Features:

● Offer timer to stop recording
● Arrange your recordings in time order, format, name as you want
● Share your recorded files to Facebook, Dropbox, Twitter, Messenger
Step 1: Download this application from Google Play and run it on your phone.
Step 2: Set the recording settings before recording and tap the record button.
Step 3: To stop the recording, you can hit the stop button and share your recordings with your friends.
Comparison Chart
To help you gain an insight into these programs before choosing them, we provide a detailed comparison chart here.
| | | | | |
| --- | --- | --- | --- | --- |
| Program | Compatibility | Price | Editing Tool | Customizable codec/bitrate/channel... |
| Joyoshare VidiKit | Windows and Mac | $15.95 | √ | √ |
| Audacity | Windows, Mac and Linux | Free | × | √ |
| QuickTime Pro | Mac | $30 | √ | √ |
| iMusic | iOS/Mac/PC | Free | × | × |
| Online Voice Recorder | online | Free | √ | × |
| Rev Online Voice Recorder | online | Free | × | √ |
| Voice Memos | iOS/Mac | Free | √ | × |
| Mp3 Recorder: Voice Recorder | iOS | Free | √ | √ |
| Android Sound Recorder | Android | Free | N/A | N/A |
| Hi-Q MP3 Pro | Android | $3.49 | √ | √ |
| MP3 Recorder | Android | Free | √ | √ |
Conclusion:
This article will help you if you are looking for smart options to record MP3. If you are particularly looking to record files on a PC, we would recommend you to consider Joyoshare VidiKit, as it comes with amazing audio/video recording and editing options like cutting, changing codec, quality, sample rate and more. For other devices, you can try and see which options work the best for you from the methods given in our article. Good luck!