Nowadays, playing games is commonly regarded as one of the most popular entertainments to relax. Supposed that you are a game master, you would like to share some special tutorials to guide other gamers to play games better and up to a level. Now professional game recording software is needed to assist you in capturing game playing process on your computer. But when you are looking for it, you must be confused as there are so many similar screen recorders for game players. To provide significant convenience, we here list 9 typical tools for your reference.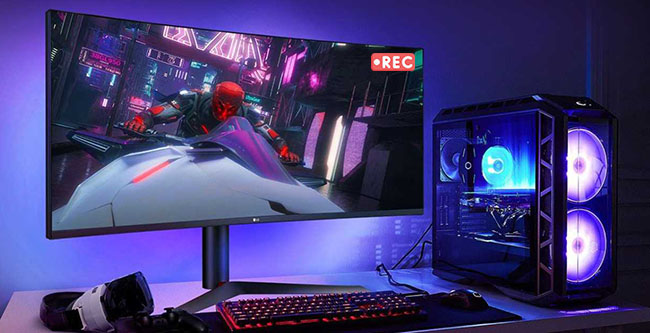 1. Joyoshare VidiKit (Paid with Free Trial):
As an easy-to-use game recorder, Joyoshare VidiKit - Screen Recorder can capture games without frame drop. It supports plenty of formats, for instance, HD MP4, AVI, FLV, SWF, WMV, MKV, MOV, etc. Some popular output devices, like iPhone, Andriod, Xbox and smart TV are involved. It is capable of recording all your desktop activities, including online game videos, live chat, streaming movies, Skype calls, etc. You can customize the recording screen size as you like, capture game videos in full screen or preset the standard ratios.
Equipped with outstanding recording optimizer, Joyoshare VidiKit is well designed with flexible settings. You can decide whether to record gameplays with microphone sound or system audio, take screenshots anytime during capturing process, highlight cursor movements, or create a scheduled recording task by setting an specific date and time ahead of time. After your recording, you can also edit the game capture, like revising its file name and preview it.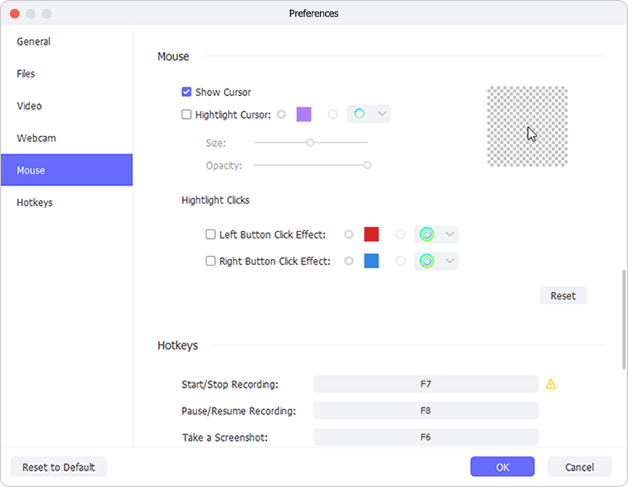 Key Features:
Record gameplay on PC and Mac with no lag
Provide the best matched parameters for your output
Support 60fps and 1080p, allowing to preset configurations
Capture game background music and add sound from microphone
Highlight cursor movement and clicks
Trim recorded game video clips and take snapshots
Supported OS: Windows XP and later; Mac OS X 10.8 and later
2. OBS (Free):
As a free and popular open-source, Open Broadcaster Software (OBS) attracts much attention from both new starters and senior professionals. With intuitive and simple interface, it shows all necessary information in your first sight, which will not require you to change any special settings. What you need to do is to choose game source that is going to be captured and start to record it.
OBS is supportable to output your game recording with MP4 or FLV format and keep high quality as well. It enables you to upload your game capturing to some popular websites, for instance, YouTube, Twitch, etc. Of course, you can directly save recorded game video on your PC for later playback. Most importantly, OBS is equipped with filters that assists in fast filtrating noise, meaning you can record game video without unwanted and unexpected sound included. You can feel free to enjoy this free game recording software on Windows, Mac together with Linux operating system owing to its great compatibility.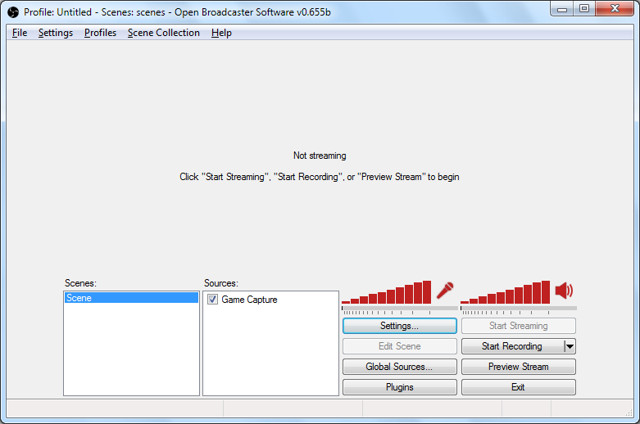 Key Features:
Filtrate unwanted noise
Act as both audio and video recorder
With advanced configuration
Free and open source with simple interface
Supported OS: Windows 8 and later, macOS 10.13 and later, Linux, BSD
3. Action! (Paid with 30-days Trial):
This video game recording software, Action!, is well designed with diverse attractive functions, which aim at helping gamers to record game video through gaming platform so that they have chance to enjoy their favorite game recordings under Windows operating system. Similar to some other game recording software,Action! can make full use of your computer's GPU to accelerate game video capturing process, which at the same time can alleviate the pressure of CPU.
Of course, it supports HD game recording video up to 4K resolution with live streaming service, which is to say, you can directly stream your game and record from Action! to YouTube, Facebook, Hitbox, etc. There are two available output formats you can choose for your game capturing, AVI and MP4. What is also worth mentioning is that you are allowed to add live annotation to your game video. It even enables you to edit your game recordings, such as slow motion and cropping. Its Time-Shift mode is also effective developed with a limitation of 10 minutes.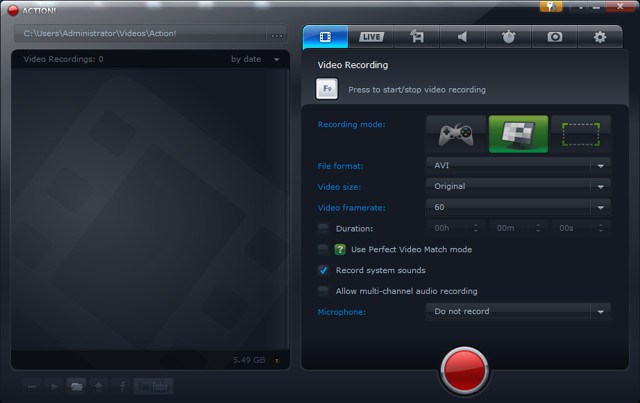 Key Features:
Use computer's GPU for acceleration
Remote Access
Come with 4K video recording and Time-shift mode
Support output formats: AVI and MP4
With live streaming service
HD game recording video
Supported OS: Microsoft Windows
4. Bandicam (Paid with Free Trial):
Here comes a simple but efficient game screen recorder, which is Bandicam. Easy-to-operate as it is, Bandicam is dedicated to offer good service for users. It is a suitable choice for new beginners. To record game video, you are entitled to choose a specific screen area to be captured, no matter how large and which region you want, you can increase it or decrease it on your desktop screen based on your requirements.
Specially, Bandicam is good at recording and saving game video in small size owing to its built-in advanced compression technology, which can guarantee lossless quality with 4K Ultra HD resolution along with 3840x2160 file. What's more, you have right to enjoy recording for 24 hours continuously. If you want, you can also make a scheduled task to start and stop recording. Bandicam can capture games straightly, have PC screen control, use a webcam or take advantage of HDMI connectivity to record. A completed game recording can be shared to YouTube with ease.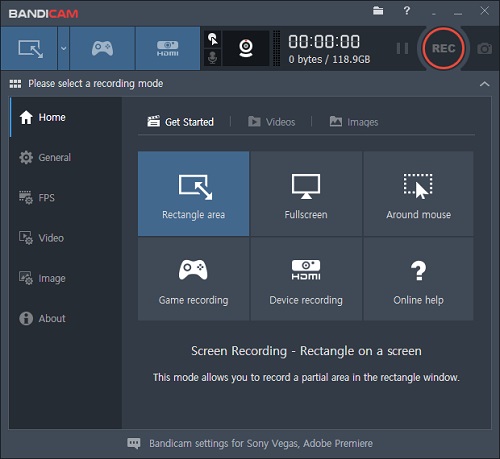 Key Features:
Simple to operate
With adjustable window screen
Built-in game video compression feature
Support 24 hours recording
4K Ultra HD resolution
Supported OS: Microsoft Windows
5. Dxtory (Paid with Free Version):
With a clean and tidy operating interface, Dxtory can work with high performance. It can bring great convenience to gamers to record game videos. Dxtory is widely used and well known for its excellent speed processing with the reason that it is able to acquire all date guiding to surface memory buffer. When it comes to recording function, it can give you a big surprise due to its robust audio settings, which allow you to capture two audio tracks simultaneously, taking microphone sound and game voice as an example, and edit it in separate after recording process is finished.
While for video settings, there are some options given to let you customize your game recoding, like video codec, sources, frames 10-120/second, format and size. Certainly, Dxtory can supply best video with high quality. You may satisfy this recording software as long as you ignore the huge size. When you try it, you can verify whether it will put heavy load to your GPU and CPU. Dxtory enables you to save screenshots at any time with various desirable formats.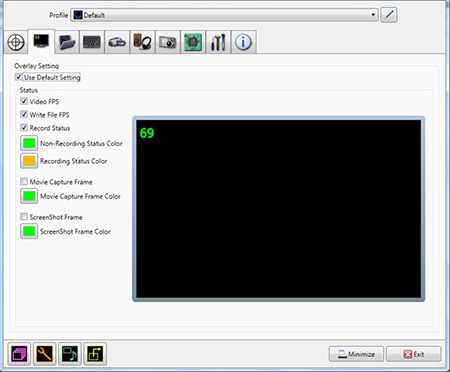 Key Features:
Multiple customized options for video settings
Acquire all date elements directly
Light and simple
Support to VFW codec
Record two sounds simultaneously and edit them separately
Supported OS: Windows XP and later
6. LoiLo Game Recorder (Free):
LoiLo Game Recorder is another game recorder free that does good at recording types of gameplay on your Windows with minimal performance loss. It includes support for Motion-JPEG, which ideally keeps optimal balance between your game video quality and file size. Using this program, you can quickly record wonderful moments during the game and capture your own voice readily. LoiLo Game Recorder is able to export your files in HD. However, you should know that this freeware lacks compatibility with Windows 10 and only offers basic recording capability.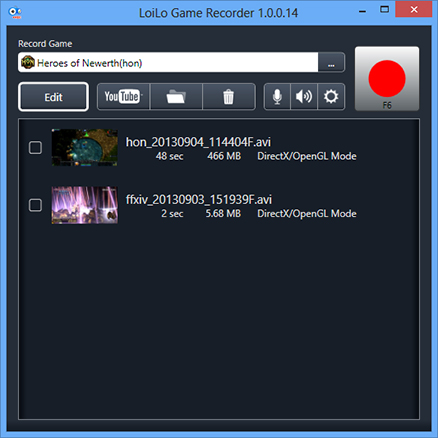 Key Features:
Record game footages and get gamers' sounds easily
Output and save videos in HD with reasonable file size
Make possible minimal loss in performance
Supported OS: Windows 7, Windows 8 32bit/64bit (not compatible with Vista, XP)
7. FBX (Free):
FBX is good game recording software that is specialized in recording web games, instant short videos and quality images. Its lag-free and non-stop recording draws much attention from game players. More than that, it has the ability to live stream without jerky motions. There is a remarkable editor in FBX that enables you to add captions, animated stickers, effects, GIFs and more. With it, you can make game recording a totally simple thing on your low-end PC.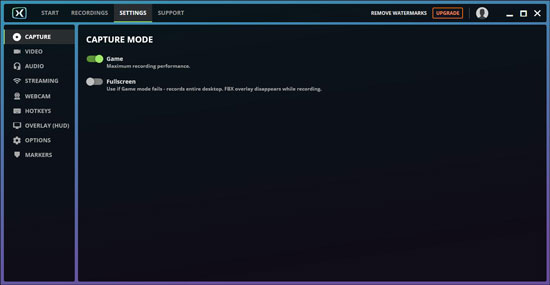 Key Features:
Record game videos with high performance in HD
Offer users editor to enhance recorded videos
Can live stream and record at the same time
Supported OS: Windows 7, 8, 10 (64 and 32-bit OS)
8. Nvidia GeForce Experience (Paid):
With updated drivers and optimal playable settings, Nvidia GeForce Experience is commonly used as a game recorder for PC. Making the most of it, you can record and share your livestreams or game videos with whoever you want on Twitch and YouTube. Best of all, it adopts advanced NVIDIA ShadowPlay techonology to improve your recording experience without losing original high quality. Besides, Nvidia GeForce Experience supports nearly all popular games, such as Call of Duty, League of Legends, Minecraft, World of Warships, etc.

Key Features:
Use Nvidia Shadowplay techonology
Share livestreams and game videos easily
Use Nvidia GPU
Supported OS: Windows 7, Windows 8 or Windows 10
9. Gecata by Movavi (Paid with Free Version):
Gecata by Movavi can function well as one of the best game recording software and streaming programs. It records your outstanding performances in gameplay and provides webcam to add your face, which is quite convenient, especially when you have a live stream. Apart from the background music, sound effects and dialogue, you can additionally capture your own voice by enabling the microphone. Handily, it comes with a game mode to help begin game recording automatically and use hardware acceleration to encode your video.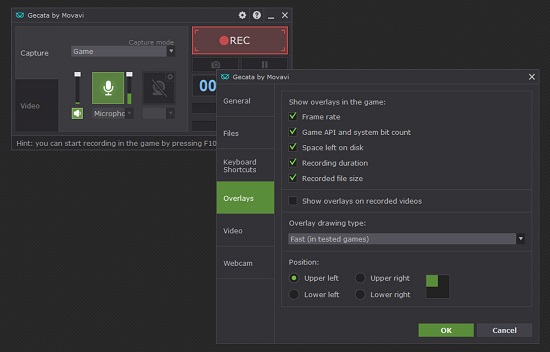 Key Features:
Save game video clips in 120 FPS and 4K
Use hardware acceleration
Develop dedicated game mode to capture gameplay
Overlay webcam video to game footage
Supported OS: Windows 7/8/10 32-bit or 64-bit
Which Game Recorder Is Best?
If you are a new starter, you can try some free game recorders with basic recording function. If you are a senior professional, you cannot miss some paid game recording software when you take all-in-one recording solution and comprehensive features into consideration. Anyway, only when you tried those game recorders by yourself can you find the best one that fit for your exact needs. May you enjoy your game recordings!