Game recording requires software that records the gameplay without any FPS drop. Unfortunately, although many tools are available to record your computer, only a single game recorder no FPS drop comes to your aid during your gameplay recording. The reason is that not every tool is capable of recording games at high FPS. You do need a tool with no crashing or lagging that can handle high FPS recordings for a smooth recording experience. Today, we have covered 8 best different tools that you can explore and pick the one that fulfills your game recording requirement.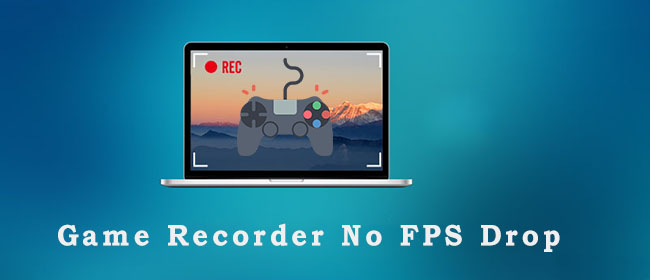 Why Is My FPS Dropping When Recording?
You can choose the best game recorder with no FPS drop free tool when you know the reasons that are causing a drop in the FPS. The following are the major issues for FPS drop:
1

Low-configured GPU

When the system's CPU and GPU do not match the minimum recommended settings, you will experience a drop in FPS. While a game utilizes most of the CPU, adding a screen recorder exerts further pressure and pushes the CPU to the maximum, causing a drop in FPS.
2

Insufficient Memory

With lesser RAM, running multiple applications on a computer becomes challenging. With less memory available, the screen recorder will miss most of the frames because of the lack of memory to render each frame.
3

Video Processing Method

Hardware video processing is excessively beneficial and efficient than using the software. If you have a good GPU, it takes care of the video processing taking the load of the CPU.
4

Improper System Settings

Even if you have a high-end computing system, you can still encounter an FPS drop because of the wrong system settings. You will have to check for the video parameter settings.
5

Internet Connection

Online screen recorders do offer the flexibility to capture your computer. However, they require a stable and high-speed Internet connection. Unstable and improper Internet leads to FPS drops.
1. Joyoshare VidiKit
Joyoshare VidiKit - Screen Recorder is a no frame drop game recorder because of its ability to record the screen in 1080p or 4K at 60FPS without any lag. It exerts less pressure on the CPU and ensures to capture everything. You can record without any time limit and watermark for a better outcome. Also, it allows you to change resolution, frame rate, quality and more when you change the output format. You can also add watermark and edit it to enhance your video.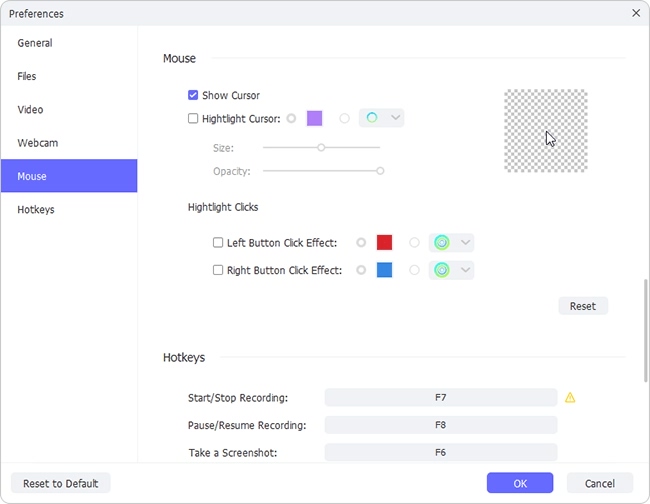 Pros:
Capture audio from a computer or microphone
Option to schedule recording, show clicks, highlight cursor, and more
Different screen recording modes
Record gameplay at 60FPS in high quality
Lossless audio and video processing
Cons:
The free version leaves a watermark
Supported FPS:
2. RecMaster
You can choose RecMaster as a good game recorder without FPS drop. It captures both audio and video for a better outcome. You can also use it to record your webcam while choosing between the internal and external audio devices. Its user interface is easy-to-navigate and helps you select the options quickly.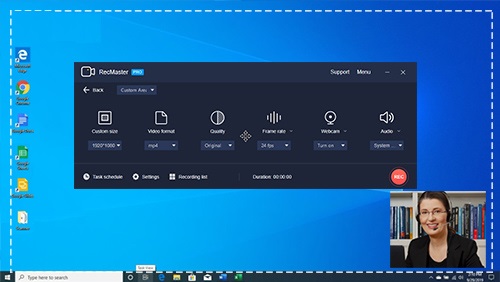 Pros:
built-in video editor
Schedule recording
Support a variety of formats
Moving cursor effects
Allow uploading to YouTube and Google Drive
Cons:
The trial version has nothing to offer
Supported FPS:
3. ACTION!
ACTION! game recorder no drops in frame rate is an excellent tool to capture your gaming action without any FPS loss. You can have real-time recording and streaming, everything captured in high-definition. Additionally, you can capture audio, add commentary, and a variety of videos for different needs.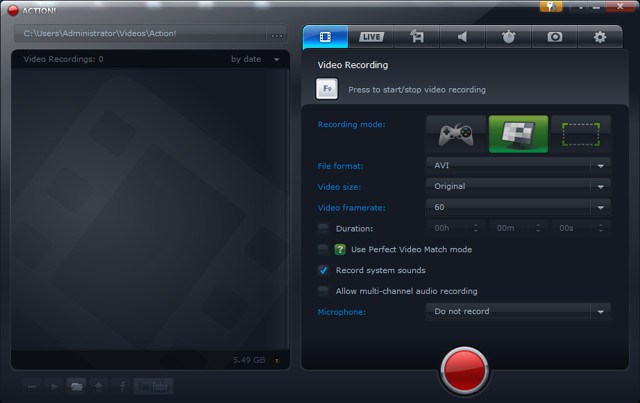 Pros:
Record webcam
Time-shift hotkey to capture epic moves in a game
Powerful audio and video editor
Low CPU usage
Cons:
No custom frame rate setting
Cannot adjust video bitrate
Supported FPS:
4. FBX Game Recorder
FBX Game Recorder has a good performance in noth smooth recording and easy streaming. As game recording software with no FPS drop, it adopts NVidia/AMD/Intel hardware acceleration technology, causing no lag during the whole process. It's friendly for low-end PCs. When you make live streams, it ideally adjusts bandwidth to reduce jerking. Moreover, there is an editor it provides to apply slow motion, add captions, animated stickers, GIFs, sound effects and more.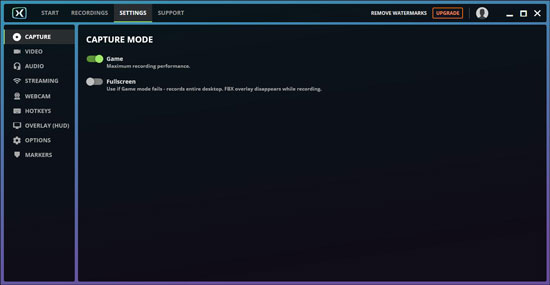 Pros:
With hardware acceleration to reduce in-game lagging
For games to live stream and combine recording together
Edit videos with different effects and enhancing tools
Cons:
Free version adds watermark to videos
It only records game clips, not all types of activities
Supported FPS:
5. AceThinker Screen Grabber Pro
AceThinker Screen Grabber Pro is a game recorder with no FPS drop and helps record the webcam and audio for live streaming purposes. Its built-in editor helps make changes to the recorded video without having to leave the platform. This tool also helps capture mouse clicks, which you can highlight or customize according to the need.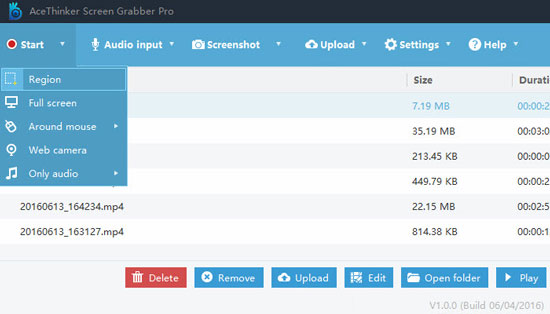 Pros:
Capture full screen or custom area
You can share the video easily
Record audio and video simultaneously
Encode and save files in different formats
Schedule automatic recording
Cons:
Free version saves in MP4
Supported FPS:
6. Flashback Express
Flashback Express, developed by Blueberry Software, is a screen recorder and helps you capture your gameplay in high quality. When you have the proper settings, you can record gameplay without losing FPS with this tool. In addition, there is no time limit and watermark on the captured video, and you can record audio that you can add to the video in later stages.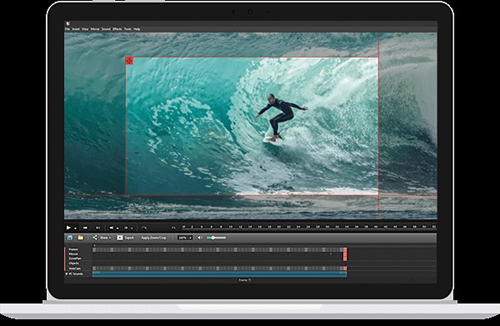 Pros:
Export in MP4, WMV, and AVI formats
Record webcam
Scheduled recording
Fullscreen and custom area recording
External audio recording
Cons:
Subscription is essential to unlocking advanced features
Supported FPS:
7. ScreenFlow
ScreenFlow is a reliable tool to capture every detail of gameplay. Serving as one of the best game recording software no FPS drop, it comes with significant changes than its predecessors to provide better results to the users. There are new features and toolkits, along with screenshot capture during recording. With the video editor built-in, you can skip looking for an editor elsewhere.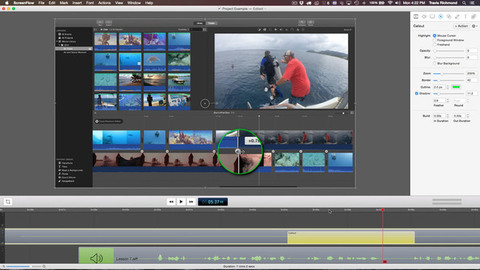 Pros:
Capture internal and external audios
You can preview the clips
Creation improvements
Expanded editing capabilities
Improved layout and navigation
Cons:
Supported FPS:
8. LiteCam HD
LiteCam HD is a program that helps record your computer screen without any lag. This no frame drop game recorder comes equipped with features that are helpful in capturing the screen in HD quality without any FPS drop. Additionally, the built-in editor helps you adjust before saving the file or sharing it online.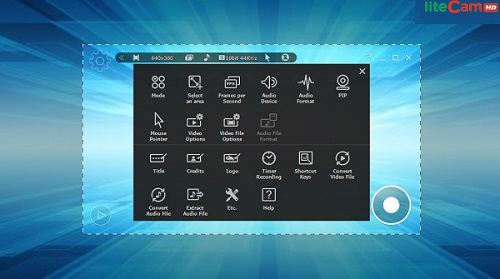 Pros:
It supports hardware acceleration
You can add cursor effects
Social media integration
Encoding to different formats
Customizable branding
Cons:
No collaboration tools
No speech-to-text feature
Supported FPS:
FAQs about Recording Game without FPS Drop
Some users still have concerns about dropping frames in recording games. If you are one of them, you might as well furtherly check out frequently asked questions and related answers here.
Q1. How do I record games with higher FPS?
A: You can try diversed solutions to record games with FPS as high as possible: reduce output resolution of gaming video, choose from available frame rate list to get a high yet stable FPS, use hardware acceleration encoder, update graphics card driver and equip your computer with better hardware.
Q2. Why is my FPS low when I record?
A: The fact is that recording game videos, that is, your computer screen, is a CPU-intensive process that consume your hardware resources. Lagging issue will occur if you have many programs running at the same time, no matter in the background or on your desktop. This as a result leads to your FPS being lower than what you preset.
Q3. What recording software does not affect FPS?
A: Actually, your gaming recording software resorts to CPU to encode what you capture during your gameplay process. A computer that comes with a powerful enough CPU likely doesn't cause frame drops. However, if your CPU is old, you probably experience FPS drops, recording lags and crashes.
Conclusion:
Choosing a game recorder no FPS drop could be challenging, given that there are many tools available for use. However, the recording tools explained in this article will help you choose the right tool for your use. As we have covered the features, pros, and cons and supported FPS, you can easily select the recording tool that matches your gaming requirement and system specifications. Ensure that you are using a tool that supports high FPS without drops and has a built-in video editor for better editing.