Watermarks are digital logo imprints on photos, videos, and documents designed for copyright purposes. And while watermarks are made to prevent unauthorized content reproduction or use, they can be pretty annoying, especially if they emanate from multimedia editing tools. In essence, they tend to divert attention from the focal point in your image, video, or document. Therefore, it would best if you removed the watermark. To do that, you will need watermark remover software. Thankfully, there is a lot of such software on the internet. This article will equip you with some of the best watermark remover applications for photos, videos, and PDF documents. Let's check them and find which works best for you!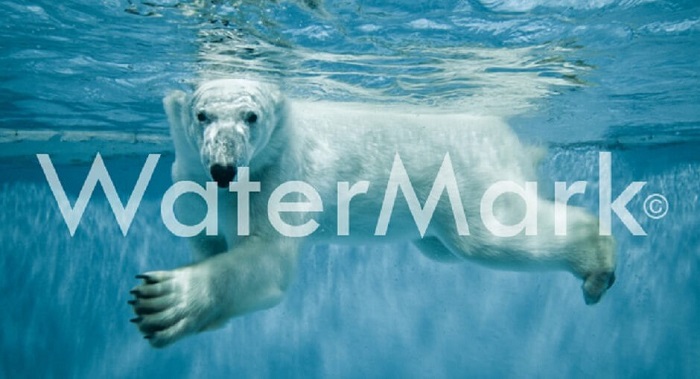 1. Joyoshare VidiKit
Joyoshare VidiKit is a professional and one-stop video editing tool designed to help you remove embedded watermarks on video and add a sense of flair and class to your video files. With its premium version, you can reproduce and enjoy videos without watermarks. You can remove any watermark on most video formats such as ASF, SWF, MP4, DV, MKV, and others.
Joyoshare VidiKit also has an in-built multimedia player that allows you to preview video files as you edit them. More amazingly, this software doubles as a photo watermark remover. You can easily crop out or get rid of unwanted watermarks on JPG, PNG, TIFF, BMP, WEBP, and GIF photo formats.
Pros:
Best video watermark remover on Windows and Mac
Supports SWF, MP4, TS, WMV, TIFF, GIF, BMP, etc.
Insert customized text and image watermarks
Edit watermark for videos and photos in batch
Make rectangle selection, freehand selection, etc.
Output content in 1:1 original or adjusted size
Cons: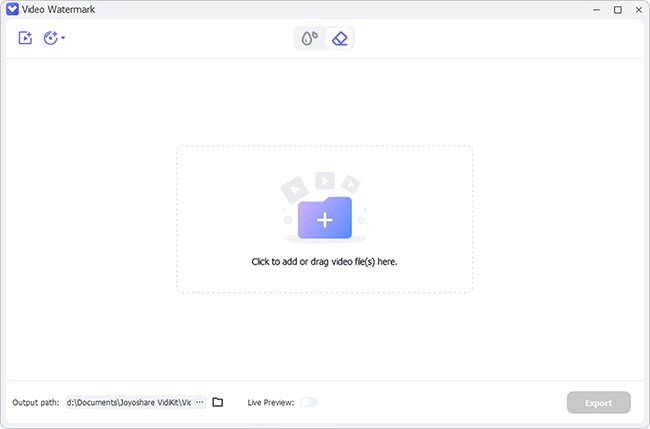 2. Apowersoft Watermark Remover
Apowersoft Watermark Remover is a "magical" and arguably the best watermark remover on the internet. The software lets you process watermarks easily and quickly. You can remove watermarks on photos and videos no matter their size and location on the file without degrading the quality of your media file.
Apowersoft is compatible with most photo and video file formats, making it a reliable and convenient watermark remover option. Most interestingly, the application support batch video/photo watermark removal in just a few clicks.
Pros:
Easy to use
Support batch watermark removal
Retain multimedia file quality
Customizable watermarks
Multiple formats supported
Cons:
Free version is too limited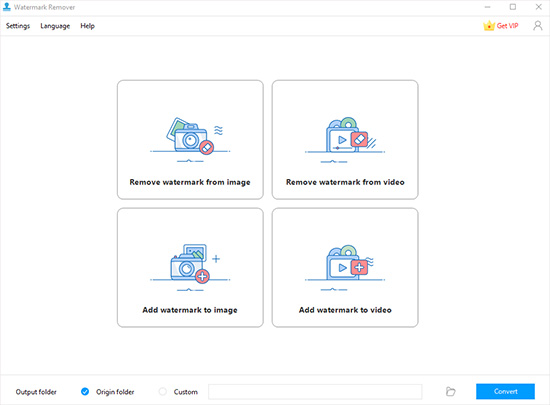 3. HitPaw Online Watermark Remover
HitPaw Online is an all-around and free video editing tool with an in-built dedicated watermark remover function that allows users to remove embedded video watermark in just three simple steps, i.e., Upload video>> Select and remove watermark>>Save and download video.
On top of that, you can cut, resize, rotate, speed, and covert the video to your desired video format. The free online watermark remover works on any device with internet connectivity, safe and ads-free.
Pros:
Regular updates
It is free
Do not require installation
Easy to use
Ads-free
High-level security
Cons:
Pretty basic features
Can only handle video below 100MB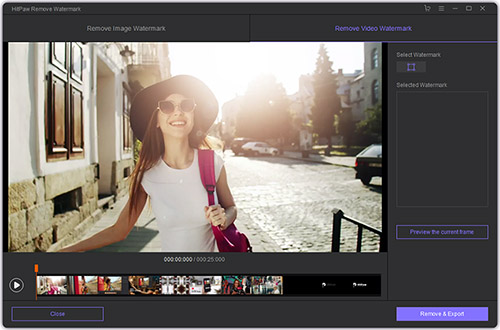 4. BeeCut
Here is another premium video editing tool that features an impeccable watermark removing function. BeeCut comes with a free trial version. However, you will be required to pay for a lifetime license to enjoy its full-service package. With BeeCut, you can either crop out the watermark from your video or use its Mosaic tool to remove it.
The software has a rather simple-to-use interface and rich video editing that allows users to fine-tune video by adding video filters, removing unwanted video parts, inserting audio, merging, and much more.
Pros:
Simple User Interface
Support multiple aspect ratios
Many video editing tools
Flexible watermark removing options
Available for all conventional operating systems
Cons:
Expensive
Mosaic effect may sometimes be unnatural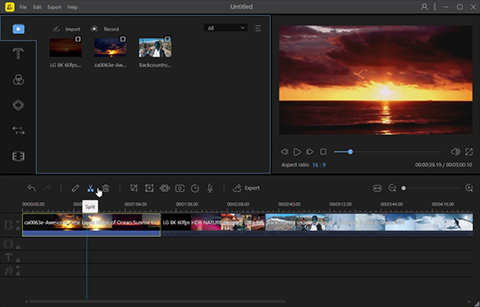 5. PhotoShop
Developed by Adobe, PhotoShop is a widely-used photo editing tool and an unbeatable watermark remover. At a monthly subscription fee of $29.99, PhotoShop provides you with flexible options to remove watermarks, i.e., you can either apply effects to get rid of the watermark or delete the unwanted marks.
For example, you can use Spot Healing, polygonal lasso, Magic Erase, or the Healing brush to brush off the watermark. Alternatively, you can crop out the watermark quickly and smoothly without compromising the quality of your photo.
Pros:
Flexible ways to remove watermarks
Lots of tutorials
Free trial is available
Maintain image quality
Cons:
High system requirements
Steep learning curve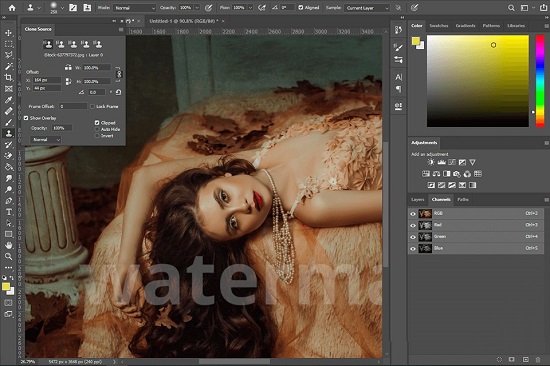 6. Photo Stamp Remover
If you are looking for the perfect batch watermark remover application, then the Photo Stamp Remover is an excellent choice for you. It is a reliable and one of the best watermark removers designed to help eliminate unwanted logos and date stamps from your pictures.
Courtesy of its new watermark algorithm, this photo editor allows for smart filling of deleted areas using inpainting, texture generation, and hole filling. Photo Stamp supports a variety of photo formats such as BMP, ICO, TIF, PSD, and many others.
Pros:
Remove watermarks effortlessly
Support batch processing
Support many photo formats
Basic retouching
Delete transparent watermarks
Cons:
Additional features require a premium subscription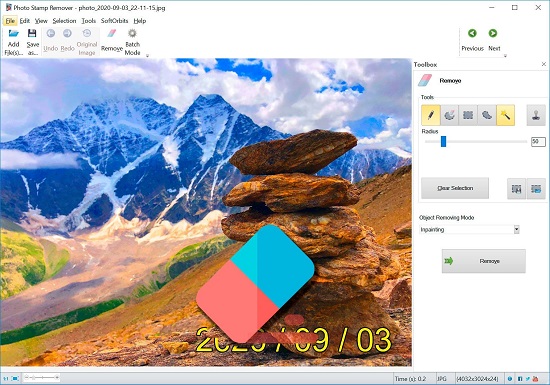 7. Wondershare Fotophire
Wondershare Fotophire is a profound eraser tool primarily designed to help photo enthusiasts and photographers remove watermarks from pictures. With its array of incredible features, Wondershare would unquestionably make it to the hall of fame. The software will help you delete stamps, detail, and photo backgrounds.
Its photo cutter feature makes it amazingly easy to remove unwanted photo details or the entire background. Alternatively, you can make use of its Eraser module to remove watermarks. All you have to do is highlight the marks and click the Erase option. The program supports a considerable number of photo formats, including TIFF and BMP.
Pros:
Easy to use
Great cutter feature
Intuitive UI
Free version is available
Cons:
Slow processing
Available for Windows only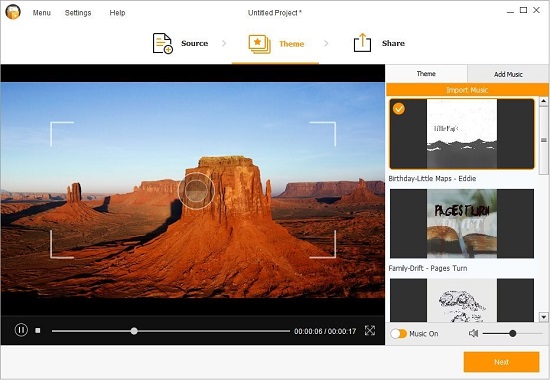 8. GIMP
The GNU Image Manipulation Program, popular known as GIMP, is a multi-platform free watermark remover designed for graphic designers, illustrators, scientists, and photographers. GIMP comes with a plethora of sophisticated tools to remove all types of watermarks, logos, date, time, etc.
Unlike most free watermark remover software, GIMP supports batch watermark removal processing, saving much time for users. With it, you can also edit or entirely remove photo backgrounds and replace them with new ones that fit your taste. Besides, it has advanced photo editing and retouching tools that make a great photo editor choice.
Pros:
It is free
Easy to use
Great photo editing tools
Cross-platform
Cons: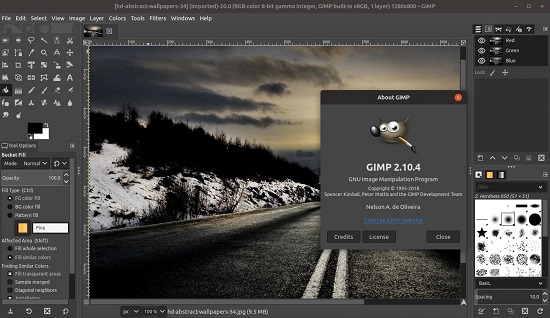 9. Inpaint
Here is another free online watermark remover that also has a desktop version for Windows and Mac users. However, you will have to pay $19.99 for a lifetime desktop version. The online-based software is host to some pretty basic but essential tools built to remove/ erase watermarks of any shape and size.
Inpaint has a direct interface that makes the processing super-straightforward and effortless. With the app, you can get rid of all types of objects from your photos using available tools such as Guide Lines, Magic Wand, Lasso, and Marker. It is also possible to fix skin and eye blemishes to restore old damaged photos.
Pros:
Quick and easy to use
Remove all unwanted marks
Support batch processing
Retain image quality
Cons:
Most features are only available in the paid version
Cannot perform complex photo edits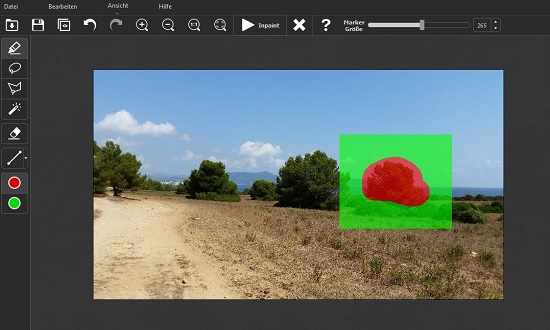 10. Artipic
Artipic is a cross-platform, premium photo editor that performs a whole lot of photo editing functions, including removing watermarks from images. With its simple and modern software layout and basic tools, Artipic is a darling for many photo editor beginners. The software encompasses editing, retouching, and sharing tools.
Compared to PhotoShop and GIMP, Artipic is far much easy to use. Using its retouching tool, you erase any unwanted marks on any photo. To do that, you can either paint it or simply highlight and erase the marks. It is also equipped with filters and adjustment tools that can help improve photo quality.
Pros:
Plenty of tools
Batch processing
Rich set of quality improvement tools
Cross-platform
Super-easy to use
Cons:
Lack any special features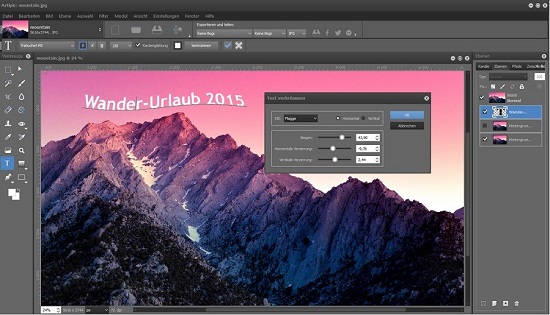 11. Pixlr
This is a top- enterprise photo editing tool with unmatched photo editing abilities. The software features a myriad of features in just one click. Besides its photo editing abilities, Pixlr is also an excellent watermark remover application available for all conventional operating systems bearing in mind that it is web-based. This makes it a convenient and fast way to remove unwanted photo marks. Alternatively, you can use the desktop version to get the job done.
Pixlr comes with a zoom feature that enables users to mark watermarks without compromising the quality of the photo accurately. It also has an Undo and Redoes function that can be used in case anything goes wrong.
Pros:
Have many features
Intuitive interface
Zoom feature
Support Cloud
Cons:
Removal may need multiple tries
Lack Clone and Healing Brush tools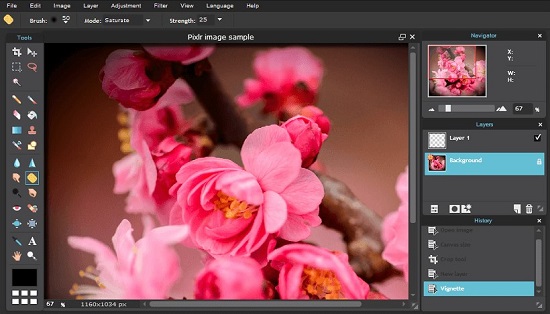 12. Lunapic
Lunapic is a free online watermark remover and a close alternative for Inpaint. The two are quite similar in the sense that they are easy to use, free, and perform almost similar functions. The web-based software allows you to remove any unwanted photo marks without much struggle. Even though it may take time to get the job done, it works perfectly.
You can remove the watermarks by painting them, blurring them, etc. The Cloud program has a "Zit and Blemish Remover" function that you can use to delete unwanted details on your photos completely. Alternatively, you can make use of its profound Cosmetic Surgery tool for the same purpose.
Pros:
Web-based
Easy to use
Easy and quick sharing
Allow background removal
Cons:
Limitations on file sizes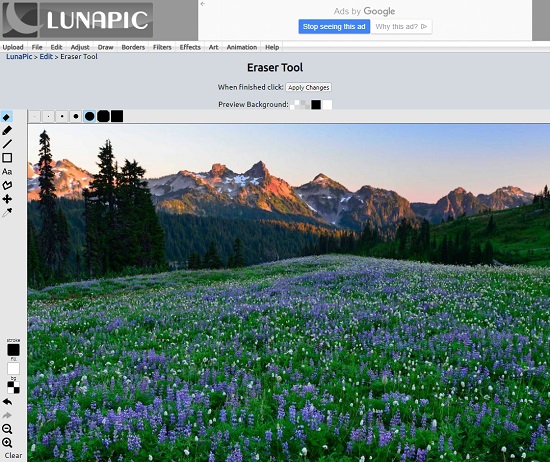 13. inPixio Photo Studio
inPixio Photo Studio is a great photo editing tool specifically built to help photographers eliminate unwanted items such as buildings, cars, people from photos. Besides, its erase function also works to remove watermarks from pictures while at the same time retaining the quality of the photo.
You can also use it to redo a retouch to clear up blemishes and reduce wrinkles on your photo. This will only take a few clicks. On top of this, the software allows you to create impressive photomontages or collages and integrate them into your pictures.
Pros:
Simple to use
Variety photo improvement tools
Intuitive interface
Multiple Image Formats
World-Class Support
Cons: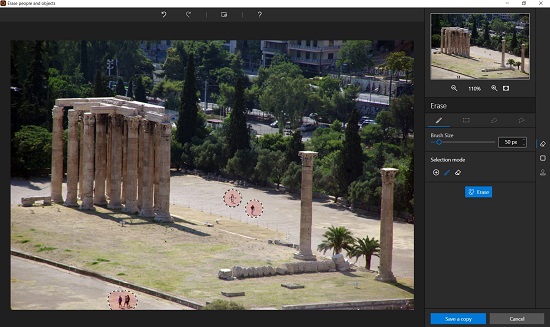 14. Photoupz
Photoupz is a top-class sound photo editor that helps delete or rather get rid of unwanted watermarks and improve the overall outlook and quality of your photo. The software removes dates, time, logos, and any stamp embedded in any type of image.
Photoupz has an automatic customization feature that ensures that any changes on your photo are automatically saved. It provides flexible ways to remove watermarks. For instance, you can the marker tool and paint over the unwanted marks or use the Inpaint option to delete signs and marks on your photo. To add more style and clarity, you can manually adjust the brightness and sharpness of the photo.
Pros:
Retain photo quality
Automated parameters
Flexible watermark removal options
Cons:
Available for Windows only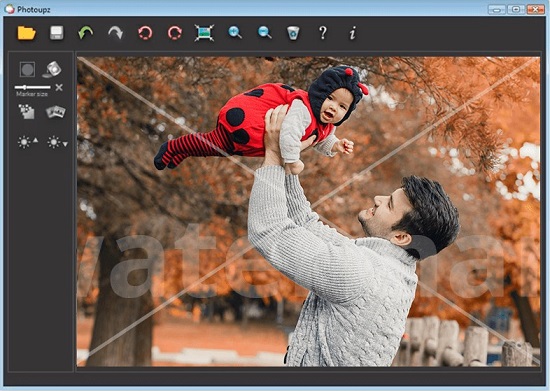 15. FixThePhoto Watermark Remover Online
Closing our top best watermark remover for images is the FixThePhoto software. Even at the bottom of our lists, the software still stands out as an impeccable watermark remover software. Being an online-based software, FixThePhoto works fast to resolve any impending watermark issues.
All you have to do is upload the image, select the appropriate tool and slide it across the area with the watermark to clean it up. Precisely, the software allows you to remove image watermarks using the healing brush function. It also supports a variety of photo formats, including SVG and PSD.
Pros:
Support many photo formats
Web-based
High-quality video output
Cons:
User Interface may be challenging for new users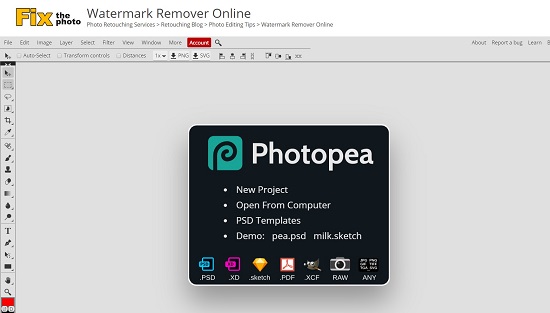 16. PDF Watermark Remover
PDF Watermark Remover is undeniably one of the best watermark remover applications for PDF documents. The software helps eliminate signs, logos, or any kind of unwanted marks on PDF documents. However, it only supports PDF documents created in Adobe Acrobat.
Unlike most PDF editors, this program supports PDF batch editing without compromising PDF quality, data, and format. Once you upload your document, the program automatically creates a summary of your progress. However, you will be required to make a subscription payment before registering for the software services.
Pros:
Support batch processing
Keep data safe
Easy to use
Cons:
No free trial
Support only PDFs created in Adobe Acrobat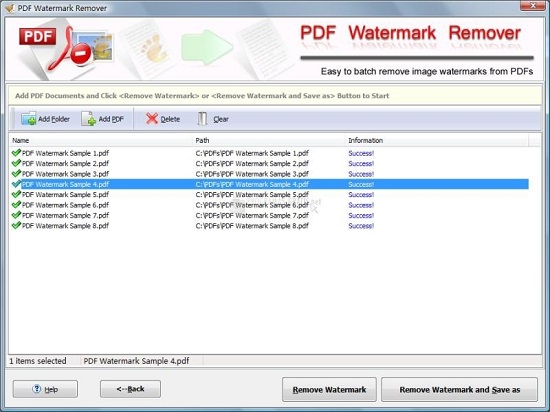 Conclusion & Comparison
The above list features some of the best watermark remover applications available in the market today. And while they may provide you with pretty different services, the programs guarantee you fast, quality, and media output without watermarks on them. All you do is evaluate the pros and cons of each and find out which matches your taste and preference and works best to resolve your watermark issues.
| | | | | | | |
| --- | --- | --- | --- | --- | --- | --- |
| | Support video | Support image | Support PDF | Supported system | Add watermarks | Price |
| Joyoshare VidiKit | √ | √ | × | Windows, Mac | √ | $19.95 |
| Apowersoft Watermark Remover | √ | √ | × | Windows | √ | $19 |
| HitPaw Online Watermark Remover | √ | √ | × | Any device | × | Free |
| BeeCut | √ | × | × | Windows, Mac, iPhone, Android | √ | $29.95 |
| Photoshop | × | √ | × | Mac, iPad | √ | $20.99 |
| Photo Stamp Remover | × | √ | × | Windows | √ | $29.99 |
| Wondershare Fotophire | × | √ | × | Windows | √ | $49.99 |
| GIMP | × | √ | × | GNU/Linux, OS X, Windows | √ | Free |
| Inpaint | × | √ | × | Windows, Mac | × | $19.99 |
| Artipic | × | √ | × | Windows | √ | €39.90 |
| Pixlr | × | √ | × | Windows, Mac, iPhone, Android | √ | $7.99 |
| Lunapic | × | √ | × | Web browser | √ | Free |
| inPixio Photo Studio | × | √ | × | Windows, Mac | √ | $49.99 |
| Photoupz | × | √ | × | Windows, Mac | × | $19.90 |
| FixThePhoto Watermark Remover Online | × | √ | × | Web browser | √ | Free |
| PDF Watermark Remover | × | × | √ | Windows | × | Free |