When asked which Windows 10 screen recorder is the best, different users may have different ideas. Undoubtedly, to make your screen capturing experience great, it is necessary to select an appropriate screen recorder to satisfy your preferences. Don't waste time trying and testing blindly, especially when you are in an emergency. Just follow this review to know both merits and drawbacks of each screen recorder for Windows 10 listed here. You can freely record to save whatever you need without trouble anymore.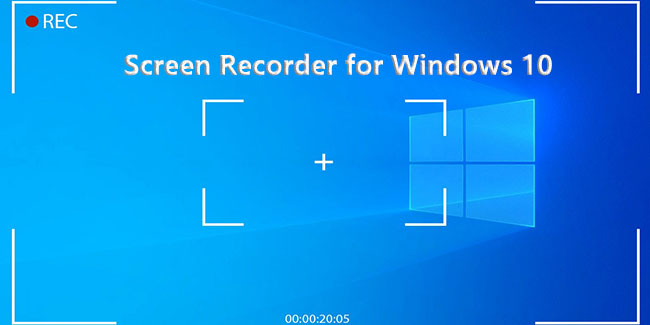 1. Joyoshare VidiKit
Proved as a professional screen capture, Joyoshare VidiKit - Screen Recorder is competent to capture all screen video and audio activity easily on Windows 10, like streaming movies, self-demonstration, live chats, video games, online radio, music games, etc. It saves recordings as HD MP4, AVI, FLV, SWF, WMV, MKV, MOV, MP3, AAC, WAV, FLAC, M4A and more.
This screen recorder for Windows 10 can be regarded as an advanced video capture and an independent audio recorder. There are flexible settings it offers to help select capturing area, show cursor movements, take screenshots, create a scheduled task, edit ID tags, etc. Of course, it allows cutting and skipping contents during the recording.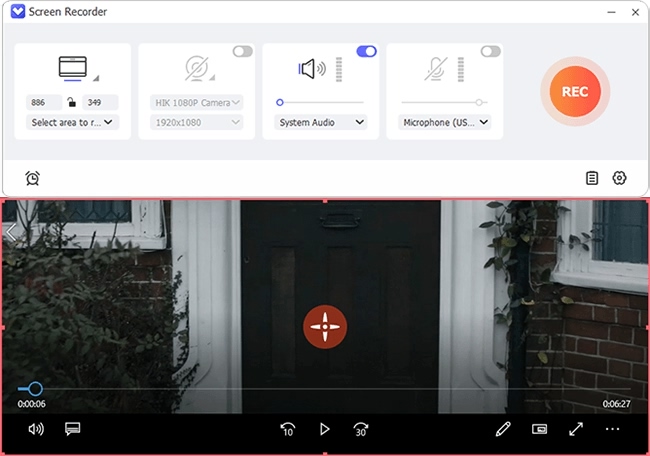 40% Off Coupon Code: MECC40ASP
[Valid until Dec 31]
Pros:
Record screen on Windows 10 no time limit and watermark
Capture types of desktop video and audio activities
With multiple supported output formats and devices
Stunning options to set shortcuts, spotlight clicks, etc.
Record in full screen, systematic resolution or appointed size
Cons:
Watermark video by default in the free trial version
2. Xbox DVR
There is a built-in Windows 10 screen recorder free, called Xbox DVR. You can use it directly without downloading and installing any third-party app. Also, Xbox DVR is safe enough so that you don't have to worry about any privacy information leakage.
With intuitive interface, Xbox DVR is easy for new beginners to operate. Similar to other simple screen recorders, it is developed without a complicated editor. Go straight to press Windows Key + G and you'll capture a screen. However, this tool gives due weight to record gaming videos, anything you open will be deemed as a game.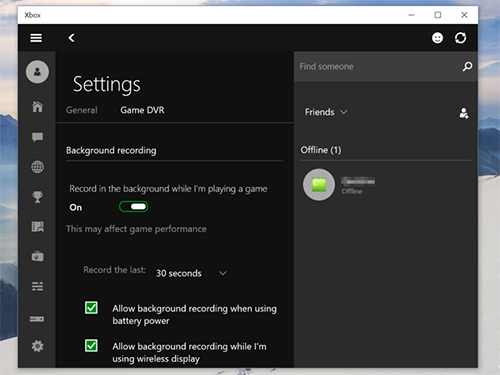 Pros:
With intuitive and clear interface
Safe enough to use
No need to download and install a third-party software
Cons:
Not allow recording desktop
Require a video card to capture screen
Unable to show clicks and cursor
Cannot produce high-resolution video recording
3. OBS Studio
Look for the best free screen recorder for Windows 10? Try OBS Studio! It's widely accepted by plenty of users to record with high efficiency and allows streaming any screen recording to YouTube, Facebook, Hitbox, etc.
In addition, there is no restriction on the length of recording videos. You can capture any doings on Windows 10, stripping yourself from time limitation. Besides, OBS Studio includes full support for capturing in MP4 and FLV formats by making use of your PC's GPU for high-quality streaming. Apart from what has been mentioned, there are some special features designed for video recording, for instance, Push-to-Talk mode, Picture-in-Picture mode along with Custom watermarks.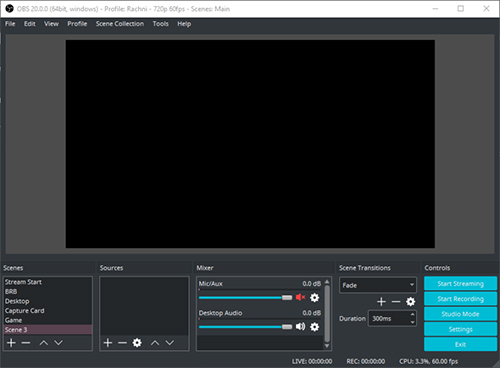 Pros:
Record with OBS no video length restriction
Support live streaming
Output videos in MP4 and FLV formats
Free and open source
Cons:
Cannot link to an audio file as the main source
Unable to record several audio tracks with Replay Buffer
4. CamStudio
CamStudio, one best screen recorder for Windows 10, outputs recorded files in high quality. Its built-in SWF producer is capable of converting output AVI video recordings to a streaming Flash videos or SWFs. Moreover, it's available to add anti-aliased screen captions to capturing at once. With the intention of making a personalized screen recording video, CamStudio has facility to annotate video carrying out the way of using a small webcam movie as screen-in-screen video.
Though you can use this capturing tool at no cost, it doesn't mean there are just some basic recording functions. CamStudio is specially designed with a customized cursor and permits you to create a video recording with smaller size. However, sometimes, when you record a video, the audio may fail to be synced with video. Moreover, the output videos cannot be compatible with a number of browsers.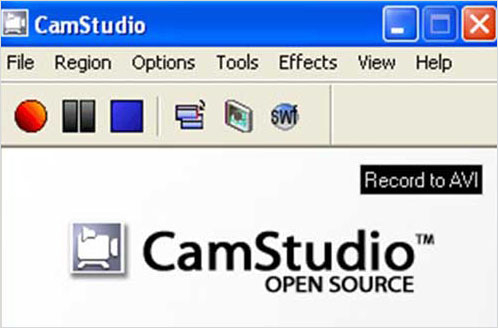 Pros:
Output capturing in AVI format with finest quality
Create files with smaller size
Hide cursor screen and annotate video
AVI files can be turned to Flash
With built-in SWF producer
Cons:
No animation features
Audio may fails to be synced with video
Lack interactive feature
Bad compatibility with some browsers
5. Icecream Screen Recorder
Act as a simple yet powerful screen recording software for Windows 10, Icecream Screen Recorder satisfies your needs and brings you good experience. It lets you record any area of the screen to make either a video or a screenshot graphic capturing. With a user-friendly and tidy interface, you can operate the whole screen recording for Windows 10 without referring to a guide.
If you have a try, you will find that Icecream Screen Recorder can enable you to add hotkeys, which can at the same time concentrate on your mouse. During your recoding process, you are entitled to zoom in and out. What's more, you can feel free to draw, outline, or add texts and arrows to your captured screen video as well as webcam video. Plus, it supports your own watermarks.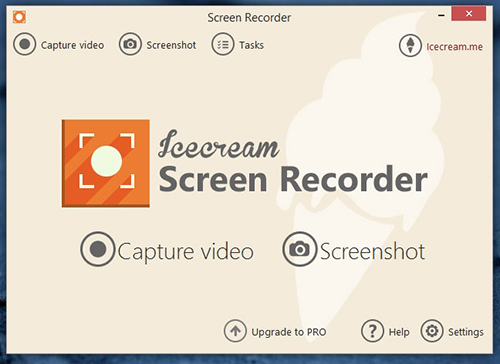 Pros:
Capture any area of your screen
With special zoom tool
Draw, outline, or add text and arrows to recording
Record both webcam video and screen capturing
Add hotkeys and focus on your mouse
Cons:
Only WEBP format with free version
Free version with 10 minutes limitation
6. iSpring Cam Pro
iSpring Cam Pro is a screen recorder in Windows 10 created to mainly make trainings and take screencasts. It simplifies online courses and conferences. Anyone who uses it can capture the whole screen or a part of the desktop on PC. It even lets you choose an appointed app window to record. During the process to make a how-to tutorial, it possibly grabs voice-over using your microphone or directly gets the system sound. If you want to make other people more focused on your each step operation, apply the offered options to add click sounds as well as spotlight cursor.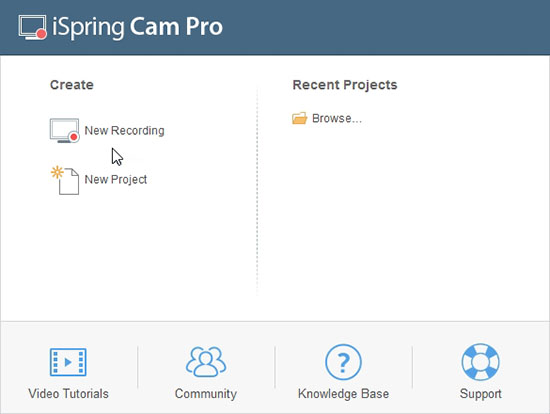 Pros:
Support picture-in-picture screencasts
Get sounds from both system and microphone
Grab full screen, partial region and specific app window
Show click sounds and highlight the cursor
Cons:
Too expensive
Fancy features may not be suitable for beginners
7. TinyTake
TinyTake is also supported by many users. As one of the most dedicated tools to create screen recording in Windows 10, it's free and easy-to-operate. You can decide whether to capture region, window or full screen with no hassle. Besides, it's doable to capture video or image from webcam. Its annotation tool can furtherly assist you in editing the video or image with arrow, circle and text. Aside from saving your recorded files locally, it's able to share with a link for email. However, note to keep 4GB of RAM when you use it.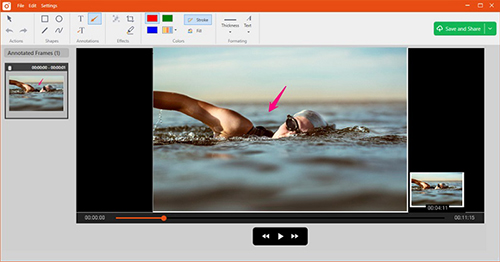 Pros:
Choose custom area or target window to capture
With webcam to record videos and images
Support annotating video to make it more engaging
Output video locally or send email via its shareable link
Cons:
With 120-minute recording time limit
8. Bandicam
Undeniably, Bandicam has a great reputation in screen recording field. As a one of the best screen recording software for Windows 10, it can accomplish capturing video, recording your face and voice at the same time, and grabbing wanted screen effortlessly. Other than that, this software does well in recording various gameplays so any player can easily capture good performance with a personal voice-over. Also, it's feasible for you to edit video with a drawing pen in real-time.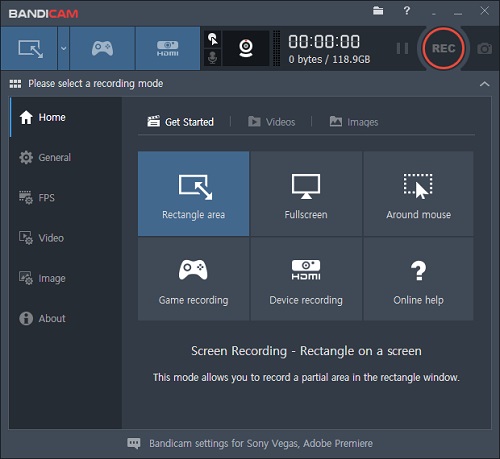 Pros:
Offer webcam to record face and microphone sound
Record anything on your screen
Add annotation to video in real-time
Apply mouse click effect, watermark and schedule task
Cons:
Not as free as it claims
Free version only allows ten minutes recording length
9. ScreenApp.IO
ScreenApp.IO is an online free Windows 10 screen recorder that requires no registration, payment, software downloading and extension installation. It offers a quick solution to capture screen on Windows and Linux with high compatibility to Chrome and Firefox. By making the most use of it, you can record application windows, browser tabs, and your entire screen. It's possible to preview what you create in advance and trim it to remove unnecessary sections. The whole downloading process is also instant and you can save recordings on Windows 10 for better editing.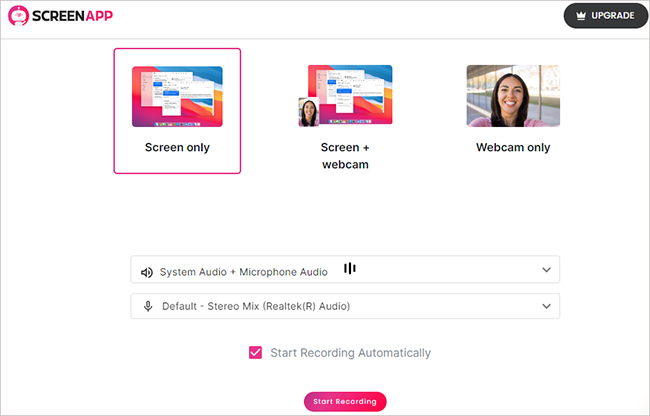 Pros:
Online free screen recorder without downloading requirement
Support recording entire screen, browser tabs and app windows
Allow recording trimming and preview before downloading
Cons:
10. Camtasia
Seek for a Windows 10 screen recorder and video editor? Camtasia can come in handy. It produces high-quality how-to tutorials, training videos, software demos and more with high resolution. You can flexibly capture screen on Windows computer with/without audio in the way you like. There are a wide variety of activities you can record, like webinars, video calls, music, PowerPoint presentations, gameplay, etc. Best of all, it has web camera to overlay your own face in real-time. Also, the editing tools it provides are abundant, including pre-built assets, templates, animations, transitions, freen screen, captions and so on.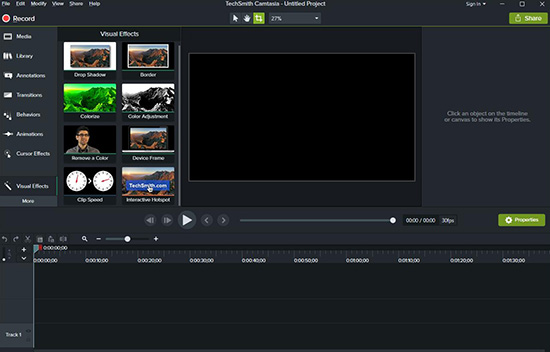 Pros:
With options to record a region, full screen, a windows, an application and specific dimensions
Support webcam recording and audio recording
Edit captured video and audio in timeline with stunning tools
Cons:
Too expensive, especially for a new starter
11. Movavi Screen Recorder
Another competitive yet profesional screen recorder on Windows 10 is Movavi Screen Recorder. Apart from screen, it is able to support audio and webcam recordings, which is very useful for nearly all users. By means of it, you can record streaming music, online movies, video chats, meetings and more as you wish. Besides, it shows your mouse and keyboard in the process of recording, additionally enabling you to draw in real time on your target video. If you need, you can even set a time duration to record whatever you like.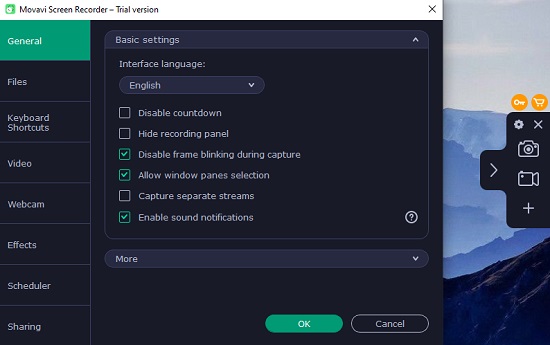 Pros:
Generate video recordings on Windows with sounds
Add facecam to video conveniently
With real-time drawing ability
Share finished recordings to different platforms
Cons:
This program takes up much space on Windows
12. iTop Screen Recorder
iTop Screen Recorder promises itself a screen recorder for Windows 10 free. It functions well in capturing any area and even the whole screen with facecam. You can apply it to different fields such as education, gaming, daily entertainment, work and more. Remarkably, it can be regarded as a no lag scren recorder as well, considering it adopts hardware acceleration to use low CPU on your computer. It has strong compatibility to mainstream games and is capable of making videos in 4K UHD at 120fps.

Pros:
Have good recording performance by using hardware acceleration
Record facecam, audio and screen together
Create HD videos without recording time limit
Cons:
No way to screenshot in recording process
Conclusion:
From aforementioned full product review, it is easily seen that all of them are similar in basic recording features but vary in some outstanding options. Certainly, you will be in favor of one screen recorders for Windows 10, which benefits you tremendously if you wisely and correctly take advantage of its merits. Then, it is high time that you enjoyed your screen recording! Don't forget to test your desired tool ahead of time.