Since the emergence of smartphones, we have managed to do exuberant activities with them. They have already become so important, that when they refuse to charge properly, we panic. As far as I know, many iPhone 11/12/13/14 users come across the same issue. If you try to look for possible solutions, you would know that iPhone taking forever to charge is not a simple problem to solve. Many causes are surrounding such a scenario. Therefore, we here provide you with the most effective solutions to this iPhone charging problem.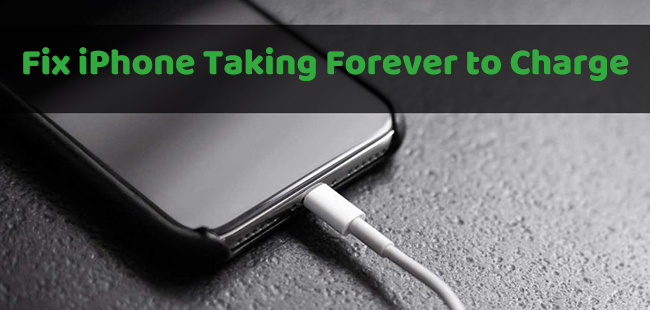 Part 1. Why Is My iPhone Taking so Long to Charge?
We have summarized four potential reasons that could lead to iPhone charging slowly. First, the malfunction of your charging components is connected directly to this issue. It's clear that your iPhone won't charge without a working charging port, USB and others. Second, Virus attack could also result in the same situation. The virus could bring more damage to your iPhone than the iPhone charging issue, which should be regarded with some care. Besides, this phenomenon would occur if your iPhone iOS is outdated. Last but not least, there could be a system crash on your iPhone's iOS, making your iPhone unable to charge.
Part 2. How to Fix iPhone Taking Forever to Charge
It's quite upsetting if our iPhone's battery percentage only increases a little bit after charging for a long time. Here are several methods you can try if you face the same problem.
1. Check Whether Charging Components Are Working
The first option on our list to settle iPhone charging abnormally is to check the charging components of iPhone. This includes the charging port, phone charger, and the USB cable. Try using a different charger on your phone to see if the problem is handled. Alternatively, it could be your phone with the problem. Use your charger to charge another iPhone and see whether it works. And change a USB cable with the same operation. If so, you'll know whether it is the charging complement itself to blame and replace it immediately.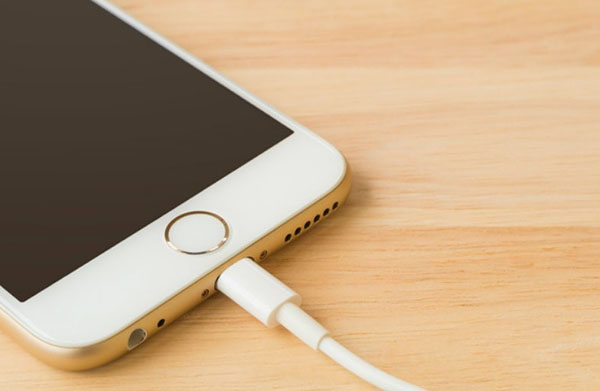 2. Use the Best Repair Tool to Fix iPhone Charging Slowly [Recommended]
If checking charging components does not yield any fruit, then Joyoshare UltFix can solve the iPhone charging issue. In fact, this software is designed to fix over 150 iOS issues in the safest way possible. That means it could save your iPhone without data loss. No matter your iPhone gets stuck on charging screen or charges at a slower speed, it could bring your device back to normal quickly. What's more, Joyoshare repair tool offers dual modes to cover almost all iOS problems. Once your iPhone has glitches related to iOS system, it could all be fixed by simple operation.
Main Features of Joyoshare UltFix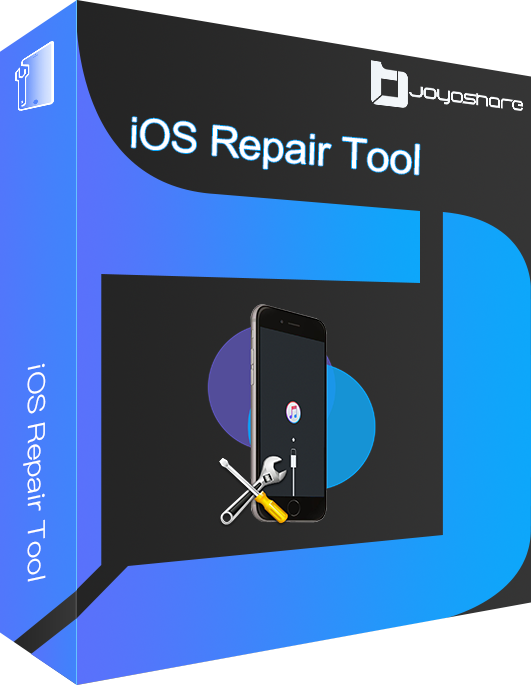 Fix iPhone taking forever to charge without losing data
Support iOS 17 and almost all Apple devices
Two modes to fix problems with different severity
Available to upgrade and downgrade iOS securely
Unregistered Apple users are free to enter and exit recovery mode
Step 1

Connect iPhone to Joyoshare UltFix

First, install and launch the program on your computer, then connect your phone to it using a USB cable. Wait until your computer recognizes your phone device, click on iOS System Repair, followed by Start button to continue.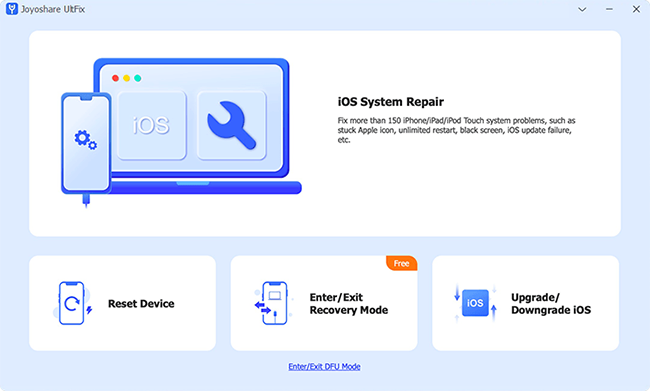 Step 2

Select Standard Repair

Select the Standard Repair mode to help you solve the phone not charging issue without data loss. This option will fix any problems that arise on your iPhone such as black screen, iPhone won't turn on, iPhone won't charge, stuck at Apple logo. And it won't cause any data loss.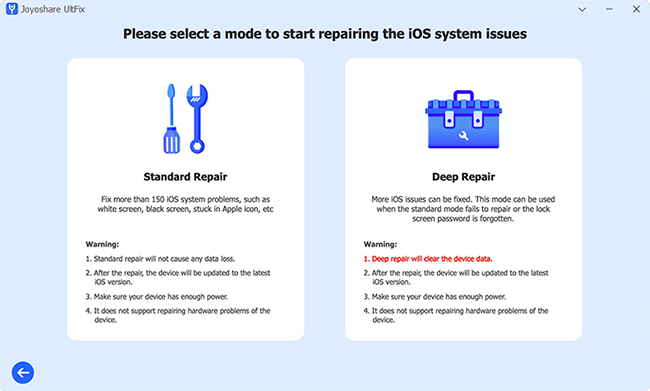 Step 3

Confirm and Download Firmware Package

Joyoshare iOS system repair tool would detect device's information in this step. When you see the basic info of your device on the screen, confirm it carefully and press the Download button.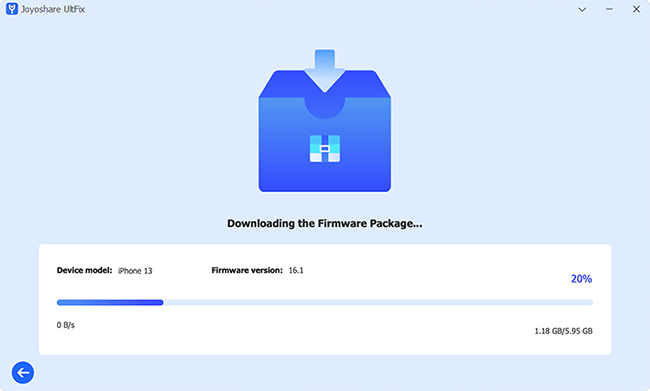 Step 4

Fix iPhone Taking Forever to Charge

By the time the firmware package is downloaded, hit the Repair button to initiate the repairing process. A few minutes later, your iPhone should back to normal.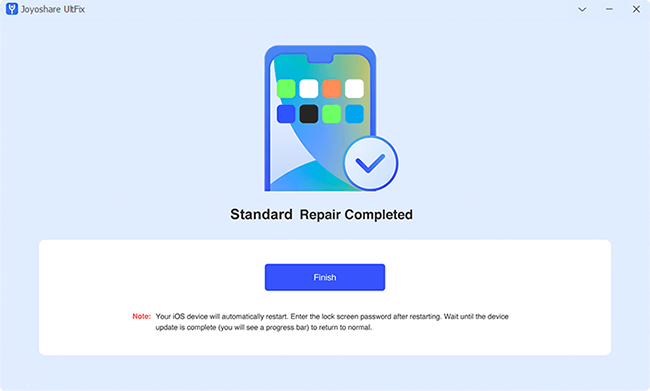 3. Disable Background App Refresh
Some background apps could also be using up space on your phone, thereby throwing you into the disarray of "iPhone died and is taking forever to charge" perhaps your phone is not even dead. All you need is to disable the background apps and their refresh authorization.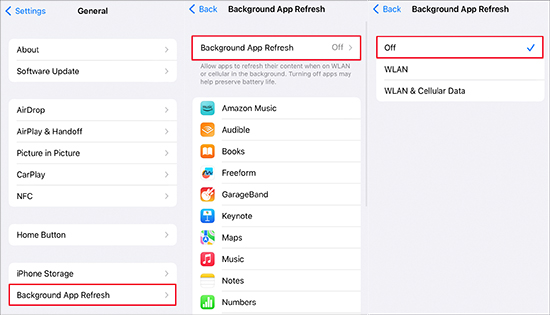 Step 1: Check from the phone's interface and turn off all the apps that are running in the background.
Step 2: Open the Settings and then the General option. In the General menu, touch the Background App Refresh option.
Step 3: There are three options under the Background App Refresh. Select the Off, then charge your iPhone to see if it goes back to normal again.
4. Delete Specific Apps
If you have realized that the issue begins to appear since you installed the specific app on your iPhone, there is a strong possibility that the problematic app is the root cause. Hence, you could try to delete the app and charge again to see whether your iPhone returns to normal or not. The steps are quite simple, you need to press and hold the app you want to delete until you see the Remove App or the Remove icon that displays on the icon. Then the app will be deleted permanently.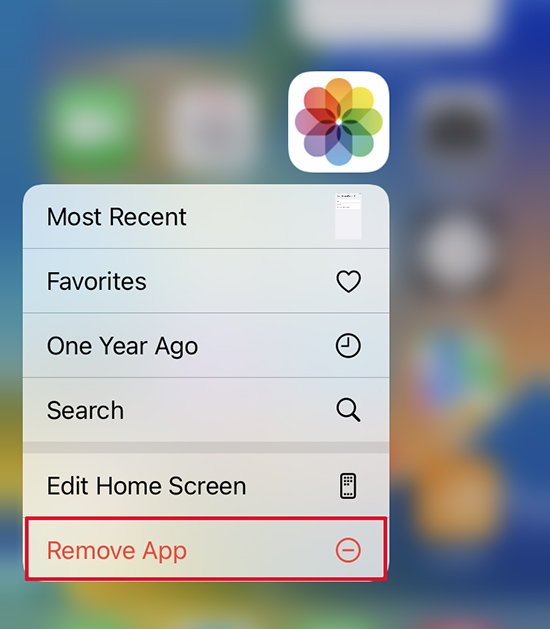 5. Update iOS
Your phone may also refuse to charge due to outdated software. In this case, you need to update the available software to the latest version.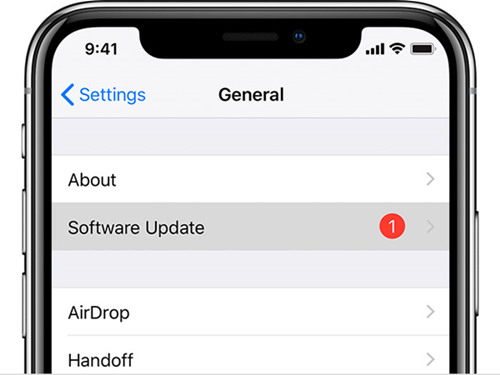 Step 1: Open the Settings on your iPhone and then tap on the General option.
Step 2: Tap on the Software Update option. Wait for your device to search for available software that needs to be updated. You'll be prompted to click on the available update option.
Step 3: Then tap on the Download option to let the software start downloading and installing on your phone. Ensure that your phone is connected to the internet. Last, reboot your iPhone and let it implement the new changes before it returns to the normal state.
6. Force Restart
Restarting your phone is also a good remedy to solve the iPhone taking forever to charge after dying issue. To make the problem gone thoroughly, it is recommended to conduct a force restart. Whenever you force restart your phone, it will shut down all the apps that might block the charging. To force restart the phone, follow these steps.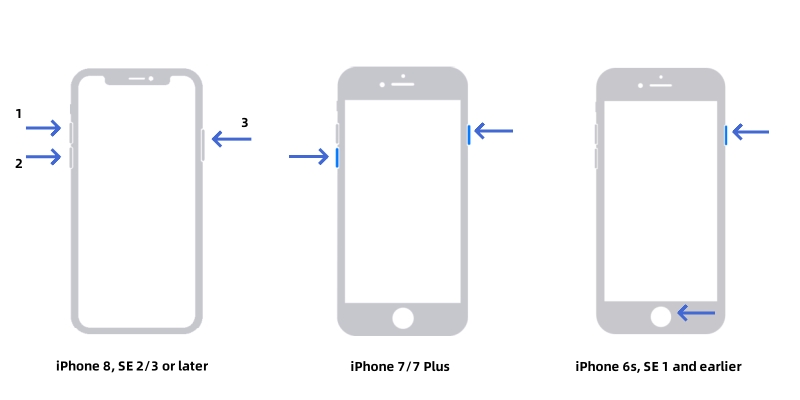 For iPhone 8 or iPhone SE (2nd generation) and later: Press and release the Volume Up button quickly, then the same applies to the Volume Down button. Next, hold the Side button all the time until the Apple logo appears.
For iPhone 7: Keep pressing the Volume Down button and the Sleep or Wake button until the appearance of the Apple logo.
For iPhone 6s or iPhone SE (1st generation): Keep pressing the Home Down button and the Sleep or Wake button till the screen shows the logo of Apple.
7. Reset All Settings
Resetting all settings would eliminate some small bugs of iPhone, which could also be used to fix the malfunction of iPhone charging. You could follow the steps below.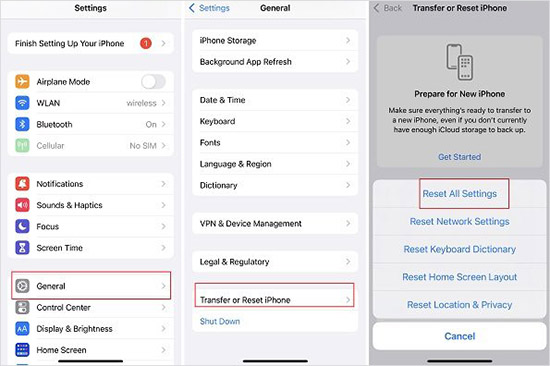 Step 1: Open Settings app and click on General.
Step 2: Then in the bottom, you will see Transfer or Reset iPhone and click on that option.
Step 3: There are few choices offered on the following screen, select Reset All Settings. The password would be used to confirm operation here.
8. Contact Apple Support
The problem may result from some underlying issues that are connected to the manufacturers. It is wise to contact the Apple Support team for considerable actions. Besides, when running into malfunctioning hardware, e.g. battery, it would be safer to leave it to Apple Support.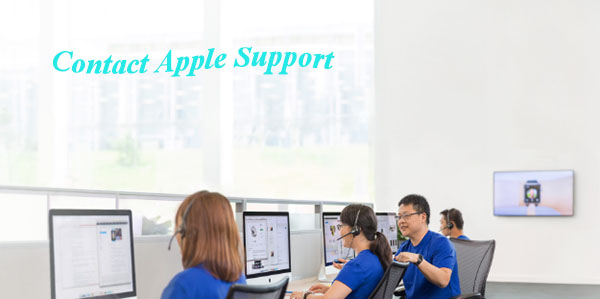 Part 3. Useful Tips to iPhone Charges Slowly
The methods mentioned above could all be applied to fix the problem that iPhone takes forever to charge. Apart from that, we also want to share some tips that prevent your iPhone from rejecting to charge.
1. Turn on Airplane Mode
When your phone is on the airplane mode, it completely goes dormant. In such a state, the charging speed would go a bit faster than usual. Therefore, you can turn on the airplane mode while charging, and then turn it off when you finished charging the phone. To turn on/off the airplane mode, follow the steps below.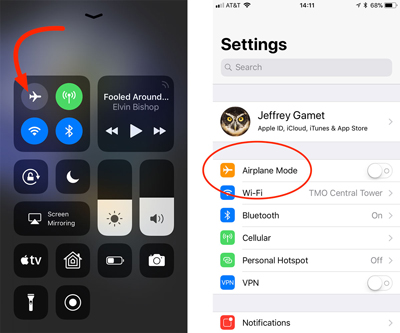 Step 1: To begin with, bring up the Control Center.
Step 2: Then tap the Airplane Mode icon. This should turn the feature on. Alternatively, you can open the Settings and toggle the Airplane Mode on.
Step 3: Now charge the phone. After the phone is fully charged, turn the airplane mode back off.
2. Turn off iPhone While Charging
You could also turn off iPhone while charging, which is for protecting the energy. If you leave your iPhone on, the notifications would slow the charging speed, as well as apps running in the background. So, next time you charge your iPhone, you could try this small tip to make a contrast.
3. Remove the Case of iPhone
You may wonder why we need to remove the case when charging. It is because some cases would accelerate the heating process of iPhone. If the device generates too much heat, the battery would be affected. Try to find a more proper case or remove the case while charging is also beneficial for the health of battery.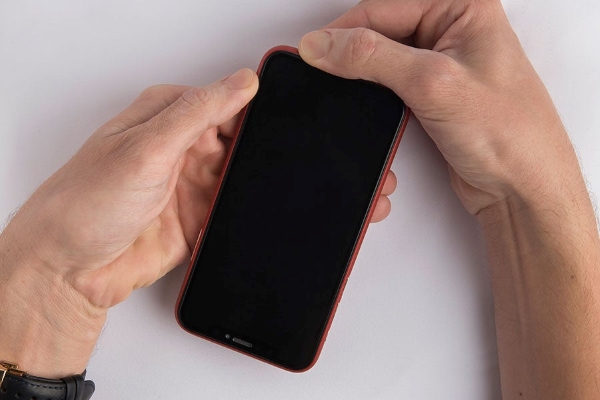 4. Turn Down Brightness
Brightness is an important contributing factor to draining your battery fast. In order to charge iPhone quickly, the screen brightness could be adjusted to a lower degree. You could quickly turn down brightness by swiping down on your screen and locating the Sun icon to make an adjustment.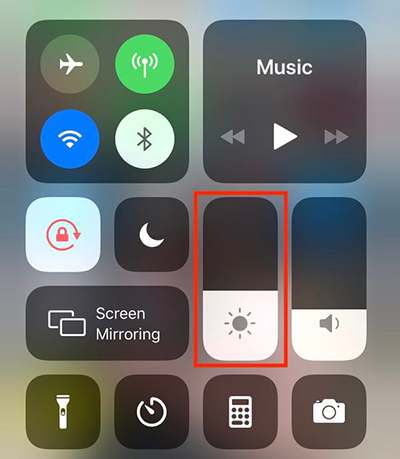 5. Switch to a Wall Charger
The wall charger is more powerful than an iPhone charger, which could speed up the charging process. You are supposed to be aware of the compatibility issue if switching to a wall charger. It's better to use an iPad charger or a third-party charger with a high wattage.
Part 4. Final Words
It is a common phenomenon for a phone to suddenly go on a go-slow strike, refusing to charge or to come on. These solutions should help solve the iPhone taking forever to charge issue caused by different culprits. Among them, Joyoshare UltFix is prominent to fix issues like this. Last, we sincerely hope that this guide can get you out of the trouble, and that your iPhone can charge normally again.