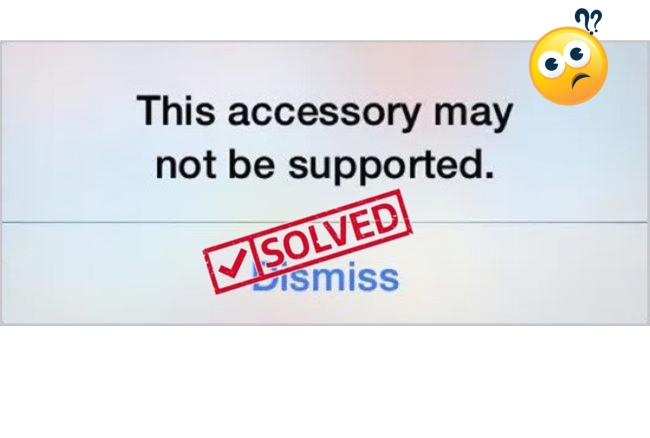 Q:"When I connect my iPhone to the charger, it vibrates and says something like iPhone charger accessory may not be supported. I have tried another original Apple cable, but the result is the same. Could you tell me how to fix it? Any help would be greatly appreciated!" - Grace from AT & T Forum
Basically, it is not exactly a complicated problem. In most case, it is merely a minor issue caused by charging cable. But sometimes, the reasons for the problem may be far more than that. If you come up against the same warning prompt while charging your iPhone, then you do not need to go anywhere and just read on this article that has set forth why this occurs and how to put it right.
Why Is iPhone Charger Accessory Not Supported?
If you get a message of "This accessory may not be supported" while charging iPhone, that means there is something wrong with your iPhone or iPhone charger and charge port. Here's a brief discussion on the reasons for this problem.
1. iOS needs to be updated on your iPhone;
2. Some dirt exists on charge port or iPhone charger is damaged;
3. There are certain glitches with iPhone system.
Part 1. Clean up Charge Port
Suppose that you have tried different charging cable but nothing changes, then you should opt for checking the charge port. There is a great chance that iPhone says this accessory may not be supported because dust and dirt occupy the space of charge port. If that is indeed the case, clean up the port to get out of this mess. Here are the steps with which you can make the charge port clean.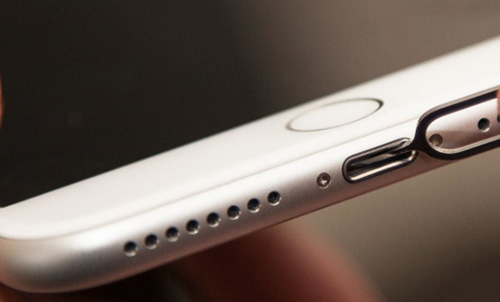 Step 1: First of all, you have to prepare a paper clip or SIM card tool at hand and turn off your iPhone;
Step 2: Afterward, take out the SIM card tool and insert it into the charge port;
Step 3: Then, you ought to scrape gently along the bottom and edge of the port;
Step 4: Now, blow air to the charge port and the dirt accumulated there will be removed.
Part 2. Try Different Charger
In addition to a charging cable, the charger also plays an important role in charging iPhone. Any wear and tear it suffers can lead to iPhone charger accessory not supported problem. So, confronted with this situation, you need to check if there is any sign of damage on it. If so, just change another undamaged charger to charge your iPhone. In case the problem persists with a new charger, then you might try the following suggestions.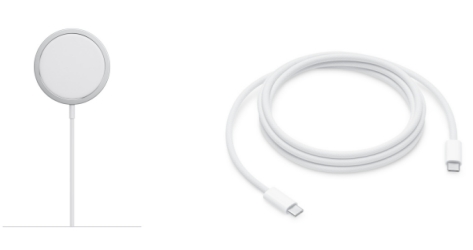 Part 3. Restart or Force Restart iPhone
To rule out some minor failures on iPhone that possibly cause "iPhone says this accessory may not be supported", you can perform a soft or hard reset iPhone. However, this can only be done when your iPhone has enough power to do it. To restart iPhone, press the "Power" button until a slider appears on the screen. Then, swipe the slider to the right side to turn off your device. Lastly, hold down the "Power" button again to turn it back on. To force restart iPhone, press and hold the "Power" and "Home" buttons at the same times until you see the Apple logo display on the screen. After iPhone is restarted, charge again to see if this method is useful.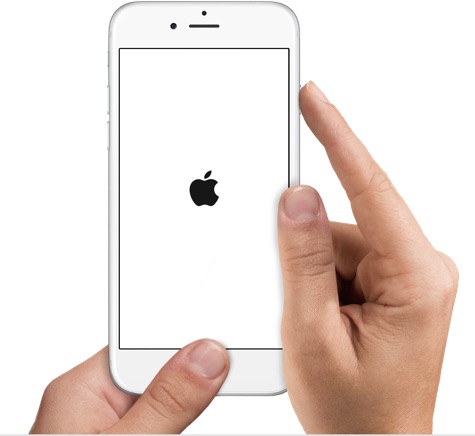 Part 4. Update iOS to the Latest Version
It is likely that updating iOS can fix iPhone charger accessory not supported issue if an iPhone software problems result in it. You should check whether any software update is available or not. If there is, just head to "Settings" - scroll down to "General" - choose "Software Update" - click on "Download and Install" to get the recent iOS. If your iPhone has been power off, you can update with iTunes. Here's how to do.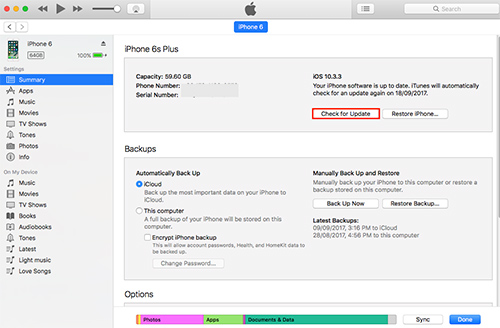 Step 1: Connect your iPhone to a trusted computer and run iTunes;
Step 2: iTunes will detect your device and you need to tap the iPhone icon;
Step 3: Select the "Summary" option and then tap on "Check for Update".
Part 5. Adopt Joyoshare UltFix without Losing Data
As has been noted that it may be the system issue that brings about the trouble that iPhone charger accessory may not be supported. If updating iOS fails to work properly, Joyoshare UltFix is the best alternative option to repair this issue. It is an excellent system recovery program that can be used to take care of various iOS problems, such as iPhone charging screen, iPhone stuck on the Apple logo, iPhone boot loop and so on. With Joyoshare UltFix, not only can iPhone system issues be repaired, problems on iPod touch, iPad, and Apple TVs are also tackled without a hitch.
Additionally, the multipurpose software is developed with three modes, namely, recovery mode, standard mode, and advanced mode. Recovery mode means that Joyoshare UltFix allows you to get into or get out of recovery mode for free. Standard mode serves to solve many common iOS problems without any data loss. And advanced mode goes to deal with some tricky problems including unlock iPhone without passcode. As a final note, Joyoshare UltFix gives complete support to the newest iOS 13 and all iOS devices.
Key Features of Joyoshare UltFix iOS System Recovery
Be compatible with all iDevices and iOS 13
Be equipped with standard mode and advanced mode
Allow your iPhone enter/exit recovery mode with one click
Get iPhone charging issue fixed without damaging any data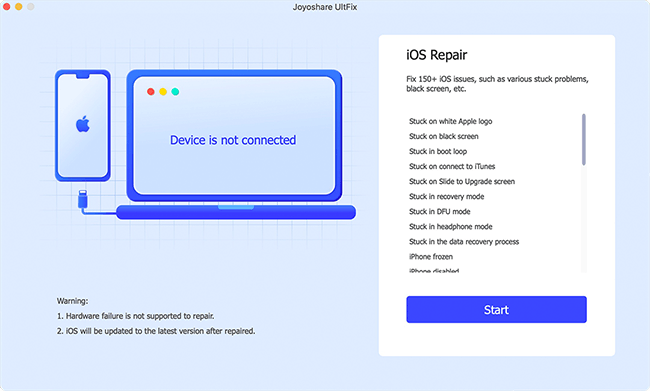 The following stepwise guide will interpret how to do it with Joyoshare UltFix on Windows.
Step 1: To begin with, launch Joyoshare UltFix on your computer and use a USB cable to connect the iPhone. Then, touch "Start" to go deeper;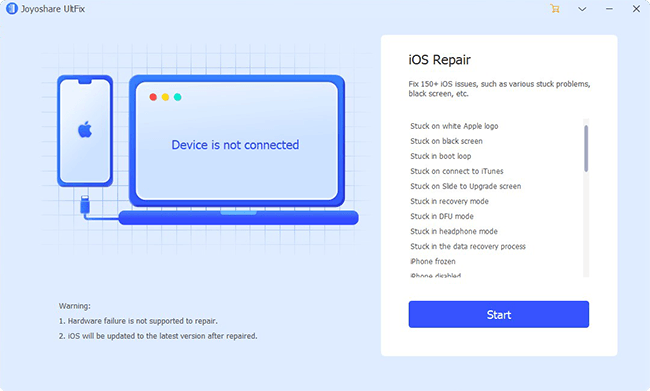 Step 2: Later, it is needful to choose one mode to start repairing your iPhone issue. To avoid losing data, just tap on "Standard Mode" and follow to press the "Next" button;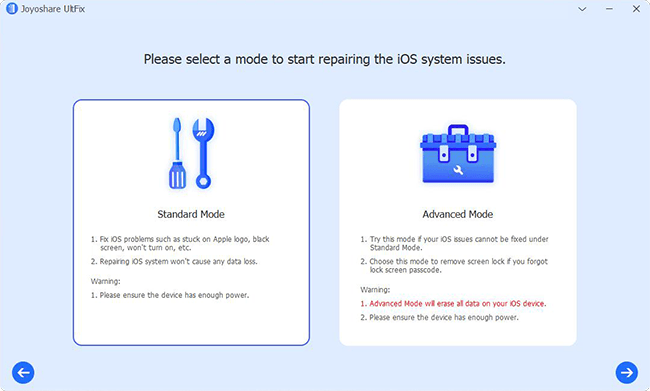 Step 3: Afterwards, in the light of the on-screen steps, you are supposed to put your iPhone into recovery mode. If it is stopped from entering recovery mode, change to DFU mode by clicking the link;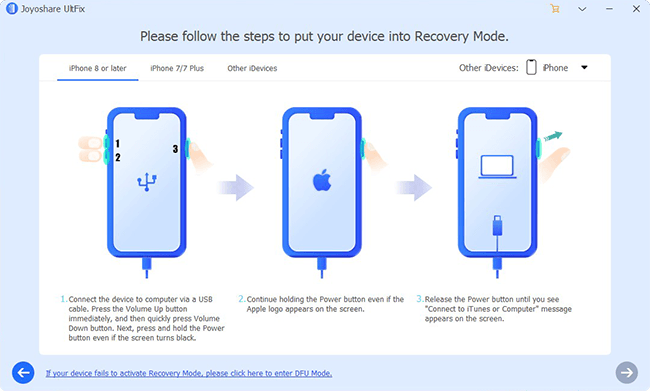 Step 4: Now, it is time to download the firmware package after all info of iPhone has been confirmed. Once downloaded, it will automatically verify the firmware;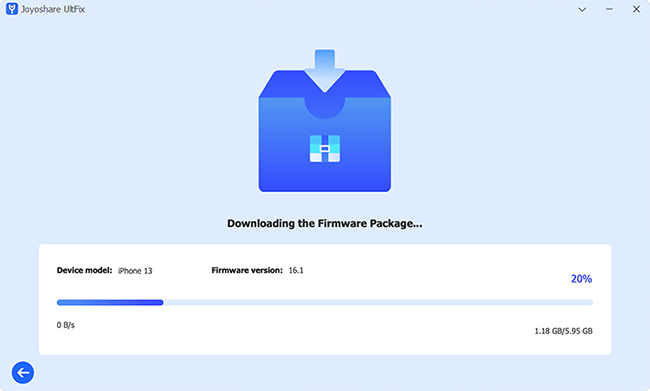 Step 5: Ultimately, you have to get the firmware package unzipped by tapping on "Repair". Wait a minute and Joyoshare UltFix will fix the iPhone charging issue faultlessly.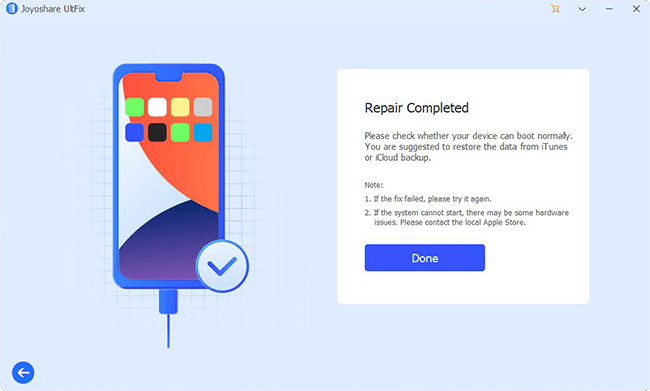 Conclusion
By and large, this article covers all specific operation steps of possible solutions to the problem that iPhone charger accessory may not be supported. Hopefully, after trying the above methods, your iPhone charging problem will get resolved. If you may not fix it even with Joyoshare UltFix, there is nothing you can do but go to the repair store.