Q:"I have an iPhone 12 Pro, and I noticed that the battery percentage won't increase. My charger is working fine, as I've tried to charge other devices with it, so the issue lies with my phone. I've tried restarting my phone multiple times, and it doesn't help. What should I do?" - Kekikate from Apple Community
Have you ever met the same situation of iPhone showing charging but battery percentage not increasing just like Kekikate? I believe lots of iPhone users would nod their heads since this problem has endured for quite a long time, and iPhone 14 users are also included. This is an urgent issue because it directly affects phone use. However, you don't have to worry too much about this problem. In this article, you will be well informed of possible reasons and reliable solutions.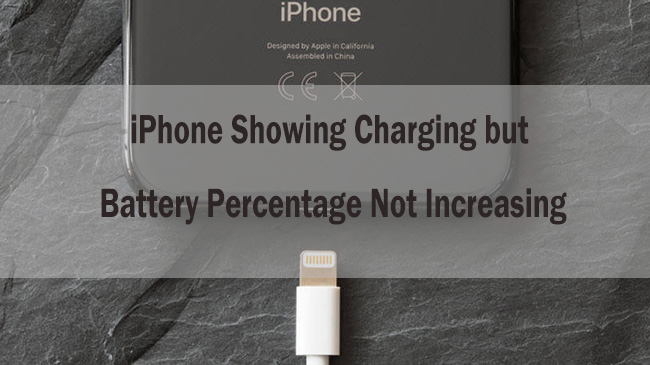 Part 1. Why Does iPhone Show Charging but Battery Percentage Not Increasing?
You may get confused that why your iPhone is charging but not increasing. Here are some contributing factors.
Software problems: Software issues have a direct impact on iPhone use. It could cause many iPhone problems if the software comes with unexpected events, which include iPhone charging but not going up.
Hardware problems: This issue could also be caused by hardware-related problems, such as the defective battery. In this case, you'd better replace an available battery.
Other Problems: If your cable or charger is faulty, there is the possibility that battery percentage won't change. And the charging port also has a modest effect if it is damaged or dirty.
Part 2. Fixes to iPhone Showing Charging but Battery Percentage Not Increasing
Now that we get a basic knowledge about the reasons of this iPhone issue. The fixes will be introduced in this section.
1. Use Original Cable and Charger
The faulty cable or charger would cause your iPhone charging but not increasing. So, make sure that your iPhone is connected with the original cable and charger while charging, which would guarantee that the correct amount of power is delivered to the battery. Of course, original equipment could behave abnormally. If this happens, you can replace the faulty ones with new original cable and charger.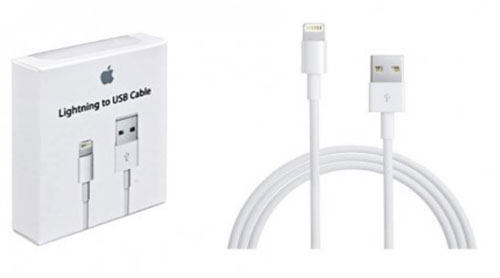 2. Check Power Source
If the cable and charger are running normally, you could check out the power source of iPhone then. For example, you can plug your phone into external power sources, such as charge pal, or USB port on the computer. And observe whether the battery percentage goes up. Notice that a lightning symbol on status bar or a battery icon on lock screen would occur if your iPhone is charging. Otherwise, your iPhone fails to connect with the power source.
3. Clean Up Charging Port
Many people may ignore that charging port may cause your phone showing charging but battery percentage not increasing. It's a good attempt to clean the charging pot in case it's blocked by dust or other material. You could clean it with the help of an anti-static brush or a new toothpick. Don't put much strength on the brush, just lightly scrap the port to remove any hidden dust or dirt.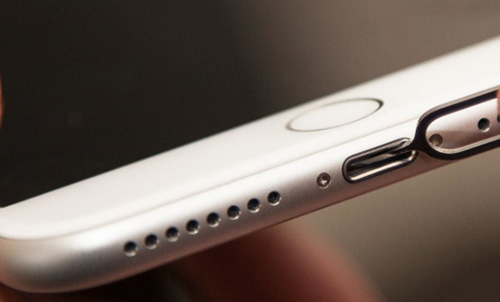 4. Exit All Running Apps
Too many apps running in the background would affect the speed of charging. That's possibly why iPhone's battery percentage remains the same. When you are charging, it's better to exit all running apps.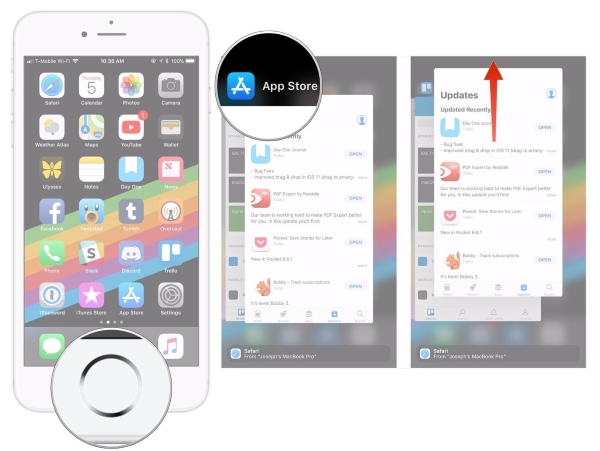 iPhone X and later: You are required to swipe up from the bottom of the screen first, then stop in the middle of your home screen. All running apps could be found by swiping right or left, and swipe up to exit them all.
iPhone SE, iPhone 8 and earlier: Double press the Home button, and your most recently used apps would appear. Swipe up to close all running apps in the background.
5. Turn Off Background App Refresh
Similar to running apps in the background, apps that are frequently refreshed would also drain the battery, making your iPhone's battery percentage not change. To fix this, you could: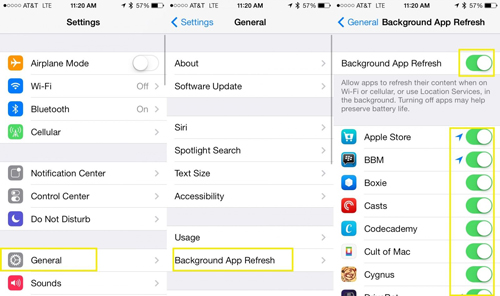 Step 1: Tap Settings icon and navigate to General.
Step 2: Click on Background App Refresh, then turn it off. After doing this, you could recharge your iPhone for some time to check the battery percentage.
6. Update iOS Version
The latest iOS version can not only make you enjoy more wonderful features, but also fix some iPhone glitches. So, if your iPhone's battery percentage behaves unlike usual, go and check whether you have missed the newest released iOS version. You can tap Settings on your home screen and choose General, then you can check for the updates by clicking on Software Update.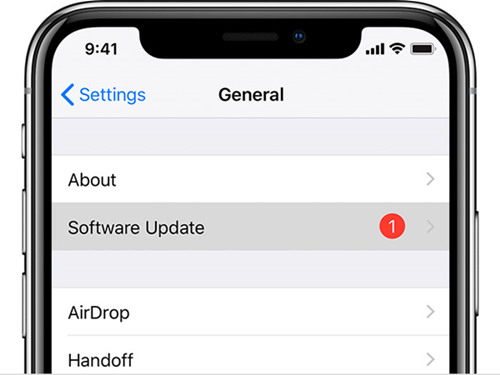 7. Force Reboot iPhone
Forcing reboot iPhone is also helpful in fixing iPhone displaying charging but battery percentage not altering. Actually, this is a common way you can try when your iPhone has some small glitches. It would clean iPhone's memory to get it run smoothly.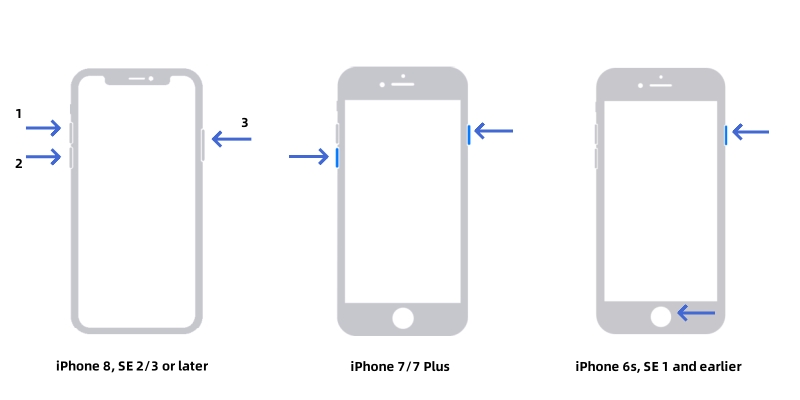 For iPhone 6s or iPhone SE (1st generation): Press and hold the Home button and the Wake (or Sleep button). Keep pressing until the Apple logo shows on the screen.
For iPhone 7: Press and hold the Volume Down button and the Wake button (or Sleep button) at the same time. Keep pressing till you see the logo of Apple.
For iPhone 8 or iPhone SE (2nd generation) and later: Quickly press and release the Volume Up button. Then, quickly press the Volume Down button, and release it. Last, keep pressing the Side button. When Apple logo appears, release the Side button.
8. Reset All Settings
If forcing reboot device fails to resolve the problem, trying to reset all settings might be workable. There is one thing to note resetting all settings won't erase all your data, but it will delete all settings you've made on iPhone.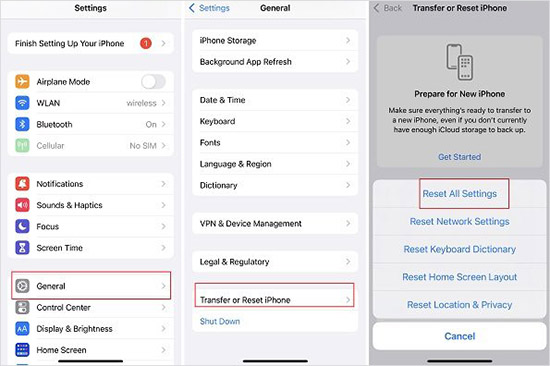 Step 1: Open Settings on iPhone and scroll down to locate the General.
Step 2: The next section you are looking for is Transfer or Reset iPhone. In the following interface, choose Reset All Settings.
Step 3: After entering password to confirm the operation, wait for several minutes for the reset to complete.
9. Use Best iOS Repair Tool without Losing Data [Highest Success Rate]
The problem still remains unsettled? Don't worry. The most effective and comprehensive iOS repair tool can help you settle this issue. Joyoshare iOS System Recovery is excellent at fixing iOS system issues. If your iPhone is charging but not increasing, you could use this tool to repair any potential system glitches. Joyoshare UltFix is enabled to fix more than 150 possible iOS problems with some simple clicks, including iPhone battery draining fast or iPhone keeps restarting. As long as your iPhone issue is related to the system problem, Joyoshare UltFix can get your iPhone back to normal without losing data.
Main Features of Joyoshare UltFix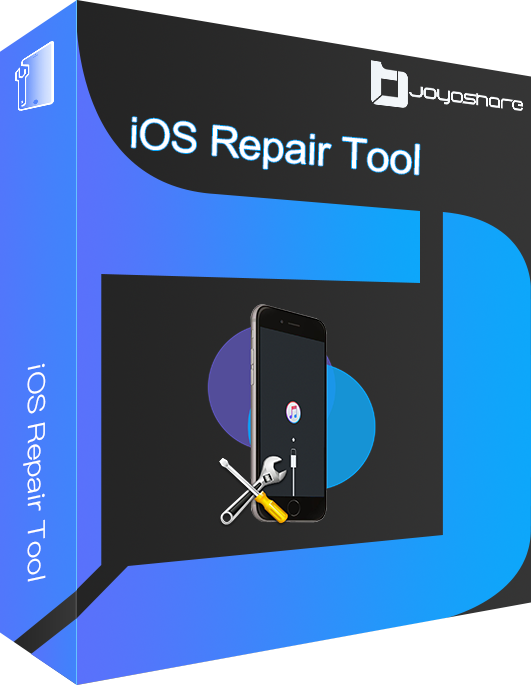 Fix iPhone charging but not going up in 3 steps
Professional dual modes to repair iOS system issues
Support unregistered Apple users to enter and exit recovery mode
Reset your iPhone, upgrade and downgrade your version with ease
Step 1

Connect iPhone to Computer

Installing Joyoshare UltFix on your computer is the necessary preparation before get started. Then you need to connect iPhone with system issues to the computer. Open the software up, you'll get a vivid interface, choose iOS System Repair to perform further steps.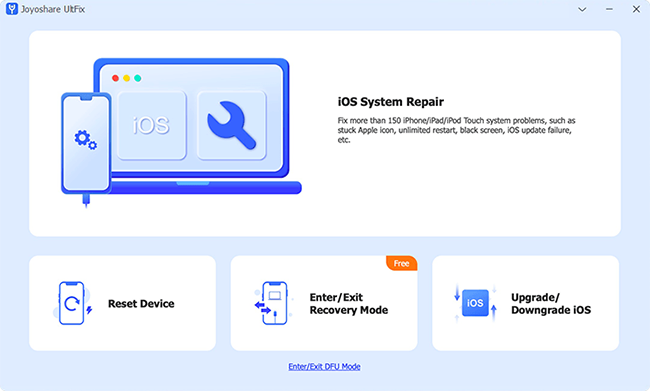 Step 2

Choose Standard Repair Mode

Standard Repair mode is able to deal with all common iOS problems. More importantly, it won't cause any data loss. Deep Repair mode is designed to fix more serious problems, and it will risk losing all the data. To fix iPhone's battery percentage functions abnormally, you could choose the left repair mode. However, if your device fails to be detected, you can follow the instruction to put your iPhone into Recovery or DFU mode.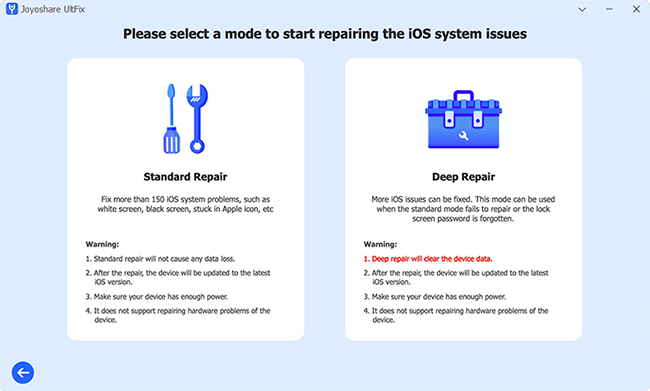 Step 3

Verify and Download the Firmware Package

Joyoshare UltFix can detect the basic information about your device and send it back. You are supposed to verify the info before clicking on Download button. Then wait patiently until the package is downloaded.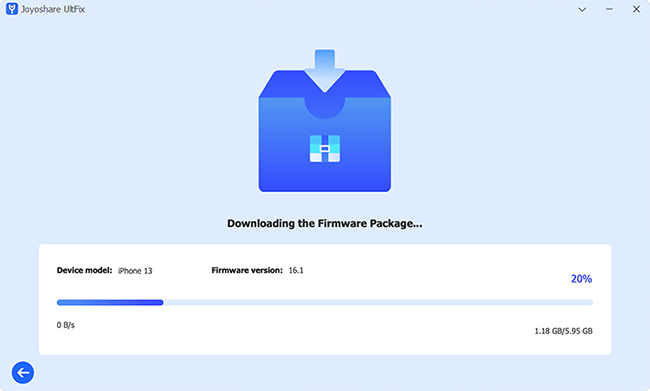 Step 4

Fix iPhone Charging but Not Going Up

Simply click on Repair button, you are free to do anything now. Because Joyoshare UltFix would fix the iPhone issue automatically, just make sure your iPhone is connected to computer all the time. All you need to do is to check the iPhone after the process is finished.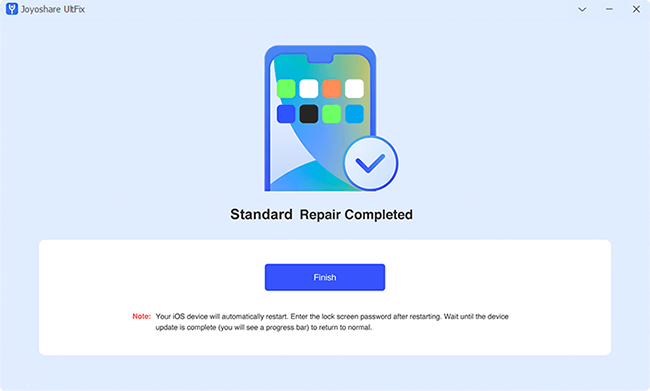 10. Restore iPhone via iTunes
There is still a way you could try to fix the situation when charging your iPhone but percentage not growing. However, this method would erase all your data. I'd recommend you try other alternatives first.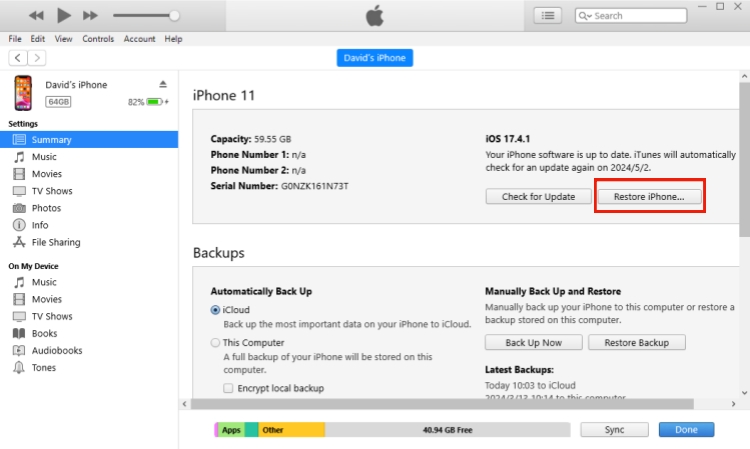 Step 1: iTunes is required to be installed in advance on your computer, then connect your iPhone with computer.
Step 2: Open iTunes. Find the iPhone icon and click on it.
Step 3: Choose Summary option and click on Restore iPhone, then you can start to restore your iPhone. Just remember to back up all your data in advance.
11. Contact Apple Customer Support
If your iPhone issue results from hardware problems, you could contact Apple Customer Support for help. They would provide you with professional suggestions. If your problem is unable to be resolved at home, you could go to the Apple store to leave it fixed by professional crews.
Part 3. Bonus Tips for iPhone Charging but Not Going Up
Here are some small tips that help keep your iPhone battery healthy. To avoid iPhone charging but not going up again, these suggestions might be useful.
Charge in Proper Temperatures: If the temperature is too high or too low, the charging process would be affected to some extent. So make sure your iPhone is charging under proper temperatures.
Avoid Battery Drain Completely: It is worst to drain your battery completely every time for the lifespan of your battery. Since it would put more stress on the battery and accelerate the speed to wear out.
Don't Use Your iPhone While Charging: This behavior is also bad for your battery. If you use it while charging, the device would get overheated, causing damage to the battery.
Use Original Equipment: In our daily use, it's best to use the original charger and cable. That would greatly decrease the chance of battery percentage malfunction.
Part 4. Final Words
In this post, we have discussed the issue of iPhone showing charging but battery percentage not increasing. There are 11 methods you could use to fix the problem. Among them, Joyoshare UltFix is worthwhile to give a try. Since it could guarantee the highest success rate and fix more iOS system issues. Hopefully, these suggestions would help you.