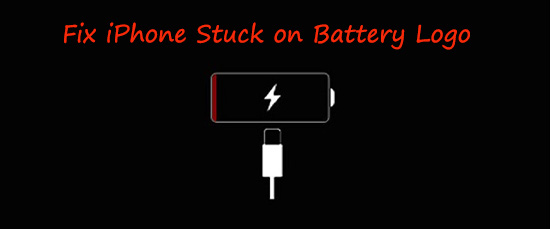 iPhone charging screen is a very vexing thing that many people have experienced. If you see the red battery logo appear on the screen, you subconsciously think that your iPhone needs to be charged. But sometimes, not only the drained battery but also overcharging the iPhone or damaged battery results in such a situation. Whatever the reason, there is no escaping the fact that you need to solve the problem as soon as possible. In order to offer help, this article collects 5 methods proven to be effective.
Part 1: Drain off Battery and Re-charge
One possible reason for iPhone charging screen display is the low battery life. To keep the good performance of iPhone battery, you are advised to recharge and discharge every other month. To do it, you need to drain off the battery power completely until iPhone is powered off. Next, charge your iPhone for several hours until it is charged fully. Afterwards, remove the charging cable and restart the iPhone.
Part 2: Charge Your iPhone with Original Cable
When your iPhone stuck on battery screen and can not restart, another suggestion is to charge the iPhone to check whether the problem results from the low battery power or not. If so, the iPhone can be restarted successfully after charging for enough time (at least one hour). If it can not be restarted after charging, please try the following methods.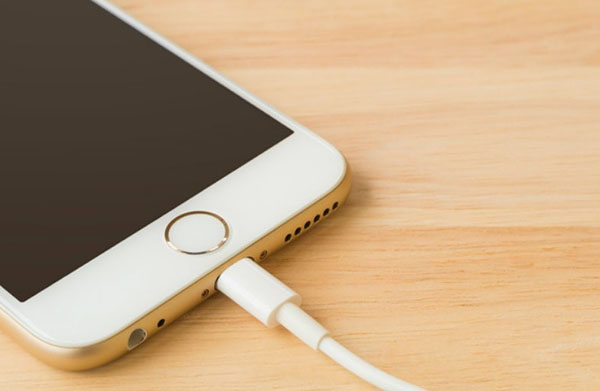 Part 3: Change iPhone Battery in Apple Store
The damaged battery is one of the common reasons for iPhone charging problem. Using iPhone while charging will damage the battery seriously. If there is something troublesome with your iPhone battery, you only get it replaced in Apple store. You'd better not do it yourself so as not to cause other issues with hardware. Of course, if you have the necessary specialist skills, you might do it alone.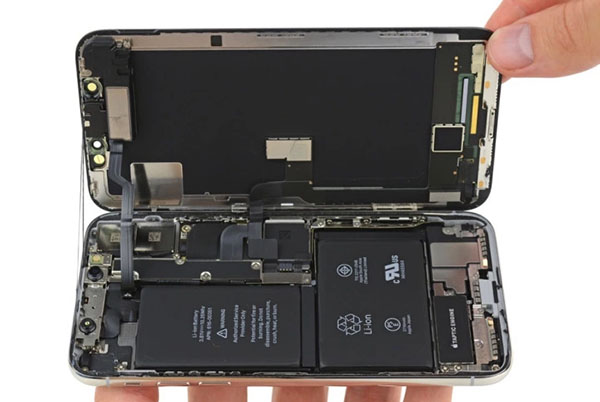 Part 4: Restore iPhone to Factory Settings with iTunes
In addition to hardware problem that results in iPhone stuck on charging screen, software issue also can lead to this case. You can factory reset iPhone with iTunes. On windows: you should connect iPhone with iTunes firstly. After iTunes recognizes your iPhone, you need to click the "Summary" button. Last, you just click the "Restore iPhone...". On Mac: plug your iPhone into the Mac computer - Open "Finder" and choose the iPhone in the left sidebar - on the right panel, touch "Restore iPhone...". Your iPhone will get normal soon with these simple steps.
Note: Although this way can get the problem resolved, it will erase everything on your iPhone. So if you haven't backed up your device, please click "Back Up Now" before restoring iPhone. This is only for a situation where your iPhone has been synced with iTunes. For users who don't have a backup, the suggestion is to try the next solution.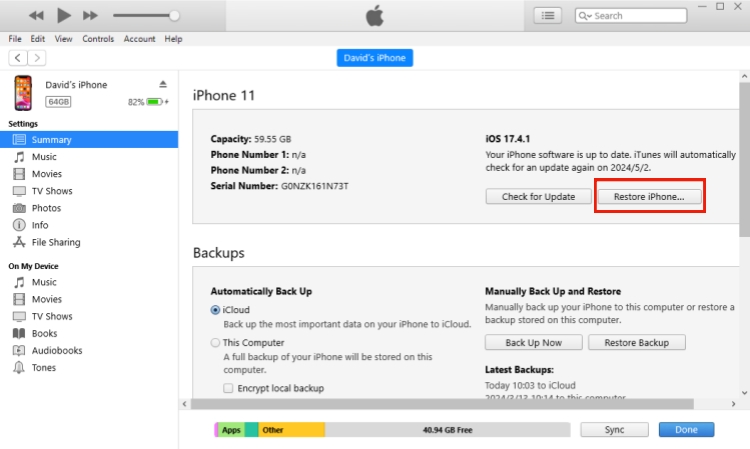 Part 5: Use Joyoshare UltFix iOS System Recovery
In case none of the above methods can take effects or you are concerned about data loss, please try Joyoshare UltFix to repair iPhone charging screen. As a professional iOS repair tool, it provides two modes to repair more than 30 iOS system problems. For common iOS system issues, apply standard mode to fix them withot losing data. For issues that fail to be solved in standard mode, advanced can work them out with ease.
Besides, it comes with a free feature that can get your iPhone into/out of recovery mode with one click. And its wide compatibility makes it support iOS 13 as well as many iOS devices, such as iPhone 11, iPhone 11 Pro, iPhone 11 Pro Max, all models of iPad Pro, etc. It is a perfect solution to your iPhone trouble, so to speak.
Key Features of Joyoshare UltFix iOS System Recovery:
Two modes: standard mode and advanced mode
Provide free one-click enter/exit recovery mode function
Compatibility to the latest iOS 13 and a series of iOS devices
Fix almost all the iOS system issues simply without any trouble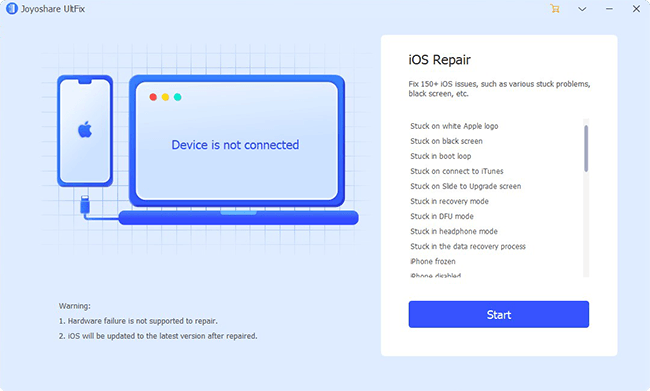 Considering that not everyone is proficient in technology, Joyoshare UltFix is designed with a concise interface, which is greatly simple to operate. Just follow the step-by-step guide to learn how to do.
Step 1: Firstly, you need to install and launch Joyoshare UltFix on the desktop. Then plug your iPhone into computer. Once the software shows successful connection, go on with "Start" button;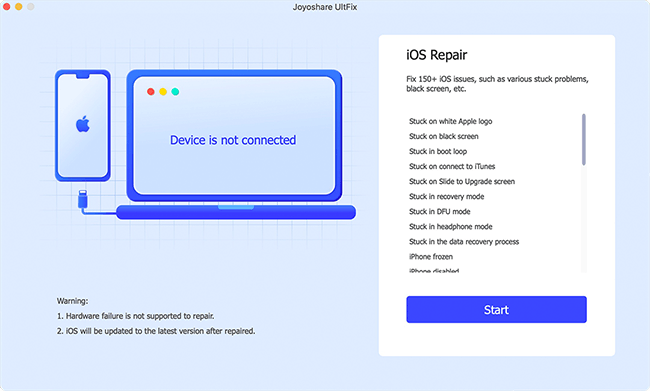 Step 2: Secondly, you ought to choose a repair mode to fix your iPhone problem. To avoid losing data, you have to select standard mode;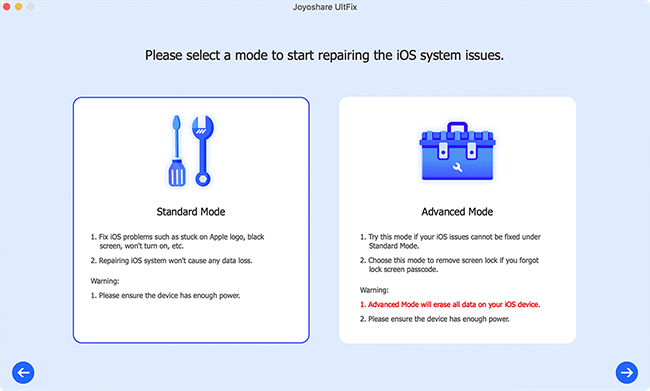 Step 3: After choosing a repair mode, touch your iPhone model icon in the next window. Later, manually set the iPhone into DFU mode or recovery mode according to the on-screen steps;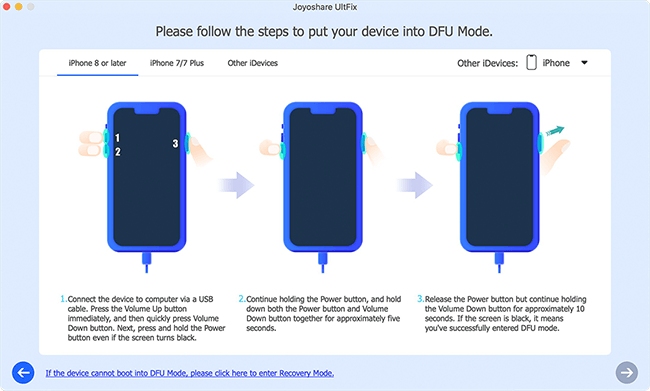 Step 4: When the iPhone enters DFU/recovery mode, Joyoshare UltFix will recognize and display some info about the iPhone on the screen. You should check it and ensure everything to be correct. Afterward, tap on "Download" to download and verify the recent firmware package;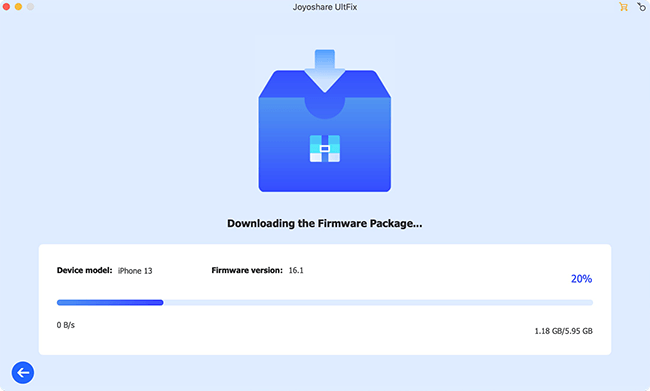 Step 5: Lastly, click "Repair" button. The downloaded firmware package will be unzipped. Soon after Joyoshare UltFix will start repairing your iPhone charging screen issue.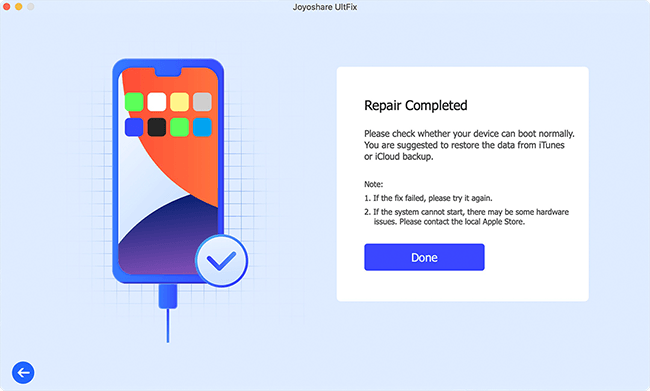 Conclusion
Although iPhone stuck on battery logo is not a very serious problem, it is quite frustrating. When it happens, you must want to fix it as quickly as possible. If hardware issue causes this situation, you'd better fix it in Apple store. Suppose it results from software problem, you can solve it with some common methods like restarting iPhone. Or you may try an iOS system tool, like Joyoshare UltFix to get it solved once and for all. It won't never disappoint you.