In today's times, our dependency on our phones is so high that the minute we realise our iPhone won't charge, it becomes such a big deal for us. In fact, whenever our iPhone battery won't charge, our lives come to a halt. We continue trying to switch and twist the cable in the hope that it will start charging but to no success. So the question that comes to mind is how to fix an iPhone that won't charge. There are many ways to troubleshoot iPhone that won't charge when plugged in issue and get your iPhone back to normal. Here are some simple and quick ways this can be fixed easily.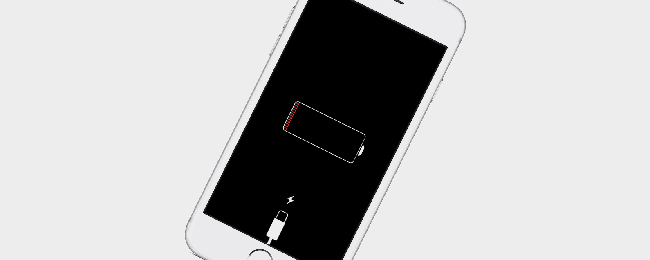 1. Hard Reset iPhone
A very simple answer to how to fix an iPhone that won't charge is to hard reset your iPhone. Hard resets work well when your phone becomes unresponsive, frozen or experiences a software crash. Moreover, it is one of the first things Apple support would do at the Apple store when the iPhone battery won't charge. Here are the steps on how to hard reset your iPhone at home: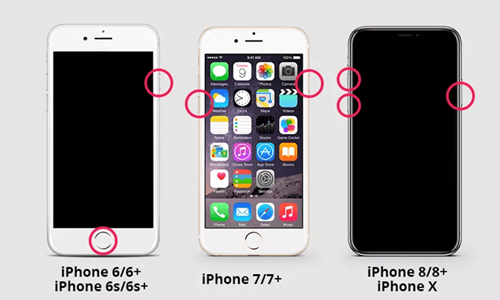 iPhone 8 and above: Start by quickly pressing and releasing the volume up button and repeat the same for the volume down button. Then press the power button or side button till the Apple logo appears on the screen.
iPhone 7 and 7 Plus: For these models, press and hold the power button along with the volume down button together until the Apple logo appears.
iPhone 6, 6S, SE and older models: In the case of these models, press and hold the power button along with the Home button until the logo of Apple appears on screen/display.
iPhone won't charge can be quickly resolved through the hard reset method.
2. Check Lightning Cable for Damage
Wondering why my iPhone won't charge? Often charging issues occur when the lightning cable is damaged. So, when faced with problems like iPhone won't charge, you should first check your USB cable. Then, closely inspect both ends of the lightning cable as lightning cables can fray. So, if there are any signs of wear and tear, then it's time for a new cable to resolve iPhone won't hold charge issue.
At times, the lightning cable may not have any visible damages on the outside; in that case, to determine whether your cord is damaged or not, try to charge your phone using another Apple lightning cable. If the iPhone starts to charge, your cable is damaged, and you need to replace it.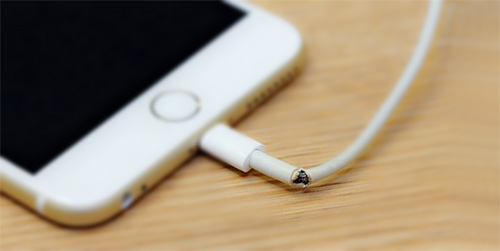 3. Try Another iPhone Charger
You can charge your iPhone in multiple ways, such as plugging it into the wall socket, using your laptop, using a car charger, etc. At times, your iPhone battery won't charge with one charger but will charge with another, implying an issue with your charger. Using a lightning cable, try to charge your phone with multiple chargers. For example, if you charge using your laptop, then try charging with a wall charger. If the iPhone charges with one charge and not with the other, then probably there is an issue with the charger.
4. Put iPhone into DFU Mode
If why won't my iPhone charge hasn't been fixed, then here is another way to resolve, it is DFU restore mode. When you place your iPhone into DFU restore mode, it can fix problems related to software by erasing the code that is causing the problem. You must back up your phone before going ahead with DFU restore as it erases everything on your phone. So, a DFU restore can solve the issue of my iPhone won't charge by erasing everything on your phone and restoring your iPhone to factory settings.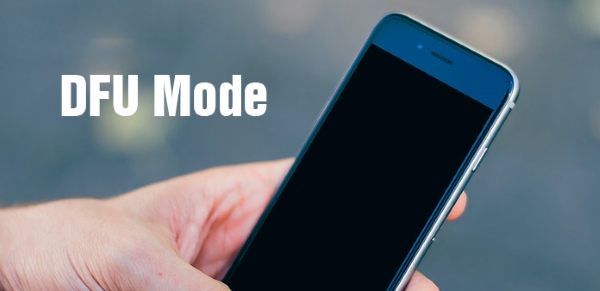 5. Clean Up the Charging Port
Another solution to fix iPhone won't charge when plugged in is to clean up the charging port of your iPhone. At times, debris or dirt accumulates in the charging port preventing the cable from making a solid connection to your iPhone. So, take a flashlight and see if lint, dirt or debris accumulated in the charging port and if yes, clean it with a brush and make sure the brush does not damage the electronic parts of your phone near the port. Cleaning the port will resolve the issue of the iPhone won't hold a charge.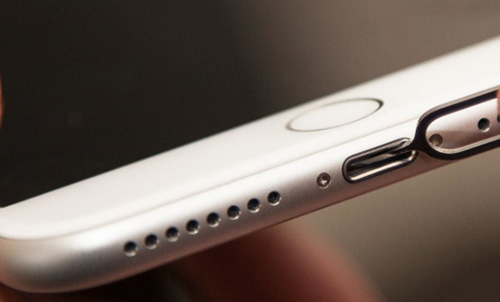 6. Update Your iPhone
Updating your iPhone is another way of fixing an iPhone that won't charge. Software, hardware and charging accessories all work together to enable a charge. In case your iPhone needs a software update, then it may result in slow charging even when your charging accessories are in working order. So, if you are wondering why my iPhone won't charge, ensure you have updated the software to the latest version.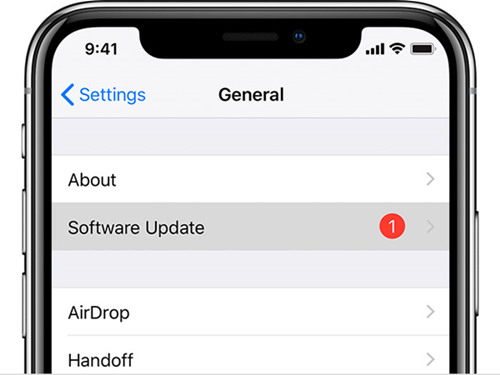 7. Restore Your iPhone to Factory Settings
In case the solutions mentioned above fail to fix the iPhone battery won't charge, you can restore your iPhone to factory settings. However, it is advised to use this as a last resort as it will wipe out everything on your phone. In addition, take a backup of all your data on iCloud or your laptop. For restoring factory settings, plug your phone into your computer and run iTunes. Next, select your device in iTunes and then choose to restore the iPhone in the summary panel. Once you decide to restore your iPhone, iTunes will start the restoring process and install the updated version of iOS.
8. Use Joyoshare UltFix to Repair iPhone
My iPhone's charge issue can also be fixed by using Joyoshare UltFix. It comes in very handy to resolve iPhone won't charge when plugged in without any data loss. Start with installing and launching Joyoshare UltFix. Next, connect your iPhone to your laptop and when the program recognises your device, click on start. Now select repair mode, and it will fix all iOS issues without any data loss. Furthermore, it will repair all the problems and restore the iPhone to the latest version of iOS.
Key Features of Joyoshare iPhone Data Recovery:
Standard Mode and Advanced Mode available
Repair more than 150 iOS issues without data loss
Compatible with all iOS devices and support iOS 14
Very easy to use to fix your iPhone issues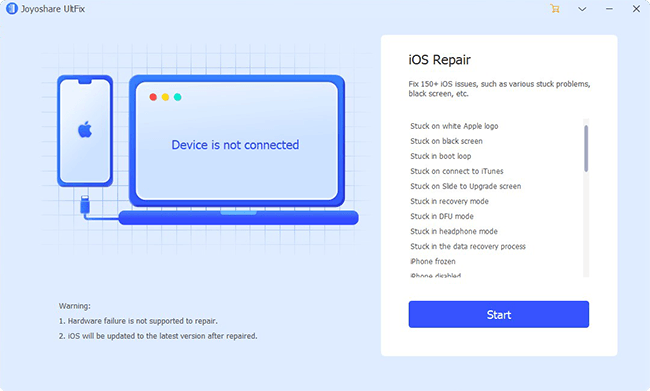 Step 1: Download, install and open up Joyoshare UltFix on the computer. Connect iPhone to it. Once the phone is detected, click the Enter Recovery Mode to put your iPhone into the recovery mode. Click the Start button to continue;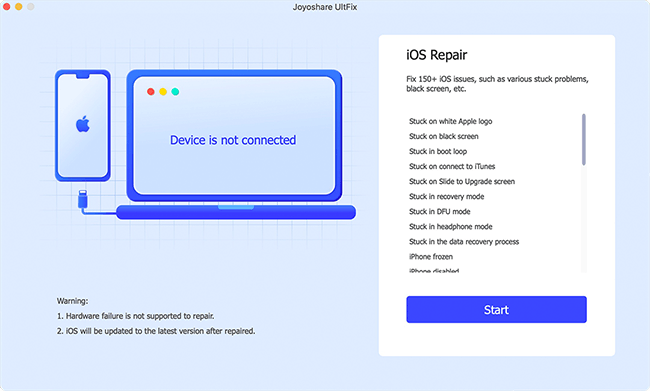 Step 2: In this interface, please choose the repair mode. In order to fix the issue without data damages, it is better to select the standard mode and tap on the Next button to proceed;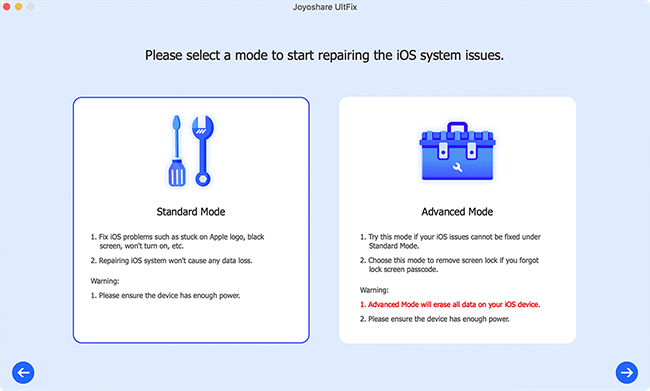 Step 3: Check all the info on the screen to see if it matches your device. If not, correct the wrong ones in their drop-down menus. Then, click the Download button to download the firmware then verify it;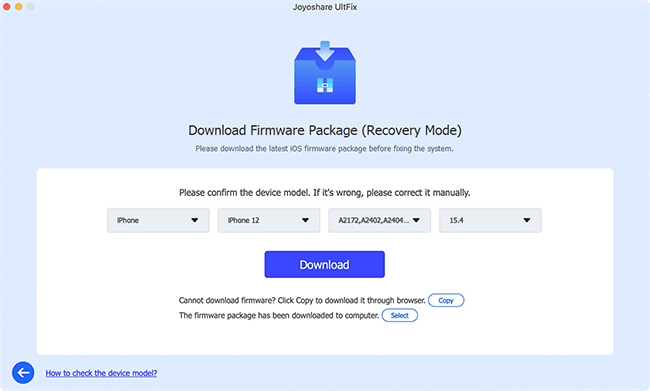 Step 4: After the verification, click the Repair button to unzip the firmware package. after a while, it will start fixing the iPhone charge issue.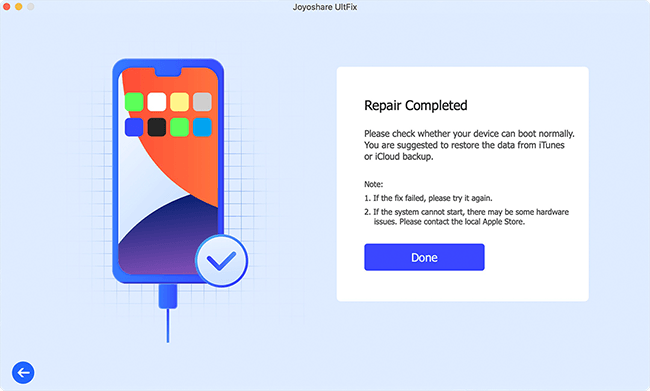 Conclusion
With these simple eight fixes, you can easily resolve the issue that the iPhone won't charge irrespective of the model of your iPhone. Just follow the steps, and you will overcome all problems related to phone charging. In case the issue of the iPhone battery won't charge still exists, you can contact the Apple store to get it fixed.