The iPhone battery draining fast issue has always been a major thing that users are not satisfied with iPhone. It is surely disappointing that such an amazing smartphone cannot last long enough. Apart from that, it is not uncommon for users to find that iPhone battery drains faster and faster, or that the battery drains ridiculously fast all of a sudden. Therefore, our team has collected info and conducted actual experiments on how to slow down the battery draining speed. In this comprehensive guide, you will learn why iPhone battery drains so fast, what you need to check, how to set up your iPhone to reduce battery draining, and how to fix iPhone battery draining fast.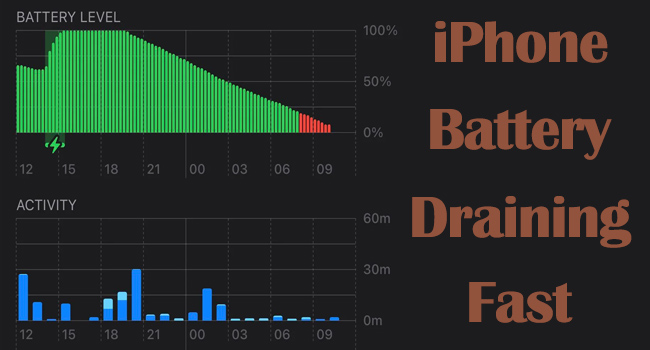 Part 1. Why Is iPhone Battery Draining So Fast
Before fixing iPhone fast battery drain, it would be better to figure out why it drains so fast. Here list some common reasons, check and troubleshoot your iPhone accordingly.
If you use your iPhone in an extremely cold or hot environment, iPhone battery will drain faster than ever.
If the screen brightness is too high, or you set screen time-out settings for too long, the battery will drain fast.
If you are watching a video, shooting a video, playing a game, or running many apps, there is no doubt that your iPhone battery drains faster than usual.
If there are too many notifications pushed to your screen, it will cause iPhone battery draining fast.
If your iPhone has been used for years, the battery life is shortened so that iPhone battery drains fast.
The more functions you turn on that you don't need to use, the more power you waste, such as useless widgets, visual effects, etc.
Part 2. Checks before Fixing iPhone Battery Draining Fast
No.1

Check Battery Health

iPhone 11 battery draining fast? It may be because your phone has been used for too long. You could go to Settings → Battery → Battery Health → Maximum Capacity. If the Maximum Capacity is too low (normally less than 85%), iPhone battery draining fast is a common problem. In this case, you may need to replace your battery. Besides, to reduce battery ageing, you could turn on Optimized Battery Charging.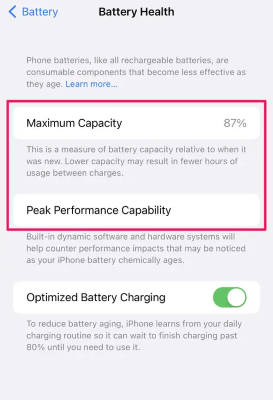 No.2

Check Battery Usage by Apps

On the Battery screen, you are able to know the battery usage by each app. It is normal for some frequently used apps to consume a lot of power, but watch out for those apps that are rarely used but still show considerable battery usage. Also, for the frequently used apps that show ridiculously large power usage, you can look into them by scrolling down in the "Settings" menu, finding them and checking their status. Chances are they arbitrarily enable some unnecessary features, e.g. location service, that will consume the battery power. You can certainly switch off these features to save power. Except for turning off their unnecessary features and authorizations, you could update these apps and observe whether iPhone battery still drains fast, or directly stop using power-intensive apps you don't need.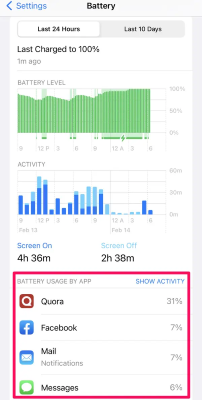 No.3

Check Software Update

There are shortcomings in some previous software versions, which include consuming too much power and may do harm to the battery. In this case, it is recommended updating your iPhone to the latest version. On the Settings app, tap General, choose Software Update, and check if your iOS system is up to date. If not, hit the Download and Install button to configure the newest operating system.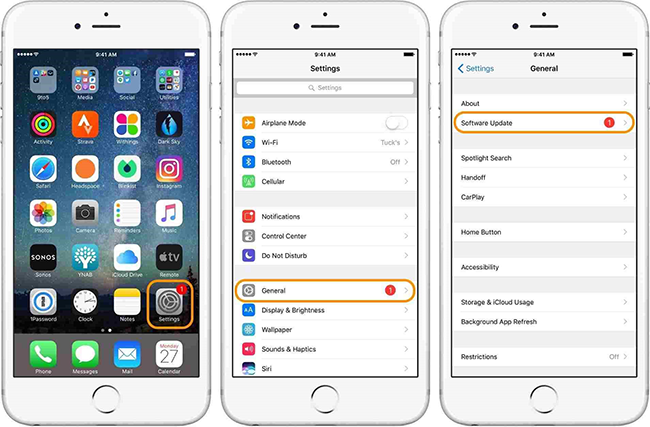 No.4

Check Charging Accessories

Unmatching charging accessories are very likely to cause damage to your battery, making its life becomes shorter and shorter. Too much current coming from the cable can even end up breaking the phone battery. Thus, we recommend you purchasing Made for iPhone cables and adaptors as charging accessories only from reliable sources, such as Apple outlets or Apple online shop on Amazon. In addition, it's also important to keep a good charging habit. That is, don't charge your phone until the battery is low. There is a widely spread myth about charging a phone, claiming that it's better to charge a phone when the battery runs out. However, that is not the proper way to treat lithium-ion battery. Actually, it is recommended to charge your phone whenever you have the chance, so that it would be kept in good condition.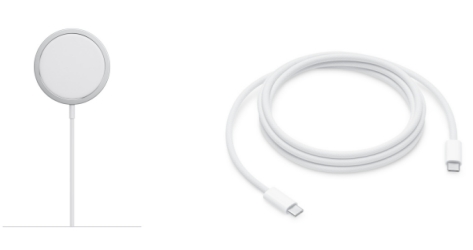 Part 3. Modify Settings to Stop iPhone Battery from Draining Fast
Tip 1: Turn On Low Power Mode
If your iPhone drains too fast, you could consider enabling the Low Power Mode either in Settings or in the Control Center. This will help you to reduce background activity so as to save battery power especially when your iPhone has not fully charged yet. Open Settings, scroll to Battery, and toggle on Low Power Mode.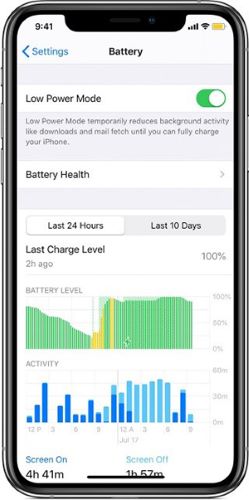 Tip 2: Turn Off the Location Service
Battery fast drain issue is often caused by apps, particularly the location service. Most of the apps don't need location services, however, they collect data about your location. Therefore, you might as well turn off the unnecessary location services of some apps. Before turning off location service for some apps, it is necessary to figure out what kind of app runs well without your location. Go to Settings → Privacy & Security → Location Services.
A purple arrow means this app is using your location now. A gray arrow means it has used your location in the last 24 hours, and a purple-outlined arrow means it's using a geofence. According to this information, choose apps that don't require your location from the list, and turn off the location services respectively. Further, it might be helpful to disable Share My Location for saving iPhone battery.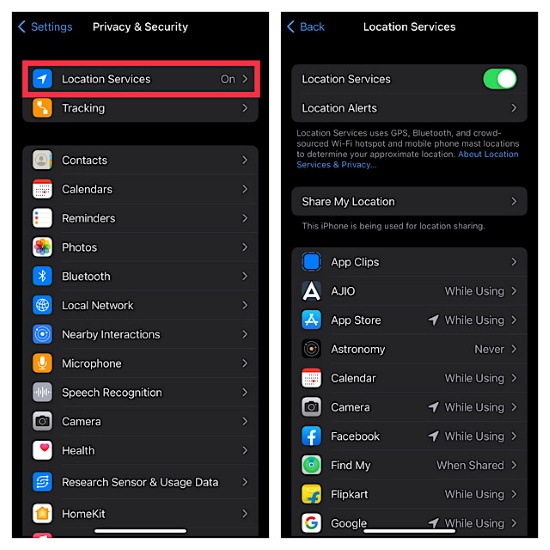 Tip 3: Turn Off Background Refresh
A great number of iPhone X or 11 users report the battery drain problems have not realized how many apps are operating in the background. Due to the capacity of the latest iPhone, users tend to download too many apps or open too many at the same time. Whether the apps open on their own or not, they will consume your battery. To solve the iPhone X battery drain issue, you can turn off the background app refresh by following the steps below.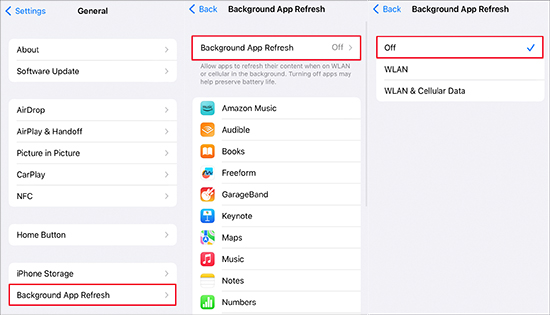 Step 1: Open the Settings, scroll down and then tap on the General option.
Step 2: In the General menu, tap the Background App Refresh option.
Step 3: A list of apps will be shown on the screen. Toggle off the Apps that you don't want them to run in the background.
Tip 4: Fetch Mail and Calendar Less Frequently
When you enable the Push option for your Mail or Calendar, your device will fetch new data in the background, which absolutely consumes more power. Hence, for better battery life, you could fetch less frequently. Go to the Settings app, locate Mail, choose Accounts, tap Fetch New Data, and toggle off the Push button. Then, Then, check the frequency of any other option instead of Automatically. Identically, find Calendar on Settings and do the same to it.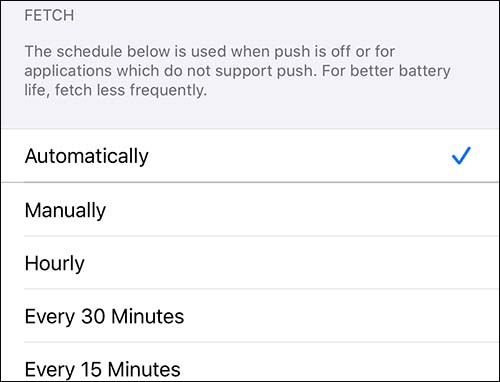 Tip 5: Don't Share iPhone and Watch Analytics
Share iPhone/iCloud Analytics are features that automatically send daily diagnostic and usage data to the Apple server, which might give a bad effect on iPhone battery. If you have enabled this feature, turn it off by entering Settings → Privacy & Security → Analytics & Improvement, and disabling the Share iPhone & Watch Analytics option.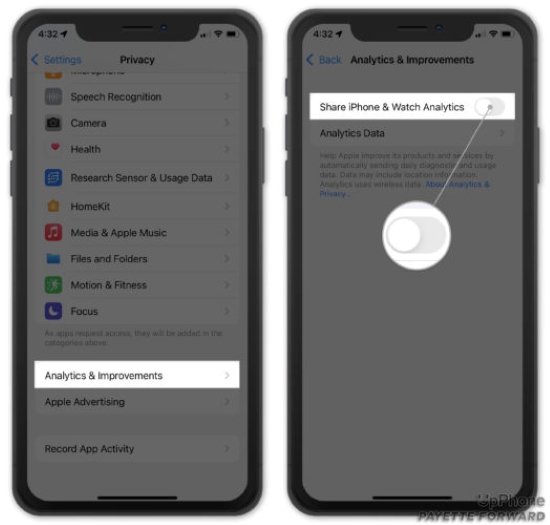 Tip 6: Remove Widgets You Don't Use
Widgets do bring convenience to you, however, it runs in the background consuming much power on your iPhone. Encountering iPhone battery draining fast, you'd better turn off some widgets you don't use. Just press and hold the widget that you never use, tap Remove Widget, and hit the Remove option to confirm.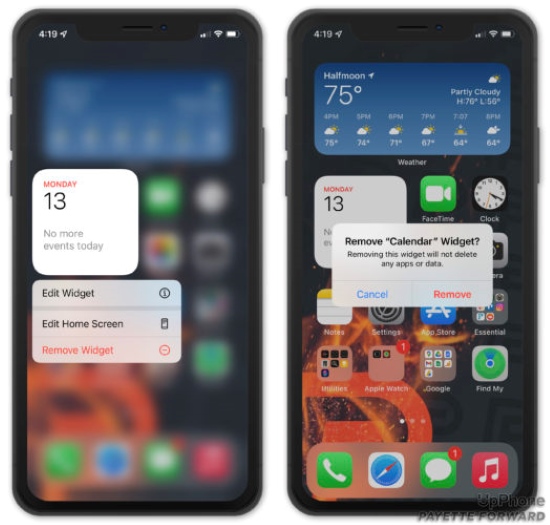 Tip 7: Turn Off Notifications
Most apps would send you push notifications, but how many do you need? Very few. You will be asked to give permission to the apps to send you alters and notifications, which is equal to letting them run in the background and drain your battery. To turn off the unnecessary notifications, go to Settings → Notifications. Here you will see the apps that have permission to send you alters. Turn off the ones whose notifications you don't need. In addition, iPhone screen will be lightened up when showing notifications, which is a power-consuming feature for some users. To prevent this, you could keep your iPhone facedown or turn on the Do Not Disturb function.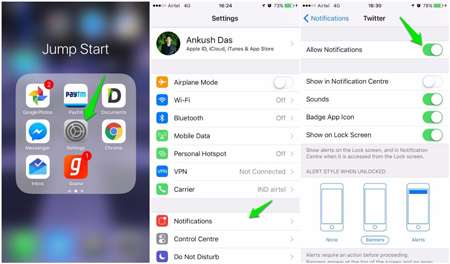 Tip 8: Adjust Brightness
The major cause leading to iPhone battery draining fast is the brightness. Apart from notifications, there are other features that waste iPhone's power. Based on your needs, check and complete the following actions.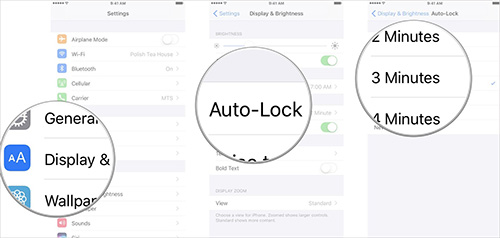 Shorten Time for Auto-Lock: Settings → Display & Brightness → Auto-Lock, and select the option you need. Pay attention that Never will make your iPhone battery drain fast.
Turn Off Raise to Wake: Settings → Display & Brightness → Raise to Wake, and toggle off this feature. If you just pick up your iPhone but have no intention to use it, turning off this feature will prevent battery drain.
Turn On Dark Mode: Settings → Display & Brightness → Dark under Appearance. Since dark pixels generally consume less power than light pixels, you are recommended turning on Dark Mode.
Turn On Auto-Brightness: Settings → Accessibility → Display & Text Size → Auto-Brightness, and turn on this option. To save battery, Auto-Brightness will help you automatically adjust your screen depending on your surroundings.
Tip 9: Reduce Visual Effects
There are beautiful and fancy visual effects displayed on iPhone, but it is the culprit of iPhone battery draining fast. Thus, if you don't have the need for so many visual effects, turn the related features off or on by referring to the below instructions. Go to Settings → Accessibility → Motion. On the Motion screen, toggle on Reduce Motion and Prefer Cross-Fade Transitions to reduce the motion of the user interface, so as to reduce power consumption. Then, toggle off Auto-Play Message Effects and Auto-Play Video Previews if you don't need these two functions to save more power.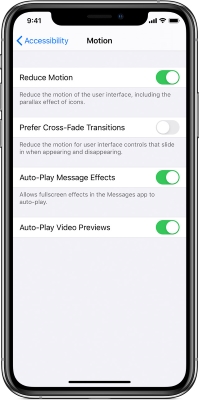 Tip 10: Turn Off 5G
5G chip is additionally designed on your iPhone, which means that more power will be used for this chip. Therefore, for users who don't need to connect to 5G, just open Settings → Cellular → Cellular Data Options → Voice & Data, and tick on LTE. If you need 5G less frequently, tick 5G Auto instead.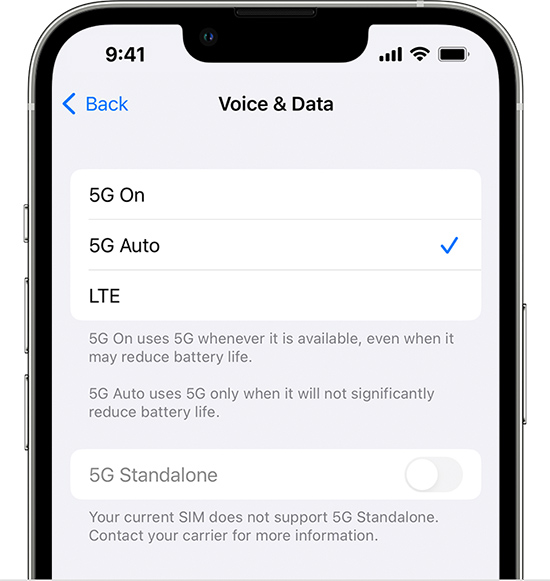 Tip 11: Turn Off Haptic Feedback
Keyboard haptics might affect the battery life of your iPhone, according to Apple. When you enabled the Haptic Feedback feature, you will feel a physical response when typing. Many users like this feature, but it will consume more power. Hence, when iPhone battery drains fast, it is advisable to turn it off. Head to Settings → Sounds & Haptics → Keyboard Feedback, and toggle off the Haptic option.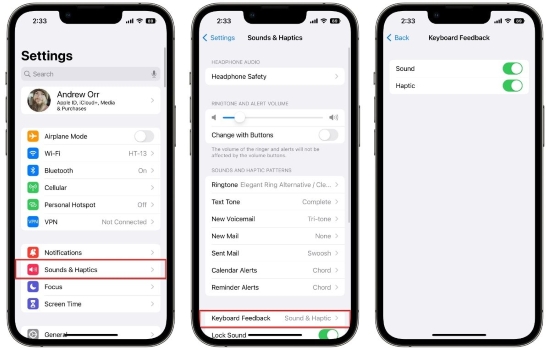 Part 4. How to Fix iPhone Battery Draining Fast
Solution 1. Erase All Content and Settings
After taking so many actions to adjust settings, your iPhone battery draining fast issue might remain. In this situation, you could factory reset your iPhone and put it into the default status. Navigate to Settings → General → Transfer or Reset iPhone → Erase All Content and Settings, and backup your data to proceed. When your iPhone restarts, observe its power consumption for hours to see if the problem is solved.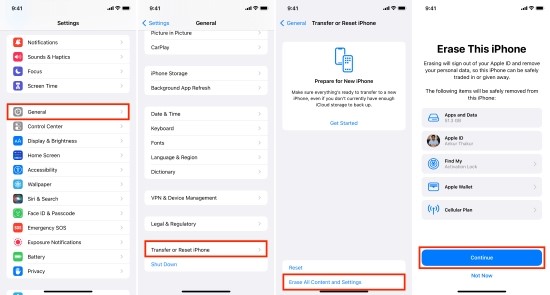 Solution 2. Fix iPhone without Data Loss
If you find your iPhone battery suddenly drains extremely fast, there is a high probability that it is caused by iOS system errors. To fix the issues one thing for all easily, we recommend using Joyoshare UltFix. It is a system recovery tool that dedicates to fixing 150+ iOS issues on all models of iPhone, iPad, iPod and Apple TV. It fully supports the latest iOS system. The biggest advantage is that Joyoshare UltFix is able to fix the problem without data loss. Problems regarding charging, such as the iPhone stuck on charging screen issue, can be solved without damaging your personal data. In addition, it is able to put your iPhone into recovery mode with one click free of charge. As well as, you can use Joyoshare UltFix to upgrade and downgrade iOS system, and reset your device without hassle.
Main Features of Joyoshare UltFix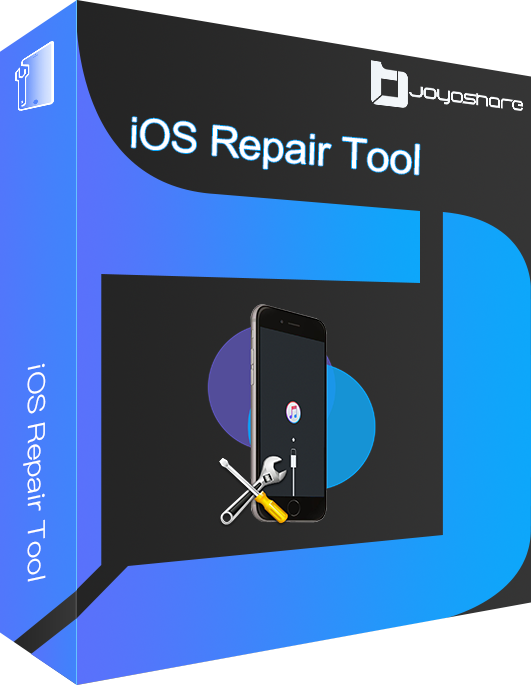 Solve the iPhone battery draining fast issue with no data loss
Compatible with iOS 17 and the latest iPhone 15 series
Fix 150+ issues with standard repair mode and deep repair mode
Usher your iPhone into the recovery mode for free
Downgrade and upgrade iOS system
Step 1

Connect iPhone and Select iOS System Repair

Download the software from the links above and run it. Use a USB cord (better be Apple original one) to connect your iPhone with the computer. From the main interface, choose iOS System Repair and press the Start button to go to the next window.

Step 2

Choose Standard Repair

In the next window of mode selection, click on the Standard Repair mode, so that the iPhone battery drain fast issue can be resolved without data loss. If your iPhone is detected successfully, you will enter the next step. On the contrary, follow the guide on the screen to put your iPhone into DFU mode or recovery mode, then press the Next button to continue.

Step 3

Download Matching Firmware Package

Examine the basic info of your iPhone on the screen, and correct the wrong parts. When the work is done, tap the Download button, and the software will download the matching firmware package for you.

Step 4

Fix iPhone Battery Draining Fast

Finally, press the Repair button to begin the actual repairing process. It is supposed to finish several minutes later, and you will find that the battery drains a lot slower than before.
Solution 3. Contact Apple Support to Replace Battery
In the most extreme situation, the foregoing solutions wouldn't work for you, and the final fix is to repair or just replace the battery. However, replacing the battery by yourself is likely to cause some other problems, not to mention it is not secure due to the chemicals in the battery. That's why we write "ask Apple Support" in the title. The only correct way to do this is to bring your iPhone to the Apple outlets, where the technicians there can replace the battery for you.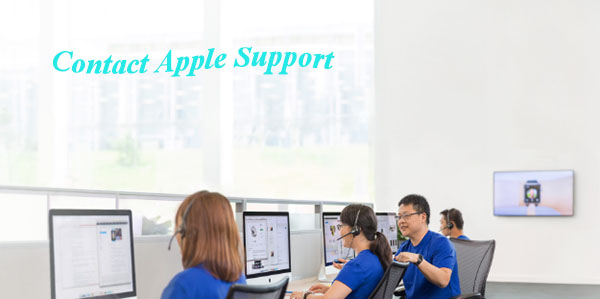 Part 5. How to Protect and Prolong Battery Life
Aside from the above tips, here are other ways to prolong the life of your battery. First, don't force close apps. Although others recommend you quitting apps as they will consume power on the background, this suggestion doesn't suit iPhone. Apps that are not on the frontend screen are paused by the system to save energy. And it requires more energy to re-launch apps. However, those applications that you don't use very often are still recommended to close them. Second, charge before it drops below 20-30%. Since using up the last 20% of your phone's battery will reduce its functionality over time and may shorten the overall life of the battery, you'd better charge earlier before iPhone shuts down to protect your battery.
Summary
The iPhone battery draining fast problem bothers a huge number of iPhone users, and we are intended to help all of you. In this comprehensive guide, we addressed the frequently asked questions - "why does my iPhone battery die so fast", "how to stop iPhone battery from draining fast " and "how to save my battery life". We hope that all these tips are useful, and we suggest you treat your iPhone battery in the right way mentioned in this article before it runs into problems. If you have other relevant questions, please leave your comment below, and we'll strain efforts to help you.