The iPhone stuck on red battery charging screen problem is not uncommon, and it frequently occurs when your iPhone battery is insufficient or significantly lower. Numerous iPhone customers complained about such errors when attempting to reboot their devices. Whenever the iPhone is stuck on the red charging display and won't turn on, it's a clear indicator that the battery has died and needs to be changed or fixed. If you're curious to know how to get rid of this vexing problem, this is the article for you. Here are some troubleshooting techniques if you're having trouble getting your iPhone out from the red battery screen, low battery connects to the power screen, or charging screen. Please stay with us to understand these troubleshooting methods properly.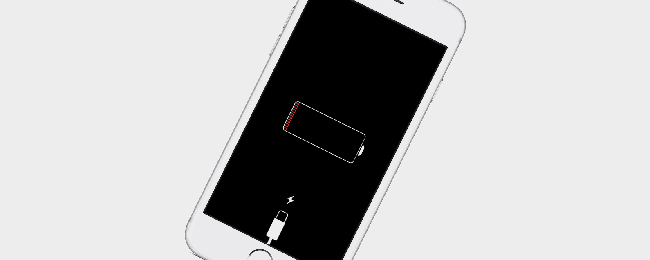 Video Guide: iPhone Stuck on Red Battery Charging Screen
just in case you find it difficult to understand the methods below and don't know how to operate them, here is a video guide which shows you clear instructions. Follow this guide to fix iPhone stuck on red battery charging screen quickly.
Part 1. Checks Before Plug into Power
There are many things you need to check before fixing iPhone stuck on red battery charging screen. It would be great if your problem is solved after doing all the checks. So, please follow the below tips to check your device.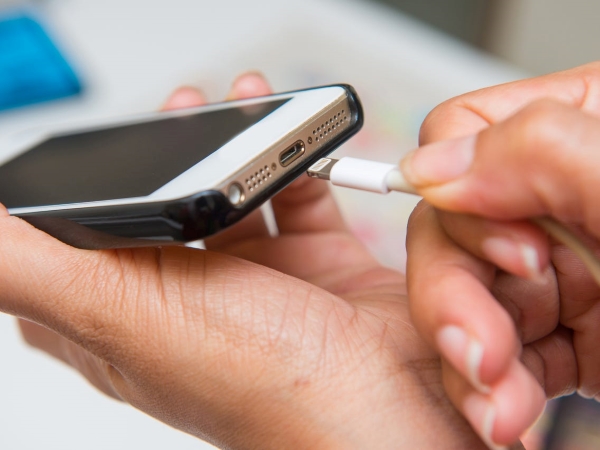 Drain the Battery. To get rid of iPhone stuck on red battery charging screen problem, drain the battery. Allow your phone to die before trying to charge it again for half an hour or more till you can use it entirely.
Use Hairdryer to Lightly Heat iPhone. Use a hairdryer to heat a battery from 10 to 12 inches back for around 1 minute, or apply heat to the battery in some other way (like a cup of coffee). This raises the voltage sufficiently to charge the mobile.
Change Charing Adapter and Cable. Ensure that everything is properly and securely plugged in when you have iPhone red battery screen issue. Check that you're using the USB adapter and charging cable that came with the smartphone has no damage and that the power supply is working correctly. Once they are damaged, you need to change them to the new ones.
Clean Up Charging Port. Examine your iPhone's charging port for any wreckage or lint. This is helpful if your phone charges slowly or does not charge at all.
Part 2. Simple Restart and Force Restart iPhone
When your iPhone encounters software bugs that end up causing the screen to become trapped with a red battery icon and the cable logo, you should restart it whenever feasible. This isn't always successful, but it's worth a shot. For iPhone 5, SE, or earlier, hold the top button; for iPhone 6 to 8, the side button; for iPhone X and above, hold either the volume buttons or the side button. Then, the power-off slider will show up, and drag it to turn off your iPhone. To restart your device, tap and hold the Side or top buttons until you see the Apple logo. If the Apple logo shows up but the screen goes back to the battery icon, you need to try a force restart.
Forcing the iPhone to restart is a more comprehensive solution for dealing with iPhone stuck on red battery icon screen issue. It will appropriately shut the operating system and solve bugs, removing the iPhone from the low battery charging display.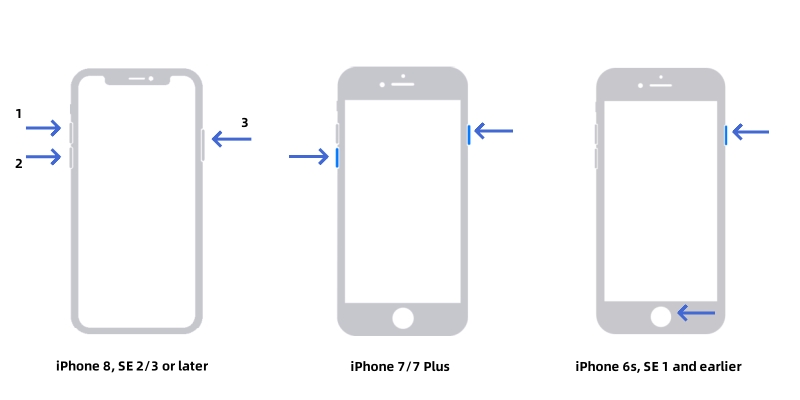 For iPhone 6 and earlier: Hold both the Side and Home buttons for at least 10 seconds until the Apple logo appears.
For iPhone 7 and 7+: Press both the Power and Volume Down buttons for at least 10 seconds until the Apple logo shows up.
For iPhone 8, X, and later series: Press and discharge the Volume Up and Down button, respectively. Then, tap and hold the Power button till the Apple logo appears.
Part 3. Put iPhone into DFU Mode with iTunes
It's possible that after attempting a force restart, the iPhone remains stuck on the red battery charging screen. In this case, you could make an attempt to put your iPhone into DFU mode, which is able to solve severe software problems. Follow the instructions below to repair your iPhone in DFU mode.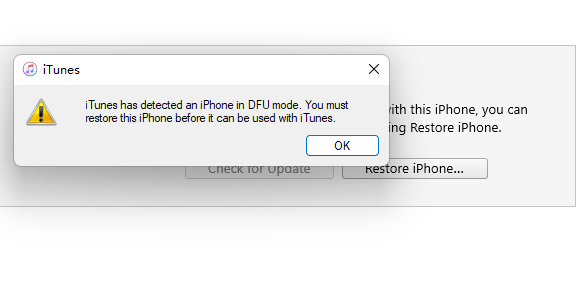 Step 1: Connect your iPhone to Mac or a PC, and run iTunes or Finder.
Step 2: Once you've connected your iPhone to the PC, put the phone in DFU mode.

For iPhone 6 and earlier: Hold both the Top and Home buttons for about eight seconds. Let go of the Top button while preserving the Home button pressed until the screen goes black and iTunes displays the message "iTunes has detected an iPhone in DFU mode."
For iPhone 7 and 7+: Press the Sleep and Volume Down buttons for around 10 seconds. Release the Sleep button while holding the Volume Down button for 10 seconds until the screen is black. You've entered DFU mode.
For iPhone 8, X, and later: Volume Up should be pressed and quickly released. Volume Down should be pressed and quickly released. Until the screen goes black, hold the Power button. For 5 seconds, hold down the Power and Volume Down buttons. After that, Release the Power button while continuing to hold on to the Volume Down button to enter the DFU mode.

Step 4: Once you have entered the DFU mode, disconnect the iPhone from the Mac/PC.
Step 5: Then, plug in your phone and charge it for 30 minutes. Don't bother it while it's charging.
Step 6: Restart it and check whether the red battery charging logo remains on the black screen or not.
Part 4. Use Joyoshare UltFix to Repair iPhone Red Battery Charging Screen
Attempting to force restart your Apple device or putting it into DFU mode can be difficult strategies to follow; instead, try using the Joyoshare UltFix! This is an intuitive software that is perfect for people with no technical expertise. It specializes in resolving system problems on iOS devices and Apple TVs. Some similar issues related to charging could be fixed with the help of Joyoshare UltFix, such as iPhone showing charging but battery percentage not increasing, iPad won't charge, and so forth. Aside from promising to solve iOS issues with a 100% success rate, it also provides a free service that allows you to move your iPhone into or out of recovery mode. Furthermore, Joyoshare UltFix is capable of resetting iPhone, iPad and iPod, and downgrading to the former iOS versions. The following steps can help you solve the issue using Joyoshare UltFix.
Main Features of Joyoshare UltFix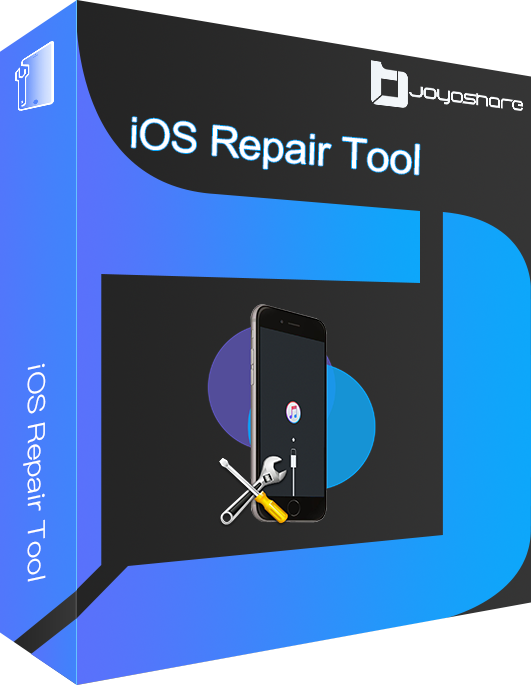 Compatible with iOS 17 and the latest iPhone/iPad/iPod
Downgrade and upgrade iOS versions
Enter/exit recovery mode without payment
Guarantee to solve 150+ problems without losing data
Step 1

Connect iPhone and Run Joyoshare UltFix

Download, install and launch Joyoshare UltFix. After that, connect the phone to the PC. Choose iOS System Repair and click on Start to continue.

Step 2

Select the Repair Mode

JoyoShare UltFix has two repair modes, Standard Repair and Deep Repair. For fixing the iPhone red battery screen, the former mode is pretty much enough. In case your iPhone is successfully recognized, you will enter the next screen. If it fails to be detected, select your iPhone's model and put the phone in DFU mode or recovery mode.

Step 3

Get the Firmware Package Downloaded

Configure the device's info and confirm the firmware package that appears. After that, click on the Download option to get the firmware package downloaded and verified.

Step 4

Fix iPhone Stuck On Red Battery Charging Screen

Click on Repair to unzip the package. It will start repairing the issue with the battery once the package is unzipped. The whole process will take a few minutes.
Part 5. Contact Apple Support to Replace Battery
It is worth noting that a broken screen or a cracked piece of glass could get into the iPhone and destroy the battery, causing your iPhone to become trapped on the charging screen and not boot up. Therefore, if you still have the iPhone red battery screen not charging issue, we recommend contacting Apple Support online, making a Genius Bar appointment, or visiting an Apple-authorized service center to get your iPhone tested to see if it requires a new battery.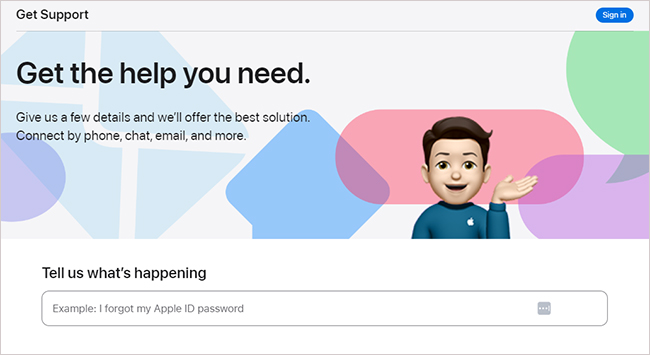 Conclusion
iPhone stuck on red battery charging screen is the most common problem in iPhone devices. Most iPhone users have been trying to solve this problem for a long time. This article collects 5 methods for you as a reference to fix the red battery charging screen. The most effective one among them could be Joyoshare UltFix, which offers the standard repair mode to fix more than 150 iOS system errors without losing data. You could try Joyoshare UltFix first, and if it is invalid, go to the Apple Store to replace your battery. We hope that you find a proper technique to solve the issue after reading this article.