Q:"Hello world! So, iPad mini shows battery with red line for some time now, even after charging for quite some time. I've tried doing a force restart and that hasn't done anything either. What would you recommend I do in this situation?" - From Apple Community
If your iPad shows battery with red line then blinks off many times, chances are that it has no battery, or even in a state of constant battery drain. In this case, you can do nothing but to charge device as soon as possible. Don't know where the problem is and what to do when your iPad makes no change and gives no response as above Apple user experienced? Now, you can dive into seven of the best solutions in this article.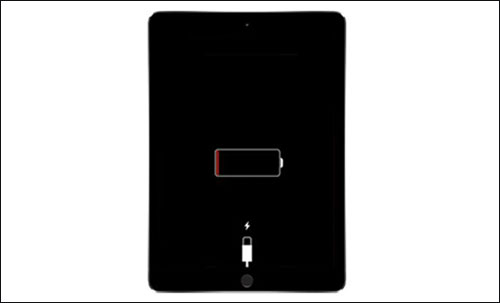 Part 1. What Does Battery with Red Line Mean on iPad?
An iPad's red battery icon indicates that it has been a while since it was charged. Seeing this message means that your iPad's battery has run low and needs to be recharged. In the top right corner of your iPad, you will see a red battery icon indicating that it needs a charge but still has enough power to operate. It's hard to tell how much power it has left. To view it as a percentage, you may set it on Settings by yourself.
It is a sign that your iPad does not receive enough power to charge if the red line on the battery flashes three times before it powers off. A non-genuine Apple charger or certain PCs tend to produce this issue. To resolve this issue, plug your original charger into an outlet.
Part 2. How to Fix "iPad Shows Battery with Red Line"
Fix 1. Check Charging Port
Your charger port may become clogged with dust or cotton wool and interfere with the normal charging process. If you've used your iPad for a long time and haven't cleaned it properly, it's time to use a soft object, such as a toothbrush or paintbrush, to remove possible obstructions.
Fix 2. Check Charger and Adapter
Your iPad shows battery with red line but not charging? You're highly recommended to use Apple's original charger and adapter. Sometimes, the unmatchable one cannot deliver power. So, don't apply your iPhone's adapter to your iPad. Besides, third-party chargers are likely to be incompatible with your device, causing problems with charging.
Note: If you have to deal with work in an emergency, you can also try to charge your iPad with a USB Power Adapter. However, you should note that this method can only charge device slowly, not as fast as the original charging speed when using Apple's charger. To do this, simply plug your iPad to a computer with a high-power USB port. Keep your computer on all the time during the charging process, not in standby or sleep mode.
Fix 3. Charge Your iPad Again
In general, iPad keeps showing battery with red line because the battery is worn out. In the face of this case, just use Apple's original charger and USB cable to connect your iPad with a power supply to recharge it. Do remember to make use of the original charger and plug it into a wall outlet rather than the computer port to charge the iPad. Otherwise, you probably see the red line on the battery flicker 3 times and then the iPad is turned off when start charging. After charging it for at least 1 hour, try rebooting the iPad. In case of a failure of restarting, take the following methods to figure out the issue.
Fix 4. Force Reboot iPad
Charging the iPad gives no result? So then, it's possible that app bugs or software glitches contribute to the event that iPad only shows battery with red line. Yet the simplest way is to force restart the iPad. This can force all running apps to quit as well as flush out glitches on the iPad. If all goes well, such a trivial trick can help you out.
iPad with the Home button: Hold down the "Home" and "Power" buttons at the same time until the Apple logo appears on the screen.
iPad without the Home button: Quickly press and release the "Volume Up" button and then repeat the operation with the "Volume Down" button. Next, press and hold the "Power" button until you see the Apple logo on the iPad screen.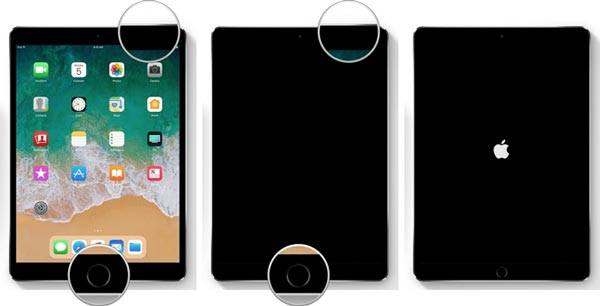 Fix 5. Fix iPad Software Issues with iOS System Recovery [100% Lossless]
In case iPad showing battery with red line still exists, try a professional system repair tool, like Joyoshare UltFix here. This software is an expert in repairing software issues on iOS devices, promising to settle iOS problems at all levels of difficulty with a 100% success rate, such as iPad charging slowly, iPad is disabled connect to iTunes, no service, stuck on Apple logo, black screen, and more. Work with it, you will enjoy an intuitive and clean interface. Even without any technical assistance, you are able to manage it.
Key Features of Joyoshare iOS System Recovery: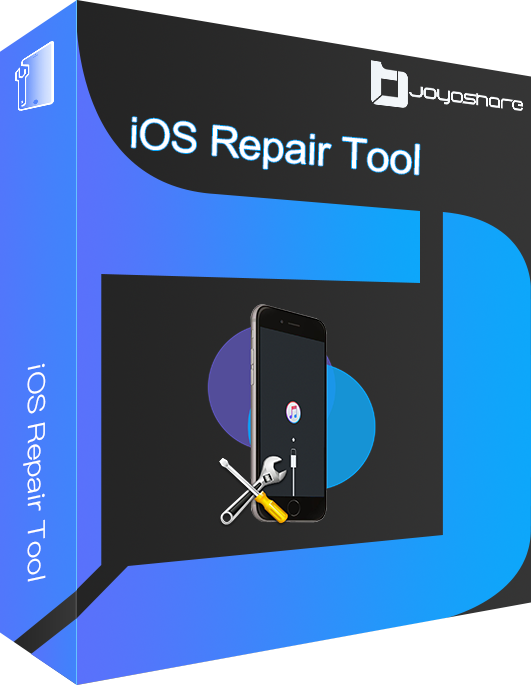 Troubleshoot over 150 kinds of system issues at ease
Promise to fix iPad battery red line without damaging any data
Guide each supported device into/out of recovery mode for free
Compatible with nearly all iOS devices (iOS 17 supported)
Reset iPad and help it to upgrade or downgrade handily
Step 1: Open Joyoshare UltFix and connect your device to computer with a genuine Apple USB cable. After your iPad succeeds in being detected by the program, click "iOS System Repair" and then "Start" button to proceed to the next step.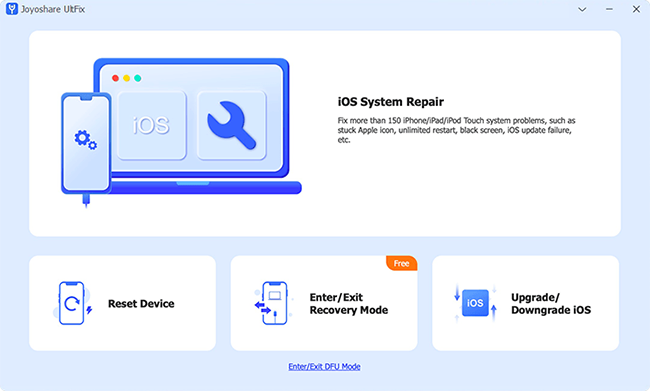 Step 2: Here you can click on "Standard Repair" to fix various general issues on your iPad without data loss. If device is not detected, choose your iPad model and then boot it into recovery mode or DFU mode based on the step-by-step guide on the screen. When the arrow icon in the lower right corner turns blue, hit it to continue.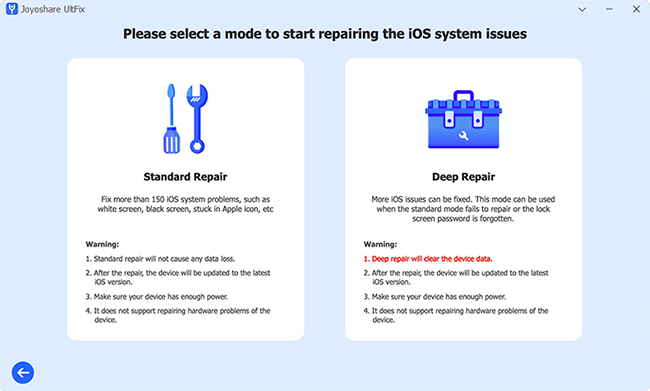 Step 3: This iOS system recovery program will show you all the basic info about the iPad. All you have to do is check if there is something wrong. If everything is correct, click on "Download" to download and verify the latest firmware package.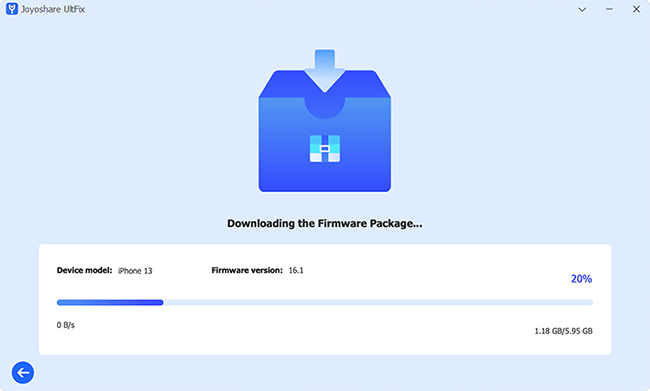 Step 4: The last step, of course, is to click on the "Repair" button to unzip the firmware package. Once finished, Joyoshare UltFix begins to repair charging issue with your iPad. The whole process will just take you several minutes.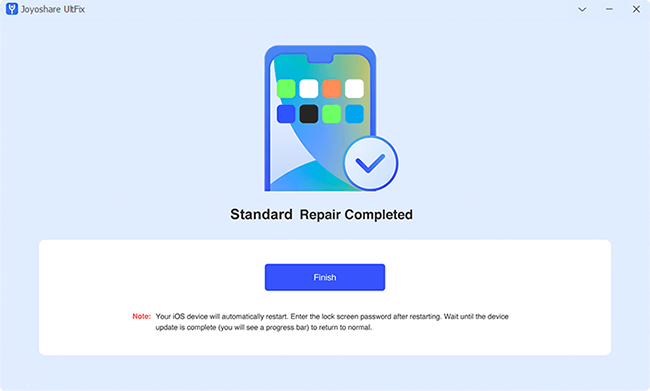 Fix 6. Restore iPad Using iTunes in Recovery Mode [Data Insecurity]
You could take to troubleshoot iPad battery with red line at home by restoring your iPad with iTunes. Restoration will bring your iPad back to the factory settings, thereby leading to all data on your iPad erased. As a result, do back up iPad before acting.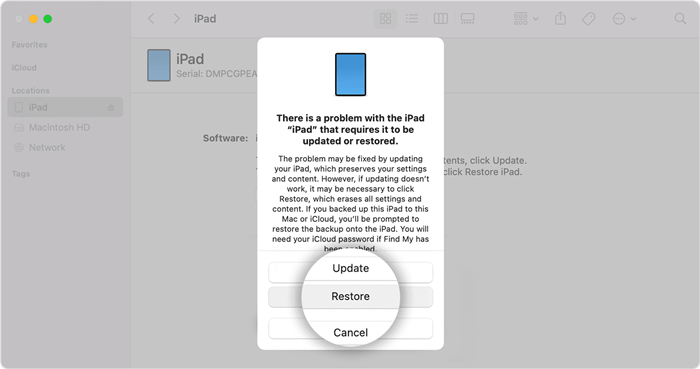 Step 1: Make sure iTunes on your computer is up to date. Start by running iTunes and plug iPad into the computer via the lightning USB.
Step 2: Put iPad into recovery mode:
iPad with a Home button: press and hold both Home and Top/Side buttons until you can see the recovery mode screen.
iPad without a Home button: press and release the Volume button closest to the Top button, then press and release the Volume button fastest from the Top button. Next hold the Top button until the recovery mode screen appears.
Step 3: Click on "Restore" in the pop-up window to fix your iPad showing battery with red line issue.
Step 4: Once completed, don't be so quick to unplug the USB cable. Check if the iPad returns to normal and can charge without hassle.
Fix 7. Contact Apple Support Center
If all methods introduced above are tried but failed to solve your iPad showing battery with red line problem, you're suggested to contact online Apple support center or go to a nearby local Apple store to repair possible hardware issue.
Part 3. Final Verdict
When your iPad shows battery with red line but not charging, check out this post. We've compiled fruitful information for you. Give some basic solutions a shot first and check your charging port, adapter, etc. If they works well for another iPad device, you can force restart or even restore device. Here we highlight Joyoshare UltFix. You can use it shortly and effortlessly to overcome your problem. Let's download it without any hesitation! Looking forward to hearing your experiences with the repair process.