Some iPhone users might be puzzled by the strange case that iPhone won't charge past 80%. Why would iPhone stop at that point while charging no matter how long you wait? At first, your iPhone quickly charges up to 80% and you want to unplug it until it's charged. After twenty minutes, the battery percentage remains the same. Well, you keep waiting with growing perplexity, only to find out it is still stuck at 80 percent after one hour. If you have experienced a similar situation while charging, here are some possible reasons to dispel your puzzle along with helpful solutions to resolve the issue.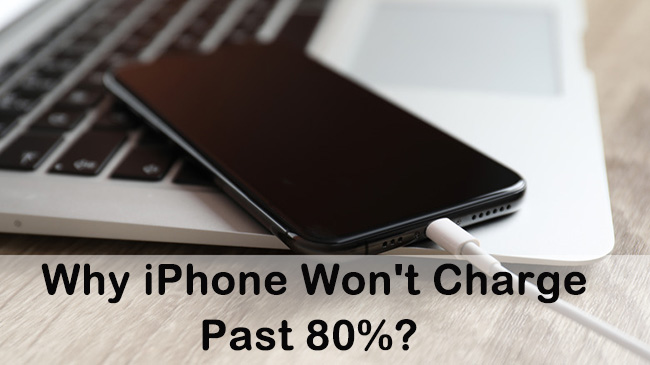 Part 1. Why Won't My iPhone Charge Past 80%?
There are a multitude of reasons that could cause your iPhone to stop charging at 80 percent. You could refer to the most common ones below before fixing the issue.
Optimized Battery Charging feature: Apple has introduced this feature since iOS 13, aiming to improve the battery's lifespan. It could delay charging over 80% sometimes.
High temperature: If your iPhone is charging at a high temperature, it might affect the charging process.
Faulty charging accessories: Charging accessories like the cable or charger are tightly linked to the charging process.
Battery issue: Another possible reason is the condition of the battery. A malfunctioning battery would bring different charging problems.
Software glitches: Software glitches would exert an influence on almost every aspect of iPhone's operation, including the iPhone charging issue.
Part 2. How to Fix iPhone Not Charging Past 80%
Now, back to the main problem - iPhone percentage is stuck at 80%. Here are some quick and useful methods you could try.
1. Disable Optimized Battery Charging
Optimized Battery Charging feature is designed to reduce battery aging by employing on-device machine learning in iOS 13 and later. It would learn your daily charging patterns and reduce the time your device fully charged. Once this feature is enabled, your iPhone would halt charging past 80% in certain situations. If your iPhone is updated to iOS 13 or later, Optimized Battery Charging feature is on by default. To turn it off, you could: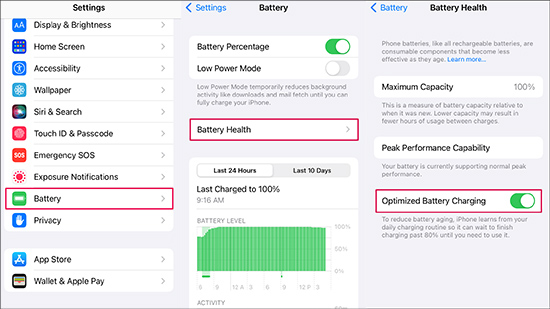 Step 1: Open Settings app and scroll down to tap Battery option.
Step 2: Click Battery Health on the following screen.
Step 3: Then toggle Optimized Battery Charging off and confirm by clicking Turn Off.
2. Charge at a Cooler Location
It is normal that your iPhone gets warmer while charging. However, if your device gets too hot, the software might stop charging over 80% to protect the battery. To fix this, you need to put your iPhone at a cooler location for charging. These are situations it would be better to avoid when charging: exposed to direct sunlight, spaces with poor ventilation, etc. Once the temperature drops, the charging process would resume.
3. Check Charging Accessories
If your iPhone is still not charging past 80% at proper temperatures when Optimized Battery Charging is disabled, you shall check charging accessories, like lightning cable, charger, and wall outlet. Try different charging accessories one by one to determine the source of the problem. This would probably fix your iPhone charging issue.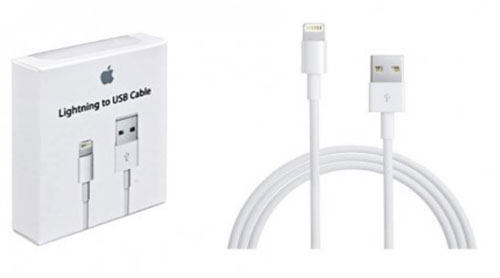 4. Check Battery Health
Any smartphone's battery would degrade over time because of the iterative charging process day by day. A defective battery could be the cause of iPhone not charging over 80%. you could go to Settings → Battery → Battery Health to check the condition of battery. It is suggested to get your battery replaced by the official center if it's degraded beyond 60% to 70%.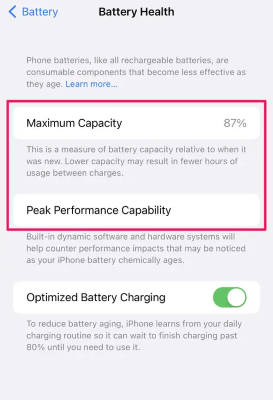 5. Clean Charging Port
Another solution to fix iPhone pausing at 80% while charging is cleaning the charging port. The debris from the charging port would hinder the charging process. You could use a soft brush or ejection pin to remove the dust in the port. After cleaning, you could recharge and wait to see whether the charging percentage is beyond 80%.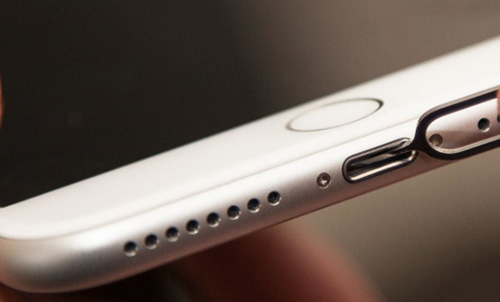 6. Force Quit Apps
If too many apps run in the background while charging, particularly those resource-intensive apps, your iPhone would easily generate more heat and drain the battery fast. There is a pretty good chance that it's the root cause of iPhone limit charging past 80 percent. You could swipe up from the bottom of the screen and pause in the center to open the App Switcher and swipe up all apps running in the background. If you are using an iPhone with a Home button, just double-click the Home button and get the App Switcher to force quit all apps.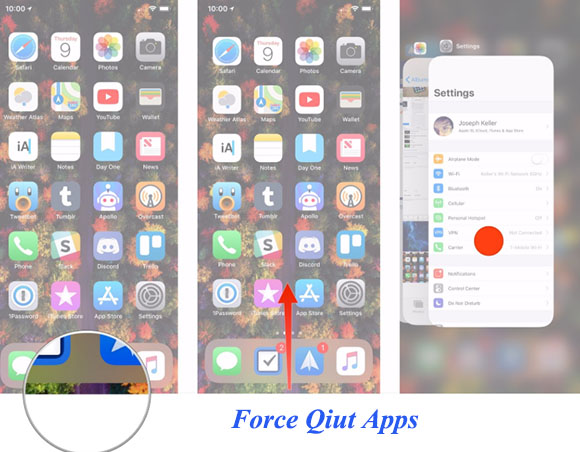 7. Repair iOS Glitches
If none of the methods above work, then the software glitches are most likely to blame. In this case, an iOS system recovery tool will be of great help. Joyoshare UltFix is a master in fixing iOS system issues. No matter your iPhone shows charging but percentage not going up, or stuck in any scenario, it could fix the problem in simple steps. With this powerful tool, you have no need to worry about data loss as it is totally secure to protect your data. Joyoshare could fix more than 150 iOS problems with its dual repair modes. Even serious system problems could be resolved with ease. You can use it to factory reset your iPhone without password as well. It is a multifunctional and reliable software you could choose to fix iOS glitches.
Main Features of Joyoshare UltFix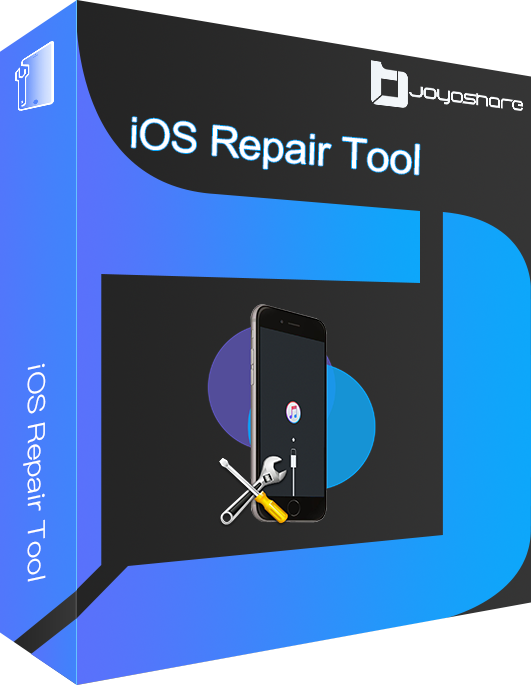 Fix iPhone stops charging at 80% safely and quickly
Free for users to enter and exit the recovery mode
Offer a safe solution to upgrade and downgrade iOS
Compatible with Windows and Mac and support almost all iDevices
Step 1

Start Joyoshare UltFix and Plug iPhone into Computer

Download the official tool on your desktop and plug your iPhone with charging issue into the computer. Then choose iOS System Repair from the main interface and click the Start.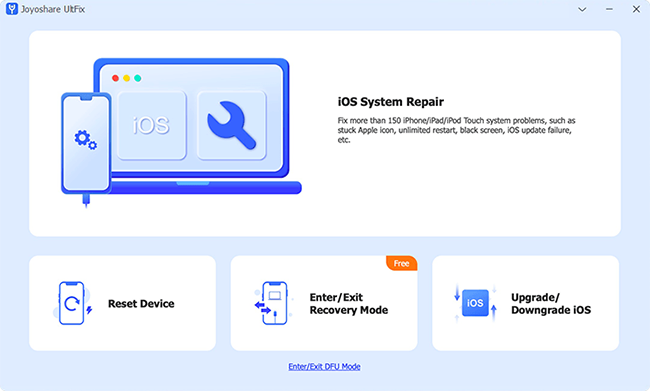 Step 2

Select Standard Repair Mode

Here two repair modes will show up on the screen. Standard Repair could be used to fix all common iOS glitches without causing data loss. To fix the malfunction of iPhone charging, you could select Standard Repair mode.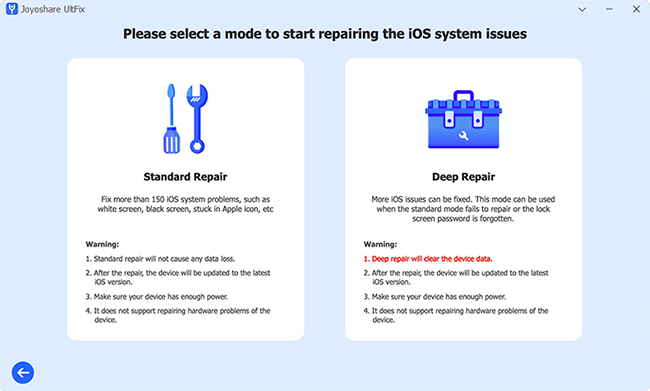 Step 3

Verify Information and Download Firmware Package

The program will detect your device automatically and present the basic information on the interface. You are required to check whether it matches with your iPhone. Then you can download the corresponding firmware package by clicking the Download option.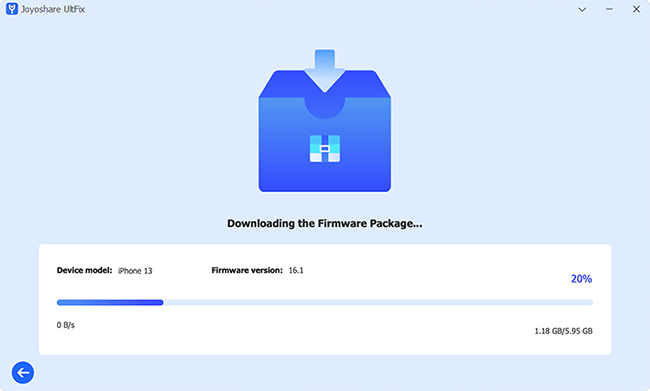 Step 4

Fix iPhone Percentage Stuck at 80% Automatically

Joyoshare UltFix will fix the issue automatically when you click the Repair button after the firmware package is downloaded. When the repair process is finished, your iPhone should charge normally.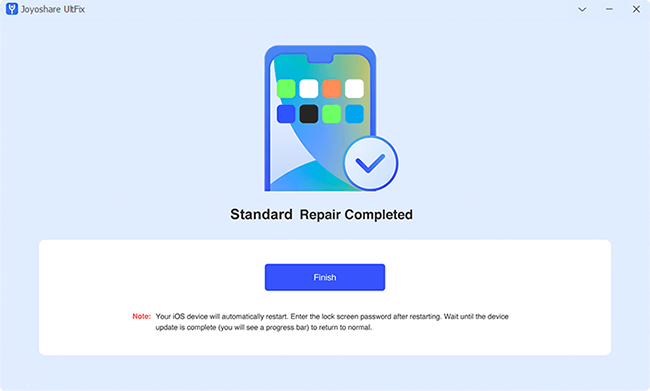 Part 3. General Methods to iPhone Battery Issues
The above methods will work for most people to charge above 80 percent. Here are some general methods to fix iPhone glitches, which might be proper for the problem that iphone battery won't charge past 80%.
1. Update iOS Version
Updating the newest iOS version on your iPhone could help fix minor system glitches and bugs. To check the new update, you can navigate to Settings and click General. Then tap Software Update and iPhone would detect the latest version in a few seconds. Last, click Download and Install if there are any available updates.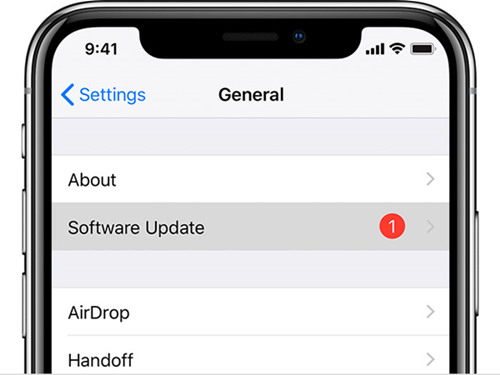 2. Force Restart iPhone
A force restart could fix some common iPhone issues and bring your device back to normal for many circumstances. You could try this to fix iPhone charging always below 80%.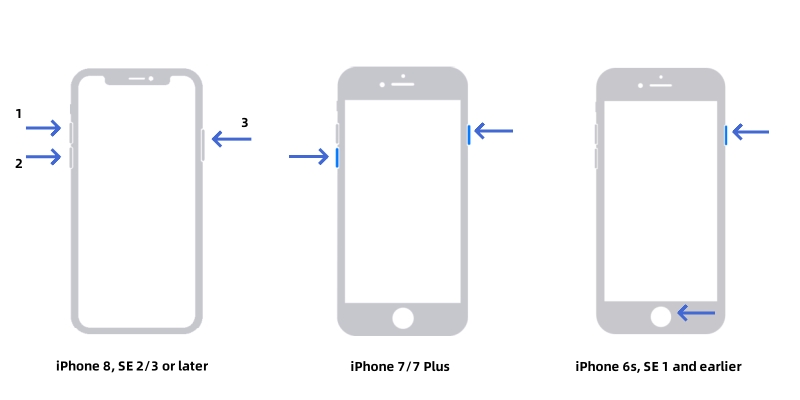 For iPhone 8 or iPhone SE (2nd generation) and later: Hit and release Volume Up button first, then hit and release Volume Down button. Next, press the Side button tightly until the Apple icon appears.
For iPhone 7: You need to keep pressing two buttons at the same time - Volume Down button and Sleep (Wake) button. When the Apple logo shows on the black screen, you can let them go.
For iPhone 6s or iPhone SE (1st generation): You also need to keep pressing two buttons - Sleep (Wake) button and Home button. Then release them while seeing the Apple icon.
3. Reset All Settings
Resetting all settings to default might also improve iOS performance and resolve the battery charging issue. To reset all settings, you need: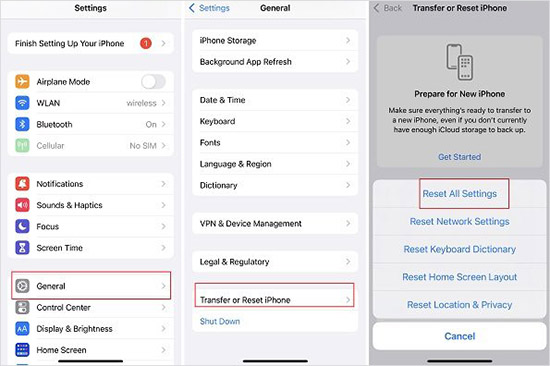 Step 1: Head to Settings → General option.
Step 2: Scroll down to the bottom and click Transfer or Reset iPhone.
Step 3: Select Reset option and choose Reset All Settings in the small popup. Last, type your passcode to perform the action.
4. Contact Apple Support
If your iPhone just won't charge to 100%, the culprit might be related to the hardware. You could contact Apple Support or visit a local Apple store to inspect the hardware problem. You will be guided with professional tips by staff members from Apple.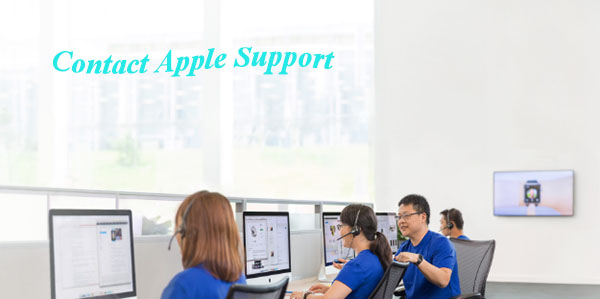 Part 4. Tips on iPhone Only Charging to 80%
Here are some tips to increase your iPhone battery longevity and prevent your battery from possible damage.
Don't exhaust all your battery before charging. It is best to keep your iPhone percentage at 20% to 90%, which could enable iPhone to work most efficiently.
Use original charging accessories. How your battery performs on iPhone is related to the charger and cable. A faulty one may have a big impact on your battery's lifespan. Make sure you are using the original Apple charger and cable, or the third-party products that are MFI certified by Apple.
Charge at appropriate temperatures. It's detrimental to battery health if your iPhone charges at extreme temperatures.
Remove the case while charging. The case will hinder the device from dissipating heat, especially when you are using a thick one. You could remove your case or use a case that is designed to help lose heat while charging.
Part 5. Final Words
The problem that iPhone won't charge past 80% could be caused by all sorts of reasons. Luckily, it could be fixed by turning off Optimized Battery Charging and cooling down the temperature. And Joyoshare UltFix could assist you in repairing such iOS system problem while charging. Hope these methods could help you experience no decrease in charging performance on iPhone.