The problem of iPhone screen flickering sounds as if it were prompted by hardware faults. But in fact, this matter, in most instances, is triggered by software glitches on the iPhone. Even so, the possibility that certain imperceptible hardware issues, like the loose connection of the display circuit, will also throw your iPhone in such trouble, could not be ignored. In order to furthermore settle the matter, the following puts forward 5 feasible methods based on the analysis of causes. Read on to learn more.
Why Is My iPhone Screen Flickering?
As stated above, both software issues and hardware faults can lead the iPhone screen to flicker at random. Some are listed below.
1. The storage space of your iPhone is insufficient. This may cause various iPhone touchscreen problems including the screen flickering randomly.
2. If the iPhone screen flickers after updating iOS, then it is possible that the update is accompanied by some malicious files, which causes the problem.
3. In a few cases, iPhone screen flickering will result from the damaged iPhone hardware.
Part 1. Fix iPhone Screen Flickering with Joyoshare UltFix
As to cast off iPhone screen flickering fix, here a decent program named Joyoshare UltFix iOS System Recovery is recommended to you all. Such a tool is developed specifically for the solution to iOS problems of sorts; that is to say, it can not just be applied to work with iPhone but also with iPad, iPod touch, and even Apple TVs. As it should be, supporting the latest iOS 13 is fully within its abilities as well.
More than that, it carries with two repair modes - standard mode is to repair iPhone screen flickering, iPhone screen unresponsive, iPhone ghost touch, and the like with all data intact in the process; advanced mode is for troubleshooting some of the problems that fail to be worked out with standard mode. Attractively, it has the ability to get any iOS device into or out of recovery mode freely. After learning the above, why not give it an opportunity to serve you?
Key Features of Joyoshare UltFix iOS System Recovery:
Repair iPhone screen flickering without data loss
Can do the same on every iOS device and Apple TVs
Get your iPhone into/out of recovery mode for free
Support fixing a variety of iOS issues with two modes
Step 1: In the first step, download and install Joyoshare UltFix on your computer. Then follow on to open it and use a proper lightening cable to connect your iPhone to it. When connecting successfully, go to the next step by touching "Start";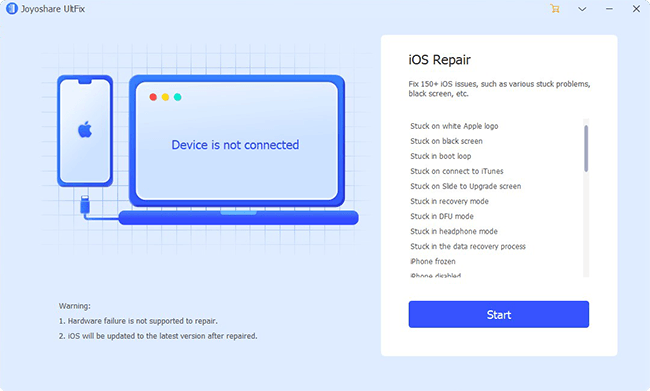 Step 2: Next, you need to select a repair mode. Generally speaking, you are suggested to choose the standard mode, with which no data will be lost;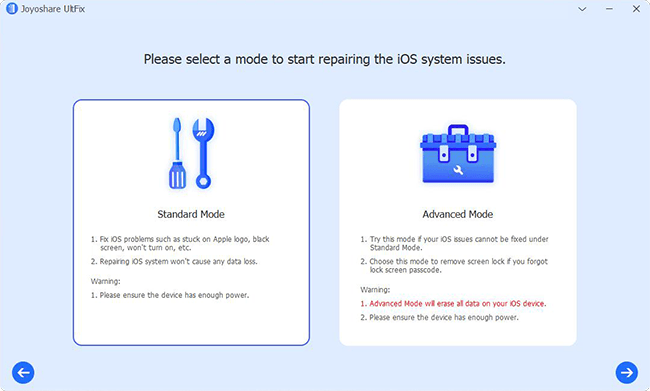 Step 3: After that, please tap on your iPhone model and what to do then is putting your iPhone into recovery mode or DFU mode. If fails to enter either mode, change to another one with clicking the link at the bottom of the window;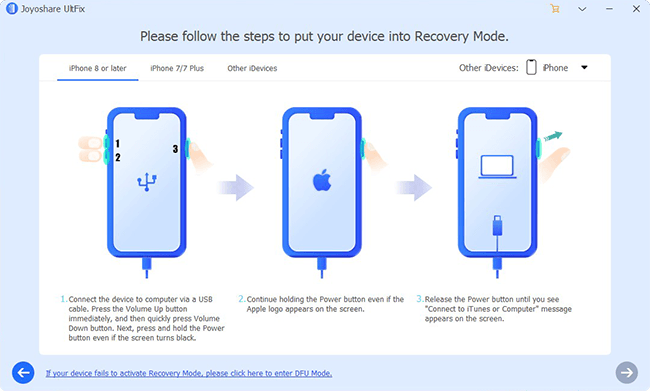 Step 4: Now, you should download and verify a firmware package by hitting on "Download". But before doing this, please confirm the information shown on the screen about your iPhone;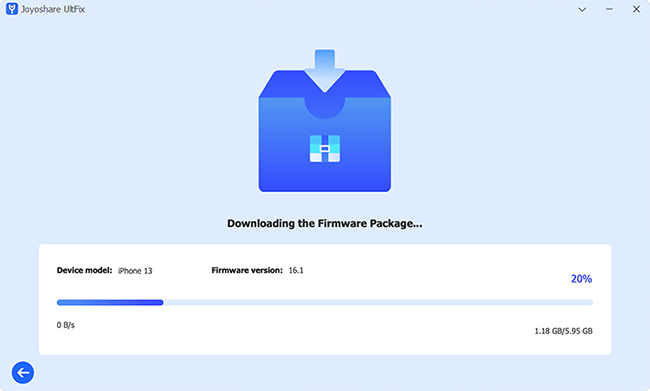 Step 5: In the last step, get the firmware package unzipped by clicking on "Repair". After unzipping, Joyoshare UltFix will automatically repair your iPhone screen flickering issue.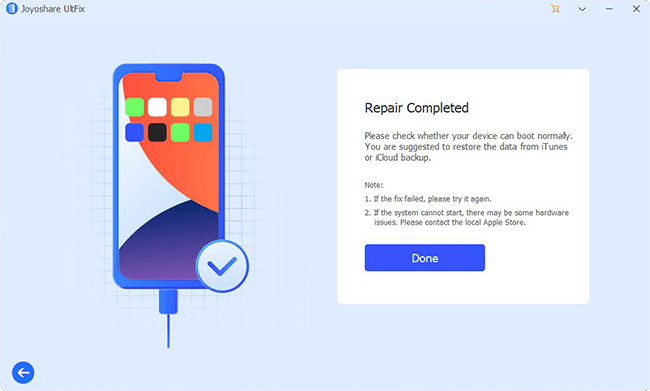 Part 2. Check and Clear Memory Space
Beyond all doubt, insufficient storage space will directly contribute to many iPhone problems, such as iPhone screen flickering, iPhone touch screen not working, and all that. When you find this kind of issue on your device, checking and clearing storage space is the easiest solution to it. To check it, please go to "Settings" - "General" - "iPhone Storage" (or "Storage & iCloud Usage"). Doing in this way, you can clearly know your iPhone memory status. If it is really inadequate, just delete useless pictures or unwanted apps to free up enough storage space.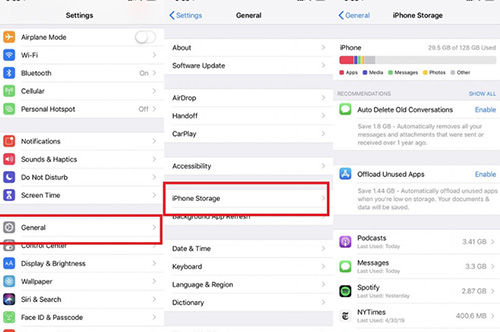 Part 3. Enable Reduce Transparency on iPhone
Enabling the "Reduce Transparency" function can increase legibility while browsing text messages on the iPhone. That's what it does. But recently some users discover its additional capability to temporarily address the iPhone screen flickering and the frozen touchscreen problem. Well, just follow the steps to get it enabled.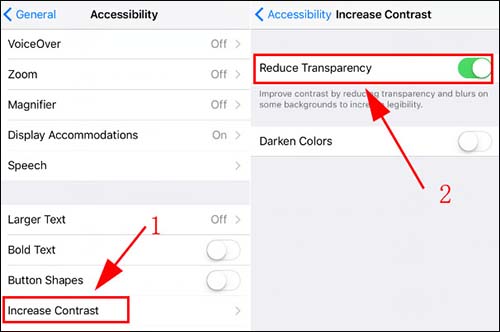 Step 1: Firstly, please head to "Settings" on your iPhone;
Step 2: Afterward, choose the "General" option and then to "Accessibility";
Step 3: In this section, locate and tap on "Increase Contrast";
Step 4: Finally, find "Reduce Transparency" and click to toggle it on.
Part 4. Turn off Auto-Brightness
Trying to turn off auto-brightness could also get your iPhone out of the screen flickering issue. In case turning on reduce transparency brings nothing for you, then visit "Settings" - scroll down to "Display & Brightness" and slide to disable this feature for the moment. After that, do a soft reset on your iPhone. For the most part, doing like that can free you from the iPhone screen flickering trouble.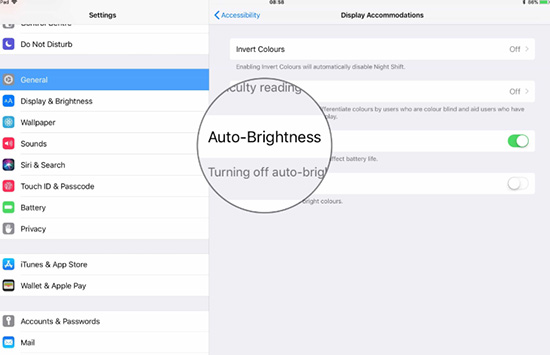 Part 5. Replace LCD Screen in Apple Store
When all the above fails to finish off your iPhone screen flickering issue, then maybe it is the hardware fault like the defective LCD screen that places the iPhone in such a case. In the face of this, the best option is to replace a new screen for your iPhone. Due to the complexity of iPhone hardware configuration, it is advised that you do it in the Apple store instead of doing yourself.