"Is anyone else having issues with their touchscreen being extremely sensitive? For example, my touchscreen will randomly act like it's being touched when I'm nowhere close to the area being touched. I'll try to open an app and another app will open up or my phone just starts going crazy like it's swiping right or stupid things like that." – From Apple Community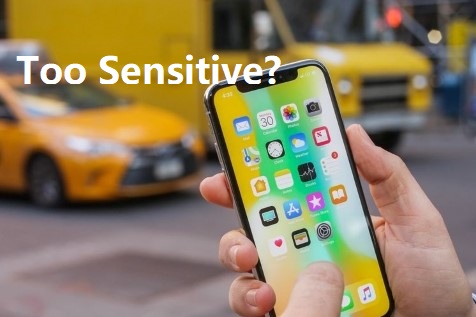 Haptic Touch and 3D are noteworthy features of the iPhone. Touch sensitivity is set to default on the iPhone out of the box. Most people are fine with these settings, according to Apple. The iPhone sometimes has a touch sensitivity that's either too sensitive or too insensitive for your liking.
However, if you have trouble with your iPhone's too sensitive screen, decreasing the sensitivity may help. In the Accessibility settings, you can set up many touch-specific accommodations, including the time it takes to register your touch, disregarding multiple touches (if your hands are shaky), and adjusting the time it takes to register touch events.
So, the list of feasible solutions which you can use to fix iPhone screen sensitivity too high is provided below. Take a glance at the following guidelines without any hesitation:
Method 1. Clean and Dry the Screen
iPhone uses capacitive touchscreens, which sense touches based on electrical conductance. So, your screen can be affected by a variety of factors, such as dirt and grime, but the more serious issue is moisture and liquids. The screen should be thoroughly dried if it is wet or even just damp.
Consider replacing your screen protector if your screen is extremely dirty and covered by a screen protector. Otherwise, here are the steps to clean your iPhone:
Step 1. Disconnected any cables to the iPhone.
Step 2. Shut down the iPhone and remove the case.
Step 3. Using a dye-free and lint-free cloth, which is lightly and only dampened with water gently wipe the surface of the screen in a short and straight motion. If it's necessary to disinfect the phone, moisten a cloth with a 50/50 solution of water and isopropyl alcohol instead.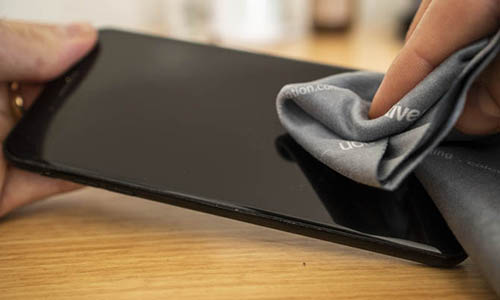 Method 2. Turn on Touch Accommodation
In Haptic touch allows you to choose how long before an action is triggered when you press the screen. Try to adjust it to solve iPhone screen sensitivity too high. Here's how you can change the amount of time required for Haptic Touch to activate.
Step 1. On your iPhone, open the Settings → General.
Step 2. Scroll down and touch Accessibility.
Step 3. Choose Touch → Touch Accommodations.
Step 4. Enable "Ignore Repeat" by toggling the slider to on. If this feature is enabled, all taps made within a certain amount of time are ignored except the first one.
Step 5. Customize a preferred ignore repeat time.
Step 6. Turn on the "Hold Duration" feature. This will require a brief hold of the "tap" for the touch to register. This can also be adjusted like ignoring repeat.
Step 7. It is now time to turn on the "Touch Accommodations" feature by swiping the button to the "ON" position. The slide icon will turn green once the feature is enabled.
Step 8. Finally, tap on OK. Once you're done, turn to your home screen and start using your iPhone like usual.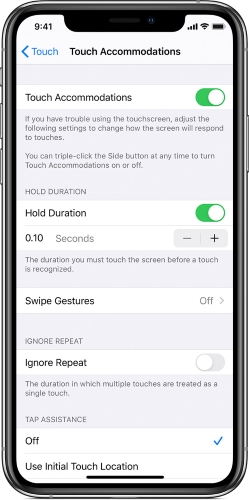 Method 3. Change 3D Touch Sensitivity
The 3D Touch feature makes your touch differ depending on how hard you press on the screen. So, change touch sensitivity settings in the 3D & Haptic Touch area of your phone, which is another way to fix the iPhone screen too sensitive issue.
Step 1. Open your iPhone's Settings, a gray gear icon on your iPhone home screen or in the app library.
Step 2. Scroll down to find the third group of Settings, tap on Accessibility.
Step 3. Under the PHYSICAL AND MOTO header, tap on the Touch.
Step 4. Tap on 3D & Haptic Touch to turn on your touch sensitivity settings.
Step 5. Touch sensitivity and touch duration can be adjusted here. After customizing these, scroll down to "3D TOUCH SENSITIVITY AND TOUCH DURATION TEST".
Step 6. Test to ensure that everything works as you want. When it does, close the app.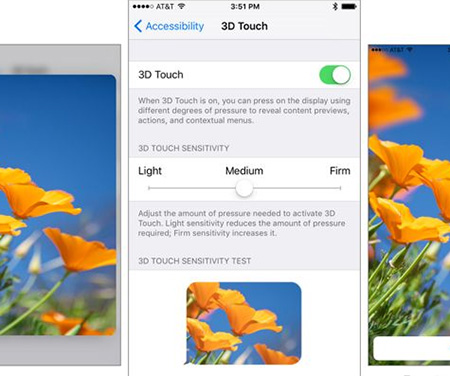 Method 4. Reset Your iPhone
Resetting the iPhone can also benefit those experiencing issues with iPhone screen sensitivity too high. It is a common practice among smartphone users. If you restore your iPhone to factory settings, you must first back up your data, as you could lose it all if you don't. Here's how to reset your iPhone:
Step 1. Similarly, open the "Settings" app.
Step 2. Choose the "General" option on the Settings page.
Step 3. Scroll down to tap "Transfer or Reset iPhone".
Step 4. Various reset options show on the screen, select "Reset All Settings".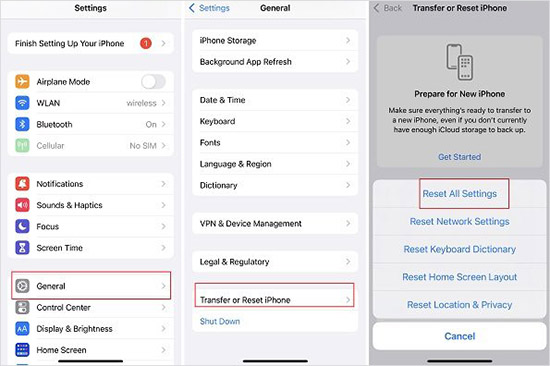 Method 5. Force Restart iPhone
Software problems on iPhones are commonly fixed by force restarting the device. A force restart is incredibly useful and effective for resolving iPhone screen sensitivity too high. Simply, you can take a sneak peek into the below-noted guide and follow:
On iPhone 6S and earlier,
· Start by holding down the Home and Power button at the same time. Do this to turn off your iPhone.
· Finish by seeing the Apple logo shown on your iPhone screen before releasing the buttons.
On iPhone 7/ 7 Plus,
· First, hold down the power button and Volume button simultaneously.
· Then, wait for the Apple logo before releasing those buttons.
On iPhone 8/ 8 Plus, iPhone X, or later,
· Begin by quickly pressing and releasing your phone's Volume Up & Down button one by one.
· Press the Power button till your phone shuts down.
· Wait for the Apple logo to show before releasing the button.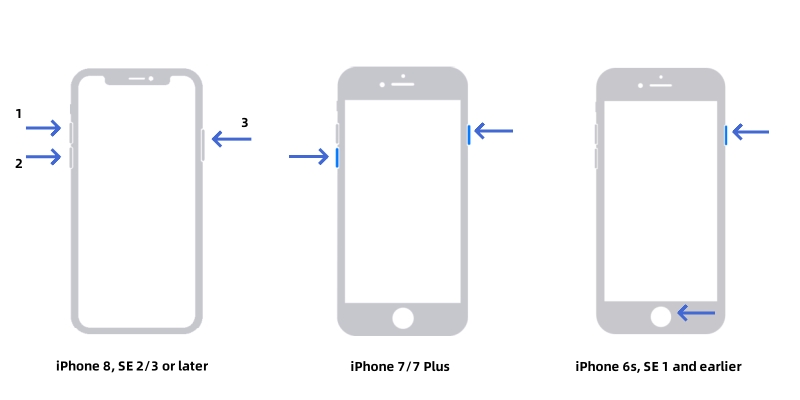 Method 6. Fix iPhone Screen Sensitivity Too High with Top-Leading Tool [100% Lossless]
After following the above instructions, the problem persists? Nothing be done about it? The answer is No. Using Joyoshare UltFix iOS System Recovery you will be surprised. It is an amazing desktop program that can fix multiple types of iOS-related issues that may arise on Apple devices. Carefully designed by a team of professionals over a long time, it is compatible with the latest iOS 15, and all iDevices. The Two modes – Standard Mode and Advanced Mode can take care of almost all the issues quickly and safely.
What's more, using this software will not cause a data loss and doesn't require any technical skills. It also has worked for me in fixing iPhone screen flickering issues and frozen lock screens.
So, if you'd rather save time and get the job done right the first time, follow these steps:
Step 1

Install and Open iOS System Recovery

First and foremost, download the Joyoshare iOS System Recovery on your computer. After downloading, open the file and install it. Installing is very self-explanatory, simply keep on clicking next until it is finished. Next up, run the software.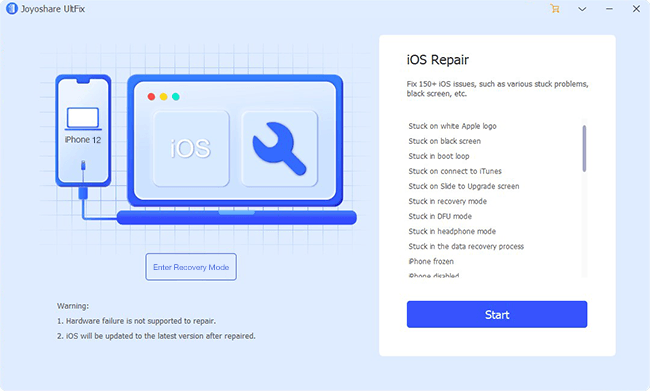 Step 2

Connect iPhone and Choose Mode

After opening the program, you need to connect the iPhone to the PC. The software will automatically detect your iPhone. Then, click on the "Start" button. After entering recovery mode or DFU mode, choose Standard Mode to repair iPhone screen sensitivity too high.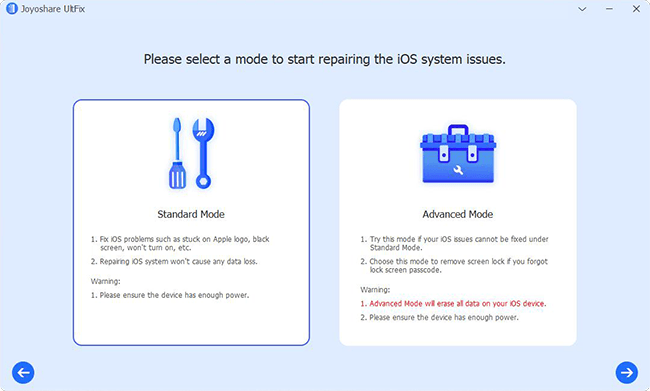 Step 3

Download Required Firmware for Your iPhone

The software will ask for your device details, and you will need to click "Download" after checking the info carefully. Depending on your Internet speed, this may take a few minutes to download the required firmware files.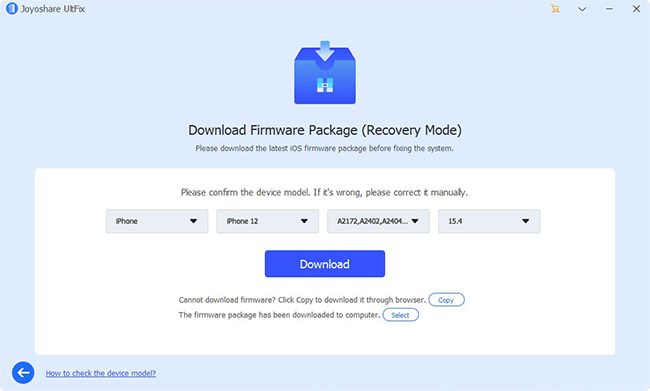 Step 4

Repairing iPhone Screen Sensitivity Too High

As soon as the file is downloaded, click on "Repair" and the software will attempt to fix the issue. As you can see, the software will do all the work for you while you are sitting back and relaxing. This process may take some time. During the process, do not disconnect your iPhone and ensure that the Internet connection is functioning properly.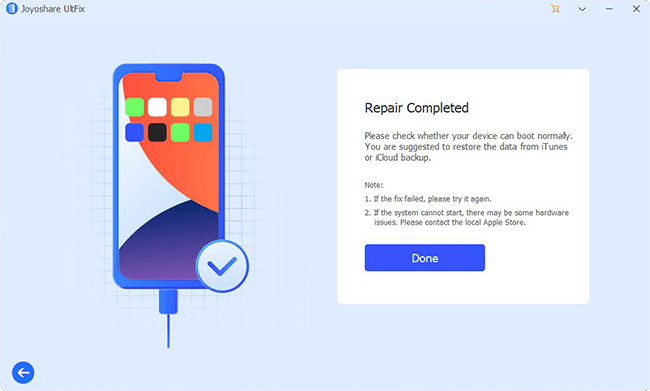 Wrap up
In this guide, we showed you how to fix iPhone screen sensitivity too high. We just hope that at least one of these offered solutions proves to be successful. Our technical specialists are always available to assist you with any problems that you encounter during using Joyoshare UltFix iOS System Recovery process. Thus, contact us and stay tuned!