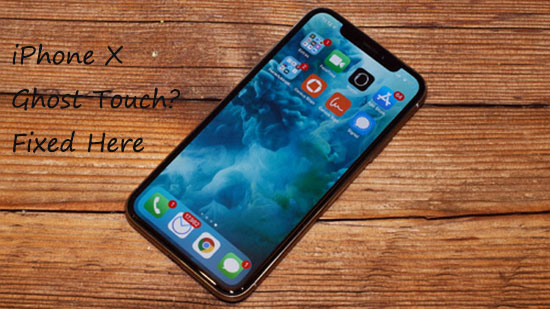 Ghost touch is what your iPhone X performs actions by itself rather than responding along with your touch, or iPhone apps open without doing anything. It can be said with certainty that this weird behavior of iPhone X ghost touch must be a little irritating. If this problem is just met by you, don't rush to the Apple store to fix it. Here, a written article will explain why the issue comes up and expound on how to figure it out with 6 quick solutions.
Possible Reasons behind iPhone X Ghost Touch Problem:
Before taking the following meatures to repair, please take a moment to get a general idea of the probable causes of the ghost touch issue on your iPhone X.
1. It may be that the broken iPhone X screen that results in this ghost touch issue;
2. Another possible factor is the failures of a component on the iPhone X display module;
3. Sometimes, that pending updates on the iPhone X have yet been downloaded and installed can also lead to ghost touch problems;
4. Besides, iPhone X system faulty is responsible for ghost touch in some cases.
Part 1. Clean iPhone X Screen
You may be doubtful about whether the simple method can handle iPhone X ghost touch problem. About this, one cautionary word: never belittle that simplicity of the method. Such a seemingly serious matter is prone to be settled in a summary fashion.
To carry out the solution, first you have to turn your iPhone X off and remove the screen protector for the time being. Afterwards, apply a soft cloth and cleaning solution or a hygienic towelette with alcohol to wipe the iPhone X screen. When it has been done, please remember to check if the issue is being.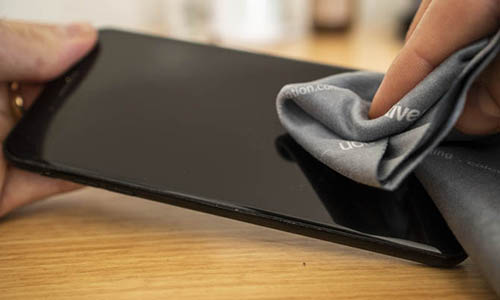 Part 2. Update All Apps to Be Updated
This approach is applicable to the situation where the ghost touch problem happens while running certain applications on your iPhone X. It is quite likely that the incompatibility between the recent iOS system and apps to be updated triggers the emergence of iPhone X ghost touch issue. To deal with this case, you just get into the App Store and have all pending updates installed on your device. The step-by-step instructions are below.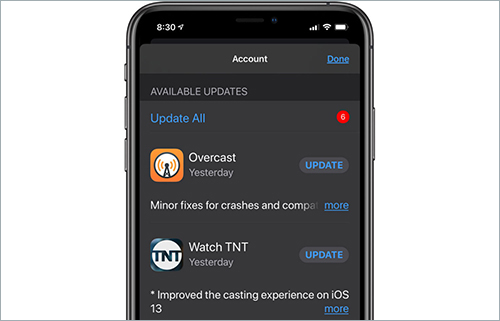 Step 1: Open App Store on your iPhone X and scroll down to choose "Updates";
Step 2: Then you will see a list of apps with pending updates;
Step 3: You can tap on "Update" to update the app individually, or click on "Update All" in the upper-left corner of the screen to install all updates simultaneously.
Part 3. Hard Reset iPhone X
Have you updated the iPhone X system recently? If so, maybe the issue of ghost touch iPhone X results from the conflicts that are brought by the update. What the easiest and quickest solution in this case is performing a hard reset on your iPhone X. The operational steps of the method are so uncomplicated that there is no one but knows how to do.
To hard reset iPhone X, you need to press the "Volume Up" button and quickly release it. Then hold down the "Volume Down" button and immediately let it go. Next, press and hold the "Sleep" button till the Apple logo shows on the screen. Do as this, the ghost touch trouble might have been worked at this time.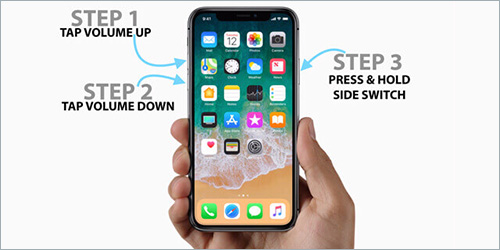 Part 4. Factory Reset iPhone X
Supposing that a simple hard reset is of no use to eliminate the error that contributes to iPhone X ghost touch problem, you might as well try factory resetting the iPhone X. This method is effective but a little painful, which will completely erase all data on the iPhone X. So, please be sure to back up the iPhone X prior to perfroming this action.
Once backed up, open "Settings" on iPhone X - head to "General" - tap on "Reset" - choose "Erase All Content and Settings" - enter passcode to confirm this option. The whole process will take some time. Please be patient.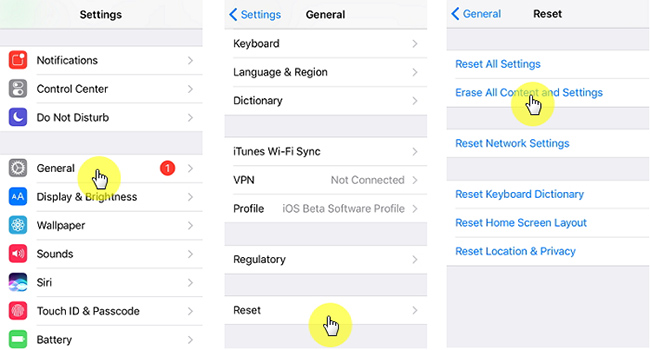 Part 5. Fix iPhone X Ghost Touch with No Data Loss
Before you ask the Apple Store for support, applying Joyoshare UltFix iOS System Recovery is the last and worthy solution that you can consider if the ghost touch issue is generated from iOS errors. This is an admirable repair program that can fix all kinds of iOS issues without the risk of losing data thorough the process. Not only that, but it is also capable of serving all iOS devices.
To be candid with you, Joyoshare UltFix is arrived with standard mode and advanced mode to address extensive iOS problems. As to those issues like ghost touch iPhone X, iPhone touch screen not working, iPhone black screen, standard mode can easily wrap them up with no data loss. Advanced mode works by restoring iPhone, so it is generally used to repair some complex issues. See here, why not benefit from it?
Key Features of Joyoshare UltFix iOS System Recovery:
Repair various types of iOS issues at ease
Very simple to use on both Windows and Mac
Support each iOS device, Apple TVs and iOS 13
Allow your iPhone enter/exit recovery mode for free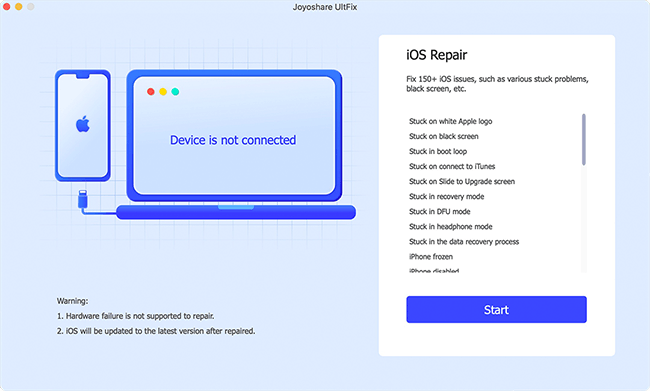 Step 1: First of all, you should download Joyoshare UltFix from its download page. After installing it on the computer, run it and use the lightning USB to connect your iPhone X. Then click on "Start" when the program shows that your iPhone X has been connected;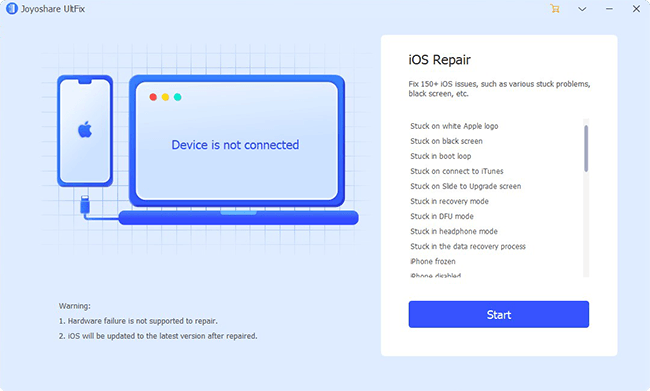 Step 2: In this step, you need to choose a repair mode. As stated in the previous paragraph, standard mode is more than enough to repair ghost touch issue and can keep all iPhone data intact during the whole process;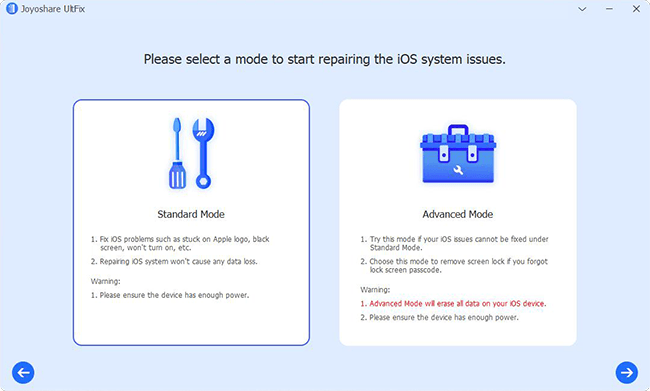 Step 3: Whereafter, in the light of the on-screen description, you have to boot your iPhone X into recovery mode. If the access to recovery mode is blocked, just click the link at the foot of the window to change to DFU mode;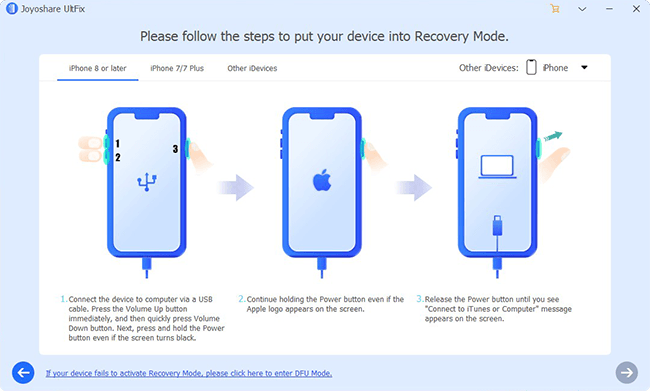 Step 4: At this point, the software will display all info of the iPhone on the screen. Please remember to confirm it. If anything wrong, just manually correct it. Then tap on "Download" to get and verify a firmware package;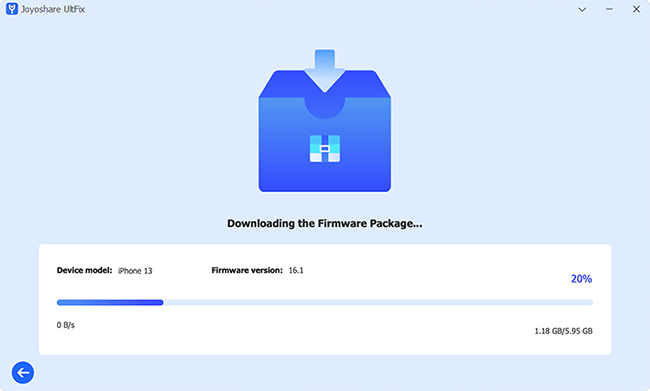 Step 5: At last, it is time for you to touch the "Repair" button to unzip the firmware package. As soon as finished, Joyoshare UltFix will repair your iPhone X ghost touch issue with only a slight effort.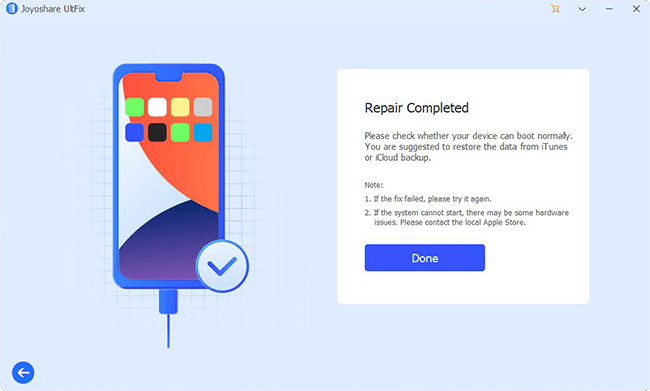 Part 6. Ask Apple for Support
When you have gone through all the methods listed above but iPhone X ghost touch trouble still exists doggedly, you are advised to visit the repair store, for this issue may not be created purely by the software-related failures but caused by hardware breakdown. Under the circumstances, to avoid any further damage to your iPhone X, repairing it with the backing of the Apple store is the best choice.