When your iPad Home button is stuck, you'll immediately think that your iPad is broken and needs to be repaired. However, the reason for iPad Home button not working is not just the hardware problem. There exist two different kinds of iPad Home button issues. First condition is that the Home button is stuck thoroughly and you can't press it down. Another is that your iPad doesn't show anything when you press it. Therefore, you need to figure out what type of scenario above your iPad is before you choose to repair in Apple store. Here are several different methods listed for you according to different reasons.
Part 1. Open AssistiveTouch to Fix iPad Home Button Not Working on iPad
There is a cool option built in the iPad that is called AssistiveTouch. When your iPad Home button fails to work, it can help you get through this problem. It is very easy to activate it on your iPad. The following way is to teach you to activate it. You just get into "Settings" - choose "General" option - click "Accessibility" - find "AssistiveTouch" and then tap to turn it on.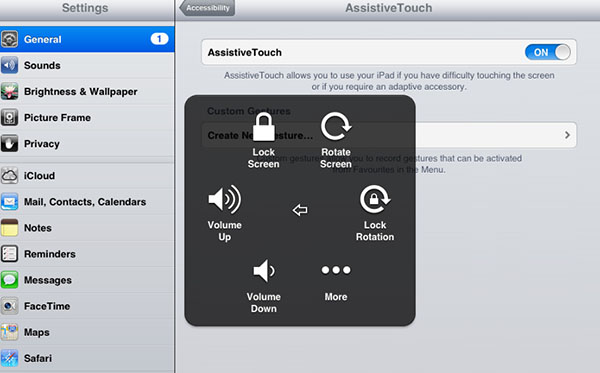 Note: When AssistiveTouch is turned on, there will be a virtual button appearing on your iPad screen. It is possible to use it as the Home button temporarily. However, if you don't get it back to normal by trying the ways below, you will go to repair it in Apple store.
Part 2. Restart Your iPad to Get iPad Home Button Not Working Repaired
The most convenient software troubleshooting is to turn off the iPad and reboot it when there is something wrong with your iPad Home button. Restarting iPad can solve some problems that result from a minor software glitch. The way to operate is given below. You only press and hold the "Power" button until the icon of "slide to power off" appears on the screen. Next, you should slide the icon to the right side to turn your iPad off. Wait a moment, you can press and hold the "Power" button again to turn it on. After restarting, you need to check whether your iPad Home button works or not.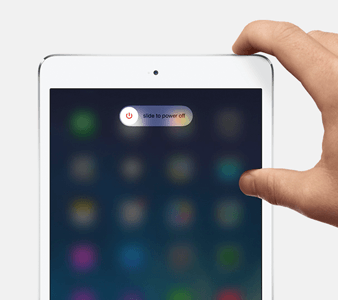 Part 3. Reset All Settings of Your iPad to Solve the Home Button Issue
If the above two approaches don't help you, you can try this way to solve the problem that iPad Home button doesn't work. Before resetting the whole settings of your iPad, you'd better backup the fundamental files in order not to lose it. You can do it with ease. Firstly, you need to choose "Settings" option and go into "General" interface. Then, you just click the "Reset" button to tap "Reset All Settings". When you finish these steps, it is necessary to try the iPad Home button and set up your iPad again.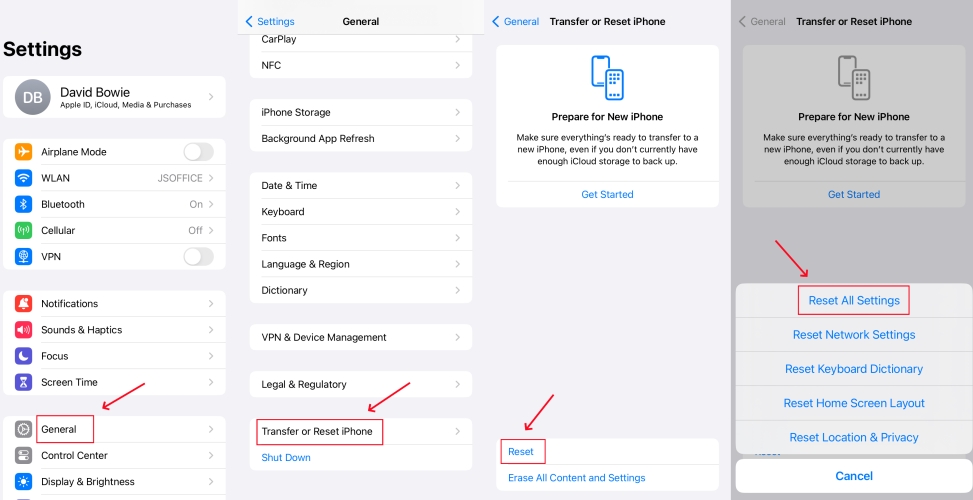 Part 4. Clean Your iPad Home Button to Fix It Not Working
One possible reason for Home key not working on iPad is that stains remain on it. Some of them can make your iPad Home button damaged more or less. On this occasion, the first thing for you is to buy 98 percent or 99 percent isopropyl alcohol in the hardware store. Then you can drop a small amount of isopropyl alcohol on the iPad Home button with eye dropper. You should be careful not to touch the screen while dripping it. In order for the alcohol to seep into the Home button, you need to press it with a small and blunt object again and again. The next thing you should do is wipe it with a cotton swab. After this, you will have to wait about 15 minutes before inspecting if the Home button is fixed.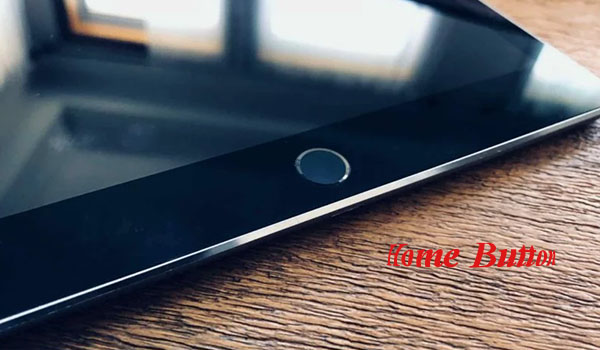 Part 5. Contact Apple to Repair the Issue That iPad Home Button Won't Work
If your iPad screen is fixed or replaced recently, maybe the problem is caused by the incorrect alignment of the Home button and the logic board. In this case, the only option for you is to ask Apple store for help if you are not a professional technician. Or if you don't go to store, you can contact Apple to explain your iPad Home button is not working and require them to provide technical support.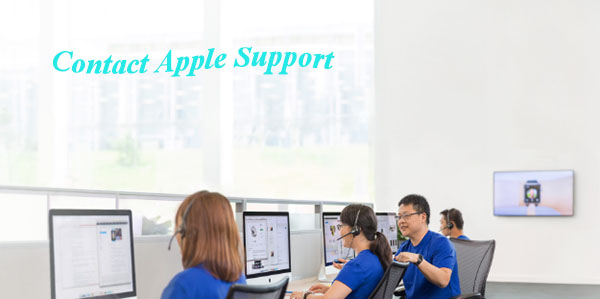 Part 6. Use Joyoshare UltFix to Fix iPad Home Button Not Working with No Data Loss
When the above methods don't work for you or you are afraid of losing data during repairing, Joyoshare UltFix iOS System Recovery is recommended to you. As a powerful and professional iOS system issues repair tool, Joyoshare UltFix is designed to fix more than 30 kinds of iOS system problems causing no data loss. You not only get your iPad system solved without damage with "Standard Mode", but also can restore your iPad to factory settings with "Advanced Mode" when your iPad need to be refreshed.
In addition, when you put your iPad into recovery mode by accident and you don't know how to get it back, you can use Joyoshare UltFix to solve it simply, since it offers free one-click enter/exit recovery mode function. Moreover, it supports to fix both iPad system issues and iPhone/iPod system problems. It can be said that Joyoshare UltFix is the best choice for you to fix your iPad Home button issue.
Key Features of Joyoshare UltFix iOS System Recovery:
Provide two repair modes for you
Fix the iPad Home button problem perfectly
With free one-click enter/exit recovery mode function
Support both the latest iOS 12 and many iOS devices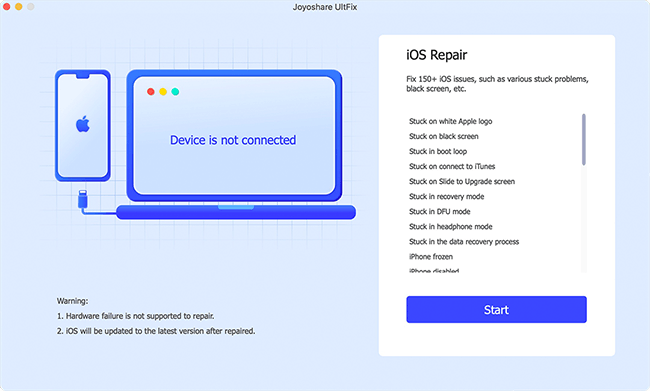 The following content is the illustration of operation:
Step 1: Download the installation package of Joyoshare UltFix on your computer;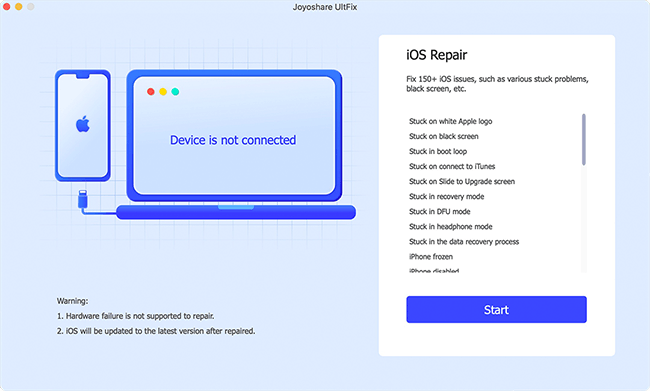 Step 2: Connect your iPad to the computer and tap on "Start" to get into repair mode. You should click "Standard Mode", because the iPad Home button not working belongs to common iOS system issues;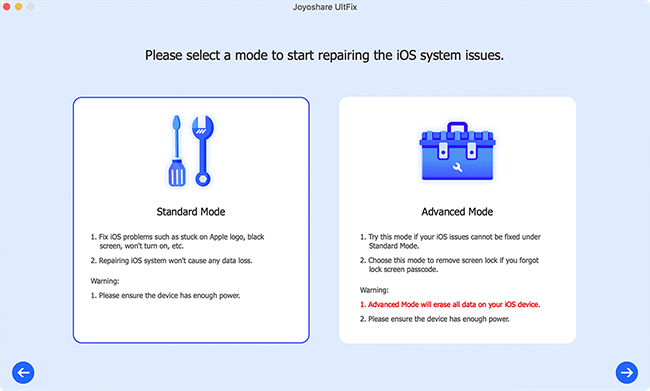 Step 3: Now, you need to put your iPad into DFU mode following the steps on the screen;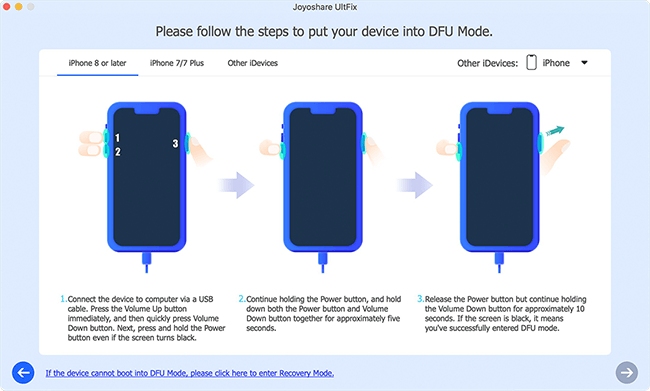 Step 4: Then, download and confirm the firmware package;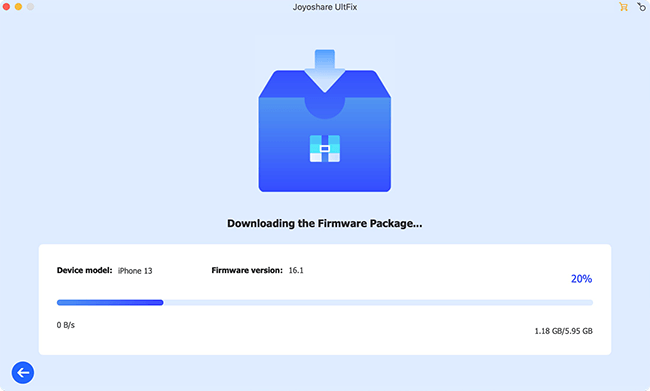 Step 5: After the above operation, you can click "Repair" to unzip the firmware package and start repairing your iPad Home button issues.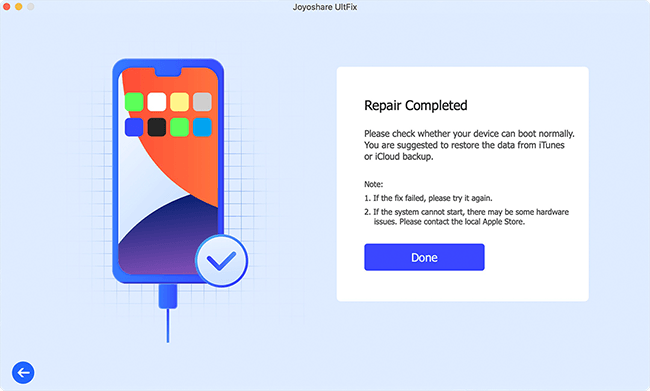 Conclusion
The ways to deal with your iPad Home button won't work are listed in this article. After figuring out the cause of the problem, you can choose the right method to fix your iPad issue. All the solutions are very helpful for you, but the most efficient way is using Joyoshare UltFix if you want to resolve the iPad problem safely and quickly without causing data loss. Of course, if your iPad Home button issue does not need to be fixed with third-party software and you are worried about losing data, you can use iPad data recovery software like Joyoshare iPhone Data Recovery to restore your data information after repairing.