Q: "What is the best screen recorder for Minecraft?" - Quora
Minecraft is a sandbox video game about building everything from homes to castles. Interestingly, being provided mainly creative mode and survival mode, players are able to modify the game to create mechanics, assets, etc. in their own way. Most people consider it an engaging, educational, and creative game. Are you a Minecraft diehard? Given the idea that sharing the best moments of your gaming life with peers could be so exciting and inspiring, having a Minecraft screen recorder becomes essential. In this article, we've picked up 11 amazing options for you to record Minecraft gameplay in the most efficient way. We are sure that one of them will meet your requirement perfectly.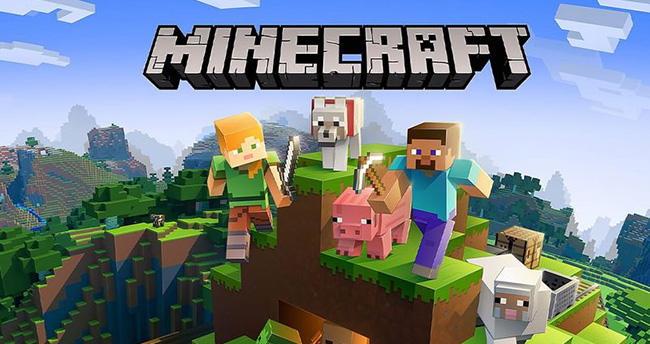 Part 1. Top 6 Minecraft Recording Software on Windows PC
1

Joyoshare VidiKit

Joyoshare VidiKit - Screen Recorder is a top-rated tool that's widely accepted by users. As an advanced screen recorder for Minecraft no lag, it enables you to capture game videos on computers and gaming consoles such as Xbox One/360, PS 3/4 and Wii, etc. in 1080p smoothly. You can choose to save your Minecraft videos to MP4, FLV, MPEG, AVI, ASF, 3GP, etc. This software allows you to grab the recording area flexibly and choose to record sound from the system or microphone freely. You are also able to schedule your recording tasks to save your valuable time and remove unwanted pop-up ads easily.

Pros:

Compatible with Windows and Mac operating system
Record fast-paced game videos with zero lag
Best screen recorder with no time limit, glitches and watermark
Capture gameplay in the background with or without sound
Record Minecraft with high quality, fps, resolution, and customizable codec, channel, bit rate, sample rate

Cons:

Cannot separate the audio track from the video after recording

2

Xbox Game Bar

Xbox Game Bar pops into our head when we discuss Windows 10 screen recorders. As a built-in video recorder, it does offer convenience for those people who would like to record their Minecraft gameplay for only dozens of seconds or one or two minutes. It could be an optimal choice if you have no demand for any professional editing features and prefer not to install extra software on your computer. All you have to do is to press Win + G to access it and then begin to record Minecraft in 720p or 1080p.

Pros:

Totally free and easy-to-use
Be able to take screencasts

Cons:

Lack of mature editing features
Have a high demand for the specs of Windows computer

3

ShadowPlay

ShadowPlay is a great screen recording tool for a PC that enables you to record high-quality Minecraft videos, live streams as well as screenshots with far greater ease. You can use it to record gameplay as long as you want at up to 4K HDR at 60fps or up to 8K HDR at 30 fps. It is worth mentioning that ShadowPlay's Instant Replay mode will help you save the last 30 seconds of your gameplay to your hard drive automatically. It can help you capture Minecraft in the background, so you don't have to worry that it would impact your gaming performance.

Pros:

Grab screenshots at up to 8K
Support camera and graphic overlays
Create 15-second GIFs from Minecraft and upload to Facebook

Cons:

Only support Windows system

4

Bandicam

No matter whether you want to capture gameplay from mobile phones, IPTV, or from gaming consoles, recording with Bandicam would help you create high-quality videos easily and quickly. It has the ability to record diverse 2D/3D games and capture Minecraft in full screen or a partial screen at up to 480fps. Incredibly, you can also choose to save your recordings as image files. Usually, recorded videos will be saved as MP4 and AVI.

Pros:

Outline videos and screenshots
Support real-time drawing during recording
Mouse click effects and animation are available
Record system sound and microphone at the same time

Cons:

Don't support Mac operating system
There is a watermark if you use its free trial version

5

Gecata by Movavi

Gecata by Movavi is a light-weight Minecraft game recorder designed for PC users. Using this software to capture Minecraft at up to 120fps is super easy. You can capture in-game sound effects, dialogues, etc. with only one click. You are also allowed to use hotkeys to control the recording without leaving your game. Similar to other competitors, it also supports webcam, which means you can overlay webcam video onto your Minecraft game footage. By the way, you are allowed to choose Game Mode, which will begin capturing automatically as soon as you launch Minecraft.

Pros:

Customize webcam overlays
Record both system audio and microphone
Have two-way sound capture
Record HD Minecraft game videos at up to 120fps

Cons:

Recordings can be only saved in MP4 format

6

Ezvid

This tool is another screen recorder that can help you record Minecraft smoothly, coming with some functions like editing recorders, drawing on screen, controlling video speed, making slideshow, adding music and more. Also, it can export your recorded video in HD, grab your webcam and create instant computer speech for your video. With this gaming recorder, you can get high quality Minecraft gameplay recording on Windows.

Pros:

Allow you to control video speed easily
Add annotation during the recording process
Provide free included music for you to insert

Cons:

You can only screen record within 45 minutes
Part 2. 3 Best Minecraft Recorder for Mac
1

OBS

One top-recommended Minecraft screen recorder free is OBS. Though it will take some time at first to figure out how to record games with OBS before beginning recording your Minecraft with voice and webcam, once you master it, you will find out how powerful the tool is. The most distinguishable characteristic of OBS is that it has a full set of options of scenes and sources. There are where you add your Minecraft or other games, webcams, stream layout, or any other media devices you want on the output.

Pros:

Record Minecraft with no time limit
Have a wide range of transitions, filters, etc.
Support Windows, Mac, and Linux computers

Cons:

The file sizes of recordings are usually huge
There are multiple buttons in its main interface

2

Screenflick

Screenflick endeavors to be an efficient video recorder on macOS, focusing on capturing screen and audio in the highest quality. What sets Screenflick apart from its counterpart is that this software supports recording videos, audios, mouse clicks, and even keystrokes in separate tracks so that you can customize them freely and more easily. In addition, this software enables you to customize your Minecraft recorded videos. You can export them in different formats and adjust their rates if necessary.

Pros:

Add metadata for title and description
Use a timer to stop recording automatically
Be able to work with the internal or external microphone
Capture the whole screen, a section, or a specific window

Cons:

Cannot adjust the quality of Minecraft recordings

3

VideoSolo Screen Recorder

VideoSolo Screen Recorder could be considered as one of the best Minecraft recorders that offer a crisp and high-quality video recording facility for gameplay on Mac computers. To give it an example, this software is capable of capturing any on-screen activities, including live streaming videos, Skype chats, demonstrations, etc. let alone Minecraft, to HD video. It is able to record system audio and microphone at the same time. Additionally, it can be used to make video tutorials with highlighted mouse cursor.

Pros:

Built-in audio recorder
Capture webcam videos
Define the recording area
Some extra video editing features

Cons:

Can only record a video of less than 3-minute using its free version
Part 3. Minecraft Video Recorder for iOS
As an easy-to-use screen recorder compatible with iPhone, Screen Recorder - Record Game is featured with adding text, trimming recordings, adding music and many more. After the recording process, it allows you to share your recorded gameplay video to your major social media platforms like Facebook, YouTube, Twitch, Instagram, etc. Besides, you can also record action cam using this application. If you want to add voice over to your gameplay recordings, you can use its recording sound function.

Pros:

Function to adding texts, effects, commentary, filters, etc.
Edit recorded video with its inbuilt editing features
Grab your sound to create voice over

Cons:

You should subscribe to it if you want to use it
Part 4. Minecraft Game Recorder for Android
Without root needed and time limit, AZ Screen Recorder can help you record gameplays, video calls, live shows, video tutorials and so on. Using this HD gameplay screen recorder, you can save gameplay recordings with 1080p and 60 fps on your device and edit video easily as you want. What's more, you have the power to grab internal sound if your device is Android 10. Recording your face and emotions in a small overlay window is also accessible in this tool.

Pros:

Capture facecam, internal video and more
Change bit rates, frame rates, resolution to enhance recordings
Offer editing functions to edit your recordings

Cons:

Can't capture sound from microphone and internal audio at the same time
Part 5. FAQs
Using a screen recorder for Minecraft on your device can help capture any game clips easily. Nevertheless, before making decision, you might have other questions and misgivings. If so, just learn more here.
Q1. What screen recorder do Minecraft YouTubers use?
A: There are many screen recorders in the current market provided for YouTubers to record Minecraft. They use screen recorders like Joyoshare VidiKit and Bandicam, coming with multiple functions like capturing gameplay, system sound, changing codec, quality, resolution, etc. to make videos.
Q2. Does Minecraft have a screen recorder?
A: No. Actually, you have to download the third-party recording tools to help you. Also, if you have Windows OS, you can use Game Bar to record Minecraft by pressing Win + G simultaneously.
Q3. What're best OBS settings for Minecraft recording?
A: Frankly speaking, there are no "best settings". For different users who have different needs in recording, the settings in OBS can be varied. What you can do is to use Auto-Config in OBS → Tools menu. It's possible to adjust parameters and test to find the best matchable configurations for you.
Conclusion:
So far, we have listed some major pros and cons of 11 popular and handy Minecraft recorder software. If you are looking for freeware, you could consider Xbox Game Bar and OBS. But if you prefer to equip yourself with a full-featured game recorder to capture Minecraft videos easily and quickly, you could put others like Joyoshare VidiKit, AZ Screen Recorder, Ezvid, Gecata by Movavi, etc. into consideration. If you have any recommendations or suggestions, please let us know. We would like to keep this article updated.