Q: "What's a powerful, free screen recorder that doesn't cause high-performance games to lag and records in 60fps?" - Quora
A no lag screen recorder is much-needed now, especially for gamers who would like to have one to capture gameplay on Windows 10, Mac and Android for Internet sharing, or for students who have to record their online lectures for offline viewing in the times of pandemic. However, the truth is that though many products promise to record videos with "no delay", few of them can really make it. If you are in search of a useful and practical desktop video recorder with zero lag, you will find the value of this article, which will introduce up to 12 screen recorders for you. They will not disappoint you in capturing online meetings, video calls, game videos, etc.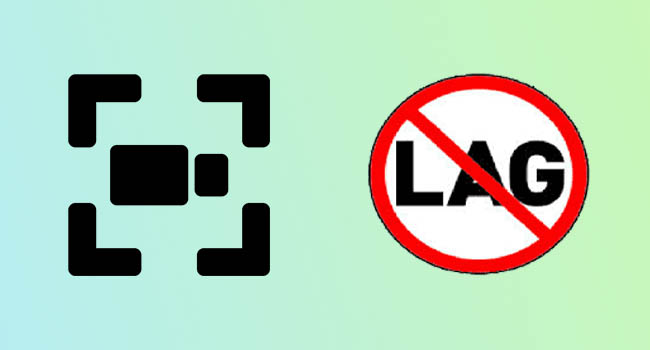 1. Joyoshare VidiKit - Windows/Mac
Joyoshare VidiKit - Screen Recorder could be considered the top-notch screen capture software that can record desktop actions with no lag, no time limit, and no watermark. This recording tool is available for both Windows and Mac operating systems. After installation, you are able to use it to capture gameplay or any other live streaming videos in 1080p with system audio as well as microphone.
This program provides a series of flexible settings so as to meet your various demands as well as ensure a smooth recording. Your recordings can be saved as MP4, MP3, AVI, AAC, FLAC, MKV, MPEG, ASF, FLV, SWF, WMA, etc. Other than that, this first-rate video recorder also can help you download online musics, make tutorial videos, take screencasts, etc.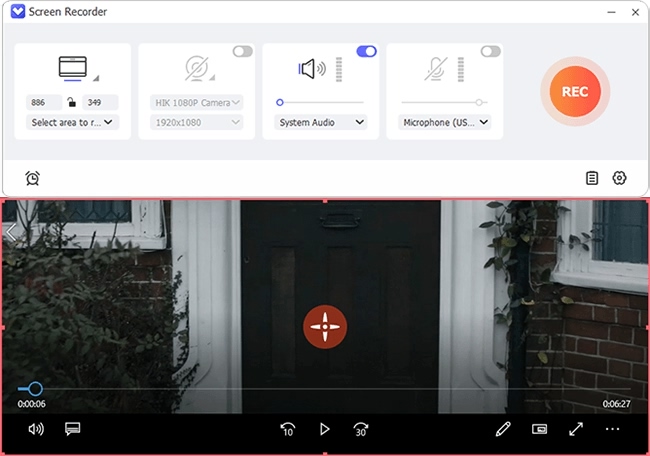 Pros:
Schedule recording tasks
Edit the ID3 tags of recordings in "Record audio" mode
Grab the entire screen or a particular area
Customizable resolution and record at up to 60fps
2-in-1 flawless HD software to record screen video with audio
Cons:
Free trial adds watermark
2. ScreenRec - Windows/Mac
Another utility that is worth your consideration is ScreenRec, which is a free no lag screen recorder for Windows, Mac, and Linux computers. It allows you to capture screen with computer sound and your voice with no lag in one click. More surprisingly, it is capable of recording webcam, which a few similar competitors fail to achieve.
Best of all, ScreenRec is packed with a wide range of mature features. for example, you are able to highlight your cursor and even add click sounds. You can take screenshots and then use arrows to mark them up. All those functions will make your recording experience enjoyable and easier.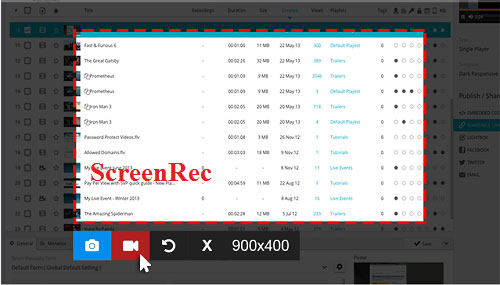 Pros:
Instant private sharing link
Have a portable install package
Capture HD videos at up to 120fps
Transcribe videos and generate subtitles
Support using hotkeys to control the recording process
Cons:
Users can only save recordings in MP4 format
3. liteCam HD - Windows
liteCam HD is specially designed for Windows users. Praised as the most intuitive and the best no lag screen recorder, it is capable of capturing almost anything on your PC screen in full HD, including live game clips, webinars, and other streaming videos. You are also allowed to make demonstrations and presentations in high definition. What's more, its continuous technology innovations enable it to improve recording performance. To give an example, you have access to a full set of video editing functions, one of which is that it is able to extract audios from recordings. With this software, you can also choose to add video titles and your personal image logos.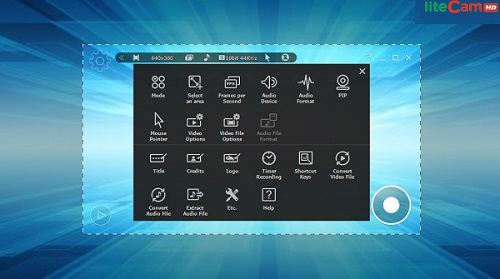 Pros:
Capture screen at up to 30fps
Draw or type text over the recording screen
Offer high compression with faster speed
Cons:
Don't support Mac system
Users can only save recordings in MP4 or WMV
4. AceThinker Screen Grabber Premium - Windows/Mac
AceThinker Screen Grabber Premium is an easy and amazing lag-free screen recording tool on Windows and Mac. It is able to capture almost all desktop activities in high quality smoothly and effectively, such as podcasts, business demos, webinars, live streaming videos, video chats, etc. This screen capture program has a clear and user-friendly interface. It only takes you some three steps to create a wonderful recording in the way you prefer. After that, you are able to save your recordings into MP4, WMV, AAC, MP3, CAF, etc.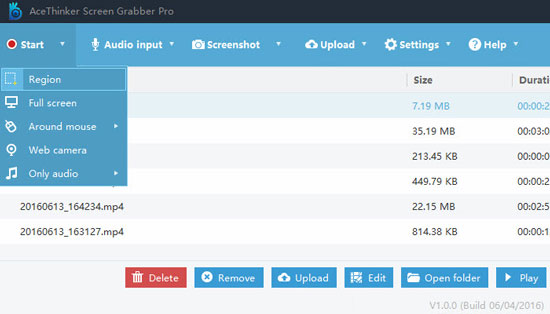 Pros:
Save recordings in diverse formats
Record system audio and/or microphone
Add texts, arrows, lines, etc. during recording
Support image formats, including PNG, JPG, GIF, etc.
Cons:
Its lifetime license costs a huge amount of money
Its Mac version only supports MP4, M4A, and PNG
5. FBX Game Recorder - Windows
If you are fond of playing games, FBX Game recorder may be the one that you are looking for. It is a good screen recorder no lag for gameplay with high performance. It offers you HD recording as well as simple and smooth streaming. Besides, this software is smart enough to adjust your bandwidth automatically and to help you eliminate jerky streams. After the real-time recording, your videos will be saved to hard disk by default.
You can also choose to use the built-in video editor to customize your videos to make them more attractive to your viewers. For instance, you can add GIFs, various kinds of sound effects, interesting animated stickers, etc. You are also able to change the font and color of your written captions.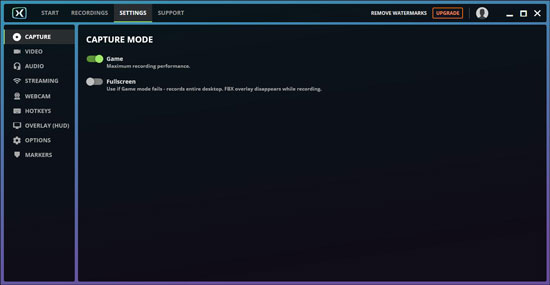 Pros:
Capture gameplay at up to 144fps
Support Windows 7, 8, 10(64 and 32-bit OS)
Record in the background without lagging the game
Cons:
Cannot record other types of videos except game clips
6. RecMaster - Windows/Mac
RecMaster claims to be the most efficient and the best screen recorder no lag to record computer screen, reflected by the fact that it provides five easy-to-operate screen recording modes in total, audio-only recording included. It works smoothly on Windows and Mac systems. You can also use it to capture on-screen activities in HD or 4K. RecMaster comes with remarkable features, making it an ideal no lag screen recorder for both beginners and professionals. It is able to work as a video editor as well. During recording, you can choose to annotate your videos or apply a custom image or text watermark easily and simply.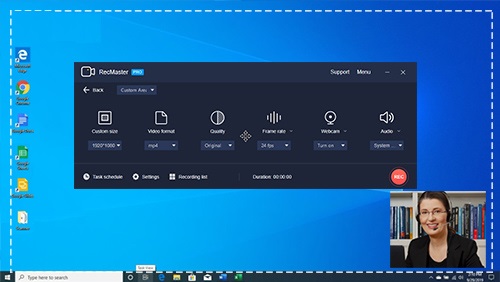 Pros:
Built with editing tools
Support auto-start recording
Set different mouse movement effects
Multiple recording modes
Cons:
Do not support Linux system
7. Movavi Screen Recorder - Windows/Mac
Movavi Screen Recorder is a trusted video recorder no lag for PC and Mac computers. It guarantees you high-quality recordings that won't freeze. With its incredible features, you will be able to capture video calls, online events, webinars, etc. as well as make how-to videos swiftly and perfectly. Furthermore, what set Movavi Screen Recorder apart from others is that it is able to grab separate streams, which means you are allowed to record screen and audio separately. This will bring great convenience to your video and audio editing.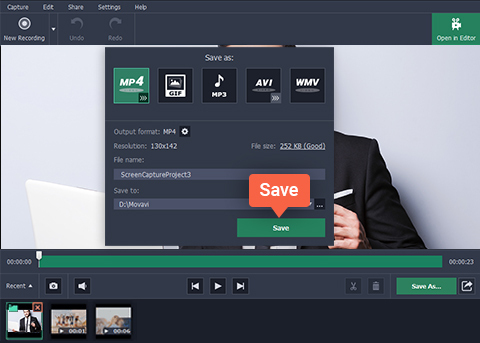 Pros:
Select capturing area freely
Offer simple and basic editing tools
Grab video and audio simultaneously
Cons:
Cannot upload videos to YouTube straightforwardly
Users have to purchase the full version to unlock all features
8. Camtasia - Windows/Mac
Camtasia is a competitive tool that combines screen recording and video editing. You can use this screen recorder without lag by capturing the entire desktop, specific region, audio and even add a web camera to overlay your own face to the video. Surely, what makes it so famous has to be attributed to its powerful video editing capabilities, which enable you to add annotations, caption, subtitle, filter, transition, effect and more freely.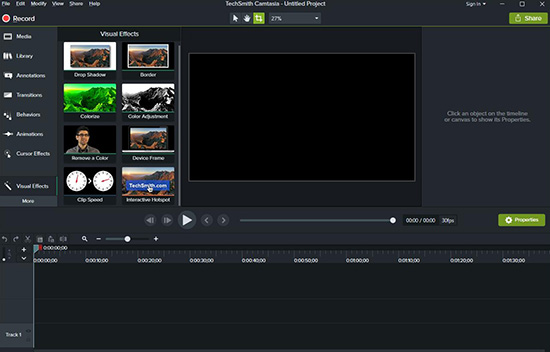 Pros:
Record screen, sound and webcam
Offer users free temples and media library
Abundant editing tools to enhance videos
Cons:
Sometimes get crashed suddenly
9. EaseUS RecExperts - Windows/Mac
Doing well in capturing screen and webcam, EaseUS RecExperts is another screen recorder with no lag that is highly used by YouTubers, educators, businessmen, gamers, etc. It easily lets you grab your own voice to add narration via microphone and get audio from the system itself. In addition, it allows you to save your recorded file as GIF, preset recording task, edit recorded video with inbuilt editing functions and even auto-split your videos to many small clips.

Pros:
Support webcam
Save and export file as GIF
With free built-in snipping tool
Trim finished videos to multiple segments
Cons:
Set only 5-minute recording time in free trial version
10. ScreenApp - Windows/Mac
With no interruptions, ScreenApp provides many advanced yet easy-to-operation functions related to screen recording to help you record all content on your screen online with no quality damage. As it is a web-based tool, there is no need to download or install any program on your computer. This screen recorder without lag is compatible with Windows, Mac, and Linux. Additionally, you are entitled to set resolution and quality before the screen recording process. Customizing audio is also available for you after you sign up.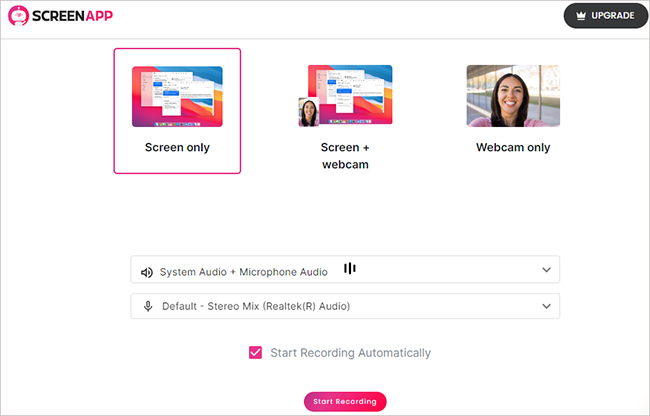 Cons:
Recording freely with its free trial version
Grab voice from mic or browser
Change resolution as you prefer
Cons:
No advanced editing functions
11. Bandicam - Windows
With features to screen recording your computer in ultra-high quality, Bandicam allows you to customize the recording region by dragging or dragging the desired area and selecting its predetermined ratio. Plus, after the recording, you get the chance to upload recorded video with no lag to YouTube directly. The main advantage of this no lag recorder, which is only compatible with Windows, is capturing video from webcam and console connected to your computer easily. What's more, adding annotation by drawing during the recording process is available.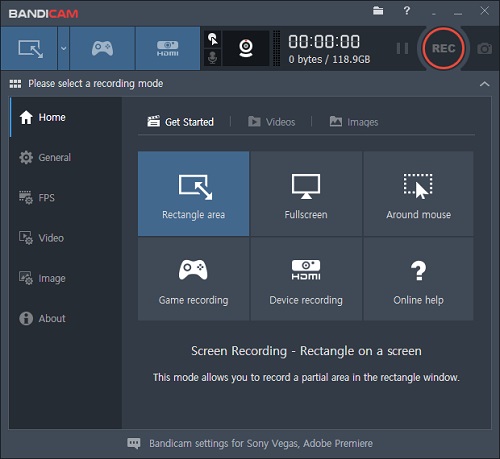 Pros:
Easy-to-operate user interface
Add annotation while recording
Add mouse effect to highlight mouse clicks
Cons:
The free trial version leaves a watermark on recorded video
12. AZ Screen Recorder - Android
If you are an Android user and want to choose a screen recorder no lag, AZ Screen Recorder, which is a high-quality, stable application, is your best choice. This offline screen recorder without lag for Android can help you record clear and fluent videos with its multiple functions like changing resolution, FPS, video quality, recording with no time limit, customizing orientation, video speed, grabbing audio from system, choosing audio source, cropping video, and many more. Also, your face and emotion can be captured from webcam on your screen.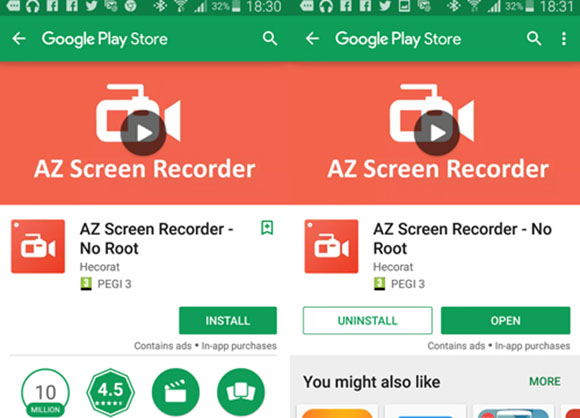 Pros:
Pause and resume the recording process
Activate front camera to capture face and emotion
Provide floating window and notification bar to control recording
Cons:
Advanced functions are only available for users of the pro version
Comparison Chart
To help you choose a screen recorder to screen record on Windows, Mac, online and Android, we provide a comparison chart to compare 12 programs provided above in the aspects of compatibility, basic editing function, price, and many more.
| | Compatibility | Price | Output Format | Basic Editing Function | Record Audio from System/Mic | Area Selection | Record Audio and Screen Simultaneously |
| --- | --- | --- | --- | --- | --- | --- | --- |
| Joyoshare VidiKit | Windows/Mac | $19.95 | M4V, AVI, MP4, MPG, FLV, MKV, etc. | √ | both | √ | √ |
| ScreenRec | Windows/Mac | Free | MP4 | √ | both | √ | √ |
| liteCam HD | Windows | $19.99 | MP4, WMV | √ | both | √ | √ |
| AceThinker Screen Grabber Premium | Windows/Mac | $19.95-$79.90 | MP4, WMA, MOV, AVI, etc. | √ | both | √ | √ |
| FBX Game Recorder | Windows | $19.00-$49.00 | MP4 | √ | both | × | √ |
| RecMaster | Windows/Mac | $19.95-$29.95 | MP4, FLV, AVI | √ | both | √ | √ |
| Movavi Screen Recorder | Windows/Mac | $42.95-$57.95 | MP4, AVI, MOV, MKV, GIF, etc. | √ | both | √ | √ |
| Camtasia | Windows/Mac | $299.99 | MP4, M4A, GIF, etc. | √ | both | √ | √ |
| EaseUS RecExperts | Windows/Mac | $19.95-$99.95 | MP4, MOV, AVI, etc. | √ | both | √ | √ |
| ScreenApp | Windows | $1.99-$4.99 | WEBM | × | both | × | √ |
| Bandicam | Windows | $27.79-$59.96 | MP4, AVI | √ | both | √ | √ |
| AZ Screen Recorder | Android | $2.99 | / | √ | both | × | √ |
View all content
Hide the table
Frequently Asked Questions about Screen Recorder No Lag
Q1. Why is my screen recording laggy?
A: If you don't have enough computer's RAM storage as multiple programs runs on your computer at the same time, your screen recording can be laggy. Browsing webpages and recording video with high resolution and FPS can cause this issue as well. So, you can choose an advanced screen recorder to help you if you want to screen record with no lag.
Q2. How to screen record without lag?
A: To screen record without lag, you should choose a screen recorder and install it on your computer in advance. Activate this tool and navigate to its recording function. Then, get your gameplay, online video or webinar that you want to record ready. Change the recording area to your desired region and click the record button in your screen recorder. To end the recording process, simply click the appropriate stop recording option.
Q3. How to reduce lag while screen recording?
Deactivate all applications and tabs
Restart your device like computer and mobile phone
Change recording resolution, video size, FPS, quality, codec and more
Open hardware acceleration function
Customize graphics settings
Conclusion:
If you have read our article carefully, you may find that most no lag screen recorder software we mentioned above is able to support Windows, Mac and Android systems. Before you make any decision, you have to know that on some occasions, whether a screen recording software can record without lag has something to do with the settings either of the product itself or of your computer system. The best solution may be to choose a reliable screen recording tool at the first step and then consider what to set next.