Creating recordings in your own way is pretty a funny thing, especially when you share what you record, like a how-to tutorial, to others. However, in order to enjoy your screen recording completely, you ought to give priority to a worry-free solution. In other words, a screen recording tool should not come with all kinds of limitation, among which the most evident one is video recording length. No doubt, a screen recorder without time limitation is more acceptable. To make a wise decision to choose a handy and efficient screen capturing program, you'd better not miss this review, which introduces a list of 14 best screen recorder no time limit in detail.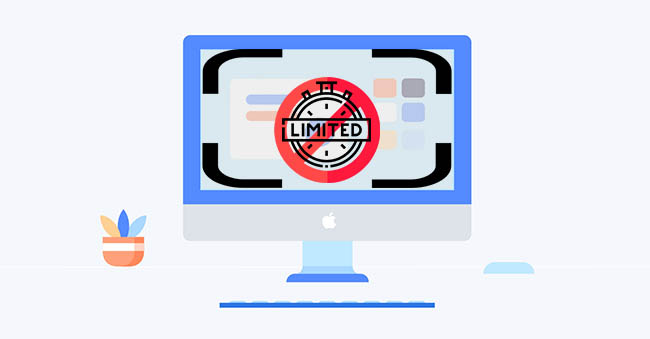 Part 1. Top-listed Screen Recorders with No Time Limit
1. Joyoshare VidiKit (Windows and Mac - $15.95)
Joyoshare VidiKit (originally Joyoshare Screen Recorder) enhances its recording performances with the most advanced screen recording technology, giving you a big surprise to grab any on-screen video and audio activity going on your desktop, including live streaming videos, webinars, music games, online radios, etc. It's actually a satisfying screen recorder with no time limit and no watermark. Moreover, it's full-featured, providing a comprehensive platform for you to create a recording task ahead of time, take screenshot at any time, add effects to cursor, manage captured files, trim video to different segments when have demand, etc.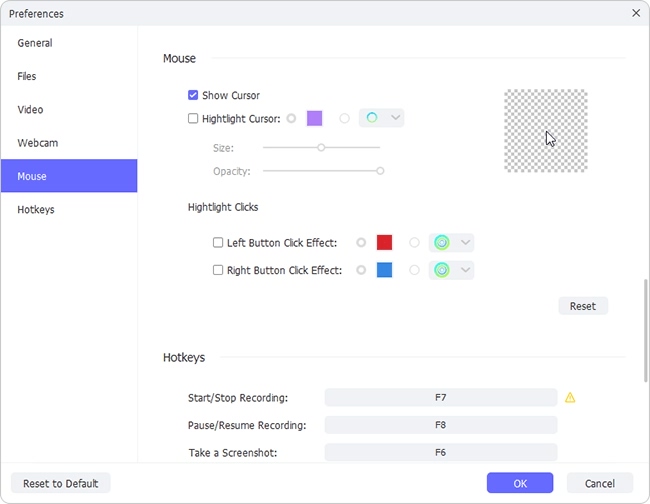 Pros:

Capture videos without watermark and time limit
Record both video and audio synchronously in high quality
Skip unwanted content during recording process
Editor to trim, schedule, watermark, effect, repair, etc.
Best program to record gameplay, meeting, lecture, online video, music and more
Capture video in 4K and 1080P as you want
Cons:

N/A
2. ScreenRec (Windows, Mac and Linux - Free)
ScreenRec prides itself a free screen recorder no watermark no time limit and is therefore sought after by many users for personal use or business. It's actually available for download on Windows OS, Mac OS and Linux OS currently. Frankly speaking, it's relatively simple, but this does not affect its realization of screen recording. You're free to capture your desktop, audio and webcam at the same time. Then instantly share it to others through URL in one click. With its built-in gallery and video player, you can better manage all recordings conveniently.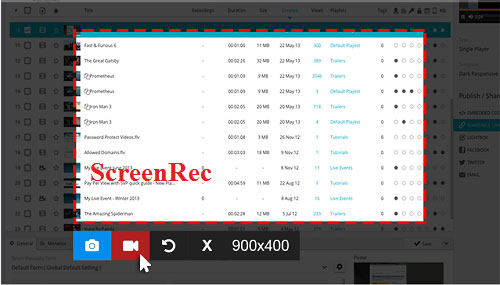 Pros:

Support multiple operating systems
Record in HD with no lag at 15-120 fps
The recording file is unbranded with no duration limitation
Get audio from microphone or system during video recording
Cons:

Require sign up to achieve media sharing
3. FlashBack Express (Windows - $49.00)
Want to get rid of the fixed limit of recording length? Try FlashBack Express. It also happens to be a screen recorder no time limit. Like similar software, it captures anywhere on your PC screen handily. Better yet, if you don't want to be bothered by watermarks, it's a good choice as well. Simply, you can add audio commentary, webcam footage to the recording and easily upload to your YouTube channel for sharing.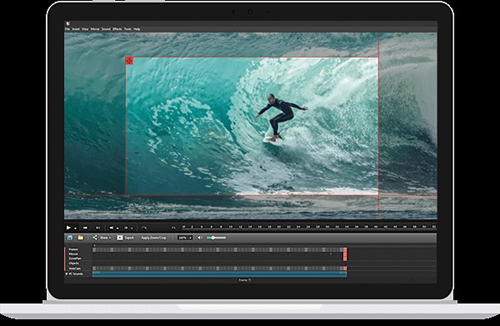 Pros:

Capture screen, sounds, and webcam
Support adding audio commenrary
Don't watermark videos and without time limits
Cons:

Support Windows only
4. Apowersoft Free Online Screen Recorder (Online - Free)
Apowersoft Free Online Screen Recorder is a typical web-based free screen recorder no time limit. Undoubtedly, it provides the most direct online solution for everyone, greatly improving the efficiency of screen recording.It records various activities, like live chat, streaming video, self-demonstration, lecture, etc. on your screen, then saves as MP4, AVI, WMV, VOB, ASF, FLV, MPEG and GIF. Other than that, it possible to insert webcam and make annotation in the process of recording.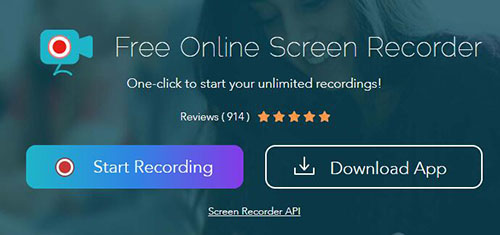 Pros:

Require no download and installation
Offer users real-time drawing tools
Share the file to YouTube after recording
Cons:

Not suitable for recording games
5. ActivePresenter (Windows and Mac - $199.00)
With simple interface and well-arranged tool bar, ActivePresenter is easy enough to operate. Any desktop screen and locked application are supported to record. If you think it can fit for your requirements, there is no need for you to worry about its compatibility considering it offers ability to work well with Windows 7, 8, 10 and macOS X. The video editing tool of ActivePresenter couldn't be any more excellent, making it is possible for all users to blur the moving object, trim, cut, merge clips, use Chroma key, adjust audio, make text-to-speech, etc. You can also take screenshots, add annotation and customize hotkeys.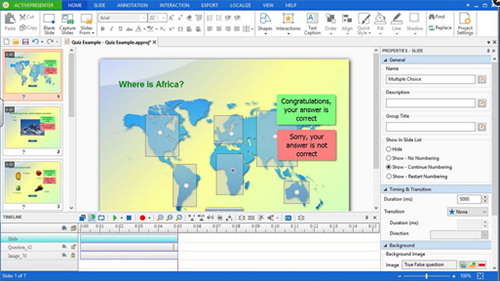 Pros:

Perform well with both Windows and Mac version
Come with professional video editing tool
Add no watermark and time restriction to captured videos
Export videos as AVI, MP4, WebM, MKV, PDF, Excel, Word or HTML5
Cons:

HTML5 (output format) will watermark video recordings
6. Camtasia Studio (Windows and Mac - $249.99)
Act as a personal desktop video recorder and editor, Camtasia Studio is workable for recording everything on your desktop, for example, computer screens, webcams, audio tracks, etc. In some cases, it will serve like PIP. Additionally, Camtasia Studio enables you to produce and edit videos at any length, which is to say, it has no time limit to record whatever you are fond. This screen recorder no time limit software is feasible to bring impressive additions to new version, making improvement in callout options, interface design, sharing tool, etc. What's more, any other program can be made use of with Camtasia Studio, such as YouTube, Microsoft software and so on.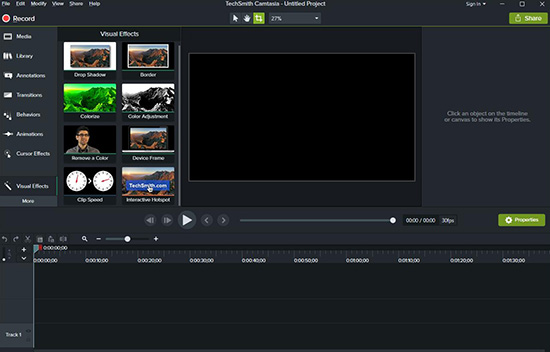 Pros:

Be compatible with both Windows and Mac OS
Record any on-screen activity
Allow users to capture and edit videos at any length
Work well with other software
Support various projects' video recording
Cons:

Prone to program crashes
7. OBS (Windows, Mac and Linux - Free)
OBS is a completely screen recorder free no time limit. It supports both video recording and live streaming and entitles you to adjust quality and choose different codec for your video recording. As an unlimited time screen recorder, it lets you capture video without worrying about time restriction. What makes OBS unique is that it is written in C and C++ code, which is the reason why most game players consider it as the most favorable software. There will no delay on recording a live streaming of a game given that it makes full use of GPU and graphic process unit in any live stream, which can up to 60 frames per second.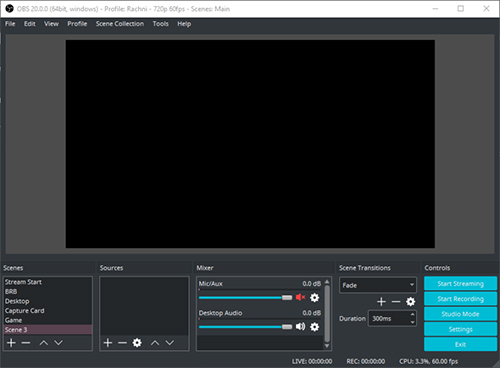 Pros:

Capture videos at any length
Record games and live streaming videos
Can be shown via YouTube, Twitch or Facebook
With adjustable quality and flexible dimensions
Cons:

Make conflicts with Mac operating system
Only MP4 and FLV formats are supported
8. ShowMore (Online - Free)
Different from other similar online screen recording program relying on Java plug-in to launch, ShowMore simply activates the screen capture by getting help from a special launcher. Acting as a free online screen recorder no time limit software, it can record any desktop video and audio activity. Without third-party installation requirement, you can also record screen and webcam in the way you like. In addition, you have choice to determine output formats, including MP4, WMV, AVI and GIF. What is essential is that ShowMore can export recorded videos without adding watermarks and you will not be bothered by capturing length as it is developed with no time limit.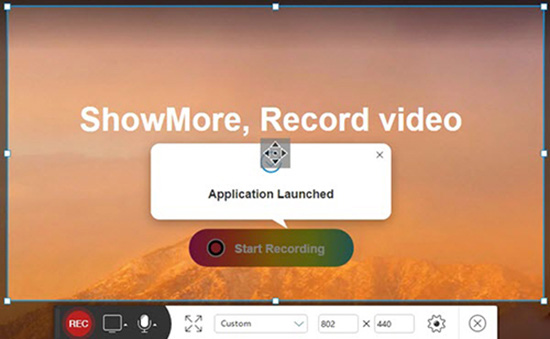 Pros:

Act as a free web-based program
Allow you to edit recorded videos
Make screen capturing with no watermark and no time restriction
Choose system and microphone sound based on actual situation
Cons:

Depend on network status
9. EaseUS RecExperts (Windows and Mac - $19.95)
EaseUS RecExperts is a distinguished screen recorder with no time limit. It allows you to record as long as you want, without being limited by the length of time. To fully use it, you're able to record screen, webcam, audio and game in a dedicated way. With an uncluttered interface, it guides you to capture the entire screen or a certain area easily. To automatically schedule a recording, you can even conveniently save much time. The advanced editor it offers also lets you add texts, trim video, watermark, remove noise and share to YouTube directly.

Pros:

Capture screen, audio and webcam
With unlimited duration to record screen
With editing tools to enhance videos
Eliminate possible background noise
Cons:

Free trial only allows two minutes recording duration
10. Free Cam (Windows - Free)
This is another offline screen recorder no time limit that we provide in this post for you to record and edit your video. It allows you to create screencasts, upload video to YouTube, edit recorded video and record video and watermark. What's more, you can change capture area or record a single window, add voice over to make your video more informative, grad sound from your mic and system, and highlight cursor and clicks. After recording process, deleting unnecessary content in your video is available on this program.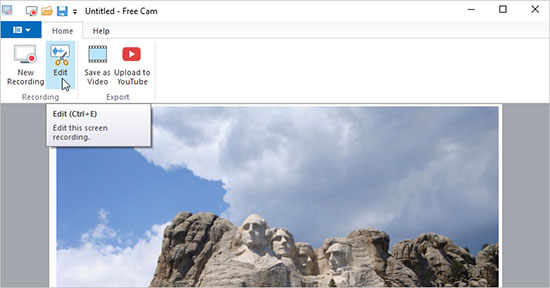 Pros:

Video editor to trim, cut and rename your video
Remove background noise of voice over from your entire clip
Adjust volume of audio, add effects like fade-in and fade-out
Share video to social websites like YouTube instantly
Cons:

Can't record your webcam
11. VLC (Windows, Mac and Linux - Free)
Apart from playing your video files, discs, devices, streams and webcams, VLC can also record your screen without time limit using its built-in recording function. With this function, you are able to record online videos, video chats, video demos and more by navigating to Playback - Record or right clicking on the player video. This screen recorder no time limit can save your video automatically to the default folder or your desired folder in your computer drive. It doesn't provide advanced functions like other dedicated recorders to enhance and polish your video.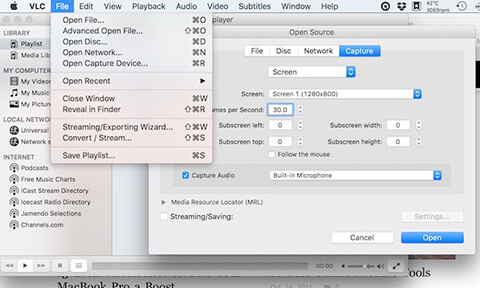 Pros:

Simple and easy to operate on your computer
Offer numerous customized skins
Clean and intuitive interface
Cons:

Can't customize recording area
Without video editing features
12. CamStudio (Windows - Free)
CamStudio is a handy and free desktop software for Windows, which could be used to capture all on-screen video activities. You can record your screen to create AVI files with ease. It also lets you add text comments to videos, making it simple for you to create demonstration videos. This software has additional options as well, and you can highlight the cursor or select recording area before recording. Besides, you are able to choose the output quality as you'd like.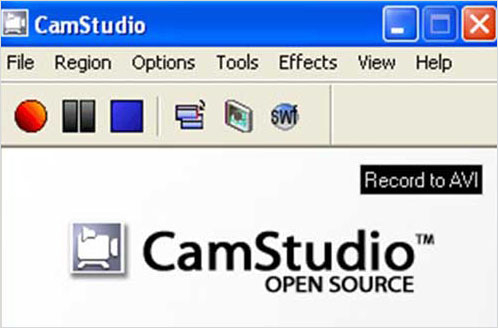 Pros:

Option to add annotations while recording
With a built-in SWF producer
Perform well in creating video tutorials
Cons:

Occupy too much CPU space while using
The installation package carries irrelevant programs
13. ShareX (Windows - Free)
The next option for recording screen at any length is ShareX. It is an open-source program that lets you record your screen with no time limit. And you could easily share your recordings with a single click. This software is lightweight, yet offers quite a few capturing options like full-screen, region, and scrolling recording. It is also available to make adjustments to your videos with its image editor before sharing. What's more, you can personalize the recording process by resetting hotkeys and choosing the output format.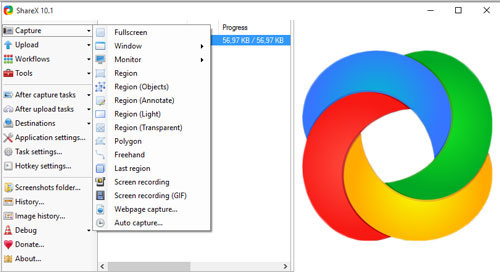 Pros:

Light and quick to use with no advertisements
Include some powerful workflow features to create better videos
Cons:

The interface is a little bit complicated for beginners
Only compatible with Windows
14. Screen Recorder (Windows and Mac - Free)
The last free screen recorder no time limit in this post that you can consider is an extension in Google Chrome named Screen Recorder, enabling you to capture video from the webcam and record the video from specific program window, desktop and chrome tab. With required sign-up and sign-in, you can activate this tool from Google Chrome directly to grab sound from your system and mic. It saves your recorded video to device and not cloud and provides multiple recording modes for you to record different videos smoothly.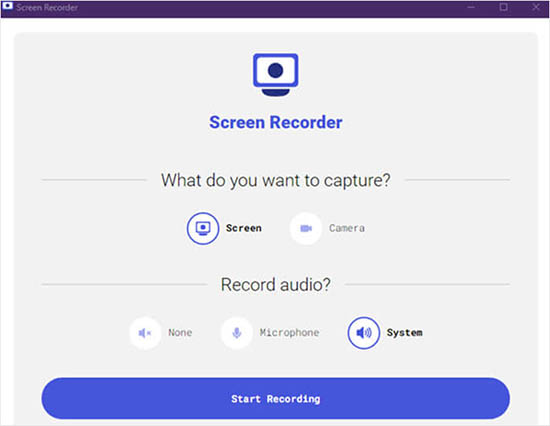 Pros:

Watermark free and unlimited recording
Function to record system sound along
Work offline and don't require any registration
Cons:

Very basic recording functions
Can't record a Chrome webpage
Part 2. Comparison Chart
The following detailed table compares the screen recorders no time limit mentioned above, so that you can gain an insight into these programs before choosing one.
| Program | Compatibility | Price | Area Selection | Editing Tool | Schedule Recording | Output Format |
| --- | --- | --- | --- | --- | --- | --- |
| Joyoshare VidiKit | Windows and Mac | $15.95 | √ | √ | √ | Support almost all common formats |
| ScreenRec | Windows, Mac and Linux | Free | √ | × | × | MP4 |
| FlashBack Express | Windows | $49.00 | √ | √ | √ | MP4/AVI /WMV |
| Apowersoft Free Online Screen Recorder | Online | Free | √ | √ | × | WebM |
| ActivePresenter | Windows and Mac | $199.00 | √ | √ | × | AVI/MP4/WMV/WebM |
| Camtasia Studio | Windows and Mac | $249.99 | √ | √ | √ | MP4/AVI (Windows only)/MOV (Mac only) |
| OBS | Windows, Mac and Linux | Free | √ | √ | √ | MKV/MOV/MP4/FLV/TS/M3U8 |
| ShowMore | Online | Free | √ | √ | × | MP4/AVI/WMV/FLV |
| EaseUS RecExperts | Windows and Mac | $19.95 | √ | √ | √ | 10+ |
| Free Cam | Windows | Free | √ | √ | × | WMV |
| VLC | Windows, Mac and Linux | Free | × | × | × | Formats supported by libavcodec and libavformat |
| CamStudio | Windows | Free | √ | √ | × | MP4/AVI/SWF/MOV/FLV |
| ShareX | Windows | Free | √ | √ | × | MP4 |
| Screen Recorder | Windows and Mac | Free | √ | × | × | WebM |
View all programs
Hide the table
Part 3. FAQs about Screen Recording Tool with No Time Limit
Q1. How do I record my screen with no time limit?
A: As long as you choose a proper screen recorder, you could record screen without time limit. The screen recorders we have shared in this post can all be applied to record all the time as the storage is adequate.
Q2. How to select the best screen recorder?
A: There are different kinds of screen recorders in the market. Before your selection, you could consider whether the tool is able to cover the source you want. Besides, a user-friendly interface is important as well. If you have additional editing or sharing demands, check whether these functions are available. Last, the tool needs to be compatible with your operating system.
Q3. How do I get rid of 5-minute limit in ScreenRec?
A: You can remove the limit by going to Settings in ScreenRec and creating a free account. You'll get 2GB free cloud storage to record with no 5-minute recording limit.
Q4. Does Bandicam only record 10 minutes?
A: Yes, the free version of Bandicam could only record 10 minutes per time. If you want to record with no time limit, you need to get the registered version.
Part 4. Conclusion
Now you can make choice according to your own real purpose. Frankly speaking, each one has both merits and demerits. The above top-listed screen recorders are designed with no time limit, so what you should pay more attention to is the special points. If you want to record a live streaming game, OBS can do well in this aspect. If you are willing to utilize a screen recorder straightly without installation, ShowMore is good enough for you. However, if you would like to choose a professional recording tool providing an all-in-one solution, Joyoshare VidiKit can satisfy you. Anyway, as long as you can enjoy your recording experience, then everything goes well.