Webcam is a simple camera app that lets us easily capture any photograph and live videos on PC. It makes our life more convenient and colorful as we can use it to chat with others online, make video tutorials, hold webinars, etc. Due to webcam software being widely adopted, there will always be a time when we need to record webcam videos for further use. Luckily, we have a number of options. To make it even easier, in this review, we have created the top list of 14 best free and paid webcam recording software based on performance, user reviews, ratings, and more. Now read on to pick up your favorite webcam recorder that you wish to use according to the complexity of your requirement.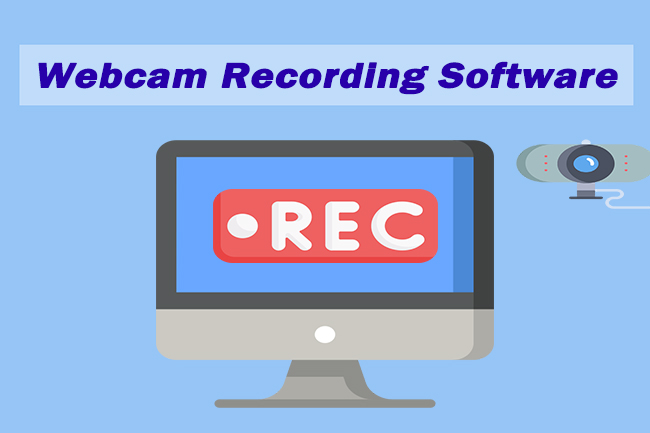 Part 1. Top Webcam Recorder - Desktop Software
To capture your webcam video, you can either use a third party recording software or an online tool according to your own need. Let's start with desk applications to help you record webcam with ease.
1. Joyoshare VidiKit (Windows & Mac)
As one of the best screen recording software, Joyoshare VidiKit is a full-featured video capture that can not only capture all screen activities with audio, but also record real-time webcam videos in high quality. It also stands out in recording gameplay, applications, browsers, meetings, video calls and much more. Being a trusted webcam grabber, you can tailor your webcam recordings to suit your specific needs. You're free to set resolution and frame rate. Besides, you can choose the recording shape and decide the rotation as you like. With it, it is simple for you to create webcam videos in your own way. What's more, Joyoshare VidiKit is also a wonderful audio recorder. There is no time limitation to record the webcam or other content you want with audio.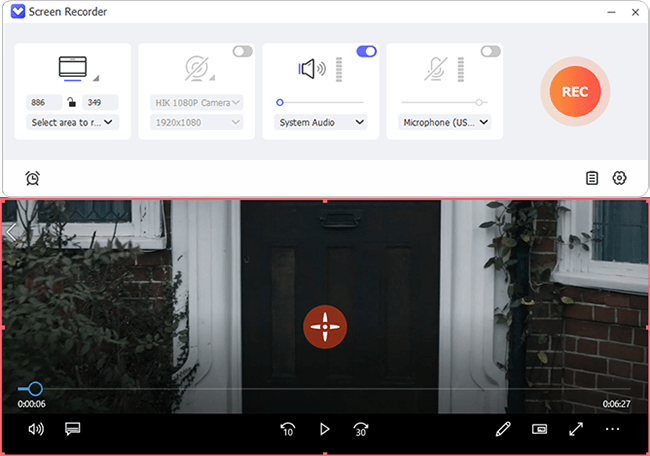 Pros:

Capture personalized webcam videos with high quality
Record all other desktop screen video and audio at 240fps
Support various popular output formats and devices
Introduce an intuitive UI for even no-tech-savvy users
Support scheduled recording tasks and personalized shortcuts
Provide other editing features
Record video with webcam in 4K as you want
Cons:

Not free
2. Debut Video Capture (Windows & Mac)
Like Joyoshare, Debut Video Capture is also a dedicated recording software that allows you to capture video from a webcam, recording device or screen. It also lets you record and save videos in various formats and offers options for customizing the video output you get from your webcam, such as webcam overlay and video colour adjustments. The best part that makes this tool outstanding is that it offers the ability to capture video from any PC image source as well as USB devices like IP webcams, digital video camera and all. It also supports sharing recorded webcam videos to email as well as FTP server once the recording completes. Currently, Debut is available with free version and Pro version which is sold at $24.99.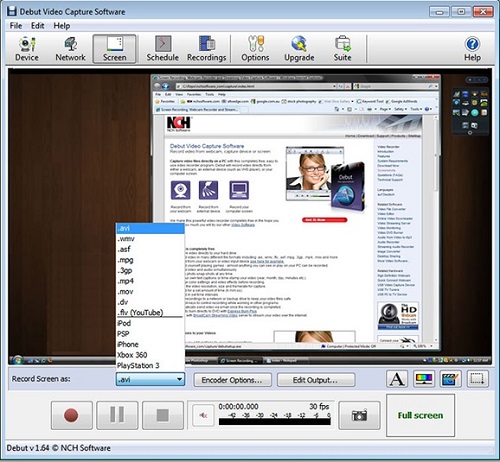 Pros:

All-in-one screen video capturing tool
Support recording video from IP camera, digital video camera
Offer various video editing options
Upload and share videos directly to YouTube and others once recorded
Able to replace background with Green Screen tool
Cons:

Cannot record audio independently
More output profiles should be added
3. SplitCam (Windows & Mac)
If you want to enhance the webcam videos you are recording, SplitCam could be the best assistant as it provides a large number of special effects to the video and audio sessions while you are chatting with others. It can not only add fun elements to your videos, but also act as a live video streaming software. As the name suggests, splitting is another stunning feature of SplitCam. It allows you to use numerous applications of webcam without showing a busy error message. Also, it offers more great features, such as multiple video resolutions, built-in video editor, audio adjustor, etc. All these make SplitCam an amazing webcam recorder for PC.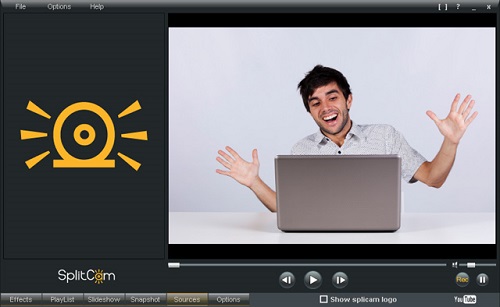 Pros:

Record webcam while using various tools simultaneously
Add special and fun effects to output videos
Allow live streaming to any video services
Support splitting webcam and mixing audio sources
Cons:

Record with lag once in a while
4. Free2X Webcam Recorder (Windows)
Free2X is another lightweight free webcam software that specializes in capturing videos from any webcam and digital video camera. It can also be used to capture snapshots. It supports encoding the videos in many commonly used formats including MP4, AVI, and WMV. With an integral file manager, this webcam recording tool enables you to manage and organize recordings easily. You can also alter camera brightness, contrast, saturation, sharpness, gamma, etc. depending on your own requirements. It is easy to use custom shortcuts to define the recording in regards to record, pause, stop, and snapshot. It also supports scheduled webcam recording. What's more, you are allowed to record microphone sound while capturing webcams.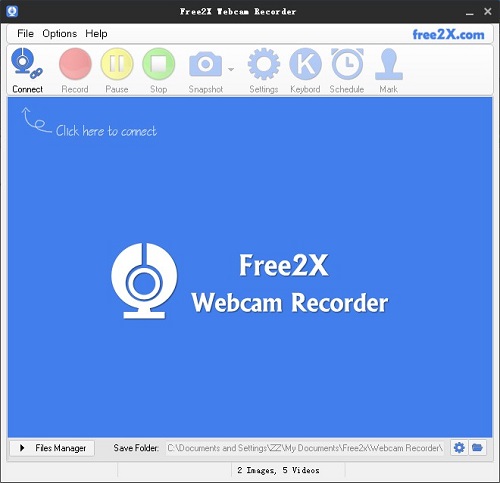 Pros:

100% free
Capture all webcam video with audio
Support shortcuts and scheduled tasks
Provide video editing effects
Cons:

Support Windows only
Output formats should be improved
Not updated for a long time
5. Bandicam (Windows)
Bandicam is a fairly popular screencasting tool on Windows platform. As one of the very first developers to focus on screen recording software, it provides three main modes, including game recording mode, screen recording mode and device recording mode. The screen recording mode allows you to record webcams, system sounds and countless applications. Under this mode, you are offered with 20 options for output video resolutions up to 4K. As a handy webcam recorder, you can use it to capture any webcam video, covering USB webcam cameras, camcorders and others. After recording the webcam, you can upload your recording files to YouTube easily.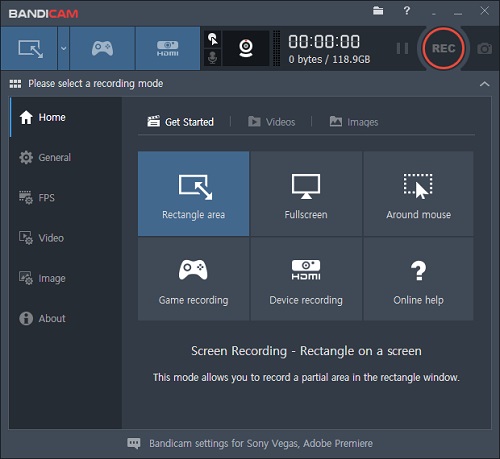 Pros:

Three recording modes available
Support recording webcam with high speed and high compression ratio
Able to automatically stop recordings
Cons:

Only available for Windows
Limited output formats
6. Movavi Screen Recorder (Windows & Mac)
Movavi Screen Recorder is also a well-known webcam recorder for both Mac and Windows. It can help you grab your webcam footage in high quality. Before recording, you are able to customize webcam settings like adjusting resolution, resizing webcam, choosing audio resources, and others. Once captured, you can replay the recordings and delete ads or other unwanted sections with the built-in video cutter. Besides, it can also be used as an audio capture to record online radio, stream audio and extract music from videos. You can grab just your audio track and share your podcast on any platform.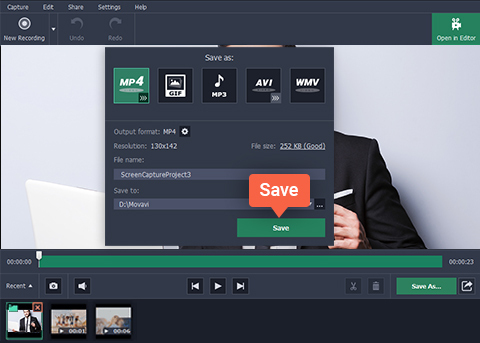 Pros:

Extremely clear and friendly interface
Record webcam videos and other screen activities
Capture webcam video with HD resolution to 1080p
Upload recorded videos to YouTube, Facebook, Google Plus, etc.
Cons:

Not free
The trial version will overwrite the original recording file
7. Filmora Scrn (Windows & Mac)
Filmora Scrn, developed by Wondershare, is another paid webcam video recorder to help you record desktop screen, webcam videos with audio simultaneously. As a simple-to-use screen recorder, Filmora Scrn allows you to capture and export any screen video and audio to common MP4, MOV, GIF in high quality. The best thing of Filmora Scrn is it has a powerful editing suite that makes the recorded webcams more professional with a wide range of special effects applied. You can also use it to take screenshots and capture videos from the virtual camera.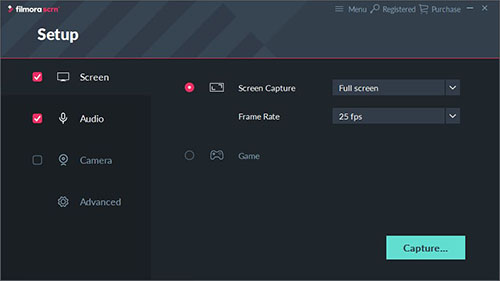 Pros:

Capture any kind of screen videos
Offer full editing suite
Add a second image or video to your main footage
Record from your computer and webcam simultaneously
Very easy to operate
Cons:

No free version available
8. Logitech Capture (Windows & Mac)
Logitech Capture is an all-in-one video recording software aiming to simplify your recordings with webcam. It can record from two webcams and you can get six different scenes at one time. You can add this program as a camera source to popular streaming platforms. Moreover, you are capable of using its live text overlays to customize your webcam recordings. It is also equipped with powerful controls to remove your background for creating better content. in addition, you can choose your recording area, aspect ratio, and other parameters to capture your webcam for multiple purposes.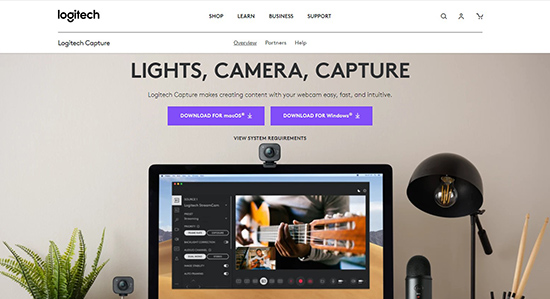 Pros:

Easy, fast, and intuitive to record webcam
Support recording from multiple sources
Support recording in vertical video to fit more demands
Provide flexible controls to personalize your content
Cons:

Not economically friendly
Not support streaming
9. Webcam Surveyor (Windows)
Webcam Surveyor is an innovating recording software empowering you to capture webcam seamlessly. It offers many advanced settings to aid you in capturing high-quality webcam videos. You could set video resolution, frame rate and compression at will. This software also supports scheduled tasks to save your time and energy. It also works as a motion detector, which can monitor the surroundings and perform predefined actions. What's more, you could set this tool in stealth mode which allows you to use the camera in the background. Overall, this tool is quite powerful for recording your webcam with multiple functions and you can capture time-lapse webcam videos effortlessly.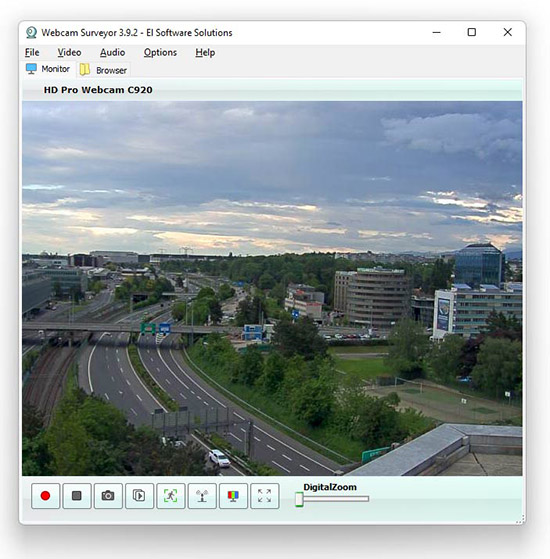 Pros:

Record customizable webcam recordings easily
Handy to detect ant motion activities
Provide auto-start, file manager feature
Ease of use
Cons:

Support Windows only
Lack of more recording modes
10. ManyCam (Windows & Mac)
Another useful webcam-capturing software proposed here is ManyCam. It is a video recording and webcam software that helps create live videos on different platforms. The main advantage of ManyCam is that you can connect it to Zoom, Webex and other video conferencing apps to work as your virtual camera. Besides, you can deliver live videos on multiple platforms at once. This software also offers a choice of removing or replacing your backgrounds with an optimized AI model while recording webcam. You can also enhance your webcam recording by using elements like 3D masks, effects, graphics and others.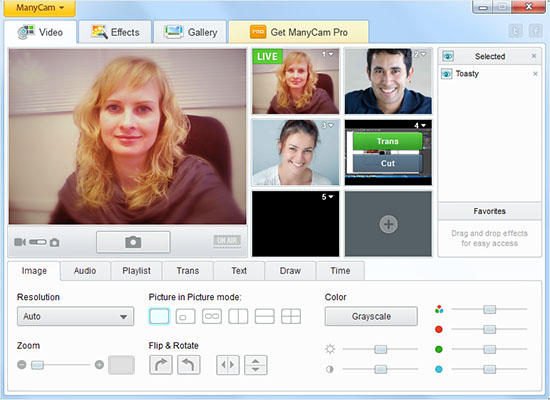 Pros:

Excellent for delivering live videos on streaming platforms
Improved virtual backgrounds
Multicast to diverse streaming platforms
Create picture-in-picture layouts in a unique way
Cons:

The support team is not responsive at times
Limited capabilities with free version
Part 2. Browser-based Platforms for Webcam Recording
If you don't want to install actual webcam software on your computer to record the videos, here are some online recording tools that are qualified to capture webcam videos. Let's dive in.
1. Apowersoft Online Screen Recorder
Apowersoft Online Screen Recorder is a web-based free screen recorder, which is able to record all types of activities on your screen including webcams, video stream, self-demonstration, live chat and more. The most impressive feature of this recorder is that it has a multitude of recording modes. You can perfectly record the video you want for all kinds of purposes. In addition, it's pretty simple to operate and you can record your webcam without a time limit. Aside from video, it can also capture audio with video at the same time. When the recording is done, you can either save the recorded video into local drive, or upload it to cloud space for free.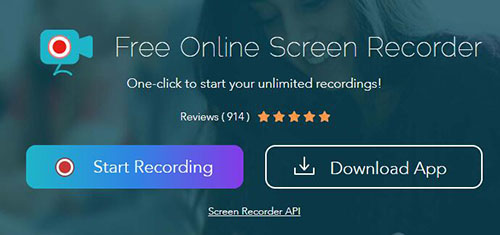 Pros:

Totally free at no cost
Record webcam videos and other screen activities
Support recording window, desktop activity and webcam simultaneously
Offer screen and sound synchronization
Cons:

Require installation of a launcher on the web
Not very safe and may cause privacy leak
2. Speakflow
If you want to record your webcam to share online quickly, Speakflow is a solid option. Speakflow is a free webcam recorder tool that makes it easy to capture HD videos using your webcam. Apart from recording webcam in your browser, it could also serve as a teleprompter with Zoom and other applications. With it, you can share access to your team members to collaborate on scripts. Besides, Speakflow will preserve all recording files on your computer and no one can access and share them except you. In a word, this online webcam recorder is suitable if you just want to get the video from your webcam.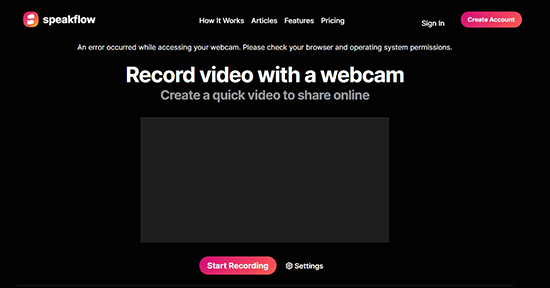 Pros:

Quick access to record webcam for sharing
Can be used as a virtual teleprompter
Easy to use
Cons:

Functions are limited
With single recording mode
3. Media.io
Media.io is also an alternative capture tool to grab your webcam without lagging. With a simple touch, you can capture your webcam video with audio in high quality. Another advantage of this tool is that you can use a microphone to add voice narration to your recordings. On top of that, you can produce better recordings by editing them after recording. Plus, you can also select different recording modes, such as screen & camera, screen only, audio only, and others. Because of its intuitive interface, high resolution, multiple output formats, Media.io has gotten plenty of good reviews from users.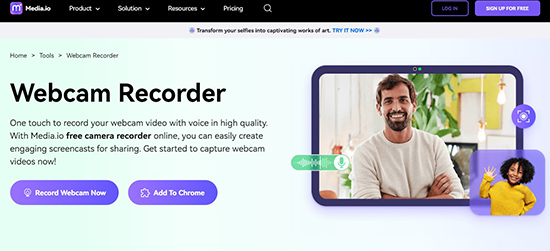 Pros:

Record webcam up to 1080P
Guaranteed security with SSL encryption
Provide more editing features
Support converting to various formats
Cons:

May appear technical issues occasionally
Export with watermark with free version
4. PhotoRetrica
The last online webcam recorder covered in this post is PhotoRetrica. It can record videos from your webcam to satisfy your recording needs as much as possible. Besides capturing webcam, you can also use it to take photos and selfies in your browser. What's more, to enhance your recordings, you can apply a number of filters and effects to your videos. If you want to add more fun, you can also change your voice along with the background. You can even replace yourself with other images.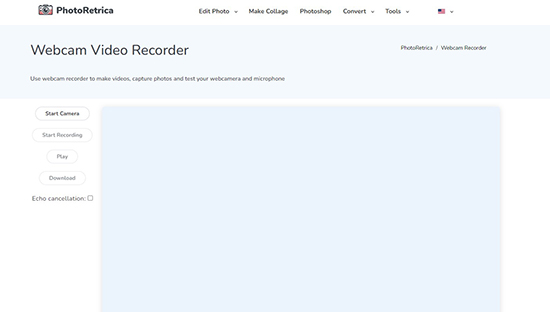 Pros:

Easy to make webcam videos and capture photos
Offer interesting filters and effects
Able to dress up image
Cons:

No multiple recording modes
Output format is restricted
Part 3. FAQs on Recording Webcam
Q1. How to record video with webcam?
A: It is easy to record video with webcam as long as you use a reliable recording tool that is able to capture your webcam. Most of the screen recording software listed in this post is available to record video with webcam, while few of them are limited to just record the webcam. You can select the one you prefer according to your needs.
Q2. Does Windows have a webcam recorder?
A: Yes, Windows 10 & 11 come with a Camera app that is able to record a webcam video. It is easy to use and you don't need to download extra apps. You can find the Camera app in the Search box and use it to take videos and photos.
Q3. How do I record high quality webcam?
A: To record high quality webcam, you'll need to select a webcam recorder with high resolution. Also, if the webcam recorder offers advanced settings and editing features, you can improve the quality by customizing your recordings. Hence, it is vital to select a great webcam recording software if you want to record high-quality webcam.
Q4. Which is the best screen recorder to upload video to social platform, such as YouTube?
A: It is feasible to save the recordings on your computer and upload them to YouTube. If you want to upload your webcam recordings directly to YouTube from the screen recorder, Debut Video Capture, BandiCam and Movavi Screen Recorder are appropriate choices.
Q5. How to select a better webcam recording tool?
A: There are many important factors in choosing webcam recording tools. For example, the resolution is significant if you want to record your webcam in high quality. Also, the editing features are necessary to process your recorded files. Compatibility, price, simple operation, output formats, and others are also worth considering if you want to get a powerful webcam recorder.
Part 4. Conclusion
Any idea which webcam video recorder to choose after viewing the detailed analysis of each software? To sum up, if you are looking for a dedicated free webcam recording program, Free2X and SplitCam could be the best choices. If you have a low budget, then you are suggested to go for Joyoshare VidiKit. But if you have no limit on the price, Logitech Capture should be a better option to test out. Anyway, no matter which webcam recording software you choose, don't forget to try the free version in advance.