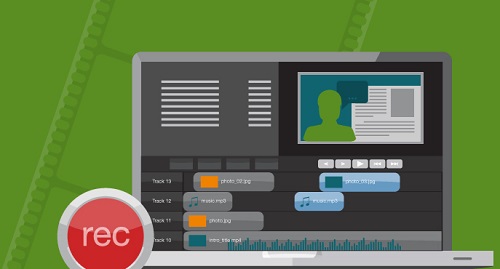 Communication focused business like call centers need to keep their customers happy. Therefore, it is crucial to keep track of the performance of their employees. Screen recording tool helps them to review and enhance employee performance.
Call recording software is not designed to capture everything, but screen recorder covers everything that is left out. It records all the desktop activities, so that you get an idea how efficiently your employees make use of technology that is how well they interact with customers. Businesses can gain a lot from this software and significantly enhance the call recording software's effectiveness.
Part 1. What Can Screen Capture Do for Your Company
Obtain full picture

Call center employees perform all the hard tasks over the phone but even computers are helpful to offer first-class customer service. The call recorder records phone calls accurately, but misses what occurs at your staffs' end.

Pairing call recorder with screen recorder, you gain the total picture on how employee conducts research and gains information about the customer. Some software allows synchronization of video and audio payback from the time the call was made. Thus, you can review the entire performance of employees, simultaneously.

Verifies adherence to computer policies

Your business may have computer policies regarding the social media usage or how customer data needs to be processed, and more. It is hard to find out if your staff follows them loyally. However, with screen recorder you get to know that your enforced policies are being handled appropriately. It also ensures that employees work efficiently with customers without getting distracted.

Ensure HIPPA & PCI compliance

Businesses dealing with sensitive data, needs to take extreme measures, so as to maintain confidentiality. Ensure that your employees follow the HIPPA and PCI standards stringently. Therefore opt for software, which hides confidential customer information from screen captures.

Enhance employee training

Screen recorder is a perfect tool for training employees. First get a total picture of each employee's performance.

• How they seek out customer information?
• How efficiently do they employ your software?
• Are they following the computer policies and safety standards?
• How do they answer customer queries? Are the answers delayed then why?

Such questions can be brought up while employee training sessions and performance reviews. Play back the synced recorded audio and video in performance review meeting, so that the person reviewed gets an idea about his/her weakness and strengths. They should not be embarrassed, but take it positively to improve their skills to interact with customers and enhance their performance.

Fortifies internal system

Besides employee training, the screen recorder helps to enhance your internal systems. For example, while designing the CRM system, it is difficult to get an idea if all your employees are compatible to work with it.

Screen recorder helps to see each internal system in action. For example, delay in page loads, certain process includes unnecessary steps, etc. with this insight you can get those aspects improved for more efficiency. Even if the improvement is small, the overall impact on your business processes will be more efficient as a whole. Ultimately, you can progress in enhancing customer satisfaction and increasing profitability.
Part 2. Conclusion & Suggestion
Screen recording tool values in many aspects for companies to make the business more enhanced and effective. Therefore, finding a great screen recorder would double the result with half the effort. To make it easier, we strongly recommend a high-valued screen capture tool called Joyoshare Screen Recorder if what you are looking for is an easy-to-use screen recording program with high performance. This screen recorder is available for both Mac and Windows platforms and can be used to capture any desktop screen videos and audio with lossless quality. You can select any area on the computer and save the recordings in multiple popular formats such as MP4, MOV, WMV, AVI, FLV, etc. For more details, install the free trial version as below to test it out.