Are you a designer or illustrator? Do you like digital drawing? Have you ever looked for a way to record digital drawing process? To keep every detail of your creation and make tutorial videos to share with amateurs who are interested in painting and drawing, a screen recorder is required. Therefore, you can review how you draw the picture as well as upload the video on YouTube, Facebook, and more social media to show your drawing skill. Still have no idea? Let's check the content here.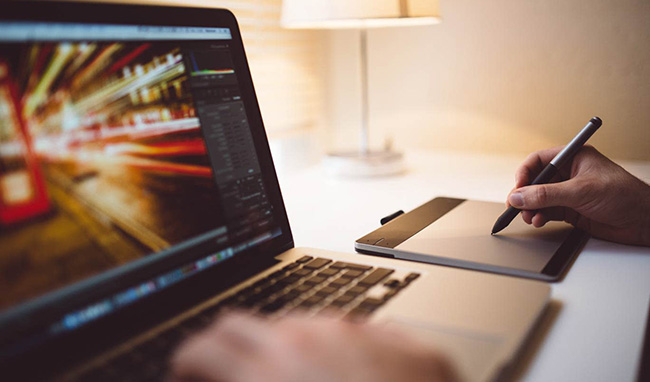 Part 1. How to Record Drawing on Computer - Joyoshare VidiKit
Joyoshare VidiKit - Screen Recorder is good at capturing screen with or without audio. The output video can be 4K quality. It is smooth for you to capture digital drawing on the computer desktop. It supports to save the recording in various formats and compatible devices, such as MP4, WMV, AVI, MPEG, MOV, DV, MKV, OGV, M4V, WebM, iPhone, iPad, PSP, Xbox 360, Samsung TV, and so on.
This recorder allows you to capture digital drawing on a full screen or selected screen. In addition to recording the drawing process on digital programs, it also can record live streaming video, gameplay, online tutorial, and more. The program is attached to additional functions. It can highlight cursor and show clicks. You can also utilize it to add a watermark to your recordings. Presetting a recording task and setting shortcut keys are available. Besides, as a professional digital drawing recorder, it can help you reset the codec, resolution, frame rate, bit rate, and quality of the video.
Key Features of Joyoshare VidiKit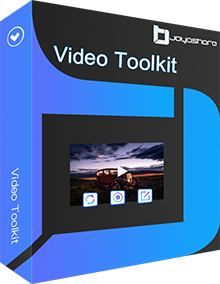 Record speedpaints, digital drawing and more with high quality
Save video to AVI, MOV, MP4, MKV, MPEG and more
Grab sound from the system and the microphone
Capture screen with full screen or partial screen
Show cursor movements, highlight clicks, take screenshots and more
Step 1

Run Joyoshare digital drawing recorder

Open any digital drawing program on your computer and get ready to draw. Then get the screen recorder in Joyoshare VidiKit run. Next, select "Record video and audio" mode by clicking the camera icon next to the "REC".

Step 2

Personalize the recording setting

After the first step, hit on the gear icon at the lower-right corner to bring out the further setting options. In this new window, you can change the target format and shortcut keys. Also, you can choose what time to start and stop recording digital drawing. It is doable to show or hide the cursor. Besides, the capturer can help you add a watermark to the video.

Step 3

Adjust recording area and begin recording

Click on the "+" icon to select a certain area to record. You can adjust the capture area by dragging the frame, inputting the value, and selecting the presetting resolution from the drop-down list. If you need to explain how you draw the picture, you can enable "Microphone Audio" and connect an input device to your computer. To grab the voice clearly, you are suggested to turn off the system audio. Afterward, click the "REC" button to capture digital drawing. The recording will start after the 3-second countdown. You can trim disliked parts during or after the process.

Step 4

Save recorded digital drawing

In this final step, you only need to click the "Stop" button to finish the recording. Then you can rename and preview the video on the pop-up History window. Or "Edit" to trim out unwanted segment from your file.
Part 2. How to Record Digital Drawing - ShowMore
Here is another way for you to capture your digital drawing. You can try to use ShowMore, an online screen recorder. With this tool, you can easily record digital drawing on your computer without installing any program. Beyond that, to help you save computer storage space, ShowMore offers a cloud storage space for you to keep all the videos, but you need to sign up. It allows you to directly share the recordings on various social media platforms. It has an editing function so that you can draw and add shapes to the video. It can grab the voice form the system as well as the microphone.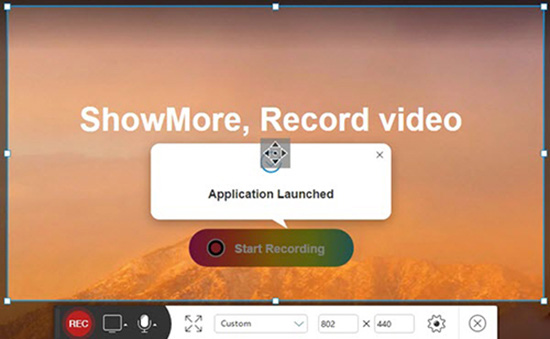 Step 1: Launch digital drawing programs. Visit ShowMore's official website on a browser. Slightly tap on the "Start Recording". Then a small window will show up and ask "Do you want to allow this app to make changes on your device?". Please select "Yes" to continue the process;
Step 2: Admit to run ShowMore Online Launcher. Next, you will see a square frame appearing on the screen. Drag it to adjust the recording area. Tap on the microphone icon on the toolbar to confirm whether record audio from the system and microphone or not;
Step 3: If it is necessary, you can customize the recording setting on the "Option" tab;
Step 4: To start recording the digital drawing process, you need to click the "Record" button t. Once you finish the recording, you can choose to save the video to your computer or ShowMore.
Part 3. Best Digital Painting and Drawing Software
#1 Adobe Photoshop CC
The first one is Adobe Photoshop CC, which is the most famous one in the field of digital design and painting. It is a powerful digital art software. There are a great number of brushes on the program. Its editing function is also redoubtable. Although it is great, the operation to record Photoshop drawing is complex. Therefore, it is more suitable for a professional digital illustrator or graphic designer.
#2 MediBang Paint Pro
If you prefer to create manga, MediBang Paint Pro is a good choice for you. It is a free digital artwork program, developed by Japanese company. It has 800 free pre-made tones and backgrounds. It offers you more than 50 brushes, easy comic panel creation tools and a huge selection of free fonts.
#3 PaintTool SAI
PaintTool SAI is an easy-to-use yet all-round digital drawing application. It is low-budget and friendly for beginners to create various-style artworks. However, it focuses more on drawing and painting but not image editing, which makes it only supports basic adjustments such as hue, saturation, contrast and brightness.
#4 Krita
Krita is typical free and open source drawing software for digital artists, texture and matte painters, concept art, and illustrations and comics. It can be applied to your Windows, Mac and Linux computers. By means of this tool, you can enjoy preloaded brushes and its distinguished brush engines.
#5 Corel Painter
Corel Painter is a dedicated digital art software that works on Windows and Mac. It provides a wide range of professional brushes, color tools, photo art tools and effects for you to post-process your photos. Adopted with advanced brush accelerator, GPU acceleration, improved document manipulation and running speed, it has better performance now. Don't miss its stamp-type brush customization, watercolor brushes, refined brush library and improved layer workflow.
#6 Clip Studio Paint
Clip Studio Paint is a painting program with strong compatibility to Windows, Mac, iPhone, iPad, Android, Chromebook and Glaxy. You can use it to create animation, comics, manga, webtoons, illustration for design, concept art and painting, character art and drawing. Making the most of its brush engine, you can put your imagination into practice and produce amazing works. Remarkably, Clip Studio Paint offers 1000 new materials on its assets each month to give you more possibilities.
Conclusion
In general, to record digital drawing, you need to use a screen recording tool. Joyoshare VidiKit is the best desktop screen recorder for Windows and Mac platforms. It can record a digital drawing program without a time limit. It is suitable if you need to draw a complicated picture for a long time. If your Internet condition is good, you can also try an online tool. Also, do remember to check our recommended popular digital drawing software if you need to change a new one.