As a gamer, YouTuber, or online tutor, there are a few times when you need to record audio over your tutorial videos or video games to help your audience have a better experience. This will definitely call for you to record high-quality audio. Luckily, you can get it done using an in-built voice recorder or third-party application with advanced functions. This article will walk you through the process of how to record audio in Windows 11. Keep reading and follow the instructions to do that perfectly with 4 meaningful solutions.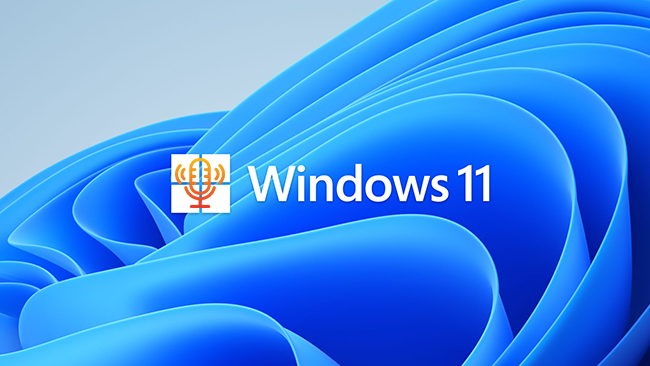 Part 1. How to Record Audio on Windows 11 - Voice Recorder
An in-built voice recorder in Windows 11 is the best option for you if you merely want to record your voice and perform some simple editing. Like the majority of its in-built tools, Microsoft made this application exceedingly simple to use and lightweight. Here's how to record audio on Windows 11 using this free audio recording software.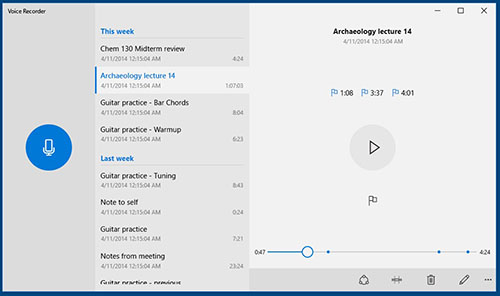 Step 1

Open Voice Recorder

Click the Start button from your keyboard, then search for Voice Recorder. Click the topmost result to open Microsoft Voice Recorder.

Step 2

Start Recording

It is very straightforward using this audio recorder. Start recording by clicking the microphone button.

Step 3

Set a Timer and Monitor the Progress

You may place a marker at a certain segment by clicking the flag button while recording. For instance, if you made an error and want to cut that section out later or go on to a new topic. Your marks, along with their timestamps, will appear at the bottom of this app. At the top of the page, the amount of time you've been recording will be shown. You may temporarily pause the recording by clicking the pause symbol or stop it by clicking the center button with a square in the center.

Step 4

Edit Your Recording

Voice Recorder will automatically display your recording in a sidebar on the left once it is finished. You may open it by clicking it and listen to the recording by clicking the play button to see if any changes are needed. You can also right-click your recording in the list to rename it.
Part 2. Record Audio from Computer Windows 11 - Joyoshare VidiKit
Apart from recording audio on Windows 11, Joyoshare VidiKit - Audio Recorder allows users to record their screens with amazing features like editing audio recording, creating recording task, using hotkeys, changing codec, quality, channel, sample rate, bit rate, etc. Also, editing ID3 tag makes it easy for you to add correct information, including year, composer, cover, artist and more. With this tool, you can save your audio as multiple formats like MP3, M4A, AAC, AC3, OGG, AIFF and so on. Joyoshare VidiKit does not only stand tall on the best screen recording list. It takes its place on this list also.
Key Features of Joyoshare VidiKit: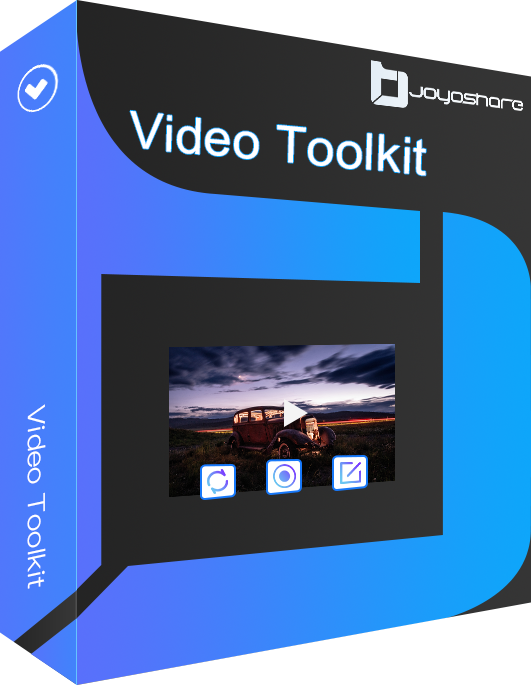 Screen record with microphone or system audios on Windows PC
Export and save audio and video recording in high quality
Change codec, quality, channel, ID3, bit rate, sample rate and more
Capture game audio, voice call, sound from mic, music, etc.
With an inbuilt timer to create recording tasks and preview file in real-time
Step 1

Install and Launch Joyoshare VidiKit for Windows 11

Double-click the program icon on the desktop to run Joyoshare VidiKit after it has been installed. Click Recorder option and select Screen Recorder button in the pop-up window. The following window will appear after that. Switch to audio recording mode by clicking the "Record audio" icon next to the "REC" button.

Step 2

Customize Recording Features

Choose and customize the system and microphone sounds to your liking. Then, if you want, you can click the gear icon to pick the MP3 format or adjust its specifications such as codec, channel, sample rate, and bit rate. You may also use this interface to create shortcuts and plan your recording activity.

Step 3

Record Audio and Edit Recordings

Prepare your audio or music before clicking the blue "REC" button on your computer. There are 3 seconds to countdown that allows you to make adjustments. If you want, cut your recording into separate chunks. After tapping the Stop button, you can examine whatever you captured later in the "History" window.
Part 3. Record Audio on Windows 11 - Game Bar
The Xbox Game Bar app allows users to record audio on Windows 11. Game Bar makes it simple to keep track of your gaming actions as they're being recorded. It includes simple controls and allows you to customize the audio settings to your liking. It also allows you to interact with others who share your interests. Although this internal audio recorder offers a flexible recording feature that enables you to record internal audio and your voice simultaneously, it will record background noises in addition to the screen. Here's how Game Bar works for you.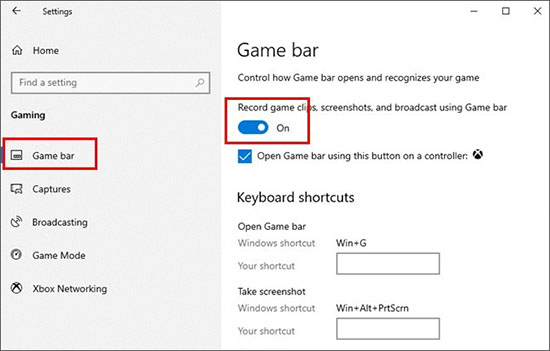 Step 1: Press Windows + G to enable Game Bar. From the Game Bar settings, select "Capture".
Step 2: Select the "Mic" option from the "Capture" section if you wish to incorporate your spoken narration/voice note. Alternatively, you may toggle the microphone on and off by pressing Windows + Alt + M.
Step 3: In the "Capture" box, click the "Start Recording" icon to begin the recording process. Start recording by pressing Windows + Alt + R is also available. Xbox Game Bar will minimize after starting the recording, and on the right side of your screen, capture status will appear.
Step 4: To stop recording, press Windows + Alt + R or click the Stop Recording icon.
Part 4. How to Record Internal Audio on Windows 11 - Audacity
Audacity is a free voice recorder that has both basic and advanced functions. You can easily edit and capture computer audio with Audacity with no hassle. It is difficult for you to operate this program if you are a beginner as it has no user-friendly interface. Using hotkeys to start and finish the recording process is also available in this tool. Here is how to capture audio on Windows 11 with Audacity.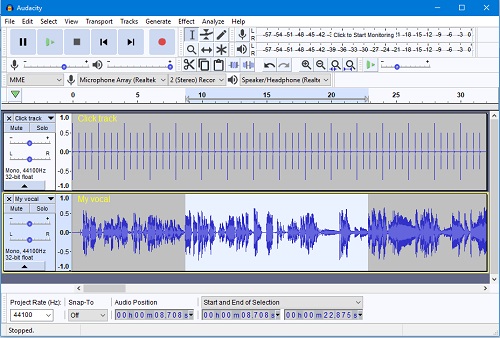 Step 1: Launch Audacity. On the top screen, click Edit - Preferences, or press Ctrl + P.
Step 2: In the preferences, find and click Devices - Recording. Select the appropriate microphone from the selection next to "Device". When you're finished, click "OK".
Step 3: To start recording, click Transport on the top page and select Record, or Press "R".
Step 4: Use the large stop button under the toolbar to pause or stop recording when done.
Step 5: Save recording first before anything. To do this, click File - Save Project As, and then select a preferred location. After this, you can export the video as you wish.
Part 5. FAQs about Recording Audio on Windows 11
Q1. How long can I record on Windows Sound Recorder?
A: The limit for recording on Windows 11 is 60 seconds. However, some third-party apps offer a specified time limit, while others offer unlimited audio recording time.
Q2. What is the best audio recorder for Windows 11?
A: There are many audio recorders for Windows 11. Among these, Windows Voice Recorder and Game Bar are good to consider, which requires no software downloading and are free of charge. For me, the best two audio recorders I have seen so far are Joyoshare VidiKit and Audacity.
Q3. How to fix microphone not working on Windows 11?
1. Run Recording Audio Troubleshooter: you can press Windows key + R to call out "Run" pop-up window and type 'ms-settings:troubleshoot'. Then go to Troubleshoot → Other Troubleshooters → Recording Audio → Run. Simply choose the Current Default Device and "Apply this fix" to get the issue solved.
2. Enable Microphone Access: easily press Windows key + R and open Run window to enter 'ms-settings:privacy-microphone'. After that, go to Privacy & Security → Microphone → Microphone acess. Turn on this option and let apps access your microphone.
3. Enable Recording Device: similarly type 'devmgmt.msc' in the Run window to open Device Manager → 'Audio inputs and outputs' → right-click to set 'Enable device'. Or you can go to Sound Settings on Windows 10 directly to finish this operation.
Conclusion:
With in-built audio recorders like Voice Recorder and Game Bar on Windows 11, you can record audio anytime. However, you may not be able to do some advanced editing on the output, including adding ID3 tag, cutting and cropping audio, specifying output path, customizing output format, etc. and the sound might not be the quality you like. After pointing out how to record audio in Windows 11 with these in-built apps, some third-party tools such as Joyoshare VidiKit, are worth to try. You can be sure of advanced editing and top-notch sound quality.