While how to record audio from the microphone on Mac is known by most users, it is a bit obscure to learn how to record internal audio on Mac. There are actually many methods to this, but most of them are going to bother the users with either little or big drawbacks. Therefore, we have concluded 8 best ways to record Mac system audio only, because we believe that effectiveness and user satisfaction are more important than the number of methods.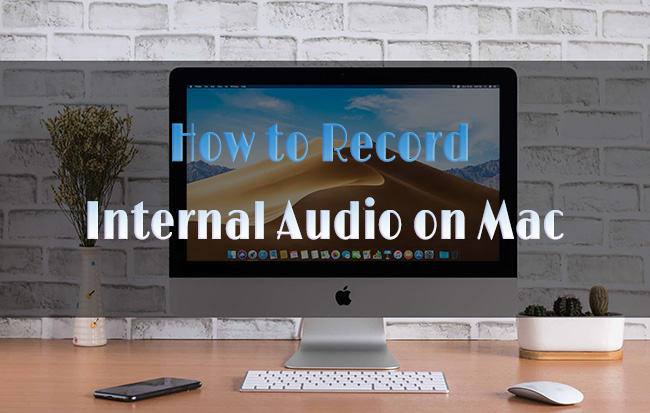 Part 1. Record Internal Audio on Mac with Joyoshare VidiKit
To record system audio on Mac, you will need the help of a program. Joyoshare VidiKit - Audio Recorder is a multi-functional audio recorder that is able to record audio from the soundcard, the microphone, the speaker or other audio devices connected to your Mac. So, you can replace the default recording software with this program. The high quality of the original audio will be retained in the recording as much as possible, and you can save the recordings to multiple formats, including MP3, AAC, AC3, APE, FLAC, AIFF, ALAC, OGG, WAV, WMA, etc.
It amazes many users with its post-recording editing feature, which allows you to trim the recordings and edit their sound effects and ID3 tags. Besides, it is also worth mentioning that the ID3 tags will be matched by the program when the recording source is music. The auto-split of the recordings will increase the recording efficiency dramatically.
Key Features of Joyoshare VidiKit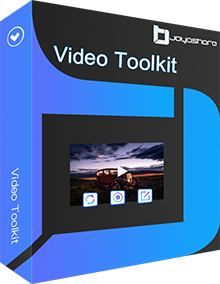 Excellent and customizable sound quality, channel, bit rate, etc.
16 audio formats available like CAF, ALAC, M4A, FLAC, AIFF, and many more
With powerful post-recording editing features like trimming and editing ID3 tag
Record both internal Mac audio and external audio within few steps
Best internal audio recorder to record audio from different websites, programs and more
Step 1

Launch Mac internal audio recorder

Download Joyoshare VidiKit for Mac from the option above and run it. In the main interface, press the icon in the bottom toolbar, and select System Audio. Now Joyoshare VidiKit will record the system sound instead of other sounds produced by Mac.

Step 2

Set the output settings

Click on the icon to open the Format menu. Here you can change the recording-related settings, including format, codec, channel, bit rate, and sample rate. Or you can skip them and select High Quality or Small Size in the Preset option. The rest options will be automatically adjusted according to the Preset. Next, click on the Preferences button in the upper right corner to open the Preferences menu, where you can change the saving folder.

In addition, the automatic split function can be turned on in this menu. In the Preference window, go to the Convert column and tick the box under the "Split Recordings Individually". Next, tick the "Recording is silent" option under the "Delete Recordings Automatically". Now Joyoshare VidiKit split the tracks when it detects the silence between audios. Of course, the split benchmark time can be changed according to your own needs.

Step 3

Record internal audio on Mac

Now, find the audio you want to record first, make sure it is playable but don't play it yet. Press the Start Recording button in Joyoshare VidiKit and then play the audio. Upon the audio finishes playing, press the Stop Recording button to stop the recording process. The recording tracks can be found in the folder you choose in the Preferences menu.

Step 4

Edit the recorded internal audios

Tap the icon at the rear of the track to start to edit the recording. You can trim the tracks and adjust the sound effects. Besides, you can edit the ID3 tags on your own.
Part 2. How to Record System Audio on Mac with Audacity
If you want to record Mac internal audio in a freeway, Audacity is a good choice. Audacity is a famous freeware that can record sound from your Mac. But it should be made clear that this method is more complicated than the last one since it involves both Soundflower and Audacity. Therefore, we will tell you how to use Soundflower and Audacity, which are both free. Without further ado, let's get into the steps to record Mac internal audio.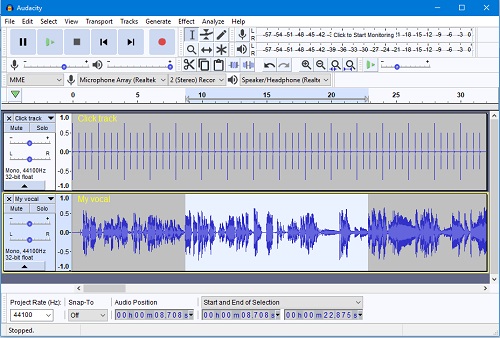 Step 1: Search "Audacity" and "Soundflower" in Google, then download and install them on your Mac
Step 2: Go to the "System Preferences" - "Sound" - "Output". Now select "Soundflower" on this menu.
Step 3: Open Audacity, and click on "Audacity" on the upper left of the screen and click "Preferences". In the popping-out menu, click on the "Devices" tab from the left and then the "Device" drop-down menu under the "Recording". Click on the "Soundflower" option.
Step 4: Hit the recording button in Audacity, and then play the audio. You will notice that the audio is being captured by the software. If you want to end the recording, press the recording button again.
Part 3. How to Record Internal Audio on Mac - OBS
Open Broadcaster Software, short for OBS, is an open-source audio recorder, which is designed to process video/audio files and stream to Twitch, Instagram, YouTube and more on Windows, Mac and Linux. With this advanced program, which is compatible with a series of video and audio formats, you have the luxury to record all internal/external audios and videos on your computer and save them in any format that you want.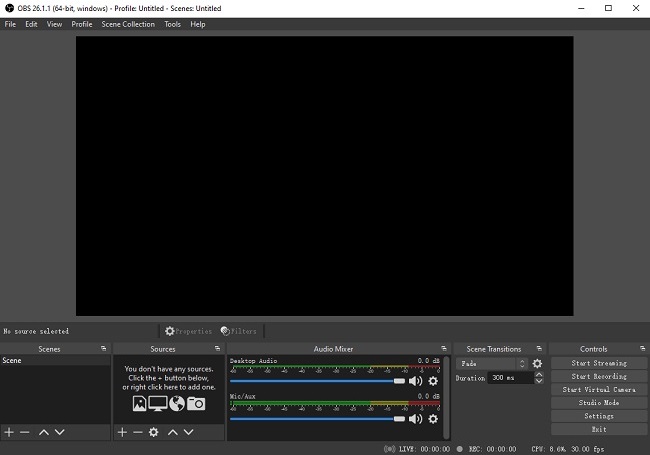 Step 1: Install and launch OBS on Mac. Then navigate to the Sources box at the bottom of the screen and click the gear icon. In the drop-up menu, choose Audio Input Capture if you want to record audio.
Step 2: Go to File - Settings - Audio. Here, find and click Desktop Audio tab, select the right source. Click OK.
Step 3: Back to its main interface, click the Start Recording button to start the internal audio recording process. To stop the process, simply click the Stop Recording.
Part 4. QuickTime Player
As an inbuilt screen and audio recorder in Mac device, QuickTime Player can help you capture audio with customized quality from your system and microphone as you want. This tool records all on-screen activities efficiently and allows you to share files to many social websites like YouTube, Vimeo, Facebook, Instagram and many more. Also, you can customize audio input devices like headset and internal microphone before the recording process.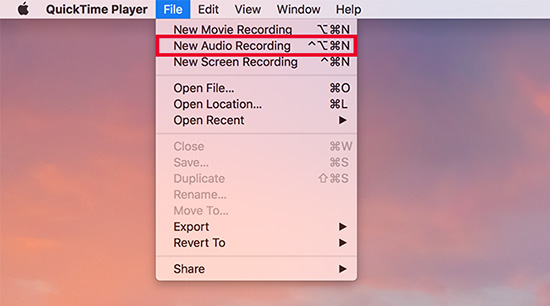 Step 1: Activate QuickTime program on your Mac and head to the menu.
Step 2: Click File and choose New Audio Recording from the drop-down menu. Click the Options to configure Microphone to Soundflower or BlackHole.
Step 3: Choose your desired audio quality by clicking down arrow before the audio recording process.
Step 4: To save the recorded audio file, just click the File and select "Save..." option.
Part 5. How to Record Internal Audio on Mac - GarageBand
Featured with a complete sound library, GarageBand is a music creation studio inside your Mac computer. It is coming with a simple and intuitive interface, which means that you can operate this program without any steep learning curve. What's more, you are able to add tracks to GarageBand using iPhone and iPad devices as you want. After the audio recording, you can share recording files with your family, friends, and the whole Internet community.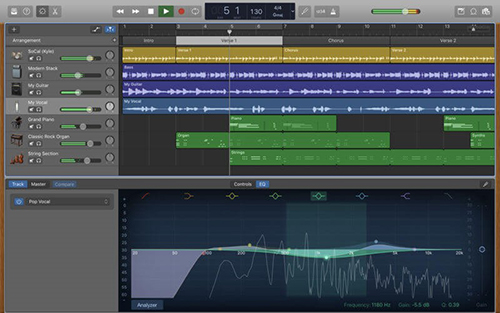 Step 1: Download and activate GarageBand on Mac computer. Then choose sound effects on the user interface.
Step 2: Now, press the red recording button to start recording and click the Stop button to finish the process.
Step 3: After the recording, you can play and enjoy your audio recording.
Part 6. How to Record Internal Audio on Mac - Recordit
This is a practical, light and professional recording tool provided for you to record internal audio from Mac. Its free version only allows you to record audio and screen within 5 minutes. Also, you can create demonstration video and video tutorial as you want. Recording computer audio, online audio, and audio from microphone is also available in this program. You can follow the below easy steps to finish the audio recording.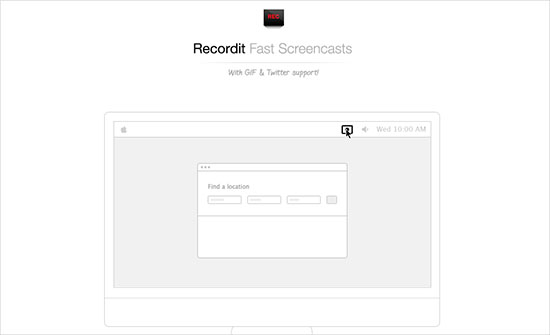 Step 1: Download, install and open Recordit program.
Step 2: Find and click the black circle icon at the top of the interface to initiate the recording.
Step 3: To stop the recording, simply click the Stop option.
Part 7. Easy Audio Recorder Lite
This easy-to-use audio recording tool, Easy Audio Recorder Lite, saves audio in WAV file format with high sample rate and has the possibility to send the audio file by using email. If you want to save your audio in M4A, FLAC, AIFF, CAF, and WAV formats, you should download the full version of this program. Plus, you can use this tool to capture audio podcast, audio lecture and music to enjoy later. During the recording process, pause, stop, or skip the recording with its recording controls.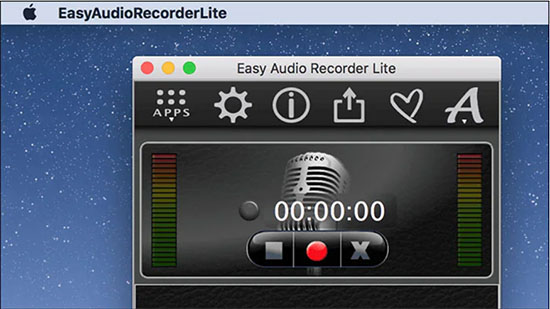 Step 1: Operate this program to its interface after downloading and installation.
Step 2: Then, customize the input device and click the Record button to start recording and stop button to finish the recording.
Step 3: The recorded audio will be saved to your hard disk automatically. You can play and share it as you want.
Part 8. Record Internal Audio on Mac - Free Sound Recorder
Compatible with both Windows and Mac, Free Sound Recorder is one of the best programs to help you record internal audio. With this tool, you are allowed to record audio like music, podcast and audio lecture. Operating this program is very easy as it is coming with friendly and snappy user interface. Customize its inbuilt settings if you want to get audio recording with high-quality efficiently.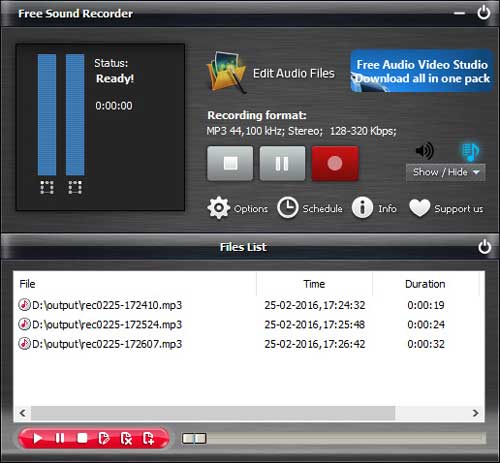 Step 1: Download Free Sound Recorder from its official website and activate it after the installation.
Step 2: Click the Options to specify settings like format, channel, bit rate and more to record internal audio from Mac.
Step 3: Click the big red record button to record your desired audio and click the stop record button to save your audio recording. Double click the audio file in the File List to preview your recorded audio files.
Conclusion
Now, you know how to record internal audio on Mac using 8 different Mac internal audio recorders. It is very complicated to use inbuilt audio recorder in Mac as you should configure the input audio devices like BlackHole and Soundflower. If you want to get high-quality audio files with customized parameters, Joyoshare VidiKit is the best option as it is featured with multiple customizable features like channel, bit rate, ID3 tag and more.