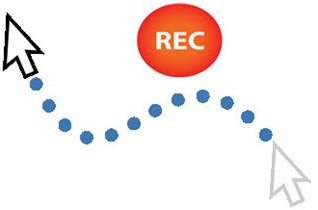 Most of the time, it's of importance to record mouse movement and clicks, especially when making a tutorial video of a game or software, to make the mouse actions visible so that viewers can easily understand the content of your video. Therefore, this article picks up 6 capable mouse recorder programs that are popular with users for you. Some of them are even more than just a mouse and keyboard recorder, which will allow you to record macros for playback at a later time. In addition to this, we will also use some examples in many parts to help you better understand how the software works.
Part 1. Joyoshare Screen Recorder
Joyoshare Screen Recorder allows you to capture any onscreen activity with audio from computer system and/or microphone in one click. You are able to record gameplay, make video tutorials, download online movies and streaming music, save online courses, etc. To enhance your experience, you are also free to select capturing areas, schedule recording tasks, and more.
When it comes to recording mouse movement and clicks, Joyoshare Screen Recorder offers you multiple options. For example, you are free to show or hide your cursor, highlight cursor or clicks and change its effects. As the program is able to record screen in 1080p without any latency, you can rest assured that your mouse movements will be recorded and displayed clearly and smoothly.
Key Features of Joyoshare Screen Recorder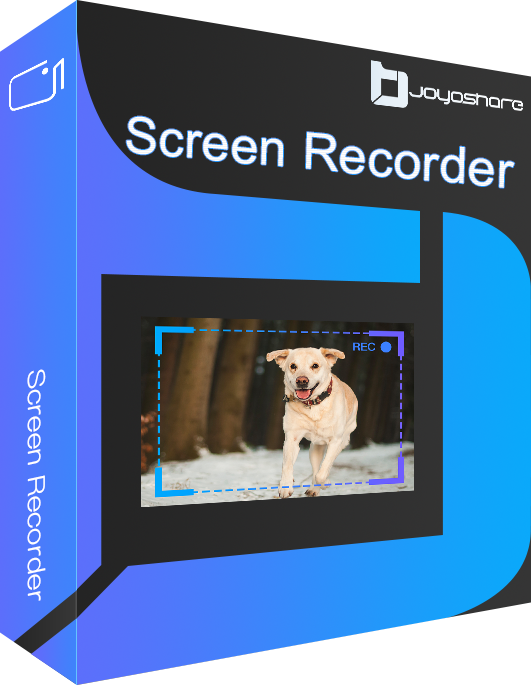 Support Windows and Mac
Show/hide or highlight cursor
Stylize click and cursor patterns
Record any video and audio on desktop
Screen recorder no lag, no watermark, no time limit
Step 1

Install and Run Joyoshare Screen Recorder

Having installed Joyoshare Screen Recorder successfully, double-click to launch it on your computer. On the right side of the screen, press the camera-like icon near the "REC" button to select the "Record video and audio" mode. You are also capable of turning on/off system audio or microphone and adjust its volume in the middle section of the main interface.

Step 2

Customize Cursor Options

Next, tap the little icon at the lower-right corner of the main interface to customize your mouse settings. Under the "Cursor options", to record your mouse movements and clicks, you can free to check the checkbox of "Show Cursor", "Highlight Cursor" as well as "Highlight Clicks" and change their patterns.

Step 3

Begin to Record Mouse Movement and Clicks

After confirming other kinds of settings, such as choose an output format, grab capturing area, etc. you can click the "REC" button on the main interface and Joyoshare Screen Recorder will start to capture mouth paths and clicks after a three-second countdown.
Part 2. Mouse Recorder Premium
Mouse Recorder Premium serves as a professional automation macro recorder freeware for repetitive tasks. It can also be used as a mouse auto clicker or for software test automation. It is able to record your mouse clicks and keystrokes and then plays back infinitely at a customizable speed. It comes in handy if you plan to make smooth screencast video tutorials as it can help streamline edgy mouse movements as well as optimize timing. With the powerful macro editor component, you will be able to tweak mouse movements, add additional clicks, modify timing and more.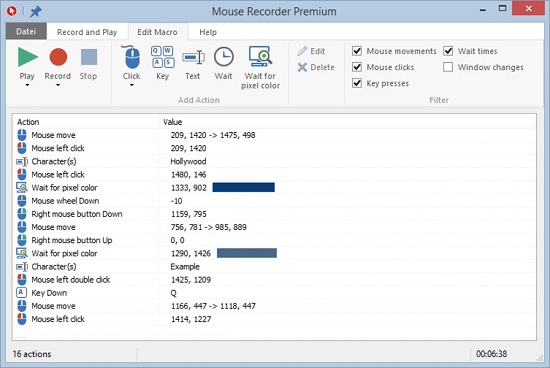 Supported OS: Windows
Key features:
Identify each macro action
Edit macros easily and quickly
Smooth edgy mouse movements
Guide:
Step 1: Run Mouse Recorder Premium on your computer and select either the "Record a new macro" or "load a file";
Step 2: For example, if you select "Record a new macro" here and have launched the "Paint" app on your computer, you can now draw some funny drawings;
Step 3: Next, close the drawing window and press the "Stop" button on your Mouse Recorder Premium to stop recording;
Step 4: You will find that Mouse Recorder Premium will record all actions and separate them to individual actions like sleep commands, character entries, key presses and mouse movements. If you click on it, you will see the actual mouse path;
Step 5: Afterwards, press the "Play" button on the program for playback.
Part 3. GhostMouse
GhostMouse will allow you to record and automate a series of mouse clicks and keystrokes, including the drag-and-drop actions and right clicks. GhostMouse is easy to use. With its compact and three-button interface, users will be able to record a script to play back a set of actions. To start the recording process, you just need to hit the "Record" button and stimulate the keyboard and mouse actions to begin. In conclusion, GhostMouse can become your ideal choice if you don't want to record more than mouse.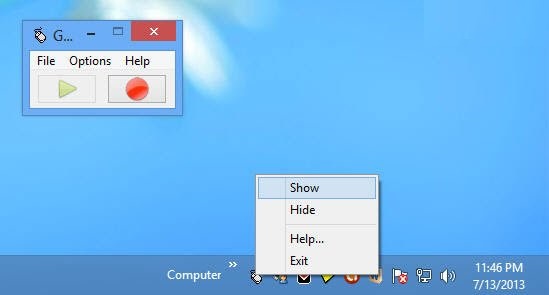 Supported OS: Windows7/8/10 and 64-bit systems
Key features:
Set up the playback speed
Automate mouse movements and keyboard
Record mouse movement, clicks, keyboard actions, etc.
Guide:
Step 1: After downloading and installing GhostMouse, run it on your computer;
Step 2: You are able to navigate to Options > Settings > Hotkeys to adjust the short keys of "Playback/Stop" and "Record/Stop";
Step 3: Move to Options > Recordings > Options to choose to record "Keyboard", "Mouse click", "Delay" or "Mouse move" freely;
Step 4: Now go back to the main interface and press the circle button to start recording;
Step 5: Tap the "Stop" button to end recording and the "Play" button to view the playback of your keyboard and mouse movements.
Part 4. ReMouse
ReMouse is an automation program. It will allow you to record and replay a sequence of keyboard and mouse actions. You can also save your operation recordings as script files for later use. No need for any programming experience, you are capable of automate and schedule any onscreen actions without typing a single line of code. What's more, ReMouse is compatible with almost all popular Windows versions. With its small installation package, you can download and install it instantly.

Supported OS: Windows 7/8/10 and 64-bit systems
Key features:
Schedule recorded actions and set up triggers
Save recordings as script files in ReMouse's native format
Customize the configuration with an intuitive graphical interface
Guide:
Step 1: Download ReMouse from websites and run it on your computer after installation;
Step 2: Press the circle button to begin recording, and you can begin to operate on the desktop;
Step 3: Tap the square button to stop recording;
Step 4: Click the triangle button for playback.
Part 5. Axife Mouse Recorder
Axife Mouse Recorder is perfect for every beginner who plans to record and replay groups of mouse and keyboard actions. To satisfy your different needs and deal with complex work, it also offers you a large number of useful extensions. Furthermore, its action wizard editor provides dedicated buttons to star and stop recording actions as well as play the recordings. Axife Mouse Recorder has the ability to function in the background and keep track of unauthorized activities as well.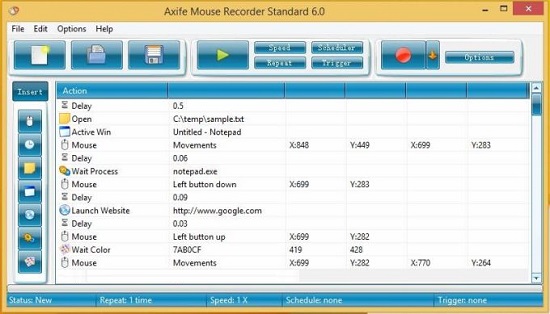 Supported OS: Windows 7/8/10 and 64-bit systems
Key features:
Schedule keyboard and mouse recordings for a later time
Repeatedly play the recordings as many times you would like to
Insert markers and elements between keystrokes or mouse movements
Guide:
Step 1: Open Axife Mouse Recorder on your PC;
Step 2: Move to View > Options > Hot Keys to set your own preferred hotkeys;
Step 3: Next, tap the "Playback" tab, where you could choose "Playback forever", adjust playback speed, etc;
Step 4: Use hotkeys or press the "Record" button on the main interface to star recording your mouse movements;
Step 5: Similarly, use hotkeys you have set previously or click the "Stop" button to finish recoding;
Step 6: Now you are able to hit on the "Play" button to play your recordings of mouse movements and clicks.
Part 6. JitBit Macro Recorder
As the best macro program for Windows, JitBit Macro Recorder is more than a simple mouse and keyboard recorder but a powerful and reliable automation tool. Its straightforward user interface will release you from spending too much time reading manuals. You are able to start using Macro Recorder in seconds. Moreover, you are capable of convert your macro to an EXE file. Most importantly, JitBit Macro Recorder can find images on a screen and detect when a window changes its position.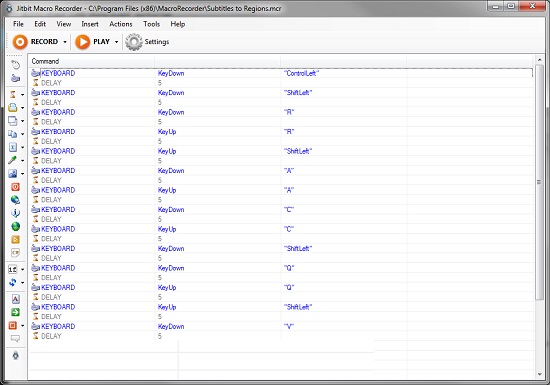 Supported OS: Windows
Key features:
Loop the macro playback
Edit macros with the built-in full-featured editor
Offer macro recording filters and variable playback speed
Guide:
Step 1: Run JitBit Macro Recorder on your computer;
Step 2: Hit the "Start recording" button at the upper-left corner of the main application screen and begin to do some clicks;
Step 3: When you are done, click the "Stop" button or press Ctrl + Q to stop recording and go back to the main window;
Step 4: JitBit Macro Recorder has created a script for you, and now you can press the "Play all" for playback.
Conclusion
As a matter of fact, Joyoshare Screen Recorder focuses more on helping users capture mouse movements and clicks as well as highlight cursor during recording desktop screen, while other mouse recorder software we mentioned above is dedicated to capture keystrokes and mouse actions for software test automation, repetitive tasks execution, etc. What's more, Joyoshare Screen Recorder support both Windows and Mac, and other mouse recorders can only work with Windows. You can choose whichever you like based on what you really need.