Fast forward to today, where the popularity of consoles continues to grow, there is no denying that a large number of gamers still rely on PCs to play games. Undoubtedly, the fun is doubled when you share your gameplay with your friends, fans, and other players. To tell the truth, recording PC gameplay is nothing too hard, and the best way to do that is by using a handy and smart gameplay recorder. As learning how to record gameplay on PC is a must, if you want to do the same as well, below are six popular ways to help you out.
Part 1. Record Gameplay on PC - Joyoshare VidiKit
Recording PC gameplay can be fun using Joyoshare VidiKit (originally Joyoshare Screen Recorder). It is a multipurpose screen recorder for PC and Mac. The user interface is easy to understand and you can start gameplay recording with just one simple click. Supporting various output formats and devices, you will be able to record gameplay on Steam, Wii, PS3/4/5, Xbox One/360, etc. in extremely high visual quality.
Enabling you to have full control of your game video recording, Joyoshare VidiKit offers you many flexible features for customization. Examples are but not limited to grab screen size freely, adjust video parameters, add watermark to screen recording, highlight cursor and clicks and remove any unwanted content of the recorded game video. Such attractive functions make Joyoshare VidiKit worth giving a try.
Key Features of Joyoshare VidiKit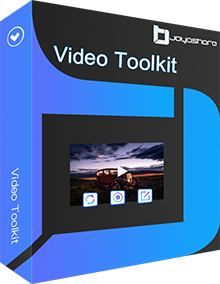 Simple, intuitive, and easy-to-navigate interface
Play and edit recorded game clips directly
Record gameplay on PC in up to 4K at 60fps
Capture sound from PC or/and microphone
Select the entire screen or any customized region
Record videos without time limitations and watermark
Support all popular file formats, gaming consoles, etc.
Step 1

Open Screen Recorder

Once you've installed Joyoshare VidiKit on your PC, you need to double-click on its desktop icon and select the screen recorder option on the "Record" panel. After the video recorder launches, click on the icon to enable the "Record video and audio" mode.

Step 2

Tweak Recording Settings

In the lower right corner of the interface, you will be able to see a gear icon. Click on it to unfold a window and gain access to more options. The "Format" button will let you set up your target format and adjust its parameters. Press the "Watermark" button if you plan to add your personal logo to your gameplay recording. You can also make Joyoshare VidiKit start/end recording automatically.

Step 3

Grab Recording Screen Size

The "+" icon that allows you to select area to record can be found on the "Capture Area" of the main interface. Once you hit on the icon, a blue frame will show up. You can drag it to any size. Remember to turn on/off system audio and/or mirophone and change the volume if necessary.

Step 4

Start to Record Games on PC

Click on the blue "REC" button and Joyoshare VidiKit will start to record your PC gameplay after a three-second countdown. Press the "Stop" button shown on the minimized toolbar outside the dynamic recording frame to stop recording. You can also use the "Pause" button to skip any unwanted parts and the "Cut" button to create several independent PC game clips.

Step 5

Play and Edit PC Games

The History window will pop up the moment when you click on the "Stop" button. You will be able to play and edit your game videos such as rename them and cut unnecessary parts of each game clip.
Part 2. How to Record PC Gameplay - Xbox Game Bar
Windows 10 includes a built-in tool called Game Bar for recording PC games and taking screenshots. When playing a game and wanting to save your best action, you can press Windows Key + G on your keyboard to enable the video recording utility. It will pop up above the PC game you are playing.
Guide

Step 1: Open the Game Bar on PC

To open the Game Bar while playing a PC game, you need to press Windows Key + G. You may need to play a PC game in windowed mode so that you can see the Game Bar. Your PC may ask if you really want to open the Game Bar when you press Windows Key + G.

Step 2: Set Relevant Recording Settings

You may have noticed that there is a "Settings" icon on the menu bar. Click on it to adjust your gameplay recording preferences. For instance, you are able to change shortcuts to record last 30 seconds, start/stop recording, turn on/off microphone, etc. You are also able to select the "Capturing" tab to choose to record gameplay in the background without impacting your gaming performance.

Step 3: Start to Record Games on PC

When you are ready, you can click on the "Capture" button on the menu bar and then press the "Start recording" button (or press Windows Key + Alt + R) on the "Capture" widget. At that time, a small overlay will be displayed on your PC screen. Press the "Stop recording" button to quit recording.

Record the Last Few Seconds or Minutes

The "Capture" widget also allows you to record a PC game with the last few seconds or minutes. With the help of this feature, you will be able to save something spectacular that happens in the PC game you play even you didn't manually start recording your gameplay. All you need to do is to press the "Record last 30 seconds" button or press Windows Key + Alt + G.

However, this feature is available only when you have enabled the background recording in your Windows 10. To do so, you are ought to open the "Settings" app on your computer and then select the "Capture" tab. Check "Record in the background while I'm playing a game". You will also be able to choose to record up to the last 10 minutes.
Part 3. How to Record Games on PC - Bandicam
Bandicam makes it possible for you to record gameplay and then upload it to YouTube and Vimeo. As a lightweight screen recorder designed for Windows users, it is able to capture almost everything that happens on your PC screen in high quality. Recording from popular devices such as Webcam, IPTV, smartphone, etc. is made easy by Bandicam. Using it, you will be able to save your favorite game clips in MP4 or AVI format easily and quickly. Additionally, many editing tools are available as well. You are capable of add a mouse click effect while recording.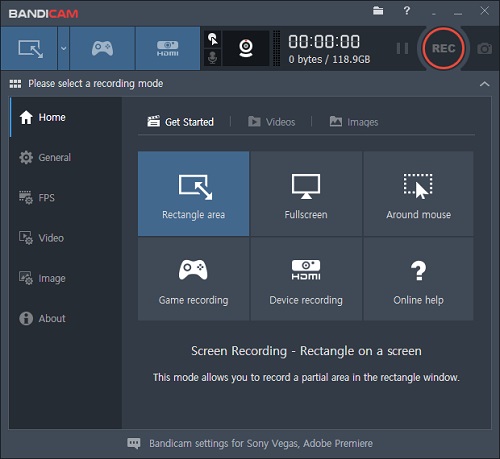 Key Features:
Record various 2D/3D games up to 480 FPS
Compatible with webcam, PlayStation, Xbox, etc.
Only support Windows computers
Record computer sound and voice at the same time
Export game videos to MP4 or AVI
Guide:

Step 1: Start Bandicam on your PC nad select the "Game Recording" mode on the top menu;
Step 2: Begin your PC game and check the green-colored number (FPS) shown on your PC screen;
Step 3: Press the "REC" button at the top of the screen after adjusting other settings according to your needs;
Step 4: The green-colored number (FPS) will change to red during the gameplay recording;
Step 5: Press the record hotkey (F12 by default) to stop recording your PC game, and you are able to go to Home > Video to play, edit, or upload your recorded PC game clips.
Part 4. How to Record Video Games on PC - Nvidia Share
If you have GeForece GPUs, you can consider using Nvidia Share, also known as ShadowPlay, to record your PC game videos. This screen recording utility performs excellently in recording and sharing high-quality gameplay videos, livestreams and screenshots. Its DVR-style Instant Replay mode is able to save the last 30 seconds of your PC games and you can save it to your hard drive or share to Facebook or YouTube. More importantly, you can leave Nvidia Share running in the background.

Key Features:
Record gameplay at up to 4K HDR at 60 FPS
It is hardware-accelerated
Save the last 30 seconds of games with a simple click
Broadcast to Twitch, YouTube Live, etc.
Create up to a 15-second GIF from gameplay
Guide:

Step 1: Press Alt + Z to open the Nvidia GeForce Experience overlay, but if this is not happening, you need to open the GeForce Experience application and then click the green "Share" button on the toolbar to open the overlay;
Step 2: You can turn on the Instant Replay mode so that ShadowPlay will automatically save the last 30 seconds of your PC games;
Step 3: You are also able to press the "Record" button and then select "Start" or press Alt + F9 alternatively to begin to record gameplay on PC;
Step 4: To stop recording gameplay on PC, you can either press Alt + F9 again or open the overly to press the "Record" button and then choose "Stop and Save";
Step 5: The "Settings" option shown after clicking the "Record" button will allow you to customize quality, length, resolution, etc.
Part 5. How to Record Game Clips on PC - OBS
Any PC user can install OBS to record game footage, which is able to adapt to almost all platforms, such as Windows, Mac, Linux, etc. Versatile as it is, it's not nearly as convenient as Joyoshare VidiKit. However, once you get the hang of it, you may find it powerful and reliable. OBS is a free and open-source tool that will allow you to record PC gameplay in 1080p at 60fps. It has many incredible features, such as adjust resource properties, use audio mixers, and a whole lot more.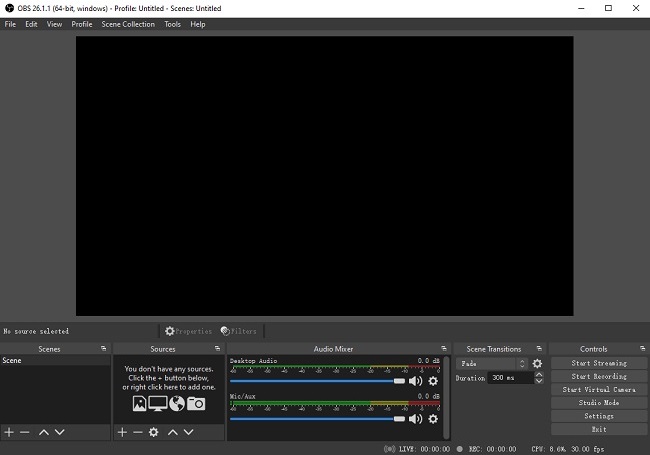 Key Features:
Free to use
Offer a beginner-friendly audio mixture
Have easy-to-use configuration options
Support gameplay recording and live streaming
Use multiple video sources filters
Guide:

Step 1: Click the "+" icon at the bottom of the "Scenes" box in the bottom left corner of OBS;
Step 2: Name your scene on the pop-up box;
Step 3: Press the "+" button on the "Sources" box to the right of the "Scenes" box and add a "Game Capture"source;
Step 4: Select "Mode" on the "Properties" box and then choose "Capture Specific Window", and after that, the title of your game will appear in a new dropdown menu under "Mode" (if this is not happening, you need to first open your game and then return to the "Properties" menu);
Step 5: Press the "ok" button and your PC game will appear in the OBS window, and now, you are able to tap the "Start Recording" button on the bottom right side of the window to begin to record and save your game videos.
You may also need: How to Record Browser with OBS
Part 6. How to Record PC Games - EaseUS RecExperts
EaseUS RecExperts is a simple and intuitive PC screen recorder to record gameplay and audio simultaneously. Similar to other gameplay recorders, it allows you to capture the entire screen or a specific region. But different from other conventional competitors, EaseUS RecExperts will enable you to add text, arrows, lines, images, etc. while recording a PC game. It supports webcam as well, which means you will be able to record yourself speaking and show your YouTube fans how to complete a gaming task at the same time.

Key Features:
Record videos and audios simultaneously
Capture any area of your PC screen flexibly
Support uploading recorded game clips to social media
Create gameplay recording tasks automatically
Edit videos and audios while recording
Guide:

Step 1: Launch EaseUS RecExperts and start your PC gameplay, and after that, select "Record Game" from the menu;
Step 2: Adjust the frame rate, turn on your microphone as well as your webcam as you like;
Step 3: Press the red "REC" button on the right side of the screen to start to record games on PC;
Step 4: Once you are done with recording, you can edit the recorded game videos using the built-in video editor.
Conclusion
The above-mentioned PC gameplay recording tools provide complete control over your game. All of them are able to record gameplay on PC in high quality but may differ in features and ease of use. For example, Bandicam and Nvidia Share can only support Windows while others are also compatible with Mac operating system. OBS is free but it is not as handy as Joyoshare VidiKit. Nvidia Share is able to record at up to 8K UHD, but it may decrease your gaming performance. Among them, Joyoshare VidiKit is the most cost-effective and does well in recording PC games with no lag instantly and perfectly.