Are you upset that you cannot record the marvelous moment in Apex Legends? Do you want to capture your excellent skill when you are playing Apex Legends? Are you eager to save the unbelievable scene and share it with others? Don't worry. Here is a tutorial to show you how to record Apex Legends. Then you can collect the clips and upload them on your Facebook, Twitter, YouTube channel, and other social media platforms.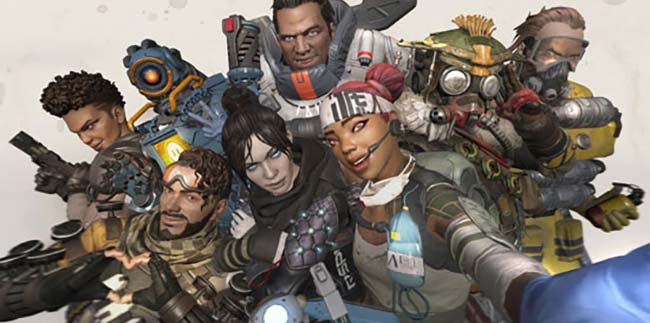 Part 1. How to Record Apex Legends on PC
The easiest way to record Apex Legends is using a screen recorder. Joyoshare VidiKit - Screen Recorder is a comprehensive screen recording software, which can help you capture everything on your Windows and Mac computers, including videos, audios, images, websites, and so on. With its user-friendly interface, you can use it without any technical knowledge. It allows you to record Apex Legends and other games, such as PUBG, CSGO, League of Legends, etc. in high quality without lag.
Beyond that, with this smart gameplay recorder, you can directly save the gameplay videos in MP4, 4K video, AVI, MOV, WebM, FLV, and more other formats. Thus, you can deliver your recorded video on, YouTube, Facebook, Vimeo, iPhone, iPad, Galaxy Tab, LG TV, and so on. Moreover, it allows you to choose a display region to record, which is good for you to record videos, gameplays, tutorials without showing other privacies on your desktop. This program also has other functions like adding watermark, highlighting cursor, and grabbing voice from the microphone and the system.
Key Features of Joyoshare VidiKit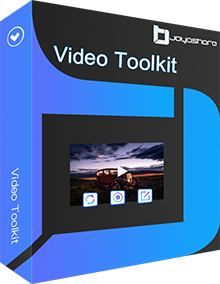 Record Apex Legends without glitch, lag, watermark and time limit
Support to adjust the capture area, codec, quality, resolution, sample rate, etc.
Be compatible with Windows, Mac and lots of video formats
Capture video and audio synchronously or respectively as you want
Record multiple gameplays on Switch, PS4, Xbox One and many more
Step 1

Run Apex Legends screen recorder

First of all, install and launch this screen recorder on your PC. Select "Record" - "Record video and audio" mode to record Apex Legends. If you don't want to record the audio from the system and the microphone, you can disable the system audio and microphone audio. After that, open Apex Legends and get ready to play it.

Step 2

Confirm preference settings

To save your recordings in the target formats, you need to click the "Options" button at the low-right corner. Click on the "Format" button - choose the format. In addition to changing the saving format, this gameplay recorder allows you to reset shortcut keys to start and stop recording, preset a recording task, add watermark, and so on.

Step 3

Adjust the capture area

Click on the plus icon under the "Capture Area" to bring out a frame. Then you can drag it to select the recording region. Or you can choose to record the full screen by clicking the drop-down icon and selecting "Full screen".

Step 4

Record Apex Legends

You can click the "REC" button to record Apex Legends gameplay. You can skip and trim any unnecessary parts during recording using the "Pause" button and "Cut" button. Once you finish the recording, click on "Stop" and the "History" window will pop up. You can rename and edit the recordings in this tab.
Part 2. How to Record Apex Gameplay with Action!
Action! screen recorder is a professional screen recording and streaming software for Windows computers. You can use it to capture Apex Legends in HD quality. It supports webcam and live streaming services and is a nice helper if you need to stream how you play Apex Legends on Facebook, Twitch, YouTube, and so on.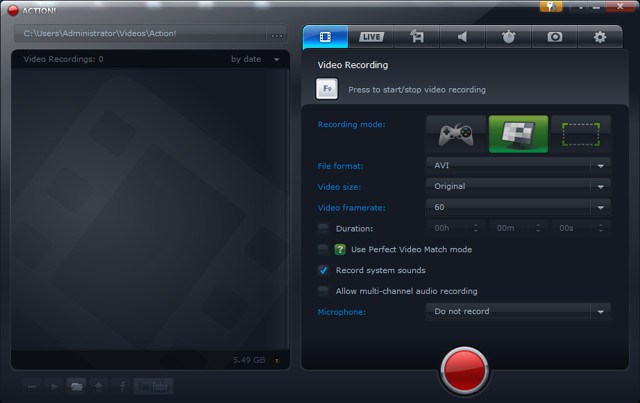 Step 1: Run Action! screen recorder after installation. Open it and choose game mode. Launch Apex Legends on your PC;
Step 2: If you need to adjust the recording area, you can click "Area" to achieve it. You also can select the output formats, customize video size, video framerate, and so on;
Step 3: Press "F9" to start or stop the recording.
Part 3. How to Record Apex Legends with OBS
OBS is known as a popular, free, and open-source screen recorder, which can help you capture all gameplays like WOW, 3DS, Battlefield, Wii, and many more. This free gameplay recorder is compatible with Windows, Mac, and Linux and is featured with inbuilt media player to preview recorded gameplay video. If you tend to keep high quality Apex Legends recordings, don't miss OBS. As a trusted screen recorder, it offers multiple functions, doing well in elevating your video. Aside from capturing gameplay, it's even applicable to YouTube, Vimeo, Zoom, Udemy and many more.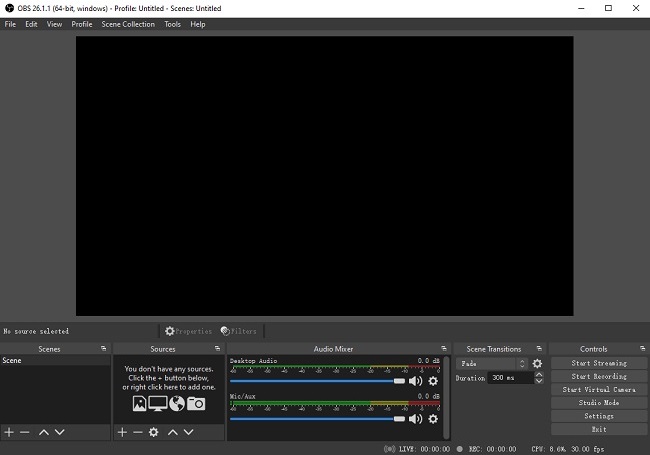 Step 1: Download and install OBS before opening this screen recorder. You can therefore access its interface on your computer.
Step 2: Head to Source box and click + icon to find Display Capture, then click OK option.
Step 3: Open and play your Apex Legends on computer. You can find a Start Recording button in the lower right corner, click it to start recording Apex Legends.
Step 4: When your gameplay recording is ended, you can click the blue Stop Recording option and have a check later.
Part 4. Record Apex Legends - PS4
Dark Souls 3, Death Stranding, Battlefield, The Division, Grand Theft Auto, Fortnite, The Witcher, nearly all these popular gameplays can be recorded on PS4. With inbuilt screen recorder on PS4, all users have the power to record gameplay without any hurdle. The operation is very simple and you can finish that within few steps. To start a new recording, just play the game and press the Share button. You can end the recording by pressing the Share button again.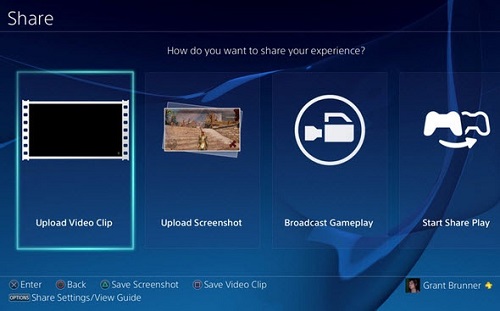 Q&A about Apex Legends
Q1. Can Apex Legends record replay?
The answer is no. Apex Legends doesn't have its own built-in recorder. In another word, it doesn't have a replay feature. Because of this, many gamers are complaining about it. However, the developer may add this function to Apex Legends in the near further. Currently, you are suggested to use gameplay recorders to capture the game.
Q2. Can you play Apex Legends on the Mac platform?
No. Apex Legends is not compatible with Mac computers. At present, it only can be run on Windows computer, PlayStation 4, and Xbox One.
Q3. How do I record Apex on my Switch?
The only way to record Apex on Switch is to use a capture card. Connect your computer, capture card and Switch. Then choose your desired gameplay recording tool to start your Apex Legends recording process.
Q4. How do I record Apex without lag?
Wonder how to record Apex gameplay without lag? Simply choose a screen recorder without lag to help you. Don't forget to customize the recording settings like codec, resolution, quality, channel, bitrate, sample rate and more before the recording process.
Q5. How do you get 240 FPS on Apex Legends?
First, lower the render resolution of Apex Legends from 1080p to 900p, 768p or 720p. Also, lower the graphical settings, turn off background apps and make sure you are using the latest graphics driver.
Q6. How many characters of this game? What abilities do they have?
The following table will summarize the abilities of 12 characters in Apex Legends.
| | |
| --- | --- |
| | Abilities |
| Bangalore | Double Time, Smoke Launcher, Rolling Thunder |
| Bloodhound | Tracker, Eye of the Allfather, Beast of Hunt |
| Caustic | Nox Vision, Nox gas trap, Nox Gas Grenade |
| Crypto | Neurolink, Surveillance Drone, Drone EMP |
| Gibraltar | Gun Shield, Dome of Protection, Defensive Bombardment |
| Lifeline | Combat Medic, D.O.C. Heal Drone, Care Package |
| Mirage | Encore! Psyche Out, Vanishing Act |
| Octane | Swift Mend, Stim, Launch Pad |
| Revenant | Stalker, Silence, Death Totem |
| Wattson | Spark of Genius, Perimeter Security, Interception Pylon |
| Wraith | Voices from the Void, Into the Void, Dimensional Rift |
| Pathfinder | Insider Knowledge, Grappling Hook, Zipline Gun |