Regardless of the operating system, you will sometimes want to record audio from a computer microphone, sound card or streaming website for listening at any time. For the inexperienced, this is really not a simple thing. If you are desperate to create an audio recording on your desktop, this full list is just what you need. You can have general learning of 8 best well-liked desktop audio recorder software and then select one that suits you after completed comparison.
1. Joyoshare VidiKit
Adopted with the most innovative sound capturing technology, Joyoshare VidiKit - Screen Recorder, a competitive desktop audio recorder, is capable of grabbing any onscreen audio activity in high quality. It fully supports all types of audios, such as streaming music, system sound, radio station, microphone voice, gameplay music, etc. Under the assistance of its built-in audio encoder, you are enabled to save what you record in any format, like MP3, M4B, AAC, M4A, FLAC, WAV, OGG, AIFF, M4R, etc. Best of all, you can pause the recording at any time to skip the parts you don't need and cut whichever as you wish. It even offers editable ID3 tag window to let you recognize and fix info.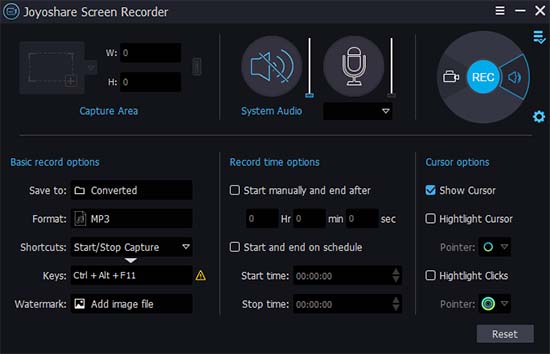 Pros:
Record any ongoing audio in high quality
Support up to 16 kinds of audio output formats
With audio task scheduler and inbuilt editor
Record streaming audio, Discord audio, Google voice, etc.
Preset parameters (codec, channel, bit rate, etc.) and quality
Cons:
2. Free Sound Recorder
As its name suggests, Free Sound Recorder is a dedicated tool that is specialized in capturing all kinds of audios. To let you create an awesome audio recording, this desktop sound recorder shows a digital audio editor to cut, crop, delete, echo, amplify, normalize, and fade in/out files. Better yet, it gives liberty to predefine time and duration for a scheduled recording assignment. You can as well capture music from any online music sites and freely grab new-released songs.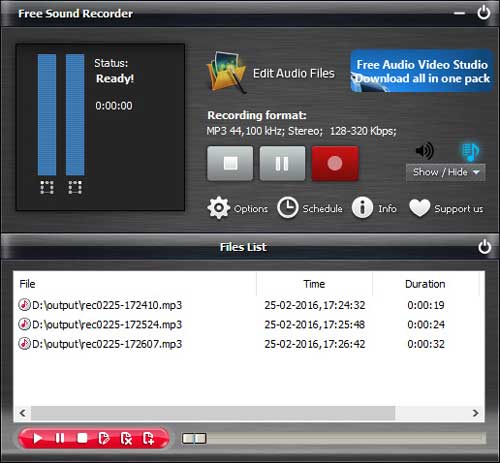 Pros:
Record external & internal sound free of charge
With unlimited undo & redo help on its audio editor
Conduct a recording task at a specified time
Set hotkeys in the way you like for fast access
Cons:
With limited supported audio formats
3. Apowersoft Free Online Audio Recorder
Apowersoft Free Online Audio Recorder is yet another best desktop audio recorder. It can be applied to create high-quality audio from microphone and sound card in a straightforward manner. What you have to do is just install a launcher and run it on the browser. As an easy-to-operate tool, Apowersoft Free Online Audio Recorder empowers you to capture in-game sound, radio stations, streaming audio, voice chat and so on in a breeze. What available is that you have the chance to share recorded audio to YouTube, Google+, Twitter, Soundcloud, etc. with ease.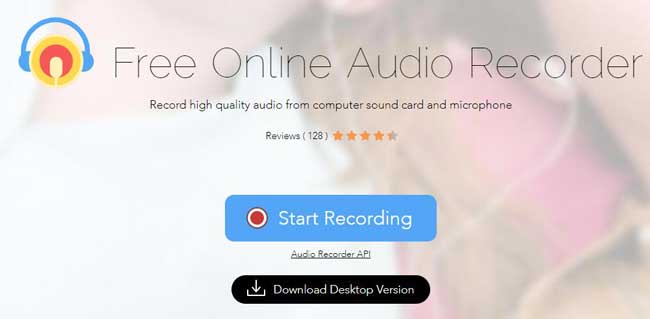 Pros:
Record computer audio on Windows 10 free online
Record narration from microphone without hassle
With smart ID3 tag editor to manage audios
Play finished audio in real-time and share to popular platform
Cons:
Rely on the network status
4. i-Sound Recorder
i-Sound Recorder is relatively basic yet high-efficient desktop audio recordeing software, which is able to record audio directly from output device without using the "Stereo Mix" input. With it, any sound can be captured in the finest quality. More than that, this intelligent tool is well designed with real-time audio compression to save your hard drive space and export audio to popular formats. The advanced voice-activated recording is powerful to skip any silent pause in the audio. Plus, its Automatic Gain Control can well keep audio recording at a consistent volume.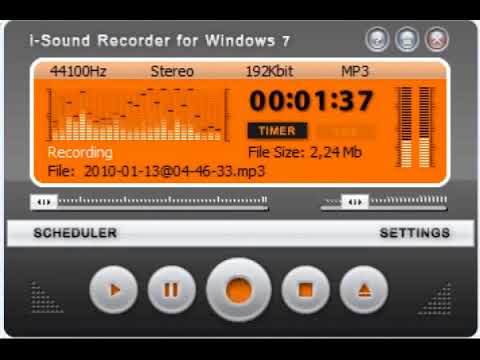 Pros:
Save hard drive space with real-time audio compression
Change sound card input to record at any time
Smartly skip all silent pauses in the audio
Support specifying up to one hundred recording tasks
Cons:
5. Audacity
Audacity is indeed a reputable audio recorder for desktop that is worth your consideration. As a well-known cross-platform free open source, it attracts too much attention from a large number of users. Its comprehensive recording features even make itself more approachable. During the editing process, you can make unlimited sequential undo & redo as per actual need. Additionally, you can apply effects as you want and Audacity will convert sample rate and format using high-quality resampling and dithering.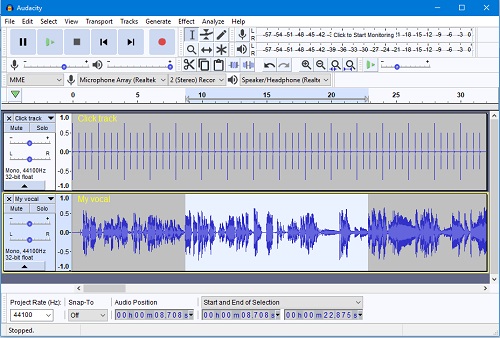 Pros:
Free audio recording open source
With top-notching editing tools
Support editing multiple audio files at once
Cons:
The interface is not user-friendly enough
6. Free PC Audio Recorder
With an intuitive interface, Free PC Audio Recorder allows you to record desktop audio file from various sources like microphone, the audio stream online and the system audio from your computer. You can also leverage the well-recorded audio files in any manner as you want using this free desktop audio recorder. It provides audio editors for you to change sample rate, and bitrate, and audio source for you to choose.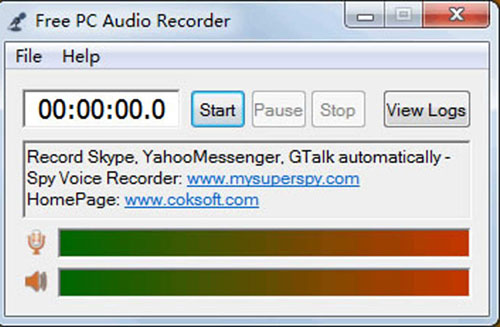 Pros:
Lightweight audio recorder software
Output high quality voice
Offer built-in mic
Cons:
Only available for Windows
7. Voice Recorder
You can access Voice Recorder on your Windows operating system without paying anything. This free desktop audio recorder gives you the power to utilize its functions to record lectures, music, podcasts and many more. You can resume and pause the recording process during audio recording based on your requirements. What's more, it enables you to remove the end and the start part of the recording.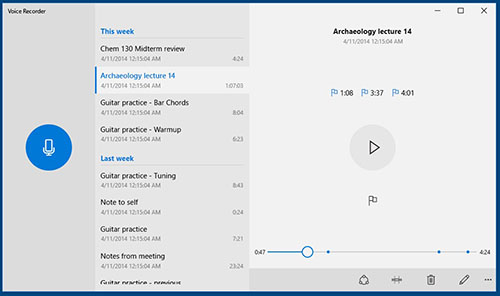 Pros:
Record audio without time limits
Offer timeline to show the schedules of each recording
Remove unnecessary noise for music background music
Cons:
8. Stereo Mix
It is a built-in audio recording feature that is 100% free for Windows Vista, 7, 8, and 10, allowing you to record and output the sound from computer like speaker outputs, live streaming audios, broadcasting radio, system sounds and more. It is disabled on most sound cards by default and as a result you have to click the Volume icon to enable it. It's even available for you to set recording quality in the Advanced tab.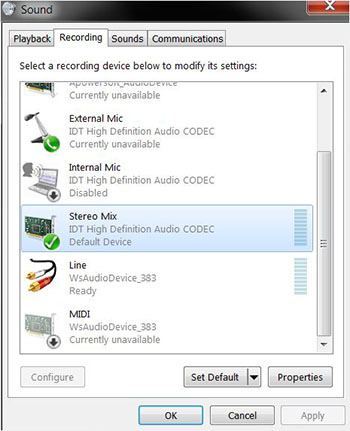 Pros:
Free-to-use
Without any third-party apps installations
Cons:
This feature is disabled automatically for Windows 10
Comparison
The following table briefly compares the above-mentioned desktop audio recorders, so that you can gain an insight into these tools ahead of selecting one to serve you.
| | Compatibility | Supported Formats | Price | Processing Power |
| --- | --- | --- | --- | --- |
| Joyoshare VidiKit | Windows, Mac | M4A, M4B, M4P, M4R, MP3, MP2, MPA, WMA, AAC, AC3, etc. | $15.95 | 32/64-bit |
| Free Sound Recorder | Windows, Mac | MP3, WMA, WAV, OGG | Free | 32-bit |
| Apowersoft Free Online Audio Recorder | Windows, Mac | MP3, WMA, AAC, FLAC, WAV, M4A, OGG | Free | 32/64-bit |
| i-Sound Recorder | Windows | MP3, WMA, OGG, APE, WAV, FLAC | $35.94 | 32/64-bit |
| Audacity | Windows | WAV, WMA, AC3, MP3, FLAC, AC3, AAC, AMR | Free | 64-bit |
| Free PC Audio Recorder | Windows | MP3, WMA, WAV | Free | 32-bit |
| Voice Recorder | Windows | AIFF, OGG, FLAC,MP2, M4A, AC3, WMA | Free | 64-bit |
| Stereo Mix | Windows | MP3 | Free | 64-bit |
View all listed programs
Hide the table
FAQs about Audio Recording on Desktop
Q1. How do I record audio from my desktop?
A: First of all, you have to decide which tool you use to record your desktop audio. Then, open it to complete audio settings, usually such as selecting sound source and adjusting volume. Next, play whatever you'd like to capture on desktop and initiate recording on the program.
Q2. How do I record system audio on desktop?
A: To record system audio on your desktop, the important step is to set "Stereo Mix" as Input Device for Recording. You can go to click Windows icon → Settings → System → Sound → Sound Control Panel → Recording → Stereo Mix. Now right-click to enable it and afterward you can record system audio with the software you have.
Q3. Does Windows 10 have an audio recorder?
A: Yes. There is a default Microsoft audio recorder on Windows 10 called Voice Recorder that allows you to capture sounds easily. It's also on our list above and you can check more details about it. Or you can learn how to record audio on Windows using other solutions, like Game Bar, Audacity and more here.
Conclusion
Without a doubt, you are now clear about all special features, pros and cons of each desktop audio recorder. If you don't mind the low price and want to pursue high quality, the tool, like Joyoshare VidiKit, can have a wonderful performance. All that matters is that you can alternatively apply a 2-in-one desktop recorder to capture video and audio simultaneously or just audio independently. Therefore, it must try each one before making a decision.