Q:"How to record myself singing with background music?"
Do you like singing? If your answer is yes, you may want to record a song of yourself. To enhance your recording experience, you'll need to find a quiet spot and use high-quality devices to grab your voice. More importantly, the background music should be recorded vividly at the same time. So the question is, how to record yourself and the background music simultaneously? This post would introduce various ways to help you do that on Windows/Mac/mobile devices. If you want to sing a song with your favorite music, you certainly could get the desired result here.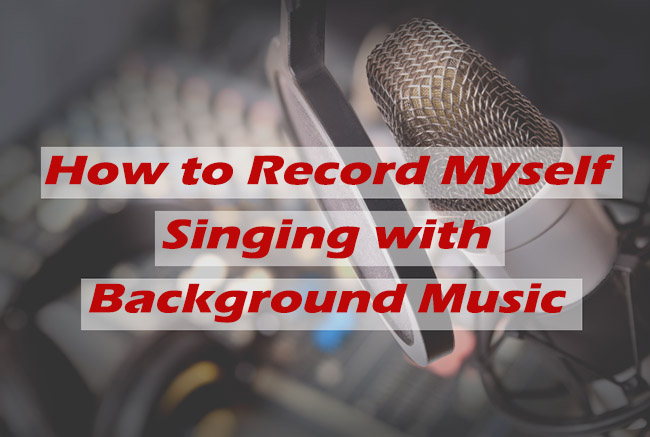 Part 1. How to Record Singing Over a Song on Computer
How to sing song with background music on the computer? That's pretty simple and all you need is a useful audio capture tool.
1.1 Joyoshare VidiKit (Windows & Mac)
Joyoshare VidiKit is a powerful audio recorder to grab all types of audios on your computer, including system sound, microphone, video music background, gameplay sound effects, and much more. Also, it captures sound with high quality, which would be just right for recording the background music along with your voice. What's more, this recorder also works as an audio encoder. The audio files could be preserved in plentiful formats, such as MP3, FLAC, MKA, WMA, M4A, OGG, etc. After making your song, you are free to edit the recordings with the built-in audio recorder.
Key Features of Joyoshare VidiKit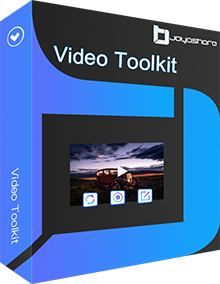 Capture audio from Chrome, YouTube, and others independently
Available to edit ID3 tag, trim recordings, and add sound effects
Support schedule recording and splitting silence automatically
Free to set audio parameters, like codec, sample rate, bit rate, etc.
Step 1

Install Joyoshare VidiKit and Make Preparations

Install Joyoshare VidiKit on your computer and go to Record → Audio Recorder. In the bottom right of the interface, you can click the drop-down menu and keep the microphone and system audio on at the same time to grab your voice and background music. And don't forget to put the background music on your playlist and check if the microphone that you use works well before recording.

Step 2

Configure Recording Preferences

Hit the Format button in the bottom left, you are able to set up recording preferences, such as format, codec, channel, and so on. Also, to enhance the recording quality, you can click Preferences in the top right to make more adjustments based on your actual needs.

Step 3

Begin to Record Your Singing

Now, click the REC button and play your favorite background music. And you can sing along with the music. During the audio recording, you can use the Pause button anytime if you feel you don't sing very well in certain parts. You can also click Cut Recording to split your recording as you like.

Step 4

Edit Your Song

When you want to stop singing, click the Stop button. Your song will be saved in the Library. You can locate the file and click Edit button to trim the audio recording, apply sound effects, and edit ID3 tag.
1.2 Audacity (Windows & Mac & Linux)
Audacity is a multifunctional audio editor and recorder that is compatible with Windows, Mac, and Linux. It is able to modify, import, export, manage and record audio files in multiple formats like MP3, AU, and others. What's more, this tool can improve the audio by removing the background noises. You can record live music using a microphone and edit your song recordings with its editing options. However, it tends to be slightly more complicated to operate this tool, and you may take longer to familiar with all functions.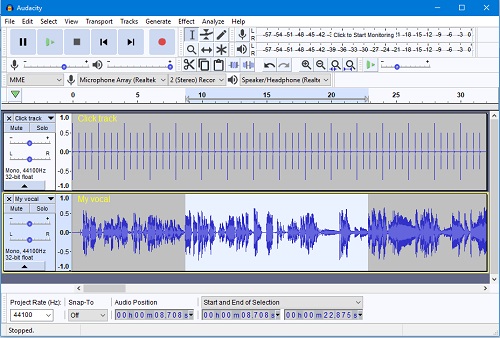 Step 1: After installing Audacity, you need to upload the background music to this tool first. Open the tool and click File in the top left of the interface. Choose Import, followed by Audio. A window will pop up and you can select the background music you want by hitting OK.
Step 2: Go to Edit → Preferences → Recording. You need to enable the Play other tracks while recording (overdub) option and click OK. Meanwhile, you are required to turn on Record on a new track option. Then head to Audio Setup → Playback Device and choose the source for playback. And click Recording Device to select Microphone, which is used to grab your sound.
Step 3: You can start to record your singing with the red Record button. Once the song ends, click Stop button. Last, head to File → Export and you can select a format to export your audio recordings.
1.3 GarageBand (Mac)
There is another tool that can be used to record singing with a song for Mac, which is called GarageBand. It is a preinstalled music creation tool inside your Mac. It has a simple interface and offers music recording for users. You can use it to capture your singing over a song with ease. Yet the drawback of this tool is that you can't listen to the background music while recording and your audio may mismatch with the music. If it's all right, you can take the steps below to start recording.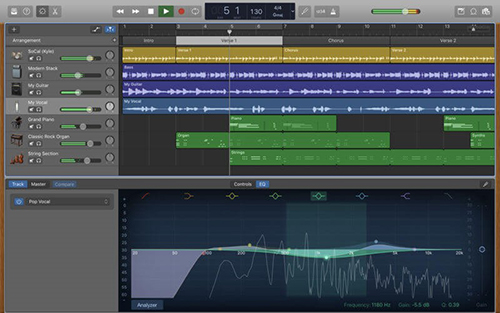 Step 1: Open GarageBand and plug your microphone into your Mac with an audio interface. Go to File → New → New project → Save. A new window would come out.
Step 2: Select Software Instrument and choose Create. Next, drag the background music into the new window.
Step 3: Hit the Record button and Stop button will start and finish the recording of songs. Last, you can save your song by hitting Share.
Part 2. How to Record Myself Singing with Background Music Online
You can also record your singing with music online and Apowersoft Online Audio Recorder is a solid choice. It works well with different kinds of platforms and supports various audio inputs, such as music, gaming, meeting, and more. In addition, this tool can capture quality sound with HTML5 technology. With a good microphone to collect your sound, it won't have difficulty producing good music recordings. But its online version only supports recording up to 30 minutes. If you want to record several songs continuously, it is suggested to download the desktop version or use other audio recording tools with no time limit.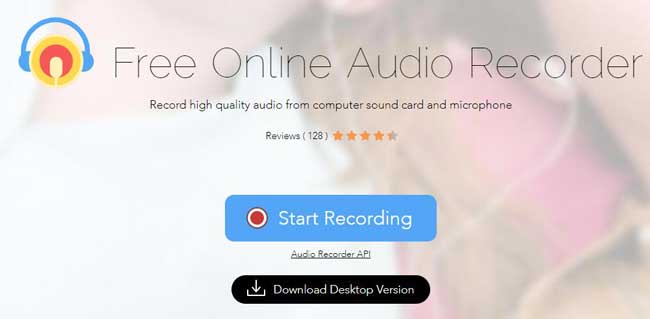 Step 1: Open Apowersoft Online Audio Recorder from your browser. Get the background music ready on any player.
Step 2: Click Start Recording. Turn on both the Microphone and System Sound. And then click Start Recording again.
Step 3: Now, you can choose the Entire Screen or others based on your actual needs and select Share system audio in the left bottom corner.
Step 4: Click Share to start recording, and you can now sing accompanied by the music. Click Stop button and you'll listen to the recordings directly in the browser.
Part 3. How to Record Voice with Music Background on Mobile Devices
If you want to record yourself singing on the smartphone, you can take the easiest way. With the pre-installed screen recorder on your device, you can play the background music you want to record and sing with it while recording. However, the final files you get would be presented as video formats, which means you need to extract the audio if you want to save them in audio formats. It is also feasible to download a social singing application on your device to add your voice to the background music.
For iPhone users: You can check if you have enabled screen recording feature in Control Center first. Head to Settings → Control Center. Locate Screen Recording and tap on the + icon. Now, you can start recording by clicking the recording icon in Control Center. Prepare the background music and play in tune with your voice. When the song is over, tap the recording bar and click Stop.

For Android users: Just open screen recorder in Control panel directly with a click on Recording icon. Then you can play the music on your phone and sing over it. Tap the recording icon will stop capturing your songs.
Part 4. Conclusion
In conclusion, this post aims to answer the question how to record myself singing with background music. we believe you should have no problem creating your own song now. No matter whether you want to record on the computer or smartphone, you can always find a good solution to combine your singing with background music. Hope the production is satisfactory and don't forget to share them with your friends.